Are you looking for some afternoon tea ideas?
Afternoon tea is a quintessentially British tradition, dating back to the early 19th century.
It has evolved over the years into a popular social event in the UK, providing a charming and fun way to spend time with friends and family.
And although there are plenty of places you can go to experience afternoon tea, you can also enjoy one in the comfort of your home.
Below I share 19 delicious afternoon tea ideas that will make your party a memorable experience for all the right reasons!
Afternoon Tea Ideas
Sandwiches are a staple when putting together an afternoon tea. Go with some British classics, or include some with a twist.
1. Egg and Cress Sandwiches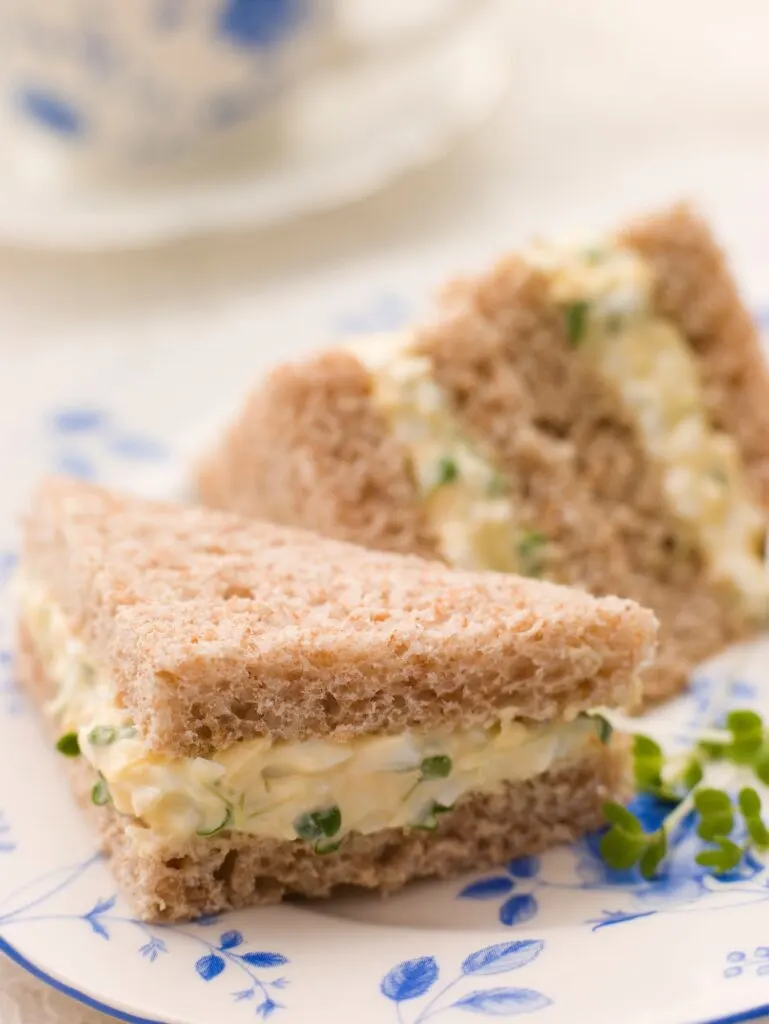 Egg and Cress Sandwiches are a staple of the English tea-time menu, showcasing a simple yet delicious combination of flavours.
Creamy egg mayonnaise, with salt and pepper, is combined with the peppery bite of fresh cress.
Served on freshly baked bread, these sandwiches offer a delightful contrast of textures and tastes, perfect for enjoying alongside a pot of hot tea.
2. Ham and Mustard Sandwiches
Ham and mustard sandwiches are a timeless classic, loved for their simple yet bold flavours. Originating from the Victorian era, these sandwiches have become essential to the English tea experience.
Featuring thinly sliced, high-quality ham and a generous spread of tangy mustard, the sandwiches are typically made with white or wholemeal bread.
For added variety, experiment with different types of mustard, such as whole grain or Dijon, or even add a layer of cheese to create a richer flavour profile.
3. Tuna and Sweetcorn Sandwiches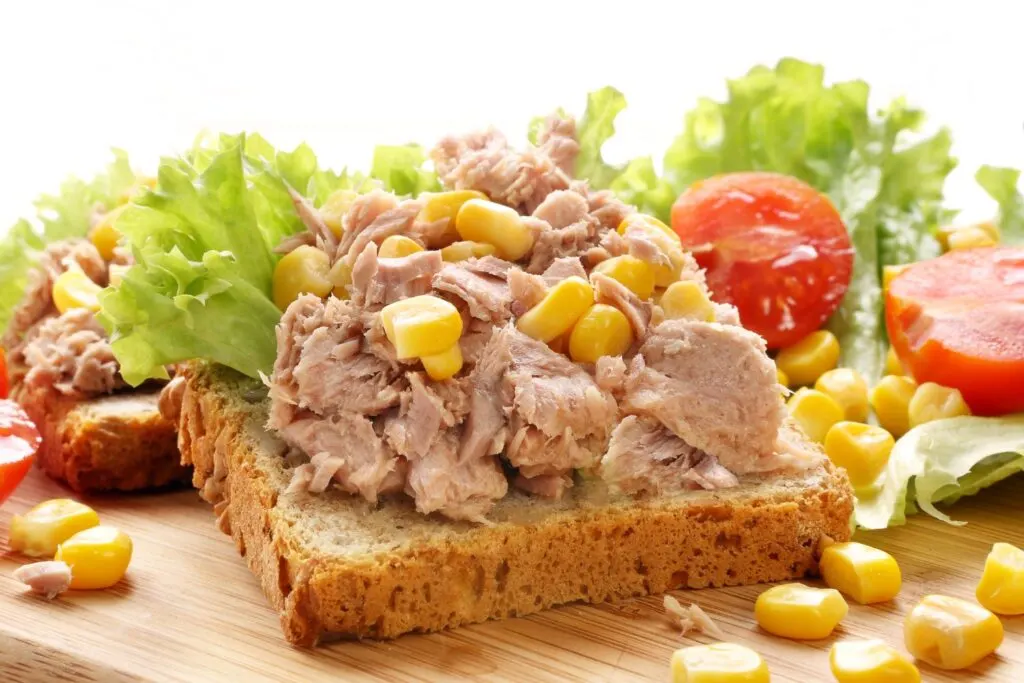 Tuna and Sweetcorn Sandwiches provide a refreshing and satisfying option for tea time. Combining flaked tuna with sweetcorn and a dollop of mayonnaise, this sandwich filling creates a delightful blend of tastes and textures.
The use of light, creamy mayonnaise helps to bind the ingredients together and adds a touch of indulgence.
To assemble the sandwiches, spread a generous amount of the tuna and sweetcorn mixture onto slices of your preferred bread, such as white, wholemeal, or granary.
4. Coronation Chicken Sandwiches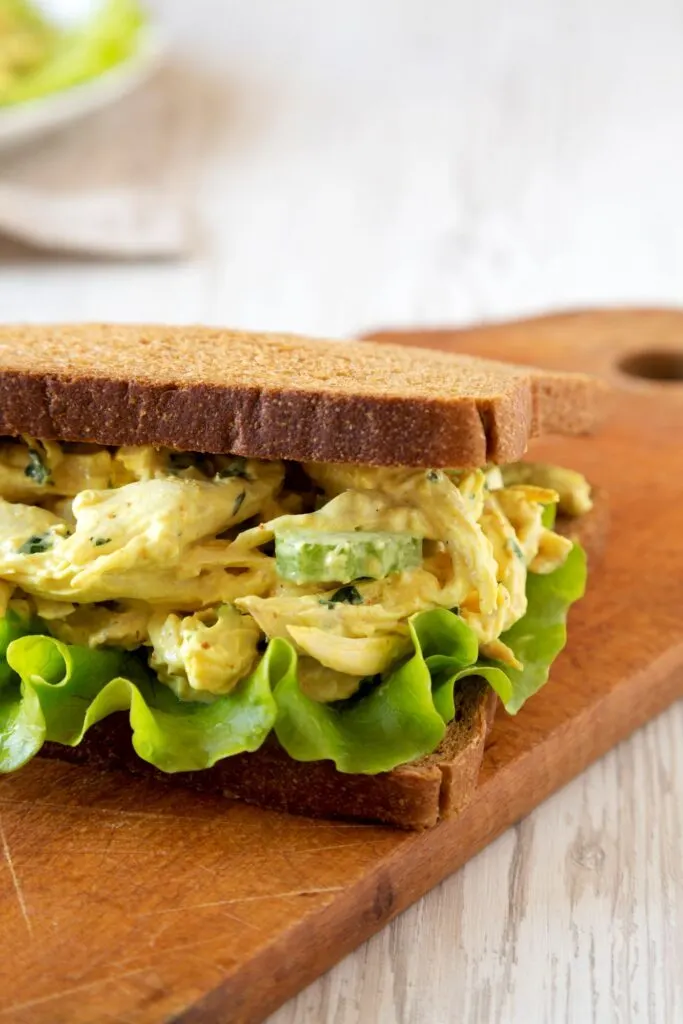 Coronation Chicken is a regal dish created in honour of Queen Elizabeth II's coronation in 1953. This cold chicken salad is infused with a tasty blend of curry powder, mayonnaise, and apricot jam or mango chutney, providing a perfect balance of sweet and spicy notes.
The addition of sultanas, almonds, and fresh coriander leaves adds texture and depth to the dish.
5. Club Sandwich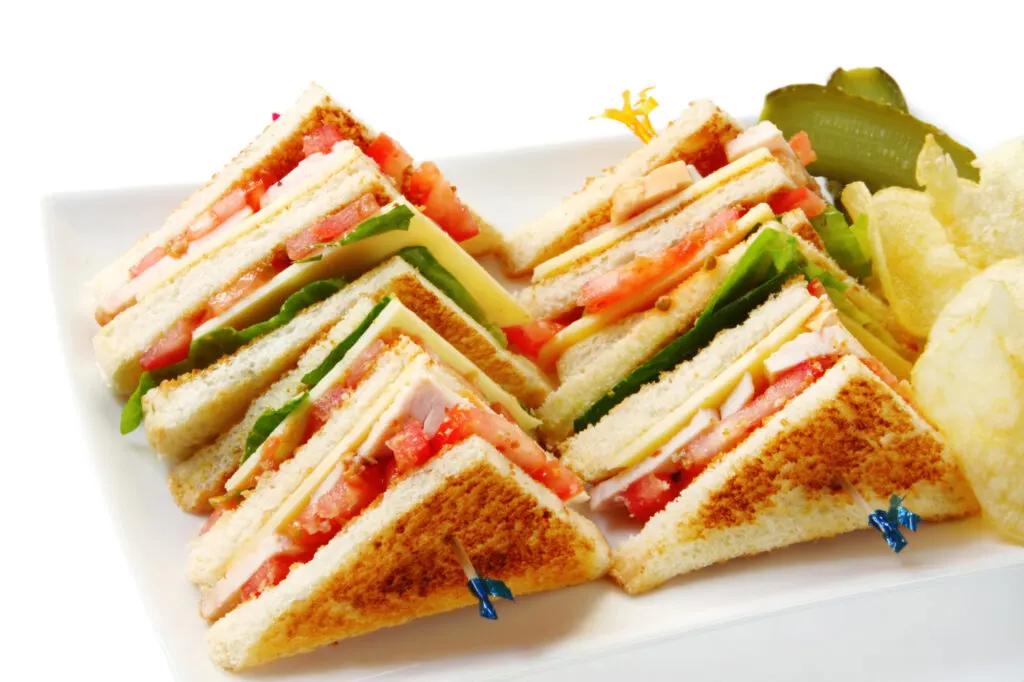 The Club Sandwich is an enduring classic that has graced tea tables for over a century. Traditionally made with three layers of toasted bread, this towering sandwich features a delicious combination of thinly sliced roast turkey or chicken, crispy bacon, lettuce, tomato, and mayonnaise.
6. Miniature Beef and Horseradish Yorkshire Puddings
Miniature Beef and Horseradish Yorkshire Puddings are a delightful and elegant appetizer that combines two British classics: tender roast beef and the beloved Yorkshire Pudding.
These bite-sized morsels are made by baking a simple batter of flour, eggs, and milk in a hot, greased muffin tin, creating a hollow puff that is then filled with succulent roast beef and a dollop of zesty horseradish cream.
The contrast between the savoury, tender beef and the tangy, creamy horseradish sauce makes these mini Yorkshire Puddings popular for parties, afternoon teas, or any special occasion.
7. Mini Sausage Rolls
Mini sausage rolls are a savoury staple, perfect for adding a hearty touch to afternoon tea. Made with seasoned sausage meat wrapped in a flaky, buttery puff pastry, these bite-sized rolls are irresistible.
The seasoned meat can be customized to your taste, with popular options including sage, onion, or even a touch of apple.
Serve the mini sausage rolls warm with a side of mustard or chutney for dipping, and watch them disappear from the tea table in no time.
8. Scotch Eggs
Scotch eggs, another savoury favourite, are a brilliant combination of hard-boiled eggs encased in seasoned sausage meat and coated in crispy breadcrumbs.
This classic British dish was originally created in the 18th century and has continued to please taste buds for many years.
Scotch Eggs can be served warm or cold, making them an ideal addition to a tea time spread.
Accompanied by a dollop of tangy mustard, relish, or aioli, they are sure to impress your guests.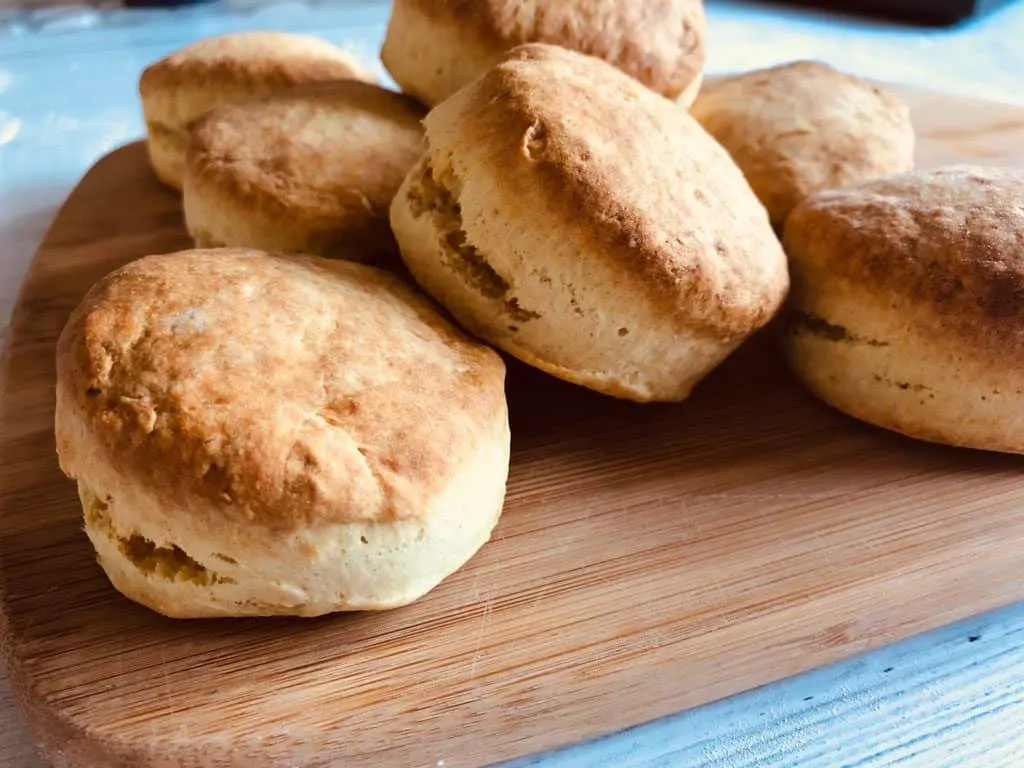 Traditional British scones are fluffy, buttery treats that are the cornerstone of any afternoon tea. Made with simple ingredients like flour, sugar, butter, and milk, scones are served warm or cold, often accompanied by clotted cream and fruit preserves.
The classic British scone is the perfect canvas for various add-ins, such as raisins, currants, or cheese.
10. Coconut Cake
Coconut Cake is a tropical delight that brings a touch of the exotic to your tea table. This soft, fluffy sponge cake is enriched with coconut milk, desiccated coconut, and sometimes a hint of coconut extract, creating an unmistakable coconut flavour.
Often filled and frosted with luscious coconut cream or buttercream frosting, the cake is finished with a generous sprinkling of desiccated or flaked coconut, adding texture and enhancing its tropical charm.
Coconut Cake is a versatile dessert that can be adapted to various tastes by incorporating additional flavours such as lime, pineapple, or chocolate.
Its rich, aromatic taste makes it an enticing option for tea time, transporting your guests to a sunny island paradise with every bite.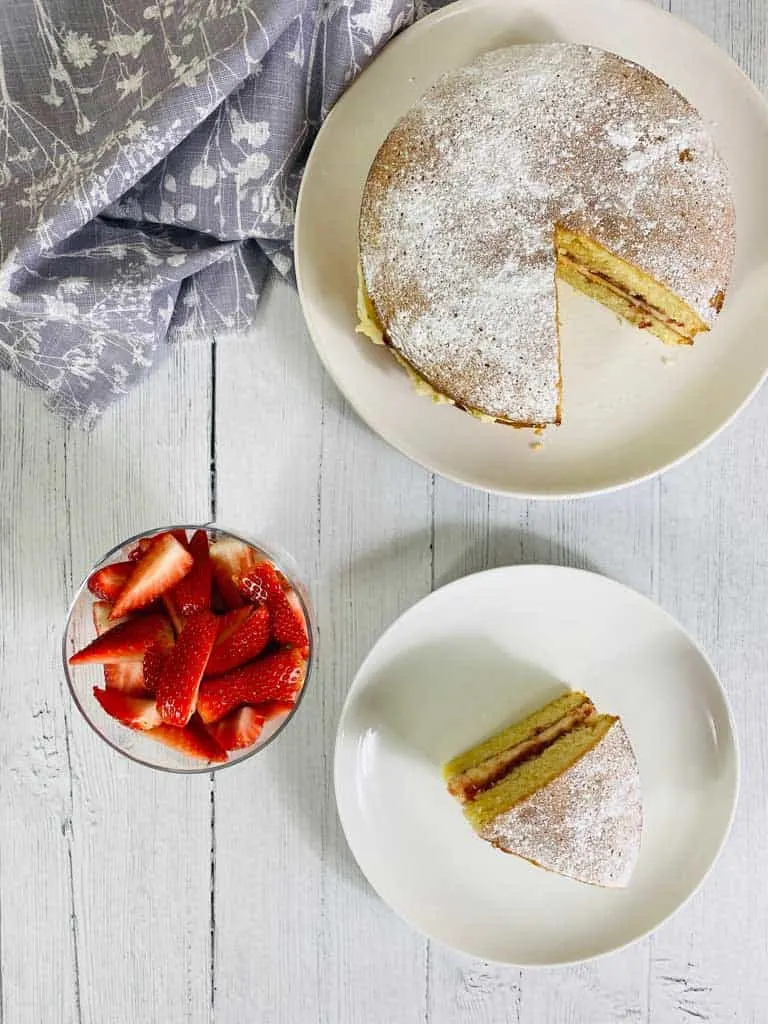 Named after Queen Victoria, this classic British dessert features two layers of light and airy sponge cake filled with a layer of jam (usually raspberry or strawberry) and whipped cream. The top is dusted with powdered sugar, creating a simple yet elegant presentation.
12. Chocolate Covered Strawberries
A simple yet indulgent treat, Chocolate-dipped Strawberries combine the sweetness of ripe strawberries with the richness of smooth chocolate.
Perfect for satisfying your sweet tooth, these classic confections are an easy way to add a touch of elegance to your tea-time spread. Opt for a mix of dark, milk, and white chocolate for a visually appealing presentation that appeals to a variety of tastes.
13. Carrot Cake With Cream Cheese Frosting
A moist, spiced carrot cake adorned with velvety cream cheese frosting is a classic crowd-pleaser for any tea-time gathering. The earthy sweetness of the carrots, complemented by the warmth of cinnamon and nutmeg, creates a satisfying, wholesome dessert.
The tangy, rich cream cheese frosting elevates this humble cake, making it an irresistible addition to tea-time treats.
14. Mini Bakewell Tarts
Originating from the English town of Bakewell, these dainty tarts consist of a shortcrust pastry base filled with a layer of raspberry jam and topped with a light almond frangipane. The sweet and tangy jam perfectly balances the rich almond flavour, resulting in a delightful and satisfying treat.
15. Traditional Welsh Cakes
Traditional Welsh Cakes, also known as "bakestones" or "picau ar y maen," are a delicious and beloved treat hailing from Wales. These small, round cakes are made from a simple mixture of flour, sugar, butter, eggs, and currants or raisins, with a hint of spice, typically cinnamon or nutmeg.
The dough is rolled out, cut into circles, and then cooked on a griddle or bakestone until golden brown. Welsh Cakes are a perfect balance of crispy on the outside and soft on the inside, often served warm with a dusting of sugar. These delightful treats are popular for celebrations and gatherings and a staple of Welsh cuisine.
16. Angel Cake
Angel Cake is a light and airy sponge cake with origins tracing back to the 19th century. Made with whipped egg whites, sugar, and flour, this delicate treat is known for its melt-in-your-mouth texture.
Layers of the sponge cake are often sandwiched together with sweetened whipped cream or buttercream frosting, making it an elegant centrepiece for an English tea table.
To improve the experience even more, serve with fresh berries or a dusting of icing sugar.
17. Battenberg
Battenberg cake is a delightful English cake with a distinct and eye-catching appearance. Its origins date back to the 19th century, and it is believed to have been created to celebrate the marriage of Queen Victoria's granddaughter to Prince Louis of Battenberg.
This unique cake features a checkerboard pattern of pink and yellow sponge cake squares held together with a thin layer of apricot jam. The cake is then wrapped in a layer of sweet marzipan, adding a rich, nutty flavour to the dessert. Battenberg Cake is visually appealing, and a delicious treat perfect for an elegant afternoon tea.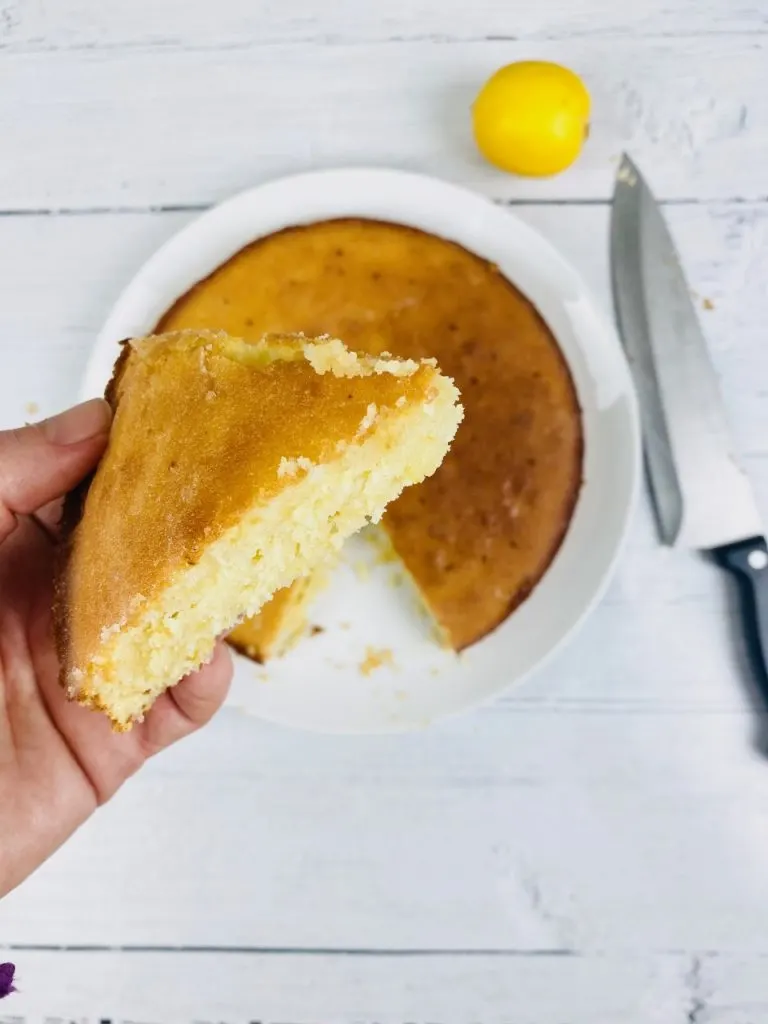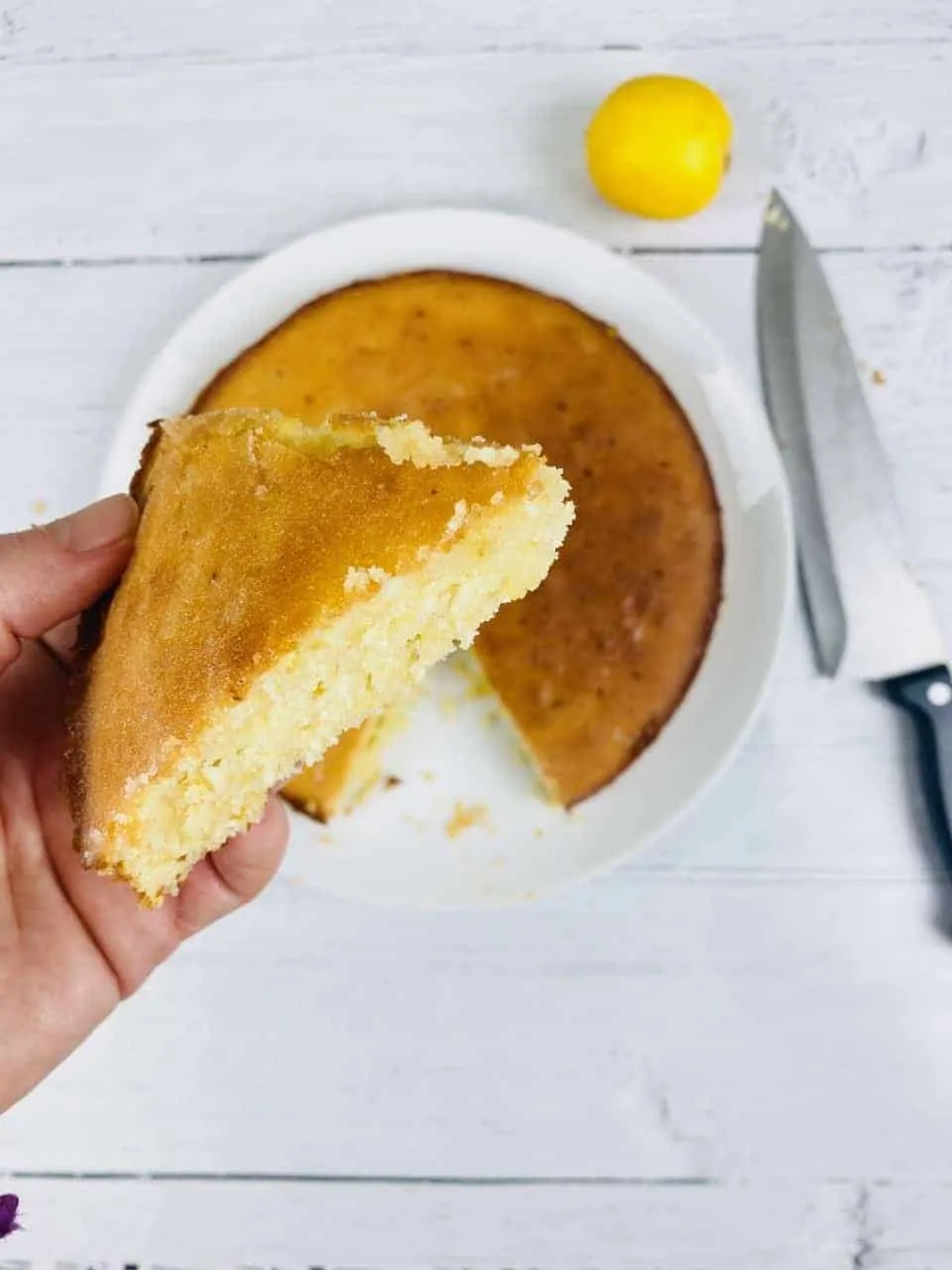 Lemon drizzle cake is a zesty and refreshing addition to any tea time spread. This moist and tender sponge cake is infused with the bright flavours of lemon zest and juice.
And the extra magic comes from the lemon-sugar drizzle poured over the warm cake, creating a sweet and tangy glaze that seeps into the sponge, intensifying the flavour.
With its irresistible combination of sweet, tart, and moist, Lemon Drizzle Cake is a popular choice for tea time and sure to be a crowd-pleaser.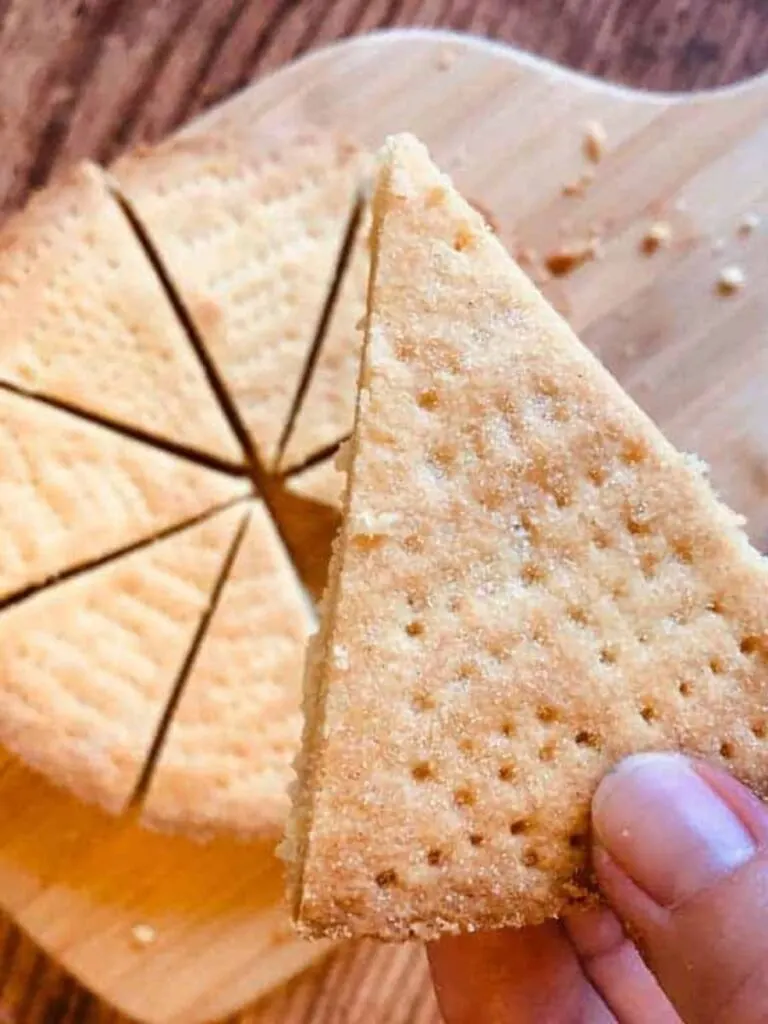 Shortbread is a classic Scottish biscuit that has long been a favourite at English tea tables. With a history that dates back to medieval times, shortbread is known for its buttery, crumbly texture and melt-in-your-mouth goodness.
Made with just three simple ingredients—butter, sugar, and flour—shortbread is a testament to the power of simplicity.
For a fancier presentation, the dough can be shaped into various forms, such as rounds, fingers, or wedges, and then decorated with patterns or even a light dusting of granulated sugar.
With its rich, buttery flavour and delicate texture, shortbread is an irresistible accompaniment to a cup of tea and a timeless addition to any tea time spread.
Tips For Setting The Table For An Afternoon Tea Party
Choose a beautiful tablecloth or placemats that complement your overall theme and colour scheme. Opt for light, pastel colours or floral patterns to evoke a traditional English garden feel.
Select matching or complementary china, including teacups, saucers, plates, and serving platters. Vintage or delicate floral patterns are a classic choice, but you can also choose a modern or whimsical design based on your personal style.
Arrange tiered cake stands or serving platters to showcase your sandwiches, scones, and desserts. This will add height and visual interest to your table, making it look more inviting.
Use elegant silverware, such as teaspoons and cake forks, and ensure enough for your guests. Place napkins beside each place setting, folded neatly or adorned with a napkin ring.
Include a variety of teapots, each filled with a different tea blend, to provide options for your guests. Add a small label or tag to each teapot, indicating the type of tea it contains.
Incorporate fresh flowers or greenery in small vases or jars to add a touch of natural beauty to your table setting.
Choosing The Right Tea Blends To Accompany Your Treats
Offer a selection of classic teas, such as English Breakfast, Earl Grey, and Darjeeling, which pair well with a variety of flavours and are popular choices for afternoon tea.
Include a few herbal or fruit-infused teas, like peppermint, chamomile, or raspberry, to cater to guests who prefer caffeine-free or more adventurous flavours.
Consider the flavours of your sandwiches and sweets when choosing teas, and aim for complementary pairings. For example, a robust black tea pairs well with savoury sandwiches, while a delicate green tea complements lighter, fruity desserts.
Provide a variety of sugar, honey, lemon slices, and milk or cream, allowing guests to customise their tea according to their preferences.