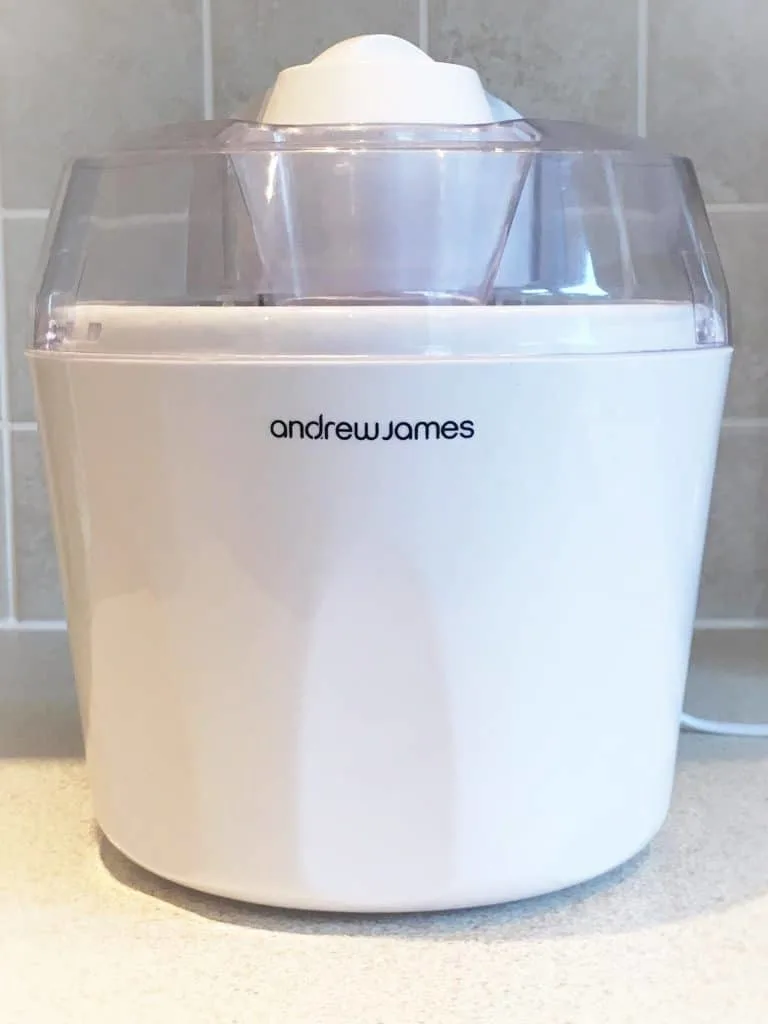 After researching the pros and cons of every ice cream maker I could track down, I ended up buying the Andrew James Ice Cream Maker. After having it for a few months here is my review.
Quick Summary
Pros
Produces very tasty ice cream, sorbet and frozen yoghurt in around 20 minutes
Cheap price, a great budget buy if you are not sure how often you will use it
Compact size, easy to store when not in use
Choice of colours
Cons
The need to pre freeze the bowl for at least 8 hours before using (but I knew this before buying and all ice cream makers in this price range will have bowls that require freezing before use)
Only 6 recipes provided in the instruction booklet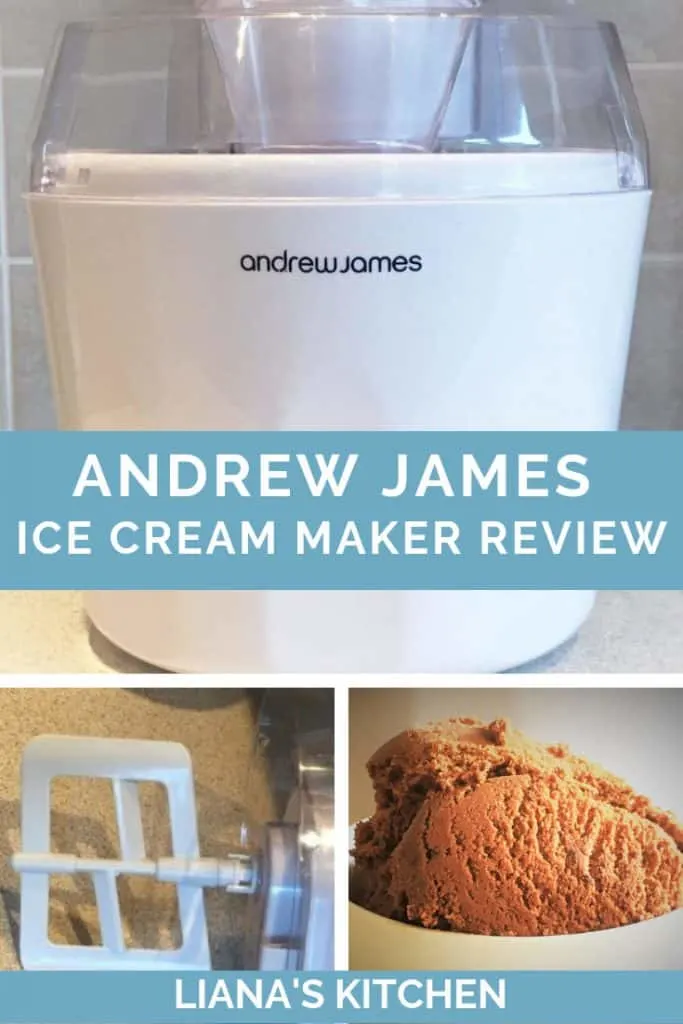 Main Features
1.5 Litre Capacity
Removable bowl, paddle and lid for easy cleaning
On/Off button
Bowl requires freezing for at least 8 hours before use
Ingredient chute
Recipes are ready in around 15 to 30 minutes, sometimes less
Safety cut off feature if the motor overheats
Review
In short I am really pleased with my Andrew James Ice Cream Maker. For such a reasonable price we are able to make our own ice cream recipes with ease and we know exactly what is going in them. We have experimented with many different recipes including ice cream, sorbet and frozen yoghurt. We probably use it about once a week.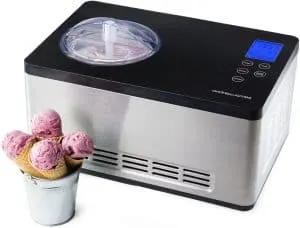 Having reviewed all the different ice cream maker options before buying this model, I knew that for the budget I had I would be getting one which would require pre freezing of the bowl. If I was to get my ultimate ice cream machine it would have to be the Andrew James model with the built in freezer – it has a 2 litre capacity and would look just perfect on my kitchen counter! But, like I said, for my budget the model I bought ticks all the boxes.
It is really very easy to use.
How To Use The Andrew James Ice Cream Maker
Once you have prepared your mixture you need to take the bowl from the freezer. See my Chocolate Ice Cream Recipe further down for an example recipe – there are many other recipes you can try, which I will add over time for you to try. Don't remove the bowl from the freezer until you are absolutely ready to start churning. The colder the bowl is the better the machine will work. That goes for your ingredients too. Try and chill them in the fridge before churning them for better results.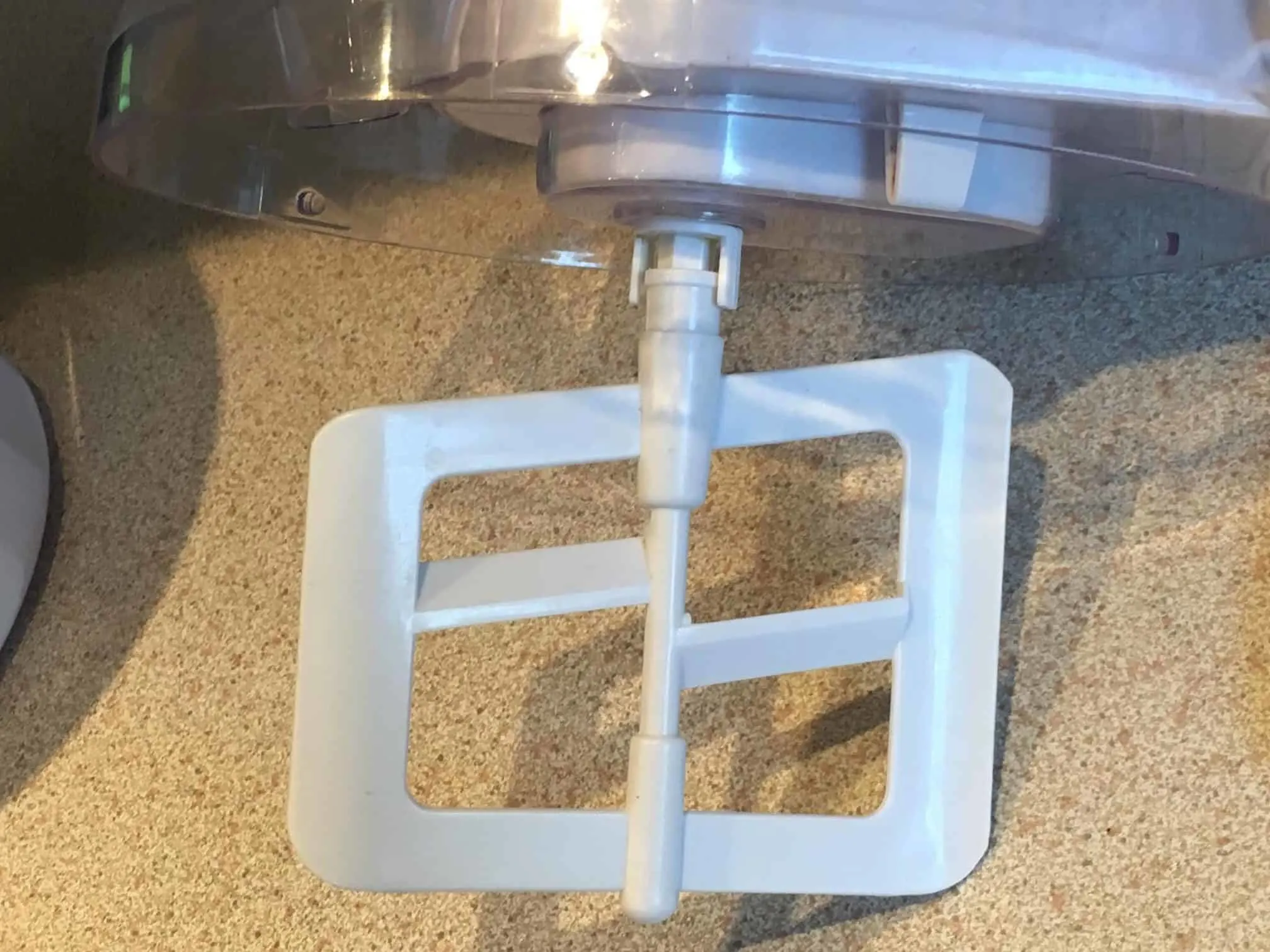 2. Set the ice cream maker up by fitting the power unit into the lid, it will click into place (I only needed to do this step once, I now store it attached in place). Then fit the paddle (pictured) to the power unit.
3. Now you can take the bowl from the freezer and place it in the outer bowl. Place the lid (with paddle) into the bowl and click it into place (by turning it clockwise).
4. Switch the ice cream maker on and immediately pour your mixture through the ingredients chute.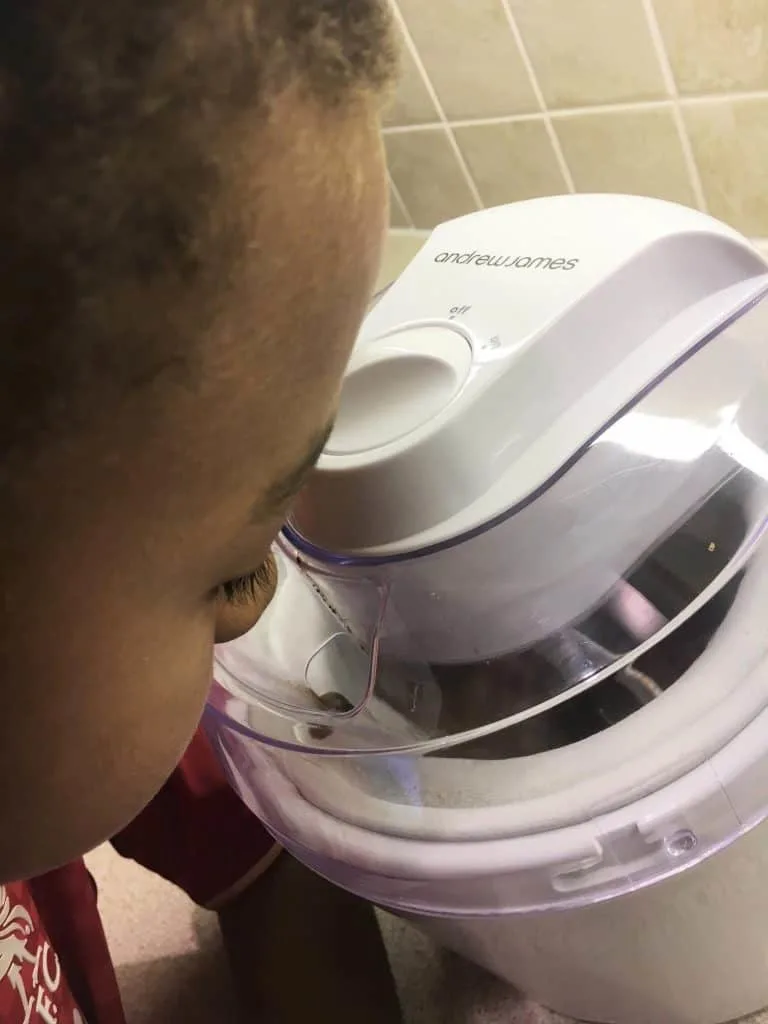 5. You can leave it to churn while you get on with something else – or you can be like my youngest son and patiently watch it churn whilst dreaming about how tasty it will be 🙂
6. Depending on what you are making your recipe will be ready in 15 to 30 minutes. If you happen to forget about it (unlikely in our house, our children are our ice cream timers!) there is an auto shut off feature which will switch it off if the motor over heats. You will need to wait for it to cool down before you can switch it back on. The only time this has happened to me was when I put a mixture in that wasn't chilled enough – it meant the paddle had to work longer to try and get it to a thicker consistency. Every time I have chilled the mixture I haven't had this problem.
7. Once you are happy with the consistency switch off the machine. You can either serve the recipe up straight away, or transfer it into a separate container and put it in the freezer to firm up or until you are ready to eat it. Ours rarely gets this opportunity, if I let them they would eat it straight from the ice cream maker bowl!
Chocolate Ice Cream Recipe For Ice Cream Maker
This chocolate ice cream recipe is indulgent and not for those watching the calorie intake! But, it tastes absolutely delicious and I love knowing exactly what is in it.
Serves: 6
Calories: 284 per serving
Costs: 41p per serving (calculated on 5th October 2016)
Ingredients
1 pint full fat milk
100g plain chocolate (75% cocoa)
1 tsp vanilla essence
5 egg yolks
120g caster sugar
Making It
Melt the chocolate in the microwave. Make sure you keep an eye on it, checking every 20 seconds and stirring, repeat until completely melted and smooth. Alternatively, melt in a pot over a few inches of boiling water, again, make sure you stir frequently to ensure the heat is evenly distributed.
Mix the milk, vanilla essence and melted chocolate in a saucepan and heat gently. Don't bring completely to the boil. Heat for about 5 minutes. Put to one side and allow to cool.
In a separate bowl, beat the egg yolks and sugar.
Combine the beaten eggs and sugar mixture in with the milk/chocolate. Gently heat, stirring frequently, for around 10 to 15 minutes until the texture is thicker.
Allow to cool. For the best results once at room temperature place in the fridge to chill for 2 hours or overnight.
Put your ice cream maker together and switch on. Pour the mixture through the ingredients chute and mix for around 20 minutes or until the consistency is thick.
Enjoy straight away or place in a container suitable for the freezer and serve when the ice cream is of a firmer consistency, or you are ready to eat it.
TIP: Don't throw away your egg whites – make a tasty meringue to go with your chocolate ice cream!
Cleaning Your Ice Cream Maker
Let the bowl warm up (to room temperature) before cleaning it. Don't immerse it in water but you can fill it up with warm water and washing up liquid to clean it. Don't use anything abrasive to clean it or you'll scrape it (the same goes for utensils, don't use metal items to scoop the ice cream out). You can remove the paddle to wash it thoroughly and then clean the power unit with a damp cloth.
Conclusion
I highly recommend the Andrew James Ice Cream Maker. It is a real bargain buy and produces great tasting ice cream. If you are happy to pre freeze your ice cream bowl beforehand this is the perfect model for you.
Do you have an ice cream maker? I'd love to hear about what you've made in it. Reply in the comments or contact me via email.