Are you stuck trying to find the best air fryer to buy?
Knowing which air fryer is right for you can be difficult – there are so many options available!
I was overwhelmed by choice when I first started looking at air fryers.
That's why I've put together this list, to help make your decision easier.
This guide covers the best air fryers in 2023 in the UK. We explore what makes an air fryer great, from features to price range.
I will be covering all the top brands, the best deals and some top tips for buying the best air fryer for your needs.
This post contains affiliate links, meaning at no additional cost to you, if you click a link and subsequently make a purchase, I will earn a commission.
My Top 3 Air Fryers 🏆
If you're in a rush, these are my current top picks:
---
How This Air Fryer Buying Guide Has Been Created
With too many hours to count on air fryer research under my belt, reading hundreds of reviews, listening to readers and plenty of hands-on testing, I have collated all the best air fryers currently available in the UK.
I have indicated the air fryers we have personally used and included standalone reviews. I will also add individual reviews for air fryers as we perform more hands-on tests.
We will continue to update this page as current models change.
For the models we haven't used personally, we have gathered opinions from other users.
---
The Best Air Fryers of 2023 – Air Fryer Reviews UK
In this air fryer buying guide, we research the pros and cons of the most popular models.
After comparing all the top air fryers currently on the market in the UK, we've narrowed down our favourite models to those mentioned below.
1. Ninja Foodi MAX Dual Zone AF451UK
---
Pros
Two air fryer drawers can cook in sync with each other or be used independently

Larger air fryer baskets mean more food can be cooked

Digital Cooking Probe monitors food temperature

Six functions in one
Cons
Expensive

Larger footprint than other air fryers
The Ninja Foodi Air Fryer Dual Zone has two independent cooking zones that allow you to cook two different foods in two different ways simultaneously – an amazing time saver.
Plus, 9.5L of total capacity means both drawers can easily fit up to a 2kg chicken or 1.4kg fries, so meals for the whole family are possible.
With its integrated digital cooking probe, the smart cook system allows you to monitor food temperature for perfectly cooked results without any guesswork.
My thoughts: buying the Ninja Dual with the digital cooking probe doesn't need to be a deal breaker if the cost is much higher than the model without the probe (AF400UK). I use the probe when cooking meat joints (such as a whole chicken), but when using an air fryer without the probe, I use a digital cooking thermometer if I am unsure if it is cooked through.
Additionally, it comes with six cooking functions – air fry, max crisp, roast, bake, reheat and dehydrate – all designed to get your desired outcome while using little-to-no oil.
I mainly use the air fry and roast functions with this air fryer.
One of the potential drawbacks to using the Ninja Foodi Air Fryer Dual Zone AF300UK is its price point.
This model is definitely more expensive than comparable models on the market, making it an investment for those looking to upgrade their kitchen gadget lineup.
Additionally, while this model offers plenty of space with a 9.5L capacity and two 4.75L drawers, it still takes up a larger footprint than many other air fryers available, so take measurements before purchasing if you are short on counter space.
However, in spite of these potential cons, this appliance still offers plenty of features that make it worth considering as an addition to your kitchen setup – I love using it – but make sure to weigh the pros and cons before deciding. You might be better suited to a smaller air fryer or even a multi-cooker with an air fryer function built in (there are some examples of these further down the list).
---
2. Cosori Air Fryer XXL 5.5L – Great For Families
5.5L capacity

Available in 3 different colours

11 Presets

Preheat & Shake Reminder

LED Onetouch Screen

Timer & Temperature Control

Nonstick Basket

1700W

Includes 100 recipes
Pros
A larger capacity makes it a great choice for families.

No more uneven cooking of foods with the built-in reminder to shake the food halfway through.

100 recipes are included to get you started.

Choice of 3 colours – red, black or white.

Keep warm function.
Cons
Some reports of non-stick coating peeling off the basket after extended use.

Some users struggled to open the drawer with one hand.
---
The Cosori XXL air fryer is ideal for families looking for a larger appliance. With its 5.5 litre capacity and three colour options – red, black or white – this air fryer can meet the style needs of any kitchen.
Plus, it features a built-in timer that reminds you to shake the food halfway through cooking, so you never have to worry about unevenly cooked food again!
Not sure what to make? This air fryer comes with 100 recipes to get you started – from healthy snacks like avocado fries and courgette chips to hearty mains like roasted chicken wings.
Furthermore, it also has a keep warm function that can activate automatically after cooking your food.
That said, some users have experienced difficulty opening the drawer with one hand, making it more inconvenient than expected.
Additionally, some customers have reported that the basket's non-stick coating can start peeling off after extended use.
My thoughts on this: with one of my earlier air fryers (High Street TV Power XL Air Fryer) the non-stick coating also started to peel off. I later realised that this was down to me using the low-calorie cooking sprays – I don't recommend using them; instead, use olive oil (or your favourite oil) either by basting it on with a brush or making up your own oil and water spray with a mister bottle.
---
Philips HD9220/20 – Top Pick For Small Families/Couples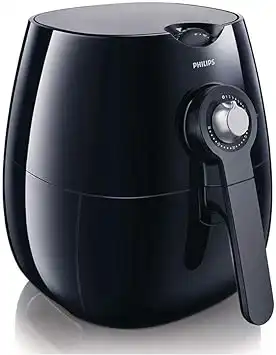 This was the first air fryer we bought. We ended up using it almost daily when making meals for the family. In around 15 minutes, this cooks up a basket of perfectly crispy chips. Of course, you can use it for all sorts of foods, not just chips.
While there are larger models available, I find that the capacity of this model is just right for a couple or a small family (3 servings max).
With the Philips air fryer, you can easily bake fish, chips, desserts and more with it. And it takes about 80% less oil for the fried foods when you use this versus a deep fryer. And if you're lucky enough to have a dishwasher in the kitchen, you can stick the cooking basket in it for cleaning.
MAIN FEATURES
Uses rapid air technology for quick and healthy cooking
0.8kg capacity in the cooking basket
Dishwasher safe for easy cleaning
Adjustable temperature control up to 200 degrees
Cooking timer of up to 30 minutes
Two year warranty
I love how easy it is to use the Philips HD9220/20 Air Fryer. Even the kids can help make dinner when you're using one of these.
It also preheats very quickly, as well as cooks your food fast, which means that dinner prep time is reduced.
As one of the smallest air fryers in this guide it takes up the least footprint, but with that comes the lower capacity, so definitely not for large families.
WHAT WE LOVED
Compact for smaller families, couples or those cooking for one.
Small footprint – doesn't take up much countertop space.
Dishwasher safe.
GOOD TO KNOW
Some foods get stuck on the wire mesh of the basket.
NOTE: Phillips do now have a larger capacity air fryer at 1.2kg. You can check it out on Amazon.
---
Ninja Foodi – Best All Rounder
ALL ROUNDER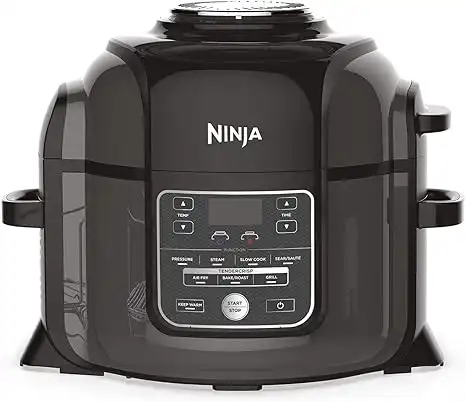 Check out my review of the Ninja Foodi.
---
Power Air Fryers (High Street TV)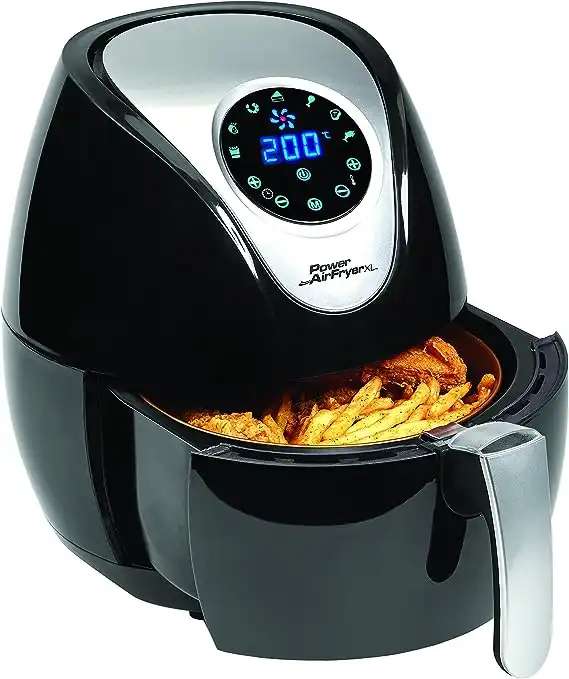 High Street TV have produced a number of popular appliances over the years.
Their Power Air Fryers are definitely a worthy contender in the search for the perfect air fryer.
The Power Air Fryer was my second upgrade from the Philips air fryer.
Power Air Fryer Pros
What I instantly like about their design is the larger capacities in comparison to the Philips range. The Power Air Fryers come in a choice of either 3L or 5L, both significantly larger than the previously discussed Philips.
I upgraded to the 5L which comfortably fits a whole chicken in to roast. I like the extra capacity. I cook for 5 people (2 adults, 3 children) and my Philips Air Fryer is only really good for making sides, or smaller amounts to go with main meals.
I also like the basket design of the Power Air Fryers, it is much easier to clean when compared to the mesh design on the Philips. However, please see my comments under the 'cons' section below.
I love the extras that come with this air fryer. When you are paying an already fairly substantial amount for a kitchen appliance I feel you should get the accessories you need.
The Power Air Fryers come with a basket divider (great for cooking different food types) as well as a baking tray enabling you to cook different recipes (cakes, flans, pizzas etc).
Let's take a closer look.
MAIN FEATURES
• Choice of 3.2 Litre or 5 Litre
• 5 Multi-Cooking modes; fry, grill, bake, saute and roast
• Includes basket, basket divider, baking tray and recipe book
• Cooks up to 200C/400F
• Easy clean basket
• Dishwasher safe parts
• Timer with auto shut off
Power Air Fryer Cons
The coating on the base of the air fryer basket gradually began to flake off in parts after about 1 year of use. It doesn't make the air fryer unusable but it's not ideal.
The handle on the basket is pretty flimsy, it became wobbly very quickly and I don't trust it not to break at some point in the near future.
Where to buy:
---
Tefal ActiFry Low Fat Fryer
This is another great air fryer to consider buying. Overall, it works in a similar fashion to the other models.
Main features:
• Capacity of 1kg, 1.2kg or 1.7kg
• Design makes it easy to cook casseroles and curries
• Available in black or white exterior plastic color
• Comes with an oil measuring spoon
• Hands-free, no shaking required
• Dishwasher safe cooking pan basket
• Cooking timer of up to 99 minutes
Overall, the Tefal ActiFry works well. The best things about it are that it is very versatile in terms of what you can cook in it, the capacity is large enough for a family of four.
Where to buy:
---
Tower Air Fryers
Main Features
Choice of 6 different models
Automatic switch off
Adjustable temperature controls
Choice of different capacities, from 3.2L to 8L
Temperature control 80 – 200 degrees
Dishwasher safe parts
Where to buy:
---
Ninja Foodi Health Grill and Air Fryer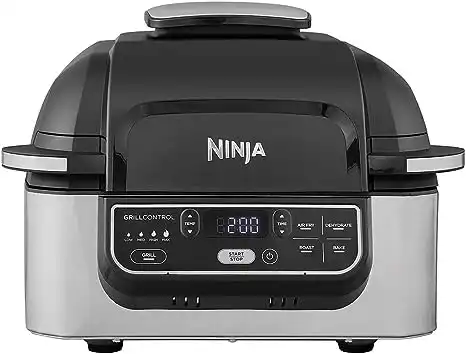 ---
What Is an Air Fryer and How Does It Work?
Air fryers are electrical cooking appliances that cook food using superheated air and small amounts of oil. A heating element heats the air up to 200 degrees Celsius (400 degrees Fahrenheit). A fan circulates the heated air around the food, ensuring that the air is distributed evenly around the food. This means that all parts of the food receive the same temperature, and that it cooks evenly.
The food itself is placed in a hanging basket under the heating element, allowing for free circulation of the air. A drip pan below catches any drips from the food.
An exhaust fan pulls the air out of the unit, so that newly heated air can enter the cooking chamber, keeping the temperature even.
The result is perfectly cooked food, with a crispy outside and tender centre. Air fryers can be used to fry, grill, roast, steam or even bake.
Tips on Choosing the Best Air Fryer for Your Kitchen
As with choosing any appliance, it's important to think about your own needs, the number of people you usually cook for, and how you are most likely to use your new air fryer. There are a few things you need to consider before making a choice.
Capacity
As air fryers have evolved over the years, so has the capacity. Air fryers range from less hat 1L in size, up to 5L (in the UK at least).
Space
Available counter space is something else you'll want to think about. Before choosing an air fryer, figure out how much space you have on your counter, and then decide what size model will work best for you.
Settings and Features
Newer models come with more settings, and some offer touch-screen controls. Some even come with built in programs for preparing fish, meat, chicken and fries. Other models give you the option to program it yourself. Some models come with built-in timers and standby modes, for when the cooking is completed.
Another thing to look at are the extra features of each model. Some have baking or grill pans. Some of the larger models offer multi-level cooking baskets, so you can cook more than one kind of food at the same time.
Whilst this feature would make cooking quicker and more efficient, it won't help you if your kitchen is too small to accommodate a larger air fryer.
Other models come with kitchen tongs to help remove hot foods from the appliance. Others come with recipe books.
Price
You'll also want to consider price. Larger models with extra features like multi-level baskets or digital displays will cost more. Think through carefully how you'll use the air fryer, what size you need, and what features you must have. Then you can decide which model fits your needs, and your budget the best.
Air fryers are a smart way to cook. They're fast, efficient, safe and best of all, make great food. Anyone who uses an air fryer will enjoy the convenience and health benefits of this modern way of cooking.
Benefits of Cooking with an Air Fryer
With every new kitchen gadget that comes on the market comes the question of 'do I really need another appliance potentially gathering dust in the back of a cupboard?'
I know I battled over this before buying an air fryer. I mean, do I really need something that I can use my oven for? Would this new appliance taking up valuable kitchen top space be used for anything other than chips?
As you will soon discover through my air fryer recipes, I was wrong. An air fryer is anything but gimmicky. It really is a versatile machine and I love how quickly it heats up and cooks, plus it makes fried foods a bit healthier. Chips anyone?
Air Fryer Benefits
Cook with little or no oil
Cook foods in a faster time
Less heat circulating around the kitchen with no oven on
Air fryers are portable – take them away on any trips (caravan, camping holidays etc)
They are versatile – make chips, cook meat, bake cakes
Can double up as a second oven when you run out of room when cooking lots of dishes at once
Why You Might Not Want To Buy An Air Fryer
Air fryers aren't suitable for everyone. Having used 2 air fryers in the past (and last year I upgraded to a third model), I can certainly make you aware of the downsides of owning one!
If you really love the taste of deep fried chips and chicken, an air fryer isn't going to replace that taste. There are plenty of claims out there that they do – but I disagree. Yes, air fryer chips do still taste amazing (as does chicken and other foods), but I don't think you can say they taste the same as deep fried.
They do take up space. Seems kind of obvious, but double check the footprint as well as the height of your chosen air fryer before buying. It's the kind of appliance that you'll want to keep out all the time, so make sure your kitchen has the space.
They might not be suitable for large families. The first air fryer I bought was far too small for us, we used to have to cook 2 batches of chips to make enough. It's one of the reasons we quickly upgraded to the 5L Power Air Fryer. There are now even larger air fryers available such as the 7.5L model from Ninja, so this problem kind of disappears – but of course with a bigger size comes a larger footprint.
With all that said, I certainly don't regret buying an air fryer, the pros far outweigh the cons for me.
I did however buy the Ninja Foodi – as mentioned before it is a multicooker so I was able to replace my electric pressure cooker with the Foodi and have more work space again!