There are a lot of different types of cheeses that you can put on top of your pizza.
For best results, we recommend using mozzarella cheese for its easy melting and stretchability – but it's not the only cheese in town!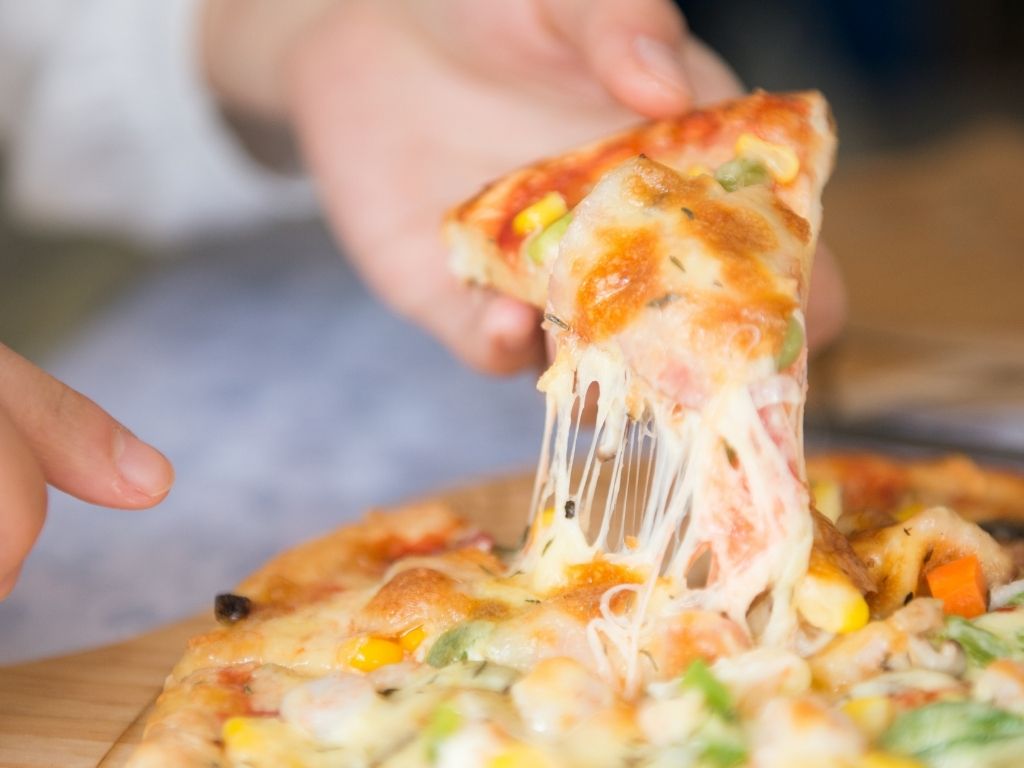 Check out our round-up of the best cheeses to use on a pizza and get creative at your next pizza making session.
Related: Pizza Oven Guide
Here are some suggestions that will make your next pizza an amazing one!
Best Cheeses For Pizza
Mozzarella
The most popular variety, mozzarella is mild and pairs well with just about any other topping you might want to add on.
Mozzarella cheese is the best kind for pizzas because it melts really well and adds a nice flavour to your pizza. Mozzarella also adds that stringy effect you want from a pizza cheese!
Go for mozzarella that is made with whole milk and don't be tempted to go for low fat options, it won't stretch as well as those with a higher fat content.
Don't overcook your mozzarella. By taking it out of the oven when there's still some gooeyness left in it goes a long way in making sure that it stays together on top of your pizza.
If you are using mozzarella that hasn't already been grated, make sure to drain away any liquid. Either slice it thinly, shred it or cut it into small cubes before adding it to your pizza.
Cheddar
Using cheddar on top of a pizza is a close second to mozzarella.
With an intense flavour, depending on how mature your cheddar is, it can stand up to spicy toppings like jalapenos or pepperoni, sharp cheddar is best used sparingly on pizzas. It's best to grate cheddar on a pizza to give it a better chance of melting.
Provolone
This Italian cheese has a sharper taste than mozzarella, making it perfect for those who prefer their pizzas extra-spicy or even smoky.
Gouda
A Dutch cheese that is smokey and sweet in flavour, younger aged goudas melt beautifully and can be used to make sauces as well as toppings.
Gouda pairs well with bbq meats, such as chicken, pork and bacon.
Gorgonzola
Gorgonzola is a blue marbled cheese from Italy, with an intense flavour that works well on pizzas. Gorgonzola provides pizzas with an instant creaminess that spreads evenly across any toppings.
Gorgonzola pairs well with pizza toppings such as hams and bacon.
Goats Cheese
Goats cheese on pizza offers a unique taste that is more tart than other cheeses. Goats cheese doesn't melt as easily as other types but this doesn't mean it won't provide an amazing flavour.
Goats cheese pairs well with vegetables of all types and so is well suited to vegetarian pizzas, especially Mediterranean styled varieties.
Parmigiano-Reggiano
Parmigiano-Reggiano is a mature hard cheese with an intense taste. It is best used as an extra to other cheeses and grated over the top once the pizza has been cooked. If you try to use it as the main cheese it will likely dry out and harden up when cooked at the high heat needed for pizzas.
Gruyere
Gruyere originating from Switzerland melts well once cooked. It has a slightly sweet and nutty flavour that pairs well with white pizza sauce if you are looking for an alternative to traditional tomato sauce.
Gruyere cheese pairs well with a caramelised onion and bacon topping.
Ricotta
Ricotta is a cheese made from curds that have been separated from whey. It has a creamy texture that also melts really well resulting in a nice sticky effect and best served hot straight out of the oven.
Ricotta cheese traditionally works well with sweet toppings, on a pizza it blends well with other cheeses such as mozzarella and gruyere, and pairs well with seafood pizza toppings and vegetables.
Mixing Different Cheeses On A Pizza
Some people like mixing different types of cheeses together on their pizza because it can give you a very different taste than just using one kind.
A classic example of this is the popular four cheese pizza (quattro formaggi) where traditionally mozzarella, Parmesan, Gorgonzola and a creamy cheese like ricotta can be used.
Or, if you are trying to replicate the Pizza Express Quattro Formaggi you can use mozzarella, mature cheddar, Pecorino and Provolone. Just use the cheeses you have available.
How Do You Choose Cheese for Pizza?
With such a wide range of cheese available, it can be tricky to know which one to pick. The main features to look out for include;
Easy to melt – the cheese needs to be able to melt easily and spread out over the pizza.
Opt for low moisture cheeses where you can. Cheese with lots of moisture will more likely turn your pizza soggy.
Final Thoughts
There are many varieties of cheeses that can be used on a pizza, with mozzarella being the most popular. However, there is no singular cheese for pizza and most varieties will work well depending on your tastes.
Which type of cheese do you prefer to use on a pizza? I'd love to hear from you in the comments below!