Out of all the coffee machines available for home use, coffee pod machines – also known as coffee capsules machines – are probably the most used.
However, how do you know which one to get? Which one is the best coffee pod machine worthy of your hard-earned money?
Read on for our 10 best coffee pod machines. Read our buying guide
Best Coffee Pod Machines Reviewed
TOP PICK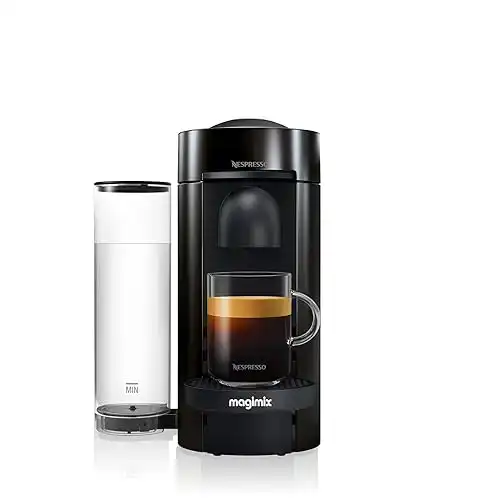 Nespresso Vertuo Plus Special Edition Coffee Machine by Magimix
Colour: Black
Capacity: 1.2 Litre
Dimensions (LxWxH): 34.9 x 22 x 32.5 cm
Weight: 4.78 kg
5 coffee sizes: Alto, Mug, Gran Lungo, Double Espresso, and Espresso
1 button preparation
7,000 rotations per minute
Heat up time: 15-20 seconds
We earn a commission if you click this link and make a purchase at no additional cost to you.
12/02/2023 10:31 am GMT
This sleek, modern machine is entirely touchscreen, allowing you to make each of your brews in style.
With just one touch, it'll start doing its magic, and you'll have a delicious finished cup of coffee in no time.
The individual barcodes with each pod mean that you don't have to choose the settings; it does it all itself. Whether it's the volume of water needed, heating time, and brewing time, the machine does it all for you to give you the perfect beverage each morning.
You can also have as little or as much as you want, as the machine offers five different cup sizes ranging from Espresso to Alto Coffee.
Using 7,000 rotations per minute, you will have the perfectly blended hot brew, or you can choose to go a bit trendier and pour it directly over ice for an iced coffee.
Using only the highest-quality beans that are sealed in each pod to protect the freshness and taste, you'll never be let down.
You're even given a complimentary welcome gift of 12 capsules that allow you to try and taste each of the best blends they offer so you can find your favourite.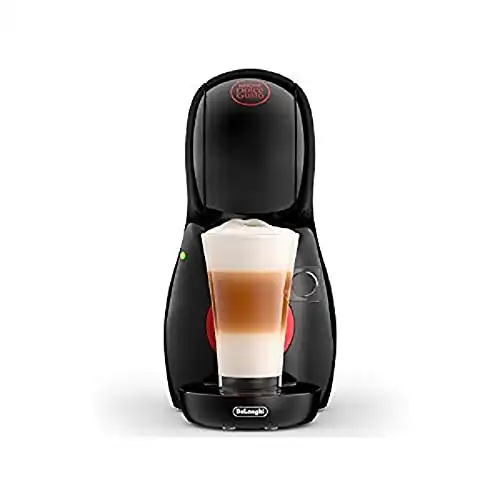 DeLonghi Nescafé Dolce Gusto Piccolo XS Pod Capsule Coffee Machine
Colour: Black/Red/White
Capacity: 0.8 litres
Weight: 2.1 Kilograms
Dimensions WxHxD: 14 x 28 x 27 cm
Over 50 hot and cold drinks
Eco-mode
Descaling Alert
We earn a commission if you click this link and make a purchase at no additional cost to you.
12/02/2023 12:46 pm GMT
Start your morning with some great coffee and a fantastic selection. With over 50 drink capsules to choose from, you can have either your favourite Latte Macchiato or an Americano in the blink of an eye.
You cannot beat the taste, as the pods used with these machines are created using only the best quality beans out there.
You don't have to worry about any of the beans' freshness escaping before you use your pods, as they are specially designed to protect the taste and aromas.
Equipped with a hot and cold function, you can enjoy your morning coffee while it warms you up or cools down in the summer with an iced beverage.
You'll never have to worry about limescale either, as you get a descaling alert the moment it has built up to the point it'll affect your drink.
Sleek and portable, yet still providing the capacity needed for a great drink. To top it off, there's an energy-saving option plus a recycling scheme for your pods.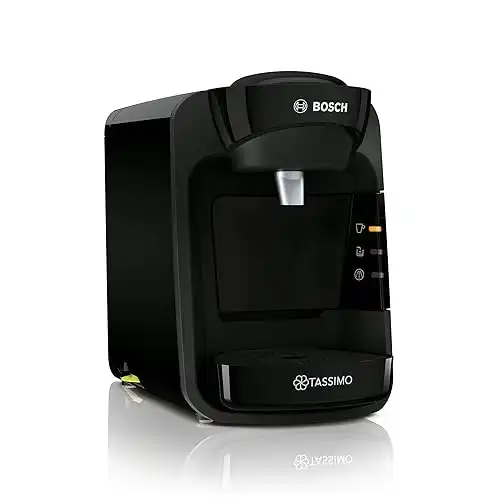 Tassimo Bosch Suny
Colour: Black
Capacity: 0.8 litres
Dimensions LxWxH:

30.5 x 16.7 x 25.1 cm

Smart Start
Intellibrew Technology
Over 70 drink choices
Auto shut off function
We earn a commission if you click this link and make a purchase at no additional cost to you.
12/02/2023 01:01 pm GMT
You can't go wrong with a Tassimo, and this machine is no different. You can officially save even more time in the morning with a smart machine that doesn't even require you to push a button.
All you have to do to get your daily caffeine fix is press the front face of your mug while placing it, and the brewing will commence.
Each drink is made to perfection with the correct amount of water, brewing time and temperature due to the patented barcode on each pod. You're guaranteed a perfect drink every time and never any disappointment.
Although cleaning will be required at times, the system automatically cleans itself using a steam purge after each drink, making your job a little bit easier.
Whether you want to use it in your kitchen, office, or both, the small and compact design makes it perfect to fit in any space. You can even take it on holidays with you, so you always have the perfect brew.
There's also never the worry of leaving it running all the time, as the machine comes with its automatic shut off function.
Similarly, this energy-efficient appliance also only heats the required amount of water for each of your drinks.
Choose from over 70 different beverages and use any sized mug.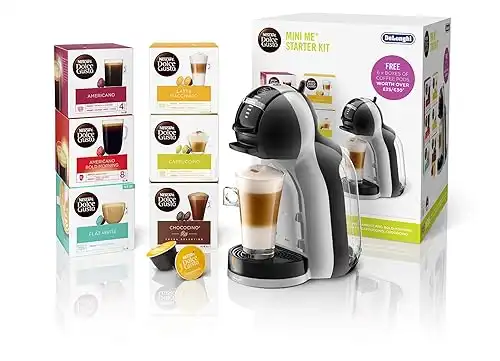 De'Longhi Nescafé Dolce Gusto Mini Me
Colour: Black/Grey
Capacity: 230 Millilitres
Weight: 6.97 Pounds
Adjustable drip tray
15 Bar pump pressure
Eco-mode
Over 50 drink choices
Hot & Cold drinks
Dimensions (WxHxD):16 x 37 x 24 cm
We earn a commission if you click this link and make a purchase at no additional cost to you.
12/02/2023 01:46 pm GMT
Just like all the other De'Longhi machines, this one is bound to brighten up your day every morning.
With over 50 different drinks available, all crafted from the highest-quality beans around, you'll always be given a fresh-tasting brew with mind-blowing aromas.
With little mess and the easy to use settings, you'll find yourself bragging to all your friends about this handy little machine.
The high pressure reaches up to 15 bars, giving you the ultimate beverage at the end. With so much choice, you'll always be able to have your favourite drink, whether it's coffee, hot chocolate, or even tea.
It's automatic, meaning you hardly have to lift a finger to get the machine to start working its magic.
Choose from a hot or iced coffee with a hot or cold setting, something that all your guests will be jealous about. Smaller than most other machines, it is portable but still gives you everything you need in a drink.
To top it off, there's an energy-saving function that stops you from running the machine all night long.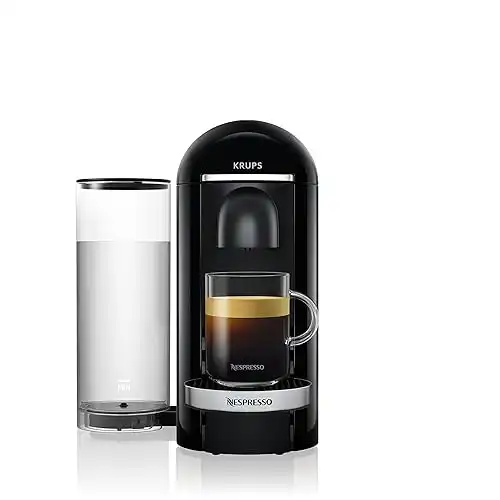 Nespresso Vertuo Plus Deluxe Coffee Machine by Krups,
Colour: Black
Capacity: 1.7 litres
Weight: 4.6 Kilograms
Dimensions (WxHxD): 23.18 cm x 33.52 cm x 32.51 cm
One-touch operation
Enhanced Centrifusion and barcode technology
Five cup sizes: Alto (414ml), Mug (230ml), Gran Lungo (150ml), Double Espresso (80ml) & Espresso (40ml)
Heat up time: 40 seconds
We earn a commission if you click this link and make a purchase at no additional cost to you.
12/02/2023 11:51 am GMT
Make coffee time the best part of your day with this Nespresso pod machine.
Whether you want a small espresso or an extra fix of caffeine, this appliance has you sorted.
The impressive range of capsules allows you to choose from five cup sizes: Alto, Mug, Gran Lungo, Double Espresso, and Espresso.
You don't have to put in any extra work as the built-in intelligence system recognizes the individual needs of each capsule entered. It'll use the perfect amount of water and brew for the right duration to give you a drink like no other.
With up to 7,000 rotations per minute, once it gets started, you're guaranteed a perfectly blended coffee with flavours and aromas that will melt in your mouth.
You don't even need to bother with lots of different buttons, as the machine comes with a simple, one-touch brewing setting.
Each machine comes with a selection of pods to try straight away while also finding your new signature blend that will be introduced into your daily life.
With quality, speed, and low energy consumption, you're getting everything you need in one place.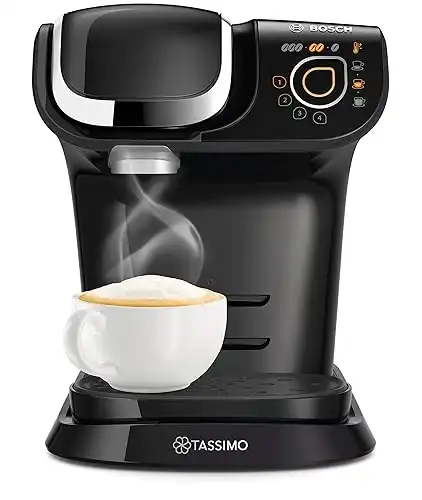 Tassimo Bosch My Way 2
Colour: Black, Cream, Red or White
Capacity: 1.3L
Weight: 3.38 kg
Dimensions: 26.9 x 32.2 x 40 cm
BRITA Water Filter
Over 70 drinks
Auto shut off
We earn a commission if you click this link and make a purchase at no additional cost to you.
12/02/2023 12:51 pm GMT
The Tassimo Bosch My Way allows you to set the intensity, size and strength however you like it, allowing you to create a drink that meets your standards every time.
You get the highest flavours available using the built-in water filtration technology, which works through the 1.3L removable water tank. It can be filled with ease before inserting one of the 70 pods available for this machine. Get your fix of Costa Coffee or Cadburys hot chocolate without even setting foot outside your house.
Don't worry about cleaning this machine daily, as an auto-clean goes off after every drink you create. There will never be any risk of flavours mixing with each other, and you get a smooth taste every time.
The energy-efficient settings also ensure that only the required amount of water is heated, and it's never left on for longer than you need it to be.
No matter what sized cup you have, this machine can be adjusted to fit it in, so you can have as little or as much coffee as you want.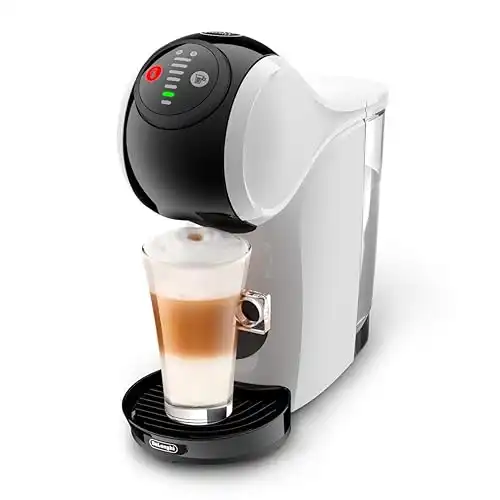 De'Longhi Dolce Gusto Genio S
Colour: White
Capacity: 0.8 litres
Dimensions WxHxD: 12.3 x 27.3 x 27.6 cm
High-pressure machine (up to 15 bars)
Hot or cold drinks
50 drink choices
Auto shut off function
Descaling alert
We earn a commission if you click this link and make a purchase at no additional cost to you.
12/02/2023 01:41 pm GMT
For the perfectly tailored cup of coffee, you cannot go wrong with this pod coffee machine. With a selection of over 50 drinks, you'll never be short of choice and will no doubt be able to find a couple of favourites.
Using the best beans, the specially designed smart pods lock in all the flavours and aromas as if you were grabbing coffee beans straight after they've been blended.
By simply placing your mug into the machine and pressing one button, the high pressure 15 bar system will get to work.
You can select your desired temperature, whether it is hot or cold, and the 0.8L water tank will use the exact amount of water needed to create the ultimate beverage.
You also never have to worry about leaving it on too long and using more power than required, as there's an energy-saving setting that will turn it off when not in use.
INCLUDES MILK FROTHER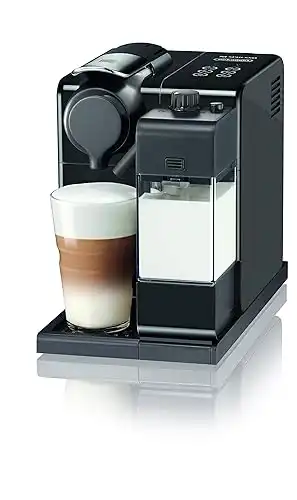 De'Longhi Lattissima Touch
Colour: Dark Grey/Silver/White
Capacity: 0.9 litres
Weight: 4.5 Kilograms
Dimensions WxHxD: 17.3cm x 25.8cm x 32.0cm
19 bar pump pressure
Milk frother
Heat up time 25 seconds
Six different 1 touch recipes
Eco-mode
Descaling Alert
We earn a commission if you click this link and make a purchase at no additional cost to you.
12/02/2023 11:41 am GMT
Get ready for the ultimate one-touch coffee and milk solution. By pressing one of the six buttons on display, you'll be able to choose your favourite drink without doing any blending or brewing yourself.
Whether you are in the mood for an Espresso or Latte Macchiato, you'll be able to get it in a matter of minutes.
You'll also get the best milk froth without the need for a barista with artistic skills. You can adjust the knob to get the perfect texture that you've always desired.
Using the 19 bar pump, higher than most other coffee machines on the market, you'll be able to capture every flavour in the pod you use perfectly.
Within 25 seconds, the perfect temperature is met, and the brewing can begin, so you get your beverage in no time.
You also don't have to worry about any limescale building up and ruining the taste of your drink. Each of these machines comes with a descaling function to give you the ideal experience.
Paired with the energy-saving function that turns off the machine after 9 minutes of inactivity, it's the perfect machine for any coffee lover.
illy Coffee Maker Machine X7.1
Become your own barista from the comfort of your own home with this Illy coffee machine.
Alongside the sleek and modern design, you also get drinks that will awaken your tastebuds. Create the beverage of your dreams, whether an espresso or cappuccino, with one touch. All you have to do is insert the capsule of your choice, and the machine will do the rest of the work for you.
It also comes with a patented steam wand for an excellent milk frothing finish.
Choose how much you want in your mug using the adjustable drink volume setting. Whether you want one shot of espresso or a full large glass, the choice will always be yours.
The quick cooling technology allows for an easy switch between milk and coffee, so you always get the desired temperature and texture.
To top it all off, the energy-saving setting will turn the machine off after 30 minutes of inactivity.
Lavazza A Modo Mio Voicy
Ever wanted to make a coffee without even having to leave the sofa? You now can! This innovative machine comes with a built-in Alexa, where you can ask her to make you a coffee, and it'll be made before you know it. The machine can even start playing you music and update you on the weather for the day. It's really unlike any other coffee machine and takes technology to the next level.
The water tank is removable and dishwasher safe, meaning you never have to worry about limescale or manually wash it yourself.
You'll also always know when it needs cleaning, as well as when to top up the water, or whether the capsules drawer is full, as Alexa will be there to let you know.
A two-height cup holder will allow you to choose between espresso or long coffee, whatever you're in the mood for.
CONQUECO Portable Coffee Maker
Grab the best portable espresso machine that's compatible with both Nespresso and L'OR capsules. Take it anywhere you want, whether on a camping trip or to work with you, and you'll always be guaranteed a hot cup of delicious coffee. Simply place your water into the machine, hold the button for two seconds and then wait for eight to ten minutes for the water to boil. After that, hold the button again for five seconds, and you'll get a great cup of hot coffee ready to drink anywhere.
You're always guaranteed the precise temperature with this machine. The cup will keep in the perfect flavours of espresso for a long time for you to enjoy. You also don't have to worry about cleaning the machine as it comes with a self-cleaning function that works within 5 seconds of adding water. All you have to do before use is charge it up for as little as four and a half hours, and you'll have coffee on the go wherever you are.
How Does a Coffee Pod Machine Work?
A coffee pod machine is straightforward to use, and you will get your caffeine fix in a matter of minutes. All machines will be slightly different when you use them, but they typically have the same process to give you a delicious brew.
All you have to do is plug in your machine (which is pretty obvious) and fill the provided reservoir to the fill line with filtered water. Your machine will most likely come with a built-in filter, but using purified water will give you the best results.
The water needs to heat up first before inserting your pod, so press the power button and let it boil. Then, get your choice of coffee mug ready in the designated drip tray, lift the handle, and insert your desired pod. You can get all sorts of flavours and brews to choose from, making this machine even better. Once inserted, lower the handle all the way, so it's closed, select the setting you want and get brewing!
Pros and Cons of Coffee Pod Machines
Every coffee machine has its pros and cons, and a pod machine is no different. To help you decide if it's the right appliance for you, have a look at what makes it stand out and some of the minor downfalls.
Pros:
Convenient
If you don't want to go out and go to your local coffee shop every morning for a good brew, then having a pod machine is extremely handy. You don't have to put a lot of work in; you simply roll out of bed, place your water and pod in the machine, and voila! You have your caffeine fix to get you started for the day.
Consistent
You never have to worry about having a stale coffee pod or a brew that lacks the flavours you've been desiring. You'll get the same remarkable taste every day, and you'll never be disappointed. Each pod provides the same unique flavours, depending on what one you use.
Fast
Waiting in line for a coffee in the morning can make anyone a little bit irritated. However, a coffee pod machine gives you precisely what you need in a matter of minutes AND the comfort of your own home. Similarly, you don't have to roast or grind beans at home to get the perfect brew because the pods have done it all for you.
Fresh Brews
Coffee pods keep your beans fresh for longer than if you were to buy a packet to roast yourself. All the flavours are kept safe in an air-tight container, so you're always going to have a fresh taste, just like if you were to get beans straight from the coffee shop.
Easy to use
This pro is a no-brainer. You put in minimal manpower each day when using a pod machine to get the ultimate cup of coffee. All you need is some water and your pod, and the machine does all the work for you. No matter how appliance savvy you are, you'll be able to get the brew you want.
Portable
If you need to move house or you just want to take your machine on holiday with you, it's straightforward to do so. They are typically relatively small and light machines, so all you have to do is unplug them and take them to your desired destination.
Cons
Not like hand-made espresso
If espresso is your go-to form of coffee and you are used to it being hand-made, then a pod machine may let you down slightly. Creating espresso is an art done by a skilled barista, and no coffee machine in the world will make it as they do. It's still delicious, but if you're specific about your brew, then this machine may not be for you.
Equipment is pricey
Although you save a lot of money in the long run by opting for a coffee pod machine over getting your caffeine fix from a coffee shop each day, it may cost you a pretty penny when buying all the equipment. The machine alone will set you back a bit, but the pods are also more expensive than a typical bag of beans.
Unique coffee pods
All brands of coffee pod machines have their own unique pods. Therefore, they cannot be used universally. This makes it slightly more challenging to find the correct pods for your own machine, and some are only available to purchase online. This can be frustrating to wait for them when all you want is to head to the shop.
Are Pod Coffee Machines Worth It?
If you've found yourself spending a large portion of your monthly income on your daily cup of coffee from the local coffee shop, you may consider a coffee pod machine as a good investment. Not only do you get a cheaper brew each time, but they're also cheaper than manual espresso machines. Coffee pod machines vary in price, but some of them can be very reasonable, allowing you to make a delicious cup for a fraction of the cost.
Although a pod machine may not give you the exact flavours as a professionally brewed beverage, you're getting a pretty delicious taste for what you're paying for. If you're incredibly fussy when it comes to taste, then maybe one of these machines isn't for you. However, if you're looking to save money but still get a decent cup of coffee each morning, then a coffee pod machine is definitely worth it.
Is There A Coffee Machine That Takes All Pods?
One of the main disadvantages of a coffee pod machine is that many of them only take the pod's associated with the machines' brand. However, if this is putting you off getting one, we have a solution for you. Multi-capsule coffee machines are now on the market, which allows you to use multiple different brands of pods in one machine. Although there may not be one single machine available for every pod available out there, these appliances make it much easier to find compatible pods.
Most of these machines are not associated with the branded pods they take, but they still work perfectly. For example, the However 4-in-1 Coffee Machine allows you to use four different types of coffee; Nespresso pods, Dolce Gusto pods, ESE pods, and ground coffee. The KREA ES200 Coffee Machine also works with the same four types of coffee, making it much easier to find a pod in your local supermarket when you're running low.
There is a wide range out there, and you just need to find the one that accepts the pods you are looking for.
Is Capsule Coffee Real Coffee?
Many believe coffee pods are too good to be true. This is because they are so easy to use, and you get a delicious tasting cup of coffee in half the time it would take to brew your own beans. But are they actually real coffee? Although they may not be as fresh as a brew by using beans right after being roasted, they do contain real coffee beans.
The only difference is that they are sealed right after roasting and can sit around for a while. On the bright side, the freshness is mostly sealed in as the pod prevents any contact with moisture or oxygen. As a result, they will not go dull or stale, and you can make it with ease. Some may argue it's not as good as a brew straight from roasted beans, but others say it's worth what you pay, and it's better than instant coffee.
Types of Coffee Pods
There are many different types of coffee pods available, and which ones you can use will all depend on your machines.
In addition, they all range in different shapes and sizes, which affects their compatibility.
Here is a mini-guide on some of the most popular coffee pods out there and which machines they're compatible with:
Nespresso Original Line
Compatible with: Essenza, Citiz, Lattissima, Creatista, Maestria, le Cube, Inissia, Pixie, Wacaco, L'OR Philips Barista, Kitchen Aid
Nespresso Vertuo
Compatible with: VertuoLine
Nescafe Dolce Gusto
Compatible with: Krups/Breville Dolce Gusto
Keurig K-Cups
Compatible with: Keurig (except 2.0), Sboly, Hamilton Beach, Cuisinart, Touch Brewer
Keurig 2.0
Compatible with: Keurig 2.0
K-Fee/Caffitaly
Compatible with: K-Fee, Aldi Expressi, Caffitaly
Lavazza A Modo Mio
Compatible with: Lavazza Smeg, Jolie, Desea, Tiny, Fantasia, Idola
Vittoria Espressotoria
Compatible with: Caprista, Barista 2.0
Soft Pods
Compatible with: Senseo, Hamilton Beach, Black & Decker Brew n Go
ESE Pods
Compatible with: Pump machines with a 44mm basket
Which Pod Coffee is Best?
The best pod coffee will all depend on your taste buds and your favourite blends of coffee. From our list of reviews, we'll have to argue that the best blends available on the market are those created by Lavazza, Nespresso and Illy. Each provides unique flavours that cannot be matched with instant coffee. Depending on your brew needs, you can choose the best machine from these brands that suit you.
Nespresso vs Dolce Gusto vs Tassimo
If you want to purchase a well-known coffee pod machine, your best bet is to choose between a Nespresso, Dolce Gusto, or Tassimo. Their pods are widely available in most supermarkets, and many multi-capsule machines accept them as well. However, how do you know which one is the best to choose? There are many factors to consider, but we're here to make it easier for you.
Nespresso
If you're looking for great-tasting coffee with an elegant touch, then Nespresso is for you. There are two capsule systems available; the original or the vertuo. The original uses Nespresso-brand pods and offers a wide range of different espressos, coffees, and teas for you to make at home. If you want a milk frother, this will have to be bought separately. The vertuo creates espressos and long coffees, but there is no milk frothing adaptation available at the moment.
Dolce Gusto
For a great taste at a lower price with capsules readily available to buy anywhere, you should opt for a Dolce Gusto. The machines use their own-brand pods, but they're typically cheaper than some other options. In addition, there are over 30 different drinks available for you to create, meaning you can most likely find your go-to. However, keep in mind that milky drinks use powdered milk capsules that require two pods per drink.
Tassimo
If you are a big fan of Costa Coffee but want to make it yourself at home, then you're going to love Tassimo. They have over 30 drinks available in their own-brand capsules, with most of them teamed up with another brand, in particular Costa Coffee. You can also make your own Cadbury hot chocolates when you've had enough caffeine for the day. Similar to the Dolce Gusto, more milky drinks will require two pods.
Can Coffee Pods Be Recycled?
We all love our environment; therefore, there's no doubt you'll want to opt for coffee pods that can be recycled. The good news is that most brands offer their own recycling program. Let's look back at the three main competitors Dolce Gusto, Nespresso, and Tassimo and see what they have to offer:
Nespresso
If you want to recycle your Nespresso coffee pods with ease, you're in luck. You can order free recycling bags from the company and drop off your old pods at any available drop-off points. So you don't have to make the trip multiple times, and to reduce your carbon footprint even further, each recycling bag you're given can fit up to 200 pods!
Dolce Gusto
Dolce Gusto has hopped on the bandwagon and also has drop-off points for you to take your used pods to. They'll then do the rest of the work and ensure that they get recycled for you, so you have peace of mind.
Tassimo
Just like the other two brands, Tassimo also offers a recycling program where you can take your used pods to a location supported by them. They'll then send every collected capsule to a central location, where they are melted down and reused.