Do you love your morning coffee?
What if you could get delicious, fresh-roasted coffee delivered right to your door each month?
It's the perfect way to try new blends that you wouldn't necessarily find in your local supermarket or coffee shop.
Well, coffee lovers, in this guide we review all the best coffee subscription services available in the UK to ensure that you always have the freshest, most delicious coffee delivered straight to your door.
Read on for reviews of each of the top coffee subscription boxes. We've also included links to the best places to buy them online.
This post contains affiliate links, meaning at no additional cost to you, if you click a link and subsequently make a purchase I will earn a commission.
The Best Coffee Subscriptions Available In The UK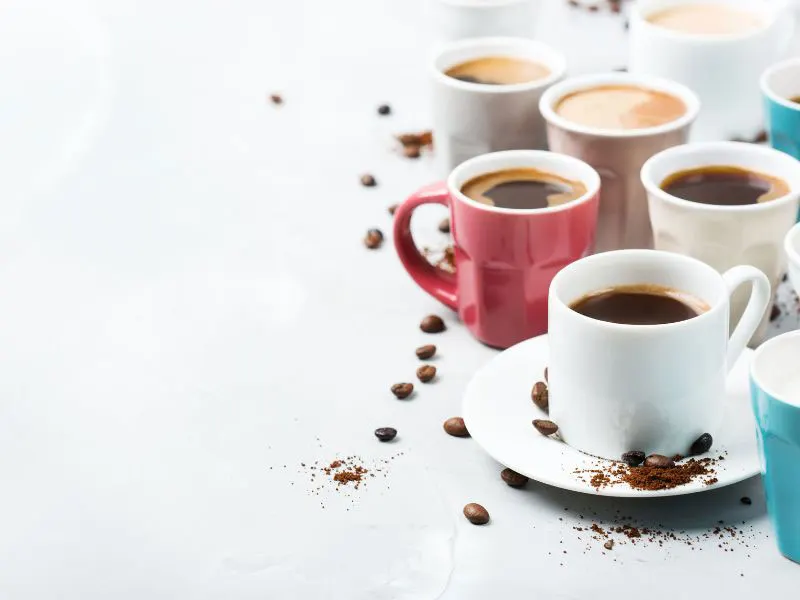 Related: Different Types of Coffee Drinks
Rise
Prices start at £8
Coffee arrives in original packaging from the roasters
Boxes are made out of 90% recycled material
You can choose between whole beans or ground coffee
Voted number 1 in the UK by Good Housekeeping, ELLE, GQ, and The Independent out of all coffee subscriptions available
Each box provides around 20-30 cups of coffee a month
Rise is an environmentally friendly coffee subscription, offering its subscribers two speciality coffee blends sourced from a wide range of different roasters in the UK.
You're provided with something new and exciting to taste every month, including some bonus goodies such as special treats to accompany your beverage and unique recipes.
Set up by renowned coffee lovers, they go through a careful selection process to ensure you're only providing the best blends when you receive your box.
All premium coffees are blind tasted beforehand, and you're provided with an intricate story of how these particular beans ended up in your hands.
How it works: On the Rise website, you can browse their coffee box range and different types of subscriptions. Choose whether to receive your box monthly, bi-monthly or fortnightly, and from there, you will select how you want to pay: in instalments or upfront to save some money. There are also speciality boxes and capsule subscriptions for you to choose from.
---
Pact
Prices start at £7.95 per bag
Receive a bag of coffee every 2-60 days
One bag of coffee makes 15 cups
Edit your preferences at any time from your account
Pact follow sustainable practices to prevent deforestation
Awarded the Great Taste Award in 2020
Pact, founded in 2012 in the kitchen of Stephen Rapoport, has a mission of bringing the UK high quality and better tasting brews.
They remove the middle parties of the long supply chain and work directly with farmers, providing subscribers premium and fresh coffee on their doorstep. Pact has pledged to pay farmers at least 25% above the Fairtrade price while bringing you affordable speciality blends.
Currently sourcing from over nine origins and working closely with close to 150 different farmers, Pact offers subscribers a wide range of roasts and blends each month.
How it works: With Pact, what you receive each month is entirely up to you. Instead of being surprised each month with a new type of coffee, you set up your plan and have your favourite blend delivered promptly. You personalise your plan, choose from three coffee ranges, select how often you'll receive your coffee, and other specifications such as whether you want it in a pod or bag form or between regular and decaf.
---
Horsham Coffee Roaster
Prices start from £5.50 a month
Ethically sourced with recyclable packaging
Free delivery on orders over £15
Ongoing subscription until you cancel
Horsham Coffee Roaster is a brand that believes in providing its customers with unique, speciality, and high-quality coffee while nurturing a strong relationship with the farmers and producers providing the beans. After establishing partnerships in Rwanda, Kenya, and Costa Rica, you can get your hands on green-sourced coffee that looks after its origins.
Based in Sussex, it's not easy for all of the UK to embrace the taste of a Horsham Coffee Roaster brew. That's where they came up with the idea to offer a subscription service that you can either order for yourself or gift to a fellow coffee connoisseur.
How it works: Horsham Coffee Roaster offers a wide selection of different subscriptions. The choice is entirely in your hands over the way you pay, prepaid or pays as you go and whether you or the roasters choose your coffee. When you order, let them know how many bags you'd like and how to receive your coffee. You can switch the products you receive each month, ensuring you always get exactly what you're paying for.
---
Lavazza
Free delivery received within five business days
Change your address details when you like
The customised coffee selection can be changed any month
Minimum of 7 to 9 deliveries depending on the chosen machine
Lavazza is a brand that has been bringing homes across the UK delicious and fresh espresso coffee since 1895. You can buy the bags and pods of your favourite brew through Lavazza, and they also sell several innovative machines that will prepare each mug with precision.
Recently, Lavazza has even taken its designs a step further by teaming up with Amazon's Alexa to make the coffee making process even more accessible. They believe that people shouldn't only have access to high-quality beans for their morning cup of coffee but the tools for brewing as well. That's why they set up their subscription service.
How it works: The Lavazza subscription doesn't just offer you the chance to receive your favourite pod coffee every 2, 4, 8, or 12 weeks, but you receive a brand new coffee machine with your first order. With machines starting at as little as £1, you then choose a selection of 10 packs of coffee pods, select your frequency, and checkout so you can receive your personalised selection.
---
---
Clumsy Goat
Both subscriptions are £9.95 a month
Free shipping on all orders
Cancel or pause your subscription when you like
Each bag is roasted weekly to keep it fresh
100% Fairtrade certified
Clumsy Goat has devised a subscription system with a different roast each month for coffee lovers who want to step outside their everyday brew.
By working closely with farmers and sourcing only ethical and sustainable beans to provide their subscribers, Clumsy Goat offers a subscription service that you won't be able to find anywhere else.
With vast knowledge and experience in the coffee industry, they know the best flavours and aromas that make up the perfect roast, so you'll always receive something you can enjoy.
How it works: Clumsy Goat offers two subscription services for their customers. You can choose the single origin of the monthly subscription that comes in either whole bean or ground coffee, or for something a little stronger, you may want to opt for the espresso of the month subscription. You can select if you wish to receive your coffee fix every week, fortnight, or month. After payment, you can sit back and wait for your first unique coffee blend to arrive.
---
Batch Coffee
Each box costs £17.99 as part of a recurring subscription
Plastic free with recyclable paper and cardboard packaging
Coffee is dispatched every other Wednesday
Cancel whenever you like
The Batch Coffee team set up a subscription service to provide anyone in the country with a wide range of different beans sourced and crafted by a wide range of coffee roasters around the UK.
But they don't want to only provide their subscribers with high-quality single-origin coffee every month or fortnight; they also want to offer information on each bag to expand their knowledge base of the coffee industry.
Only providing the most popular and top scoring coffees from independent UK coffee roasters, you cannot go wrong with a Batch Coffee subscription. Each roast is blind tasted, ensuring you only get the very best in each box.
How it works: Each month, Batch Coffee will taste and review several different single-origin coffees, selecting the best one to offer you. You'll then choose your grind and how frequently you'll receive your coffee. You'll receive two bags of your preferred coffee with each delivery, along with a QR code that you can scan on your phone or smartphone to learn more about where the beans were sourced, the independent UK roaster, and what Batch has to do say about them.
---
Gustatory
Up to 30 speciality coffees are featured every month
More ethical and sustainable than supermarket coffees
Free delivery to most European countries
Cancel or amend your subscription at any time
Gustatory takes its subscribers on a journey worldwide, allowing them to enjoy the different tastes of the UK, USA, and Europe's most popular and high-ranking coffee roasters. You now have the opportunity to have barista style coffee from the comfort of your own home each morning and whenever you desire.
Providing their members with up to six different coffees every month, you can now start trying a selection of different flavours that you would never have had access to before.
Partnering with a wide range of other roasters, all with a rating above 87/100, you know you're only receiving high-quality coffee.
And the best part? There's a wide range of different subscriptions on offer to choose one tailored to your tastes and at-home brewing method.
How it works: Gustatory has eight monthly coffee subscriptions that you can sign up for, each with its own theme and curated for the different preferences that coffee lovers have. Once you've decided which subscription is the best for you, you'll then be able to choose how many bags you receive in your delivery and the type of brew. By providing Gustatory with your flavour preferences, they'll ensure you receive the ideal roasts that suit you.
---
Presto
Skip a delivery anytime or cancel your subscription
New subscribers receive a free 250g pack of the best-selling coffee
Prices vary on the type of coffee you purchase
Free shipping on orders over £25
Presto wants to take the complications of making coffee at home out of the equation and provide its customers with a better range of gourmet coffee that protects the planet and its people at the same time. Using air roasting technology, their methods reduce carbon emissions by up to 25% compared to typical roasters.
With different subscriptions, you can choose a brewing method that works for you. The entire Presto range is on offer, but instead of simply going out and buying a refill every time you run out, you can now opt to receive your favourite roast every week, fortnight, or month.
How it works: When you visit the Presto subscription page, you'll have the chance to browse their beans, bags, ground, and instant coffee product selection. Once you've chosen the brewing method and roast you desire, you'll be able to purchase it on a weekly, fortnightly, or monthly plan. Since it's being bought on a subscription, you receive 10% off the usual price of the coffee and the opportunity to earn reward points for each delivery and save more in the future.
---
Blue Coffee Box
Prices start at £7.49 a month
Free UK delivery on all orders
Delivered in compostable EcoBags
Cancel your subscription when you like
Blue Coffee Box is a coffee club that aims to provide its subscribers with a balance of luxurious and gourmet coffee that's also kind to the planet. Working closely with the farmers who provide the coffee and visiting the farms it comes from, Blue Coffee Box ensures you only receive the very best.
By signing up for the subscription service, you go on a coffee tour of the world, trying a wide range of speciality coffees, all with a quality score of 83 and above. Each box is unique and different, and you'll be able to try a wide selection of flavourful brews each month.
How it works: Blue Coffee Box has two subscriptions for you to choose from. You can opt for the Blue Coffee Bag or Box, the former offering a singular 227g bag of single-origin coffee and the latter providing you with two bags. You can choose whether to receive the brew just for yourself or gift it. From the brewing method to the type of roast, you can customise your order to your liking. Once you've chosen how often you want to receive your coffee, you can sit back and wait for the first delivery to arrive.
---
Mission Coffee Works
Pricing depends on the coffee you select
Cancel or change the order at any time
Featured by The Independent as the best flexible coffee subscription
Mission Coffee Works has a mission of providing like-minded people with high-quality beans while also showing them how to use them in the best way for the ultimate taste.
Focusing solely on the beans and the roasting process, the Mission Coffee Works buys all their beans green and roasts them before shipping them off to you.
Working with ethical farmers, pickers, mill workers, green buyers, and importers, they ensure every part of the supply chain is doing its job while also receiving fair prices for their work. You can sign up for a flexible coffee subscription and never worry about what you're drinking again.
How it works: Mission Coffee Works allows you to build your coffee subscription and customise each of the steps to ensure you're getting exactly what you want. You can select to make the order ongoing or have it for only a fixed amount of time. Choose the type of coffee you'd like to receive and the size. Have your subscription delivered every week, fortnight, or month and change it whenever you would like.
---
Rounton Coffee Roasters
Delivery is free with all coffee subscriptions
250g coffee bags can fit straight through the letterbox
All packaging is recyclable and carbon-neutral
Pause or cancel your subscription whenever
Rounton Coffee Roasters aims to make speciality coffee from around the world more accessible to people. Not only do they provide a unique and diverse range of high-quality beans for their subscribers to enjoy, but each of their coffee products is sustainably sourced and roasted with care and awareness.
Priding themselves on the transparency of their coffee, each subscriber will be able to look into every stage of the supply chain and have peace of mind that their morning cup isn't doing the planet any harm. They make their subscriptions based on your preferences, and the choice of what you receive is entirely in your hands.
How it works: Start building your Rounton Coffee Roasters subscription by choosing who it's for. You can either purchase one for yourself or send it as a gift. You'll select the type of coffee out of the roaster's choice, smooth, fruity, or decaf. You then pick a grind, style, and frequency of your order. Rounton will then provide you with your personalised price, and you can then pay and wait for your first order.
---
Caravan
Free UK postage included
You can modify 'for me' orders at any time
Save money on each order
Receive a free mug when you first sign up
Sip some of the finest coffees from around the world from the freshly roasted bags supplied by Caravan Coffee Roasters. Offering a unique and exclusive coffee subscription, you can build it to your liking and ensure you always have a fresh bag waiting for your morning brew each day.
Alongside receiving your coffee fix through each delivery, Caravan Coffee Roasters also provide their subscribers with a wide range of different monthly offers and competitions to get involved in. They add an extra element of excitement that no other coffee subscription offers, which is perfect for those who want an extra special surprise at different times throughout the year.
How it works: Caravan offers both personal and gift coffee subscriptions for you to choose from. When you select one for you, you'll go through each customisation stage, including deciding whether you want a filter or espresso, selecting your ideal flavour, picking the frequency of each delivery, and opting for the correct bag size on how much you drink. They'll then provide you with your unique price, and you will receive your order regularly.
---
Assembly
Free coffee coasters with your first order
Free UK shipping every month
The price of the subscription is £21 a month
Cancel whenever you'd like
Assembly is an independently-owned and award-winning speciality coffee roaster based in Brixton. Using unique and signature roasting methods, they offer a different taste out of their beans that you won't find anywhere else. From individual bags to wholesale sales, they sell their coffee to people and businesses around the country.
Disrupting the speciality coffee industry, Assembly decided to introduce a subscription service into the mix. They want to provide coffee lovers across the UK the chance to try a brand new coffee every month and be the first to taste their new brews before release.
How it works: Signing up for an Assembly coffee subscription is completely simple. Since they offer one new coffee every month, you don't have to go through the process of customisation. You receive 2 x 200g bags of whole bean coffee each month, but you can specifically ask for ground coffee if that is your preference. Simply enter your details, and the order will arrive promptly every month alongside a printed taste card to provide more information on what you're drinking.
---
Volcano Coffee Works
Amend your plan and cancel every time
Free delivery on all monthly orders
Prices vary depending on what you choose
Volcano Coffee Works was founded with a vision to bring the unique and great tasting coffee of New Zealand to the UK while supporting sustainable and ethical processes with the farmers who grow and produce the beans. Focusing on helping each person in the supply chain reach success, you also benefit from a cup of fantastic and flavourful coffee.
You can now receive fresh, high-quality coffee from Volcano Coffee Works delivered straight to your front door and never worry about running out of your favourite brew. You no longer have to go through the hassle of re-ordering your everyday coffee each month, and it'll turn up just when you need it.
How it works: The type of coffee you receive from your Volcano Coffee Works subscription is entirely up to you. You start choosing your favourite coffee to receive each month or try something new with each delivery by selecting the Roaster's Choice subscription. You'll decide how big you want the bag to be and the brewing method you'll be using. Finalise your recurring order by selecting what delivery date you would like, and you'll receive your package on time.
---