Have you arrived here looking for the best gas BBQ – I don't blame you, it's that time of year when the smell of delicious outdoor cooking is wafting across your fence.
Although there is something traditional about using a charcoal grill, nothing quite beats the ease and effectiveness of cooking on a gas BBQ.
If you're looking for inspiration, don't forget to check out our BBQ Recipe Ideas!
If you're in a hurry, you might want to jump straight to our recommended gas BBQ, or alternatively, for other options, read the whole guide for more gas BBQ options.
1. The Everest 4 Burner Gas BBQ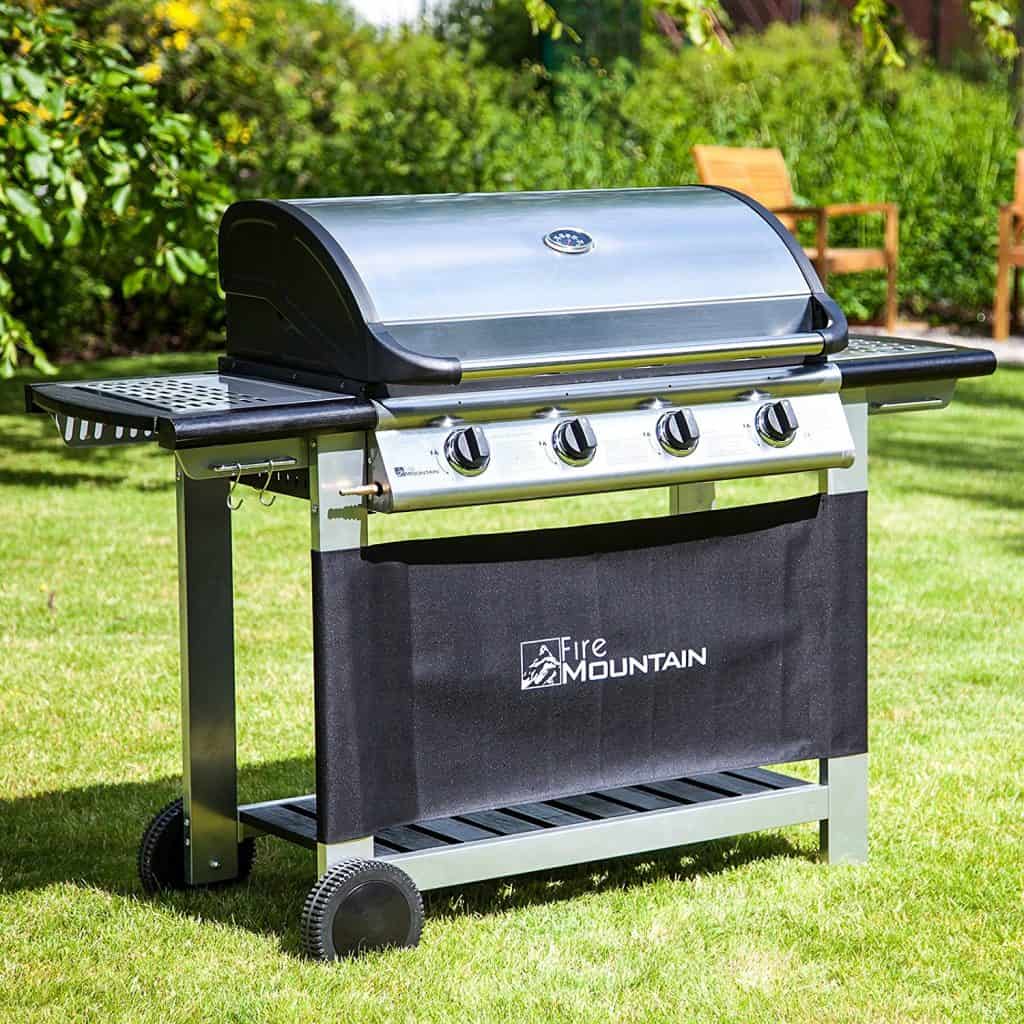 Our criteria for deciding on the best gas BBQ for 2022 includes not only function and quality, but also design.
The Everest 4 Burner has a very modern design that will look the part in any modern kitchen garden.
There is a particularly large area to cook food (77cm width but 42cm depth) which includes a grill and griddle area made from cast iron. The size of the Everest 4 burner is the ideal size for any family get together.
The drip tray underneath is removable enabling a quick and easy clean.
As the name suggests, there are 4 gas burners, made from cast iron, with electronic ignition to increase safety when igniting.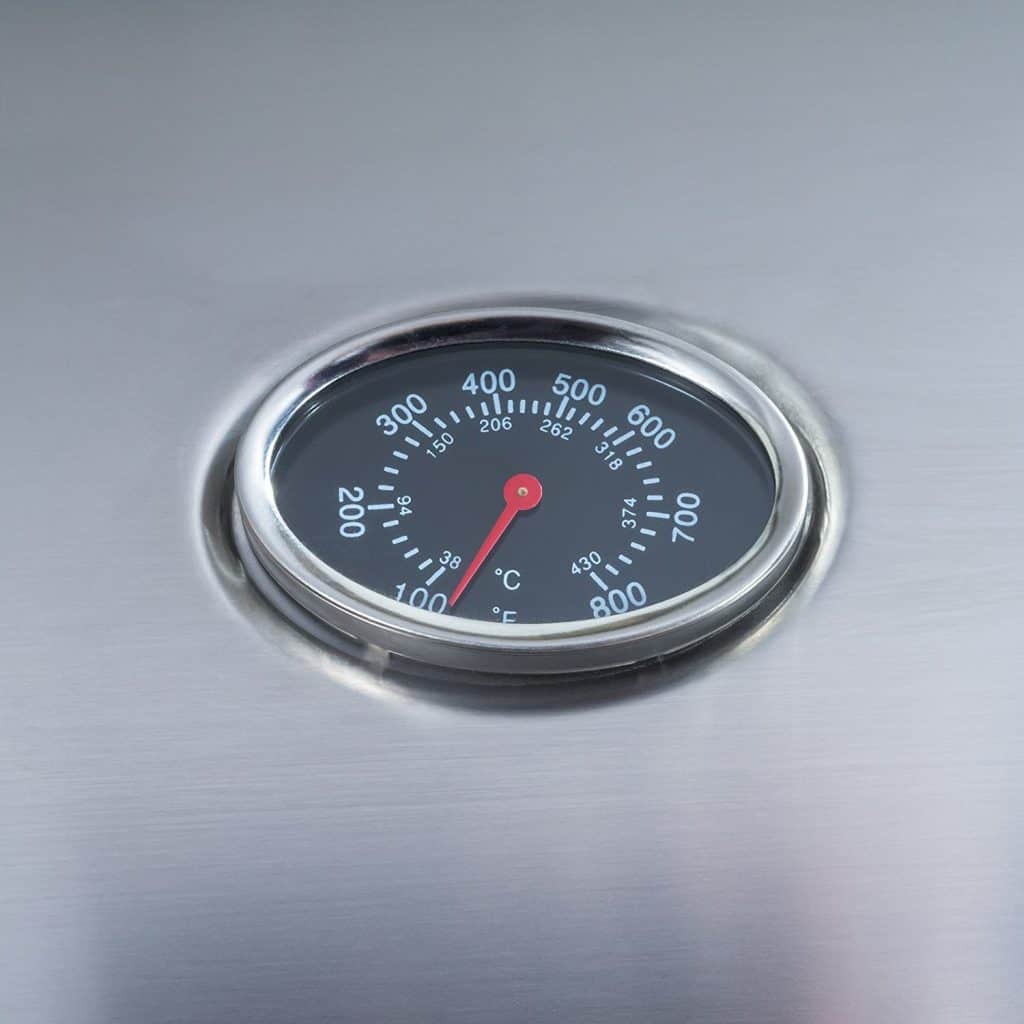 The stylish stainless steel hood is dome-shaped and comes with a temperature gauge on the outside, ensuring you are confidently cooking your food at the right temperature. Within the hood there is also a wire warming rack, allowing you to keep your food warm.
There are two handy shelves on either side of the cooking area to prepare food and hang utensils. The shelf below the BBQ is useful for storing the gas bottle when the BBQ is not in use.
The BBQ is easy to move around with two wheels on one side – simply tilt it and wheel to the required position.
It is worth knowing that this model comes flat packed and requires assembling – some users have reported the assembly time to be around 2 to 3 hours.
MAIN FEATURES
Cooking Area: 77cm (Width) by 42cm (Depth)
Internal Height: 25cm (cooking area to top of domed hood)
BBQ Dimensions: 140cm (W) 56cm (Depth) and 106cm (Height)
Weight: 44kg
Delivered flat packed (home assembly required)
Propane gas regulator and hose is provided but a gas bottle is not included
CONCLUSION
A sturdy and well built gas BBQ with useful preparation areas. Easy to move around. Allow time for home assembly.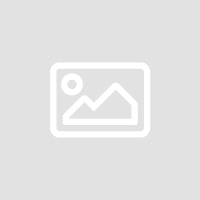 Our Pick Of The Best Gas BBQs In 2022
2. Outback Excel 310 Gas BBQ
The Outback Excel 310 looks super cool. We love the modern designed shape combined with the eye-catching silver-grey finish.
For a smaller size BBQ it still provides ample space to cater for a family meal. The actual cooking area comes in at 50cm by 38cm with the extra side burner there to fry onions, warm up sauces or make a quick stir fry to accompany your meat.
The Excel 310 is a dual control gas BBQ with a power output of 6.2kw. The side burner has a power output of 2.3kw.
Once the food has cooked there is a useful warming rack to make sure it doesn't go cold.
The porcelain coated grill retains heat well and is easy enough to clean after use. The BBQ hood comes with a temperature gauge.
The two wheels make this model easy to move around your patio or garden.
The BBQ comes with a gas regulator but you will need to buy a gas bottle (5kg or 13kg). This model comes flat packed and needs to be assembled at home.
3.
Charles Bentley 5 Burner Premium Gas BBQ
The Charles Bentley is a top end choice when it comes to buying a gas BBQ. There are 5 burners with 4 of them having the ability to be ignited independently of each other, allowing you to choose different temperature zones across the grill area. Each stainless steel burner can reach 14kw. This is perfect for cooking different types of foods that perform better at different temperatures.
Again, as with the previous 2 models, there is a warming rack so that you can keep food warm, as well as a built in thermometer in the hood area.
The side burner enables you to cook extra foods such as frying onions, heating sauces etc.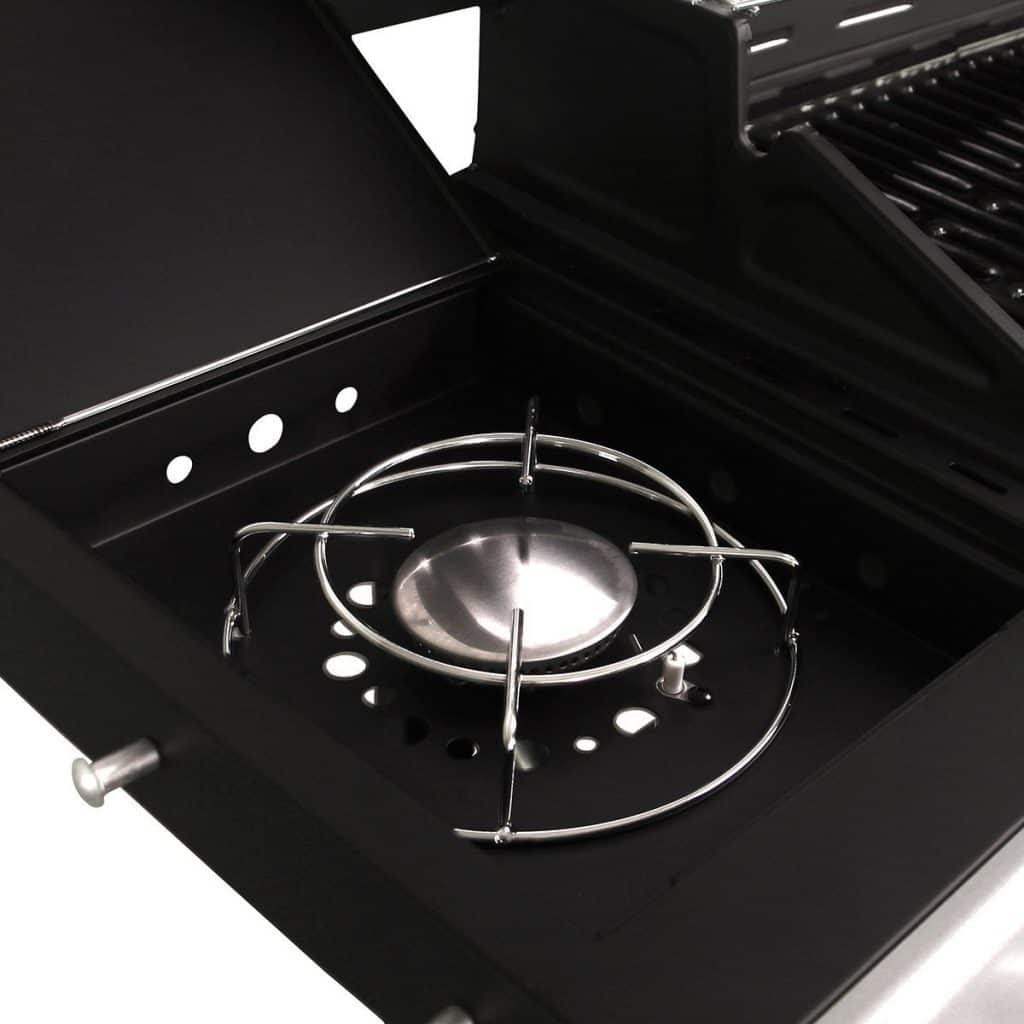 Nice little extra touches include a bottle opener, 3 utensil hooks and a double cupboard with
enough storage space to keep all your utensils and other barbecue essentials.
The Charles Bentley comes in a choice of black or titanium. The material is both heat and flame resistant to help prevent paint from flaking off.
The BBQ is easy enough to move around – it is built on 4 castor wheels with a side handle and brakes.
The cooking area is 63cm by 41cm with the overall dimensions being 136cm (width) by 56cm (depth) and 106cm (height). The BBQ weighs 34kg.
This model comes with a propane regulator and a 60cm hose (the gas bottle must be purchased separately, either a 5kg or 13kg size).
We earn a commission if you click this link and make a purchase at no additional cost to you.
Buying A Gas BBQ – What To Consider
Gas BBQ vs Charcoal BBQ
This is a debate that continues to get discussed over the years – with no real or wrong answer. It comes down to personal preference, and perhaps a little bit of budget. A gas BBQ will likely (but not always) be a larger upfront investment than a charcoal model. But you can't deny the authentic taste of a charcoal BBQ!
How To Clean A Gas BBQ
Likely the most dreaded part of the whole BBQ – cleaning it! As tempting as it is, I would make sure you clean your BBQ after every use. There is nothing worse than deciding to have a BBQ on the spur of the moment (which, let's face it, thanks to our climate, they often are in the UK!) and then having to clean it before you can even start.
Turn off and disconnect the gas
Make sure your BBQ has cooled down sufficiently so it is comfortable to touch
Degrease the grill area with warm soapy water, allow to soak and then remove any stubborn foods with a wire brush
If your BBQ has the option, remove the fat drip tray and scrape away the fat. Soak the tray in warm soapy water
Leave to dry
How To Store A Gas BBQ
Protect your BBQ from the elements by investing in a BBQ cover. Some models will come with a cover but most you need to purchase separately.
Make sure you get the correct size for your BBQ.
BBQ Accessories
Cooking utensils can be picked up easily and cheaply enough at your local supermarket, or check out some of these options.