Rice should be a simple thing to make. But it isn't. Sometimes I get it just perfect, other times (most times) I get it horribly wrong.
Thankfully, help is at hand, in the form of a rice cooker. They range quite wildly in terms of what they can do and what they cost. There are cheap rice cookers, all the way to multi cookers that do everything from slow cooking to pressure cooking.
Multi Cookers
If you want your rice cooker to cook more than just rice, it is worth investing in a multi cooker. As the name suggests, they can cook using a variety of cooking methods. Most of them are also pressures cookers, soup makers, slow cookers, yoghurt makers and more.
PROS

Multiple appliances in one model.
Only one footprint on your kitchen counter top.
CONS
Larger initial investment.
Potentially a steeper learning curve to understand how it works.
Instant Pot Duo 7 in 1
Instant Pot are one of the most popular multi cookers on the market. They currently have the 6 in 1 and 7 in 1 available to purchase.
They have gathered quite a following of satisfied users, with groups set up to share recipes and offer advice.
There are so many different kinds of foods you can make in an Instant Pot, a quick search on the official Instant Pot site brings up a huge selection, including rice, curries, desserts, soups, porridge, yoghurt, pastas, sauces and dips, fish dishes, meat dishes, chillis, stews and probably a whole lot more! Phew. Quite the appliance.
MAIN FEATURES
7 Functions in 1 – Slow Cooker, Pressure Cooker, Rice Cooker, Saute/Browning, Yogurt Maker, Steamer and Warmer
14 built-in Smart Programs, Dual Pressure, Auto Keep Warm as well as three temperatures for sauteing and keeping warm.
Delay cooking time of up to 24 hours.
Energy efficient.
Recipe book and quick start guide.
On/Off Electric Rice Cookers
If you are looking for a straight forward appliance that can cook your rice for you at the touch of a button, you might consider a rice cooker that is quite simply, just a rice cooker. They are very reasonably priced and are very effective at cooking your rice for you.
PROS

CONS
Lloytron Kitchen Perfected Automatic Non Stick Rice Cooker
This easy to use rice cooker comes with a non stick removable rice bowl, making it easy to clean.
It has a capacity to cook up to 0.8L of rice, 4 cups, which should feed around four people.
The lid is made out of toughened glass with a stainless steel rim.
The rice takes around 10 minutes to cook and has a keep warm feature.
Reviewers report excellent results with recommendations to wash rice before putting it in.
MAIN FEATURES
0.8L/4 cups capacity (around 4 portions)
Keep warm feature
Measuring cup and plastic spatula
Recipe book
Removable non stick rice bowl
Rice Cooker and Steamer
Hamilton Beach Rice Cooker
This model is not quite as basic as a simple switch on/off rice cooker, but doesn't have as many features as a multi cooker. It sits somewhere in between the two, both in terms of cost and features.
Let's take a look at what it offers.
Cooking rice is so easy. Everything has been preprogrammed – choose between White Rice, Quick Rice, Whole Grain or Heat/Simmer. The Hamilton Rice Cooker will do everything else, adjust the cooking time based on the liquid and amount of food in the pot. Clever huh?
Easy White Rice, Quick Rice & Whole Grain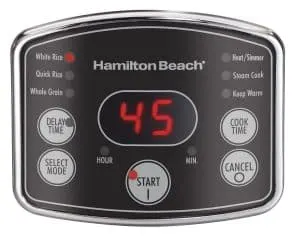 All three functions are preprogrammed with the right amount of cooking time for each type of food, so there's no need to consult the cooking directions on your rice bag or oatmeal box. As food cooks, the Digital Rice Cooker senses food's remaining moisture level and automatically adjusts the cooking time shorter or longer as needed. When cooking is complete, it automatically shifts to WARM.
One huge beneficial feature of this model is the optional steam basket which can be used to steam food. Perfect for cooking some vegetables on the side or some dumplings. You can choose how long you want to steam for, between 1 and 30 minutes.
And it doesn't just cook rice. It can be used for any pasta or rice mix, as well as beans, and most one pot meals. Simply use the heat/simmer button and manually choose how long it needs to cook for (according to the food package instructions). The Hamilton Beach Rice Cooker will heat the water to the correct temperature before switching to a simmer. Once it has finished it will automatically switch to keep warm until you are ready to serve it.
There is a delayed start feature of up to 15 hours, so perfect if you are out at work and want to time it to be ready for when you get home. There is also a keep warm function. There is a heat/simmer function which is perfect for pasta mixes, soups, oatmeal and beans. You can control the amount of time you want it to simmer for and then it will automatically switch to a keep warm function.
It has a capacity to cook up to 4.75L which is more than enough for a large family.
The bowl is non stick and the glass lid is dishwasher proof.
MAIN FEATURES
4.75L Capacity
Keep warm feature
Delayed start (up to 15 hours)
Steaming basket for cooking extra foods
Heat/Simmer function
Removable non stick rice bowl
Dimensions (inches): 11.42 H x 11.3 W x 10.59 D
Rice Cooker Buying Guide
Rice is a staple ingredient the world over. According to Statista, 478.44 million metric tons of rice were consumed globally in 2015/2016. That's a lot of rice! Whereas China are the leading consumers of rice, the rest of the world are catching up.
Types of Rice Cookers
Decide exactly what you want from your rice cooker, how many people will you be cooking for?
Simple On/Off Rice Cookers
If you really only want an appliance that will take care of cooking your rice, nothing more, this is the rice cooker type for you. They are fine for regular rice consumers and are often an economical option. They work by just placing rice and water in the cooker and switching on. The rice cooker will take care of everything else for you. Some have a keep warm feature. These kind of rice cookers are straight forward and are pretty much ready to go out of the box.
Microwave Rice Cookers
These are the cheapest of all rice cookers. They are perfect for people who don't need to make too much rice at a time, and of course for those who have a microwave! Some of them also make more than rice, including porridge, pasta and grains.
Multi Cookers
The ultimate in rice cookers, and in kitchen appliances. If you have the budget then a multi cooker is by far the most beneficial and cost effective item you can buy for your kitchen. Most multi cookers can be slow cookers, rice cookers, pressure cookers, porridge makers, yoghurt makers, soup makers and much more. If you can see yourself regularly using these cooking methods then it is worth investing in one, not just for the money saving, but also for condensing a lot of appliances in one footprint!
Other Factors To Look For
The Inner Pot
The material of your pot will determine how well and fast your rice cooks. Try to go for non-stick, thick pots.
Keeping It Clean
It's an absolute must to be able to clean your rice cooker quickly and easily. Some will be dishwasher friendly. At the very least, make sure you can easily remove the inner bowl to clean it in the sink.
The Size
It goes without saying, buy according to how many you are cooking for. If you frequently have people over for dinner you might want to go for a larger model to cater for this.
Keep Warm
Having a keep warm function takes out the stress of having to time everything to finish at the same time.