Who doesn't love a satisfying ham and cheese toastie?
What if you could make a tasty toasted sarnie at home in a sandwich toaster?
Even if ham and cheese isn't your thing, almost anything can be put into a sandwich and toasted for a satisfying meal and that is quick and easy.
Toasties are an inexpensive, quick meal for those on the go. Cleaning up afterwards is fast if you are in a hurry, or quickly entertaining guests at short notice.
With a little research, we have compiled the top 5 best sandwich makers available for purchase on Amazon, their specifications, and options.
We have done the leg work to help you decide which one is right for your next toasted sandwich.
Breville Deep Fill Sandwich Toaster And Toastie Maker
(With Removable Plates, Non-Stick, Stainless Steel)
The original Breville Sandwich Maker has been around for over 40 years.
If you are looking for something that has a fully enclosed plate system, this is a top choice as it has smaller plates for the different sized toasties.
In addition, this sandwich toaster features a deep bed so you can have a full-sized sandwich without fear of your fillings escaping or being squashed in the toasting process.
This sandwich maker is ready to be filled quickly but does get hot on the outside while cooking – so be mindful of the steam and heat.
Don't worry about your cheese and tomato toastie falling apart during cooking – with the deep bed you will have the perfect sandwich every time.
Maybe you want to take your toasties to a whole new level and fill the toasties with leftover veggies mixed with cheese. The deep bed will hold any shape of bread and more filling.
Check out some of the Breville Toastie Makers efficient qualities:
The Breville Deep fill sandwich maker is perfect if you plan to make deep filled or large toasted sandwiches.
With 40 years of innovation and experience going into this model then this is one of the best choices for sandwich makers.
Breville Sandwich/Panini Press and Toastie Maker
(4-Slice, Stainless Steel)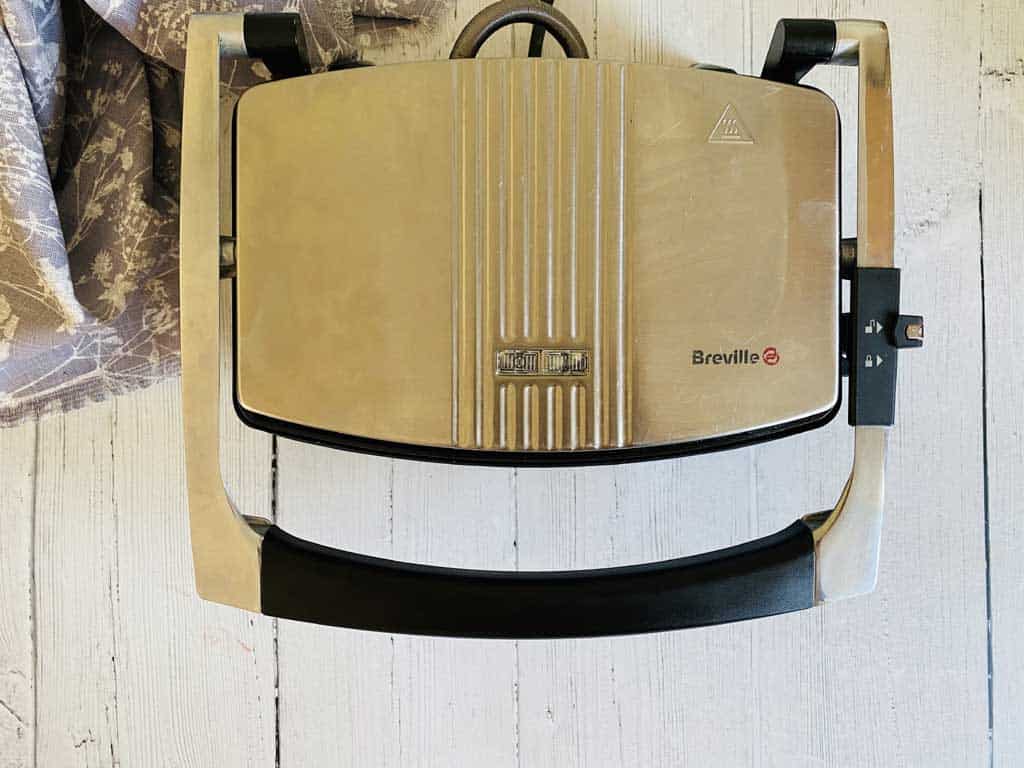 This heavier weight sandwich maker is a little larger than your average maker.
However, the larger size comes with some big benefits.
This is designed more like a panini press which makes it perfect for making panini or toasties that produce flat sandwiches instead of ridged ones.
This sandwich toaster does not seal the product like other machines that lock – which can cause spillage. However, it is designed to simply be wiped down with a damp kitchen roll for easy clean.
The 2-minute run time does not have an automatic shut off so you can't leave this one unattended.
The thicker the bread the better with this machine as the lid seals itself to create the best toasties.
It is big enough so that two slices of the full size bread will fit perfectly side by side to allow you to make two sandwiches at once.
Interested in inventing the perfect bacon, baked beans, and cheese waffles? This bigger sized sandwich maker will give you plenty of room to try out new concoctions.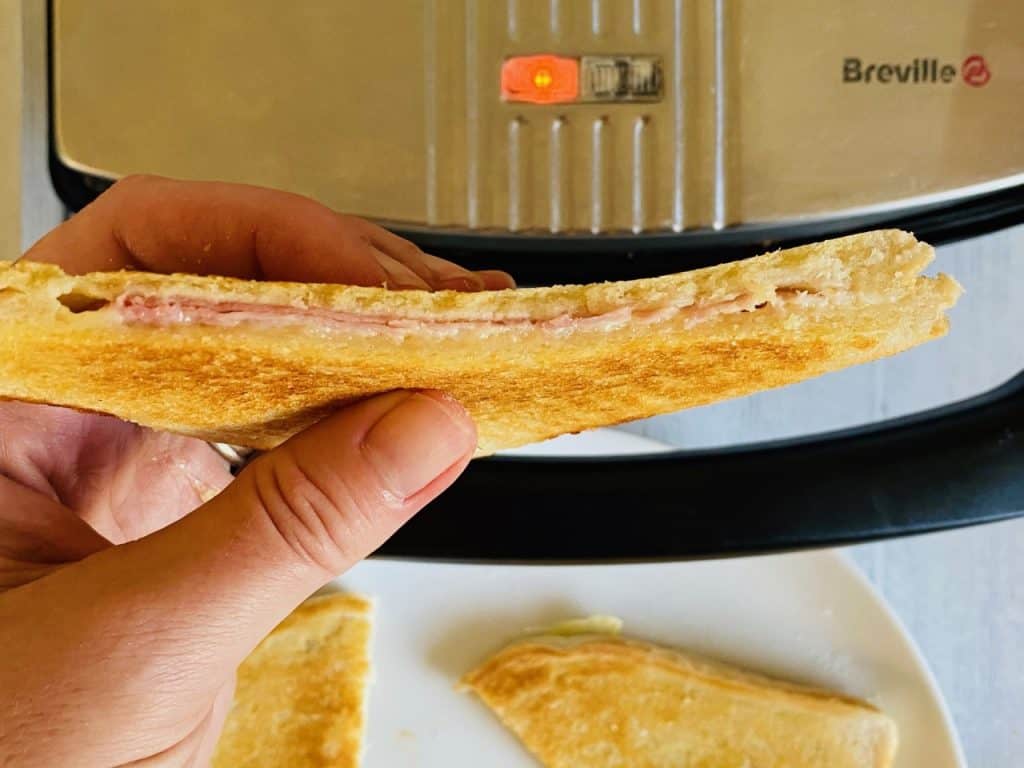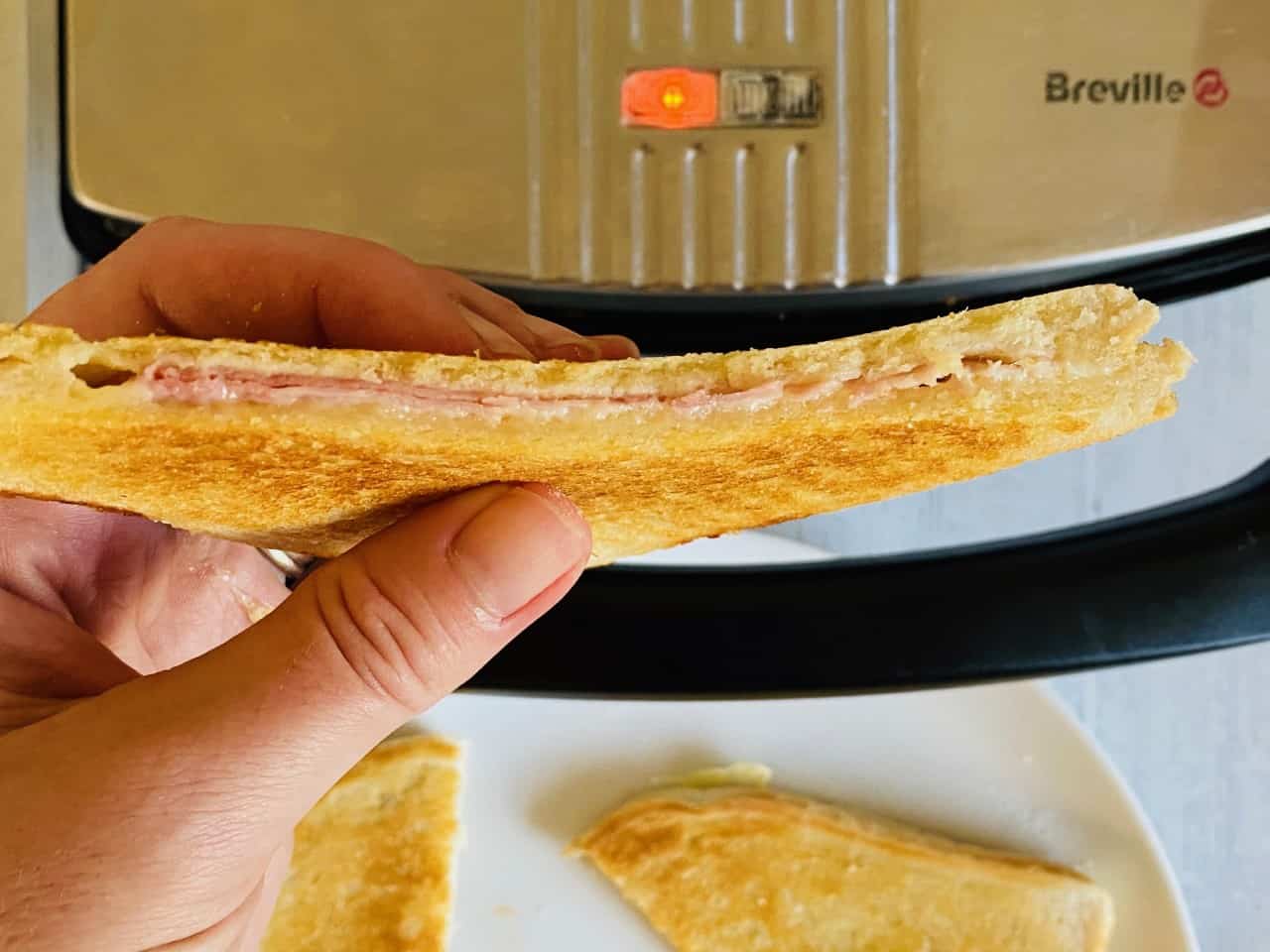 Take a look through these benefits if you are looking for something a bit different for your toasted sandwiches:
The Breville Sandwich/Panini maker is perfect for times when everyone is hungry but wants a different sandwich.
The possibilities for choices of fillings and preparing different sandwiches are endless with this sandwich maker. Go wild at home with whatever clever ideas you can pull from your fridge.
Salter EK2143 Deep Fill 3-in-1 Snack Maker with Waffle, Panini and Toasted Sandwich Plates
This one is perfect for anyone who isn't sure what they want to munch on.
Not sure what kind of food mood you're in?
Maybe you want a multigrain bread toastie with delicious Cheddar, Wensleydale, Red Leicester, or Cheshire to fill your toastie craving.
Maybe you just want a thick waffle with blueberry sauce or fresh syrup or Oatcakes with cheese and ham.
This multipurpose 3 in 1 sandwich maker is versatile with its interchangeable plates.
Not only can you make the perfect toastie, it also comes with plates to make waffles and more.
No matter if it's a fry up, dinner, or lunch, the food possibilities are endless.
The simple cleaning allows you to use it any time of the day.
The high hinge gives the sandwiches more depth creating a more filling snack.
Check out the specifications for this 'more than just a sandwich' maker that produces gorgeous meals:
The Salter 3-in-1 sandwich maker is versatile, it can be used for so many occasions that it makes the perfect gift for someone who loves to cook a variety of foods.
George Foreman Medium Grey Steel Grill 25041
The medium sized George Foreman grill might not be an obvious first choice for a sandwich maker but it is a great choice and offers versatility in the type of food it can cook.
This grill will give your toasted sandwiches the ultimate perfect grill lines – and it can cook other food too!
Designed for grilling in mind, the George Foreman will produce restaurant style paninis and toasties.
When it comes to creating the perfect toastie this is down to personal taste but with this grill you can experiment with all kinds of fillings until you find the perfect combination.
Whether that's a traditional cheese and ham toastie or perhaps you want to try something a little different and go for Brie and bacon mixed with chutney?
You could even see what happens when you make a toastie using your leftovers!
A couple of slices of the best Farmhouse loaf with veggies and grated cheese perhaps?
The George Foreman not only makes the perfect toasties, but also grills, it's a two in one product.
With a clip in drip tray and a rear adjustable foot for angled cooking you can grill almost anything and the fat drips away into the tray helping you to produce a healthier meal.
This unique product is made to conveniently store vertically in a cupboard.
It's also super easy to clean.
It brilliantly cooks everything evenly by regulating the heat temperature on its own.
The George Foreman Steel Grill sandwich maker heats up faster than competitors. It's ready in 45 seconds and heats from both top and bottom plates and there is no need to turn your sandwiches.
Morphy Richards 511644 MICO Toastie Toasted Sandwich Maker
(Microwavable cookware, silicone and coated metal, orange)
The Morphy Richards Microwave Toasted Sandwich maker might just be a revolution in making toasties quickly and easily.
There is no need to wait for the cooker or traditional sandwich toaster to heat up – this gadget is ready to be filled and popped into the microwave.
There are no cords involved and no bulky toasters to worry about, making storage simple.
But metal plates in the microwave you say? The two metal plates inside the sandwich maker are enclosed with silicone. The silicone can be removed from the metal plates for easy cleaning when the sandwich maker is not in use. The complete silicone covering keeps the metal from interfering with cooking in the microwave.
This is a product made to be left alone so cooking is super easy too. If you are in a hurry then pop your toastie in the Micro Sandwich maker, put it in the microwave and then just remove it when it's done. This machine will grill your toastie perfectly in microwave time.
The Morphy Richards microwave sandwich maker may seem strange to some, and it may not be the stainless steel traditional sandwich maker you are used to, but this microwavable toasted sandwich maker is genius for those on the go, or who don't have the space for a bulky appliance.
It's perfect for taking to work too, if your office or workplace has a microwave.
This portable sandwich maker is perfect for people who want a fresh toastie on a lunch break but do not have time to wait for a conventional machine to heat up.
The sandwich can be made in advance and refrigerated – making it before work is easy.
What Makes A Good Sandwich Maker?
Some models of sandwich toaster come with interchangeable plates, allowing you to make waffles, paninis, or even grill meats and vegetables to perfection.
A good toastie maker should be quick to heat up, cook your sandwiches evenly, require minimal effort, and it should hold a good amount of filling. Easy cleanup is the best part of a sandwich maker.