Are you following a recipe that requires blanching? Do you know what blanching is, and how to do it? Read on to find out!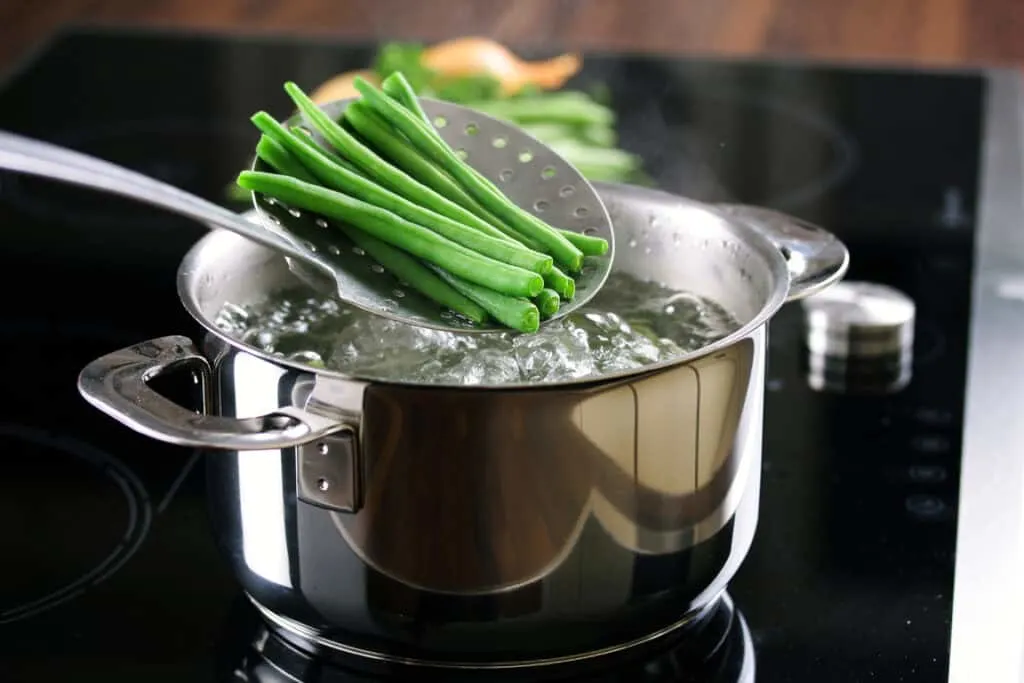 What Is Blanching?
Blanching is immersing raw ingredients in steam or boiling water for 1 to 3 minutes to cook their outer layer – much like scalding. Then, they are plunged immediately in ice-cold water, known as "shocking", to quickly halt the cooking process.
Blanching is often used interchangeably with parboiling. The difference is that blanching involves shocking and parboiling doesn't. In parboiling, raw food – including meat – is pre-cooked as a head-start to further cooking like grilling, stewing, or deep-frying later.
Related: Guide to different cooking methods
If you're planning to serve cold, hard vegetables like carrots, broccoli, asparagus, green beans, peas, or cauliflower for salads or crudités, it would be best to blanch them first so they'll be crunchy and easy to chew.
Serving them completely raw might be too hard for your family or guests, but cooking them thoroughly might make them too soft and dull in colour. Blanching will be your best middle ground.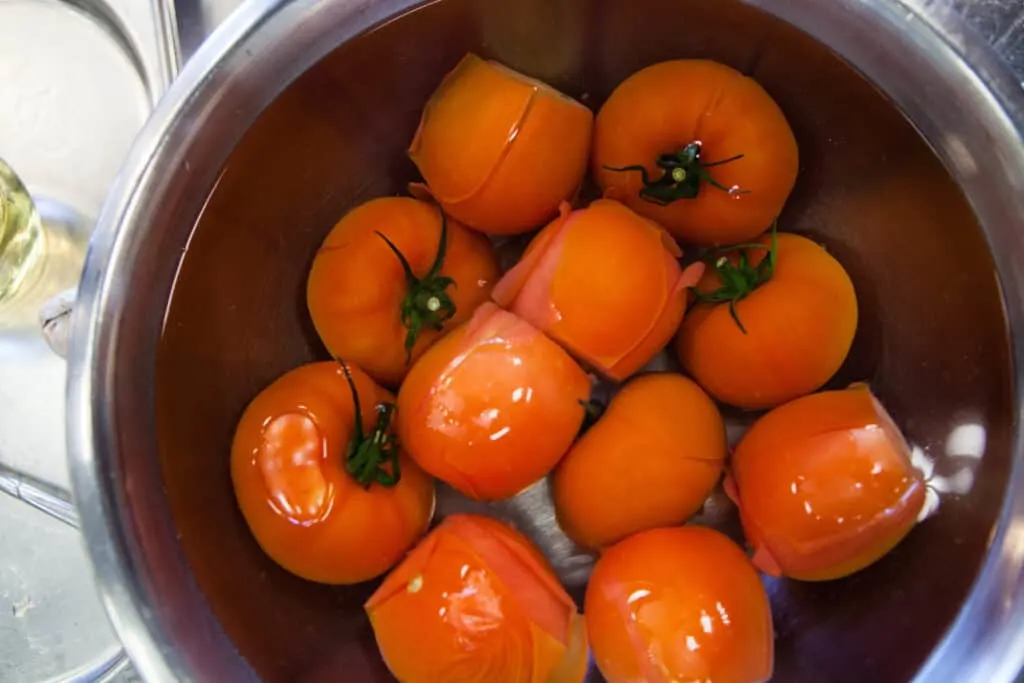 You can also use blanching to soften vegetables before roasting, to make cabbages pliable for use as wraps, and to loosen the skins of fruits – like peaches, plums and yes, tomatoes – to make peeling easier.
How to Blanch Vegetables
1. Start with plenty of boiling water, enough to submerge the vegetables in. Add salt.
2. Cut your vegetables into uniform sizes to ensure even cooking. You may want to arrange them according to hardiness, as well. You'll want to separate hard veggies from softer ones, and stalks from leaves.
3. Prepare a bowl of ice bath and place it beside the sink where you'll be draining your veggies after blanching, so the time you transfer them from hot to cold water will be minimal.
4. Next to it, have a plate lined with paper towels or a cloth napkin ready.
5. Blanch each kind and part of vegetables separately. Soft veggies will be blanched within a minute, but harder ones will take longer. So, using a colander or slotted spoon, plunge the dense ones first, followed by the tender ones. The same goes for leaf veggies – place stalks first, then stems, then mature leaves, and the sprouts last. (If you're particular about colours, blanch the lighter coloured veggies first before the brightly coloured ones. Dark green vegetables like beans and broccoli tend to leach their pigmentation into the water, which could be absorbed by the light coloured ones.)
6. The water should return to the boil within a minute. (If it doesn't, it's an indication that you've put too much food for the quantity of boiling water, or your pot is too big.) With a wooden spoon or spatula, carefully push the vegetables down to make sure every piece gets in contact with the boiling water. Do not cover the pot.
7. You can check for doneness by scooping up a piece after every 30 seconds, shocking it in ice water, and biting into it. Once you achieve both the level of tenderness and crispiness that you like, then it's done.
8. Once blanched to your liking, drain your veggies and shock them immediately in the ice bath. It usually takes the same amount of time to chill them as it takes to blanch them.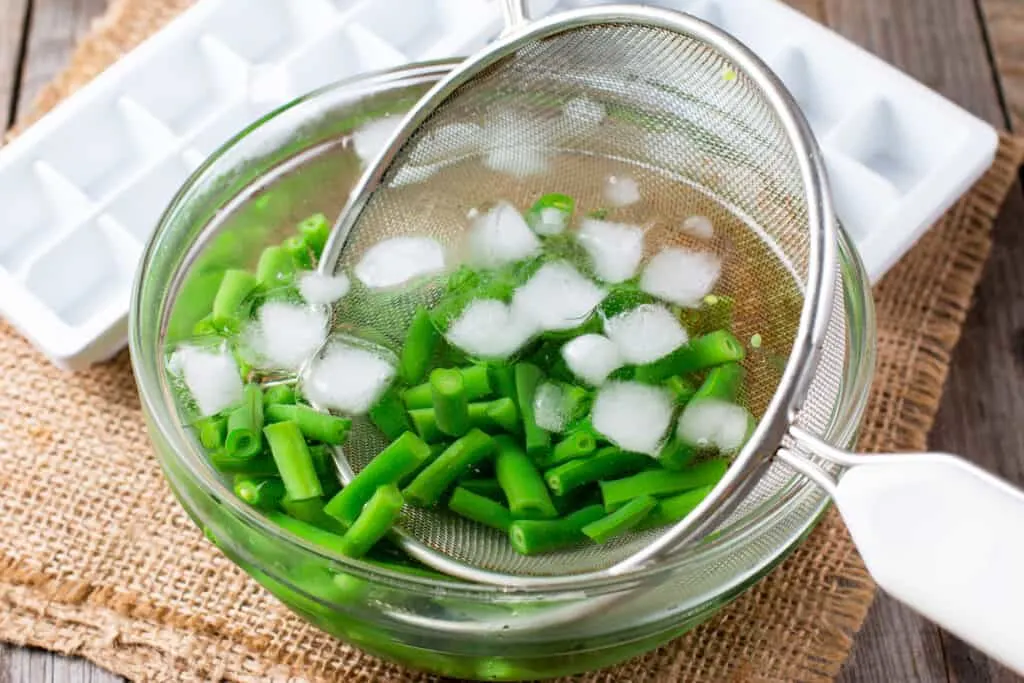 9. After the veggies have completely chilled, throw out the water then transfer them to the towel-lined dish to drain completely. Once dry, they will be ready for serving or storing.
Why Blanch?
Blanching has lots of uses and benefits. It's a culinary technique that's often unknown or overlooked by many home cooks but is valued and regularly practiced by professional chefs. It's definitely an essential skill to use around the kitchen.
First of all, it helps preserve the natural texture and colour of ingredients which could otherwise be lost to thorough cooking. Even though veggies are being subjected to heat, they still retain much of their firm, crisp texture. Moreover, their colours become brighter. You'll notice that when you place veggies in boiling water, their colours deepen after a minute or so. But with continued boiling, they become dull and eventually turn greyish or brownish-green.
Also, veggies retain much of their natural flavours and nutritional value. Their enzymes and cell structures don't break down as much as if they would if they were fully cooked, so you get their optimal taste and nutrient levels.
Oddly enough, you can also use blanching to reduce strong odours and very sharp, bitter tastes. Chefs do so for that very purpose, adding salt to the boiling water not just to improve flavour but also to achieve a more neutral taste and smell where needed. You may want to consider this for veggies like kale, rapini (broccoli rabe), bitter gourd, and garlic.
Another advantage of blanching is that it further removes pesticide and microbial residues that may not have been washed off during rinsing.
Furthermore, if you want to store your ingredients for later use, blanching them first would make them last longer. It'll stop any enzymatic activity in raw fruits and vegetables and make them taste, look and feel fresher, longer. You can do this before refrigeration, freezing, and drying.
Tips for Blanching
Use about 4 litres of water to 450 grams of vegetables (1 gallon of water per 1 pound of prepared veggies).
Salt generously.
For tender veggies like sprouts and courgettes, it's better to use steam for blanching. Though steam blanching takes about 1 and ½ minutes longer than water blanching.
An alternative method to shocking is placing the blanched ingredients under running cold water or inside the freezer for several seconds.
The thing to look out for, really, is when the vegetables' colours are the brightest, and when their texture reaches just their peak crunch – that's when you shock them in cold water. Not doing so immediately will allow them to continue cooking.
If you're blanching to make peeling easier, carefully cut a shallow "X" into the bottom of the fruit to start the skinning.
PIN IT FOR LATER: