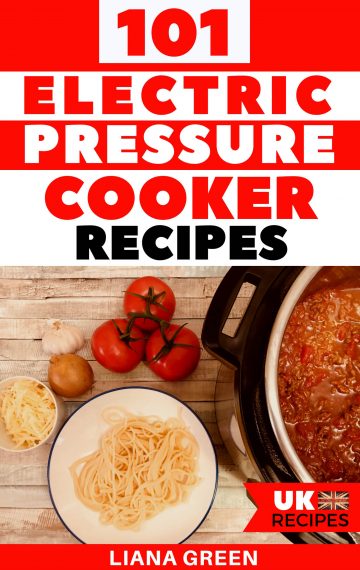 Available in:

Paperback, Kindle
SEE ON AMAZON
The Electric Pressure Cooker Recipe Book is perfect for anyone with any make of electric pressure cooker. All the recipes in this book were made in an Instant Pot, but they can easily be made in other makes and models.
Electric pressure cookers have seen a huge surge in popularity over recent years. They have come a long way from their noisy, hissing sounds on top of your Mum's stove top.
For this book I worked with my American friend so that we could produce a book for both the UK and the US market – no more converting of measurements and ingredients required!
Why Get The Electric Pressure Cooker Recipe Book?
A pressure cooker can feel daunting at first (I know mine sat staring at me for a few weeks before I built up the courage to use it!) – with these recipes you can 'wet your appetite' with some favourite meals, to help you gain confidence -and then use them as a base to create and convert some of your own!
Make economical meals – homemade meals are so much cheaper than takeaways/shop bought ready meals!
Make healthy recipes, from scratch!
What Electric Pressure Cooker Recipes Are Included?
There is an electric pressure cooker recipe for everyone in this book. In fact there are lots for everyone! We've included classics like chilli con carne, homemade baked beans, spaghetti bolognese, as well as some more unique recipes.
The following are a small taster of the 101 electric pressure cooker recipes included in the Electric Pressure Cooker Recipe Book;
Chicken Tikka Masala
Chilli Con Carne
Ginger and Orange Gammon
Garlic Prawns
Butternut Squash Risotto
Minestrone Soup
Baked Beans
Egg Fried Rice
Egg, Ham & Cheese Frittata
Marmalade
Apricot Jam
Vanilla Cheesecake
Sweet Chocolate Dumplings
White Chocolate Brownies
Eggnog
Thai Sweet Chilli Sauce