British food is entwined in history. Over the centuries, our cuisine has been influenced by many different locations and cultures.
Home cooking is as popular as ever, with some classic British recipes standing the test of time, making frequent appearances in local pubs and homes across the country.
11 Classic British Recipes
Whether you are a visitor to Britain or you live here, I hope you enjoy my list of what I consider to be classic British recipes – the list is by no means exhaustive – there are so many I had to sadly leave off – maybe there will be a part 2 at some point!
1. Fish and Chips
Probably the dish that comes to most people's minds when asked to name a famous British meal.
According to the National Federation of Fish Friers, there are some 10,500 fish and chip shops in the UK, with "22% of people visiting fish and chip shops every week."
Of course, you can skip the takeaway and make it at home – although there is something quite nostalgic and special about heading to the local chippy on a Friday night for your tea and soaking in that delicious smell that greets you as you head through the fish and chip door.
To make it authentically at home, you will need to use a deep fat fryer or a large saucepan full of heated oil to fry both the chips and battered fish. If you want to make fish and chips at home without all the oil, you can also make a healthier alternative in an air fryer.
Mushy peas (see #2!) are often served with fish and chips, as is chip shop curry sauce.
Related – Air Fryer Chips
2. Mushy Peas
Mushy peas are a popular side dish to fish and chips, originating in northern England but enjoyed all over the country.
Traditionally they are made by soaking dried marrowfat peas overnight before boiling, simmering, mashing them and finally stirring in some butter and cream before serving.
If you don't have or can't get hold of marrowfat peas, you can use frozen peas – boil them according to packet instructions, then mash them before adding butter and cream.
3. Bangers and Mash
A firm favourite in our house – bangers and mash – or as it's also known, sausage and mash! The combination of these two foods smothered in delicious gravy (onion gravy is the best!) is the ultimate in British comfort food.
It's common to have a side of vegetables with bangers and mash to add a splash of colour – green peas work well and taste great with mash!
4. Pie and Mash
One of London's most historical dishes, pies have been around in some form since the 1700s.
According to Goddards at Greenwich – home to one of the original Pie and Mash shops – pies used to be known as "Eel Pie Houses", with pies filled with eels from the Thames. Goddards at Greenwich go on to say that as eels became too expensive, they were substituted with meat – which is the pies we know and love today!
Pies continue to be a favourite on the British menu, with many styles and varieties being offered in different pie shops and other eateries.
There is a Pie N Mash social club that organises meetings where members get together and eat the traditional pies and join league tables in a bid to become the season's pie champion! They also have a great directory and map of pie and mash shops if you want to go and experience this great London tradition!
5. Toad in the Hole
Toad in the Hole sounds like a funny name to those not brought up with it as a regular mealtime dish – and I suppose it is quite an amusing name!
Toad in the Hole is essentially sausages cooked in batter – the same as Yorkshire pudding batter. According to Wikipedia, Toad in the Hole first appeared in print in 1762.
Many people enjoy Toad in the Hole covered in onion gravy served with mashed potato and some vegetables.
6. Full English Breakfast
It doesn't get much better than a full English breakfast. It's the perfect way to start the day – it's also a great brunch meal, particularly suited for those Sunday morning sleep-ins!
You can either head to the nearest local café serving a fry-up or get the frying pan out and make your own!
You can make your full English breakfast just how you like it, mix and match, have it all, or just pick the ones you want from the following suggestions;
eggs – normally fried, but they can also be scrambled or poached.
sausages
baked beans
mushrooms
tomatoes
bacon
hash browns
black pudding
toast or fried bread
7. Sunday Roast
A Sunday Roast with all the trimmings is a tradition that has been alive in Britain since the reign of King Henry VII in 1485 when it was once roasted in front of a large open fire.
There are plenty of restaurants and pubs where a Sunday Roast can be enjoyed, from a self-serve carvery to a country pub. But many households prefer to make the meal at home, allowing families to come together around the dinner table.
Sunday Roasts vary in the meat that is used; beef, pork, chicken or lamb – or, for a vegetarian option, a nut roast is sometimes had.
The 'trimmings' that come with a Sunday Roast Dinner can vary depending on what is in season; a selection of the following is usually included;
The perfect pudding to have after a Sunday Roast Dinner is an apple crumble or even an apple and blackberry crumble with some homemade custard!
8. Cottage Pie/Shepherds Pie
Another classic and comforting meal that involves mashed potato and gravy!
A cottage pie is made from minced beef and mashed potato, and a shepherd's pie is made from minced lamb and mashed potato.
The meat is lightly fried with onions and garlic before gravy and vegetables are added – typically chopped carrots and sometimes peas. During this time, the mashed potato is prepared. The cooked meat mixture is transferred to an oven-safe dish before adding a layer of mashed potato on top. Grated cheese is then sprinkled on top of the mash before the dish is placed in the oven for baking.
9. Yorkshire Puddings
Yorkshire puddings are a firm favourite at a Sunday Roast. They taste incredible with gravy poured all over them and can be made as giant Yorkshire puddings (one large one) or as smaller-sized puddings (as pictured above).
You can buy premade Yorkshire puddings from the supermarket, often frozen – they are handy to have on standby in the freezer as they don't take long to cook in the oven.
However, making Yorkshire puddings from scratch is very easy – all you need are some eggs, flour, milk and oil.
10. Spotted Dick
Spotted dick is a childhood classic that people will have fond memories of enjoying during school dinners and as a special treat for pudding at home.
This British recipe is made with dried fruits (the 'spotted' part) and mixed with flour, sugar and suet (although butter can be used as an alternative). Traditionally spotted dick is steamed for around 90 minutes and served with hot custard.
11. Cornish Pasties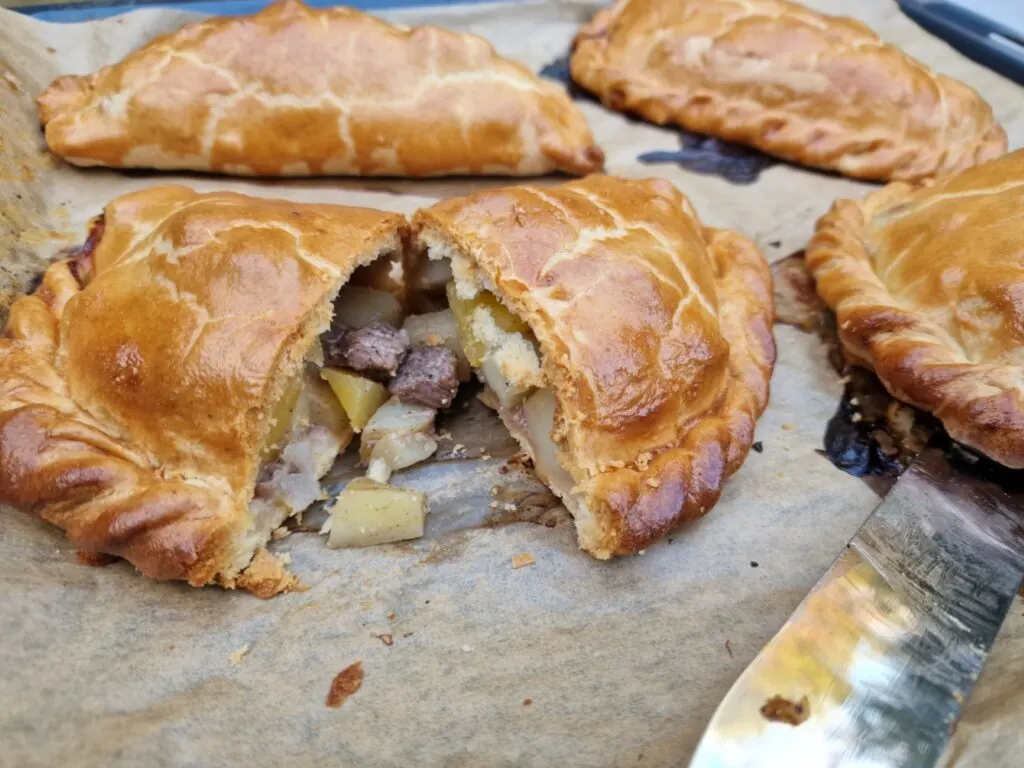 The Cornish pasty is a traditional English dish that originated in Cornwall. It is made of pastry dough filled with beef, potatoes, and onions.
The pasty is then baked and typically served by itself. Although the recipe may vary slightly, the Cornish pasty is always a hearty and comforting meal.
What food do you consider to be a British classic? Let me know in the comments!