When considering the best cookware set for your kitchen you might want to think about more than just the size and design. We have become ever more concious about consuming natural and unprocessed foods, and so we should take the same level of care when it comes to the toxicity of our cookware.
What Is Wrong With Some Cookware?
Some modern day cookware can serve up more than the food you are cooking. It is possible that some pots and pans can potentially add toxins to our meals, and that really isn't a good thing.
The two materials you should try to avoid are cookware made from aluminium or Teflon. Teflon in particular can leach out toxins when it is exposed to excess heat, so you only need to leave the pan on too high and the risk is there. And what's more, Teflon coated pans can easily get scratched, with the little specs potentially sneaking into your food. Aluminium heats up very quickly, which is why it is used in cooking products, but it is a highly toxic metal that can increase the risk of dementia and Alzheimer's.
What Cookware Is Safest?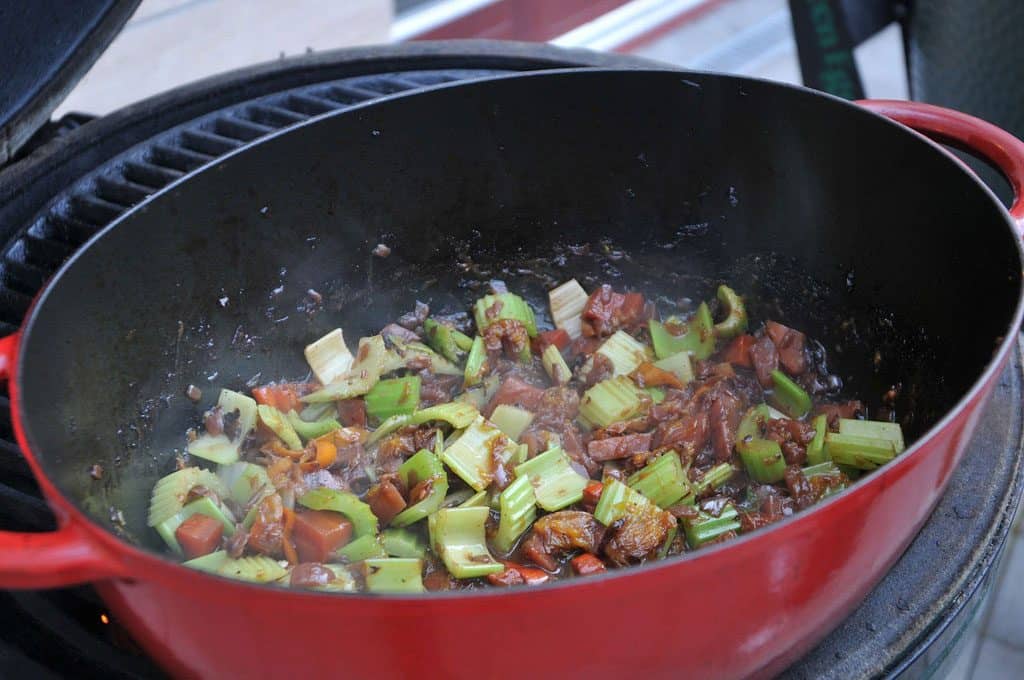 Cast iron or ceramic cookware would always be my first choice.
And if I had to choose out of these, it would be cast iron. It's the kind of kitchen staple that everyone should own.
The Benefits Of Cooking With Cast Iron Cookware
Cast iron is heavy, durable and very long lasting.
It cooks food more evenly as the heat is distributed and retained throughout the pan.
If seasoned correctly (see below) your cast iron cookware should be non stick.
As it is non stick there will be less need to cook using oils.
They add iron to your food, perfect for iron deficient women.
Despite their longevity, they are reasonably cheap to buy, making them a great budget buy.
How To Season A Cast Iron Pan
It is vital to season any cast iron cookware. Why do you need to do this? Every time you season it with oil and expose it to heat, the oil becomes a very thin layer of coating. Each time you do it you add another layer and these layers build up to protect the pan from rusting as well as also making it non-stick.
Make sure the pan is completely clean before you season it – use soapy water and rinse well.
Lightly coat the pan with oil, coconut oil, vegetable oil or corn oil works well.
Put your pan in a hot oven, heated to between 240

°C

and 260

°C

. Leave for 45 minutes to an hour.
Switch the oven off and leave the pan to cool down completely before removing.
Repeat the same process at least 2 or 3 times more.
Looking After A Cast Iron Pan
The strength and durability of cast iron cookware will ensure that it lasts for a very long time. However, it will still require a certain level of care.
Aside from keeping it well seasoned, you will also need to make sure you clean it well after each use. Opinions are very much divided on whether or not soap should be used.
One thought is that the soap is strong enough to strip away the very layers of oil you have built up to protect it. However, soap alone, particularly soap made for kitchen use, would not be strong enough to remove the layers of oil. It would require a lot of scouring, as well as heating up the pan to a very high temperature for an awful long time. Put it this way, you'd have to really go to some effort to remove the seasoning from your cast iron pan with soap alone.
Washing A Cast Iron Pan
Use warm soapy water and a kitchen sponge to clean away the residue on the pan. Get rid of any stubborn bits with the scouring part of the sponge.
Drying the pan is the most important part, always dry it off straight away rather than leave it to drip dry – this is where rust could potentially set in and ruin your beloved cookware. If you can't completely dry it off with a tea towel then you can put it on a low heat to completely dry it out.
Try and get into the habit of adding a layer of protective seasoning after each use. Simply wipe a very thin layer of oil over the pan, as per in the seasoning section above, and then heat it on your stove for a few minutes.