Are you tired of the same old meals every day?
Do you feel like you're stuck in a cooking rut?
It might be time to try out a food subscription box.
These boxes provide all the ingredients and recipes you need to create delicious, home-cooked meals without any of the hassle.
Plus, they're a great way to explore new cuisine and learn about different cultures.
We're gradually making our way through each of them to try out the best food subscription boxes out there.
(Some links may be affiliate links. This means that, at no cost to you, I may receive a commission for any purchases through the links on my site. I appreciate your support!)
About The Testing Process:
Below you will find an overview of each service – and soon there will be links to individual full reviews of each one as we fully test them out – together with any discount and voucher codes you can use.
If you have any questions about any of the services please feel free to ask in the comments below, or get in touch with me via email.
60% OFF FIRST BOX
Gousto
From £3.14 per portion
10-min meals, Everyday Favourites, Joe Wicks range
75+ recipes each week
60% off your first box and 30% off your first month

We earn a commission if you click this link and make a purchase at no additional cost to you.
Gousto, founded in 2012 by Timo Boldt, have over 75 recipes to choose from each week across a range of categories, including a Joe Wicks health range, calorie controlled, 10-minute meals, plant-based, and gluten-free among others.
Gousto is a leading alternative to HelloFresh with many consumers finding it tricky to decide between the two subscription services.
Read my full Gousto Review for more information!
All the Gousto recipes can be accessed via their website, including their many past meals. All recipes are tried and tested by the experts at Gousto, ensuring you get the very best.
How Gousto Works:
Signing Up
Like most food subscription boxes, there will likely be special offers and discount codes for new users. Currently, there is 60% off your first box and 30% off your first month.
The Gousto dashboard will then guide you through the sign-up process, asking questions such as how many people will be eating, your delivery area, preferred delivery day as well as how many meals you would like.
Like HelloFresh, there are no lock-in contracts and you can pause or cancel at any time.
The Recipes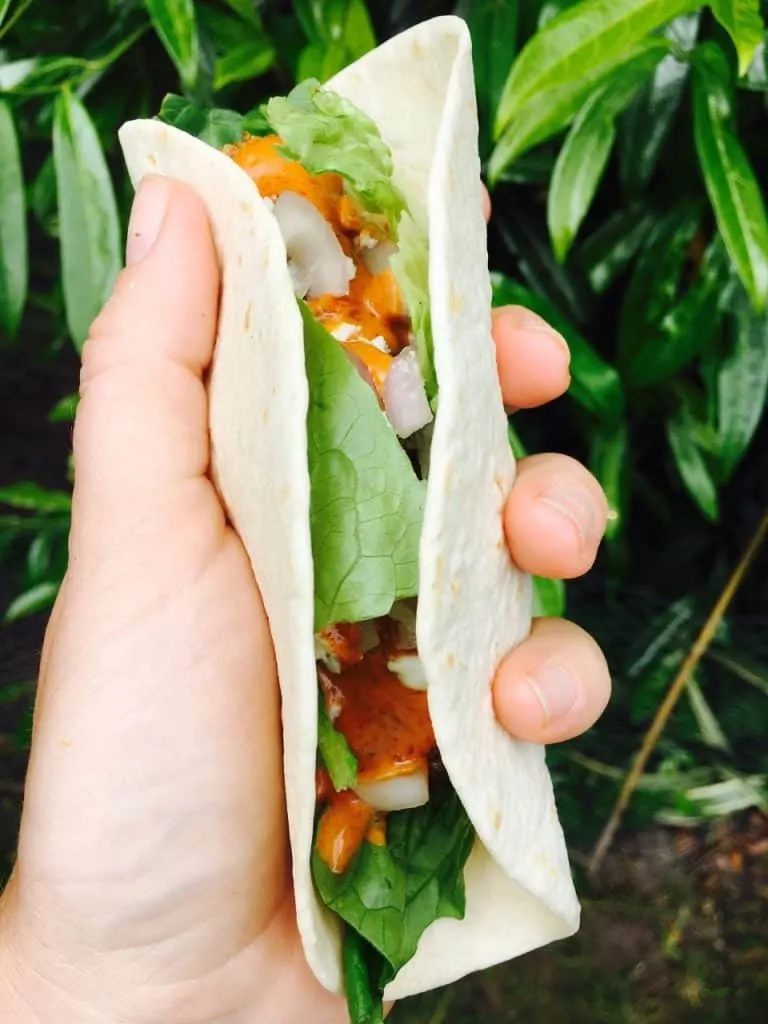 There are typically over 75 recipes to choose from.
At the time of writing, some of the options include Cheesy Black Bean Chilli (from the 10-minute meal category), Curried Basa Tray Bake With Turmeric Yoghurt (from the Calorie Controlled category), Nutty Sweet Potato and Sugar Snap Curry (from the Plant-Based category) and so many more.
Plan Details
Choose between two different box sizes:
The 'Regular' box is suitable for 2 adults or 1 adult and 1-2 children.
The 'Large' box is suitable for 4 adults or 2 adults and 2-3 children.
You can then select the number of recipes you want for that week; 2, 3 or 4.
Pausing and Cancelling Gousto
Your Gousto subscription can be cancelled or paused. Just head to your account and pick which deliveries you would like to skip or cancel. Just make sure it is done at least 3 days before it is due (and by 11.59 pm).
Grab your 60% off your first box discount and 30% off your first month when you go via the link below.
---
HelloFresh
If you've ever considered trying a food subscription box then you've likely heard of HelloFresh.
Founded by the former owner of the Fat Duck restaurant, Patrick Drake, HelloFresh are market leaders, delivering over 10 million meals worldwide.
The recipes draw on a number of unique flavours inspired by a variety of international cuisines; you'll be taken around the world and experience dishes you'd never normally try.
From low-calorie to family-friendly meals, the ingredients supplied are fresh and measured out to the exact quantities you need.
How HelloFresh Works:
Signing Up
If you are a new customer always check for discounts first. Currently, you can get 50% off the first box and then 35% off the next 3.
Next, choose a plan (which can be changed so don't worry about getting locked into anything) and then walk through the options to pick the number of meals you want, the frequency as well as the actual recipes.
The Recipes
There are 37 recipes to choose from each week. They are labelled for easy selection, options include rapid, veggie, family, calorie smart, global and premium with the option to add in sides, desserts, lunches and brunches.
Past recipes we've tried include Double Cheese Baked BBQ Burgers, Korean Style Beef Tacos and South East Asian Inspired Chickpea Curry.
HelloFresh has a great selection of recipes to choose from and I struggled to narrow down what I wanted each week!
Plan Details
First, choose meals for either 2, 3 or 4 people, followed by the number of recipes you want for that week; 3, 4 or 5.
Again, this can be customised each week so don't worry about anything being set in stone.
Pausing and Cancelling HelloFresh
It's really easy to change your HelloFresh subscription. You are able to pause, skip, change meals, and adjust amounts, all within your HelloFresh account dashboard. You just need to make sure you do so by 11.59 pm five days before your planned delivery.
---
GLUTEN FREE
Mindful Chef
Vegan recipe boxes
Meat, fish and veg sourced from award-winning British farms
All recipes gluten-free
100% dairy-free

450 to 650 calories a serving

1-person options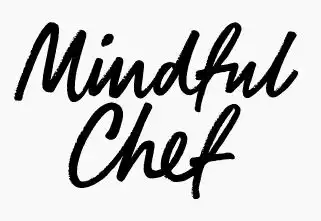 We earn a commission if you click this link and make a purchase at no additional cost to you.
Mindful Chef is the ideal choice if you are looking for a gluten and dairy-free recipe box subscription.
Mindful Chef, founded in 2015, has made it its mission to make the country a healthier place through easier access to delicious yet nutritious meals.
All recipes are unique and are designed directly by the team at Mindful Chef using low-carb and ethically sourced ingredients from a number of suppliers across the country.
All meals are gluten and dairy free – perfect for those with gluten or dairy allergies or even people who are living off a Paleo diet.
As well as their range of healthy recipe boxes, Mindful also offer a wide selection of inspiring looking smoothie packs, soups, frozen ready meals, snacks and desserts.
How Mindful Chef Works:
Signing Up
New customers to Mindful Chef can claim a special 25% off their first 4 boxes.
The Mindful Chef dashboard will lead you through the sign-up process where you will choose your recipes, the number of servings you require, as well as the number of recipes.
The Recipes
Each week there are 20 recipes to choose from. Current options include Sticky Harissa Turkey with Mango Salsa, Chicken with Apple and Fennel Salad, Smoked Tofu with Spanish Rice and Roasted Peppers.
Plan Details
Mindful Chef offers three different box sizes:
1 person box
2 person box
Family box (2 adults and 2 to 3 children)
You can choose 2, 3, 4 or 5 recipes.
There is also the option to include one-off extras from the Ready To Go Range – smoothie bundles, soups, ready meals, snacks etc.
Pausing and Cancelling Mindful Chef
You can cancel, pause or skip a Mindful Chef delivery. Simply head to your account dashboard and adjust your options at least 4 days before your scheduled delivery.
---
£1 TRIAL
Simply Cook
1st box free (only pay £1 postage)
4 recipes per box
Choose from more than 140 easy-to-follow recipes
Letterbox delivery
Gluten-free, vegetarian and under-600-calorie options
Choose from a weekly or fortnightly subscription and change, pause or cancel anytime

We earn a commission if you click this link and make a purchase at no additional cost to you.
Simply Cook offers its own unique twist on a food subscription box. Unlike the first three mentioned, this letterbox-sized recipe box provides you with smaller kits filled with the dry ingredients you need to make a flavourful meal.
You don't receive the fresh ingredients, but each recipe clearly states what else you need to purchase.
There's a wide variety of different cuisines available throughout their recipe selection and it's the perfect option for beginner chefs who want to start cooking meals they have never experienced before.
The great thing is that there are hundreds of different recipes for you to choose from, so you'll never get bored.
You Might Like: My Simply Cook Review
How Simply Cook Works:
Signing Up
All new customers get to try 4 recipe kits for £1 (the cost of postage).
For each box, you select 4 of the available recipes, and from there, you shop for the rest of the ingredients before cooking the meal according to the recipe instructions.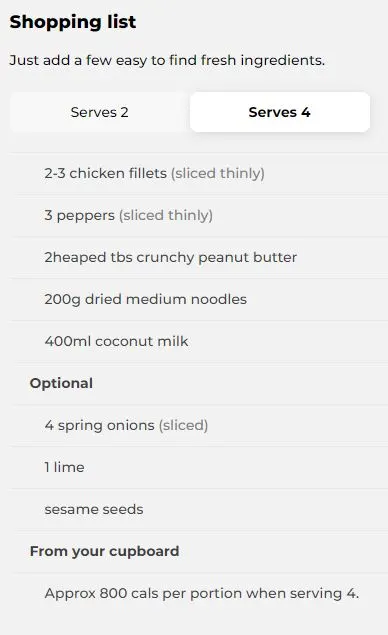 The Recipes
Each week you pick 4 recipes, or as frequently as you wish.
There are currently around 150 recipes to choose from, you can pick different filters to help narrow down the options, including spice levels, dish sizes, dietary requirements, main ingredients, allergens as well as a range of cuisines from around the world.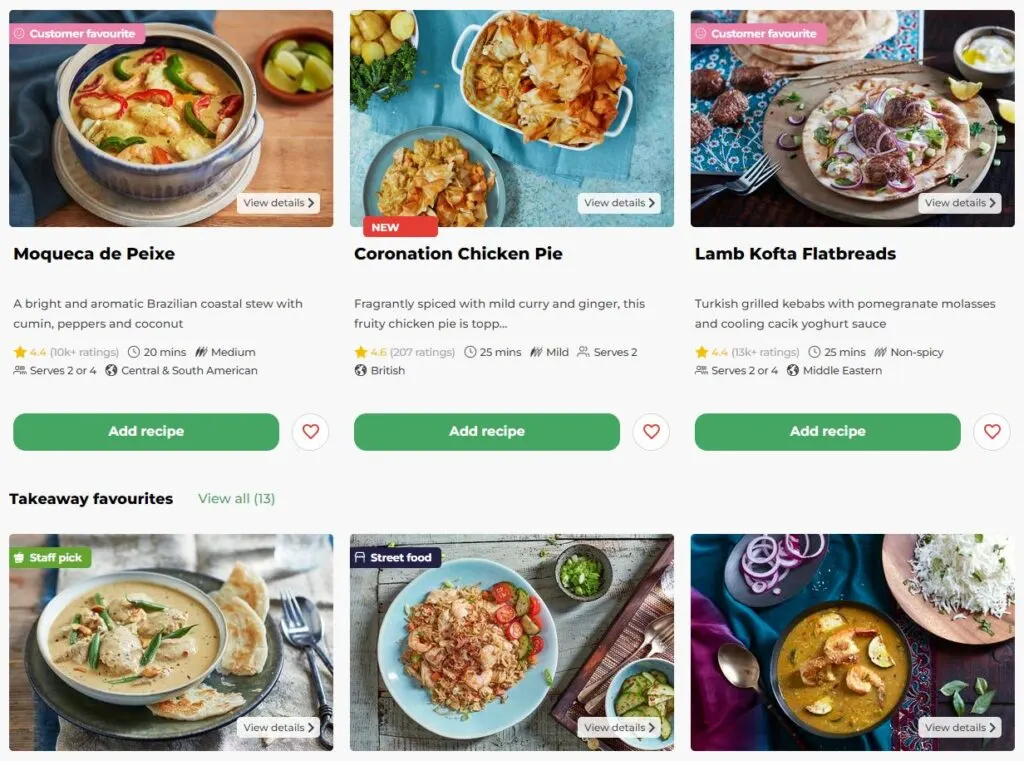 The recipe choices among the 150 options include Beef Massaman, Mexican Pulled Chicken, Red Lentil Squash Curry and Jerk Chicken.
Plan Details
Simply Cook boxes come with 4 recipes. After your initial free trial you can choose to have them delivered every week, or every 2, 4 or 6 weeks.
Each recipe kit (with spices/pastes to make 4 recipes) costs £9.99 after the free trial ends.
Pausing and Cancelling Simply Cook
You Simply Cook delivery can be paused, skipped or cancelled all from within your account dashboard. when you log in to your account you can see a countdown for changing your recipes or making any alterations before your next billing date.
---
Morrisons Eat Fresh
It's so easy to purchase a ready meal from Morrisons, place it in the microwave, and have dinner.
However, the supermarket is trying to get people to eat more nutritiously by providing them with simple recipes that allow them to cook from scratch.
Whether you just don't have the time to cook for your family or you want to improve your culinary skills in the kitchen, this food subscription box is a great solution for many people.
From vegan to low-calorie dishes, you have a wide variety of options to choose from every week.
You get to choose how many meals you want and how often you want them. Let Morrisons know what you'd like to order, how many people you're planning on feeding and the different dishes you want to arrive on your doorstep.
You'll then receive all the pre-portioned fresh ingredients and simple instructions to start cooking.
---
Abel and Cole
Dating back as far as 1988, Abel and Cole is a strictly organic food subscription box that provides you with food and recipes straight from the ground.
They want people to have access to the finest ingredients that are kind to the planet as well as the farmers of the country. Working with independent growers, they work hard to cut back on carbon emissions and support local communities.
Abel and Cole's fruit and vegetable boxes are their big sellers and you can choose whether you want to sign up for a small, medium, or large subscription depending on how many people you're planning on feeding.
You can read up on what each box includes each week and choose which one is best suited to your preferences.
---
Riverford
Another fantastic organic food subscription box is from the Riverford Organic Farmers. This brand has a strong belief in the power of quality vegetables and how it has the ability to make our world a better place.
They focus on how they grow their ingredients, ensuring they are slow grown for the best flavour as well as using methods that are kind to our planet. The packaging provided is home compostable and biodegrades just like any other plant in your garden.
There are two different types of food boxes you can order from Riverford. You can either opt for one of their seasonal boxes which come packed with a wide selection of different fresh fruits and vegetables or one of their recipe boxes and kits.
They add new recipe boxes for you to choose from each week. Each of these serves 2 people and you are provided with all you need to cook a delicious meal.
---
Odd Box
Did you know that in the UK alone, over 3 million tonnes of fruit and veg are wasted on farms alone? All because they don't meet the beauty standards of the typical consumer.
This wasted produce is either too big, too small, or slightly misshapen, so they don't make it to the supermarket for you to buy.
Odd Box has found a solution to this problem by providing this wasted produce to you on a weekly or fortnightly basis.
Signing up for this food subscription service couldn't be any easier. All you have to do is select whether you'd like to receive fruit, vegetables, or both in your regular box, choose the size of the box, and how frequently you'd like to get new misshapen produce.
Your items will come straight from the growers and prevent any wastage every week.
---
All Plants
With the number of people living on a vegan diet increasing every day, there's no surprise a food subscription box tailored to this demographic has come into the mix.
All Plants want to make it easier for vegans to have access to 100% plant-based meals that are not only tasty but nutritious as well. They've set up a super simple subscription service that provides you with ready-made meals that you can place straight into the freezer.
Each of the dishes on offer is chef made and uses a creative combination of exciting ingredients to expand your palate.
How your box arrives is entirely up to you. You can go through the selection of ready-made meals and build your box to perfection.
Select the delivery date of your first order and then how often you want delivery. Once you've tried the first set of meals, you can change your selection whenever you want.
---
Jane Plan
If you're looking to lose weight but don't have the time to create your own meal plan, Jane Plan can come to the rescue.
Not only do they offer a wide variety of different plans that fit in directly with your goals, but you will receive the meals part of your selected plan ready-made and straight to your doorstep.
There's also the option to work with Jane Plan's team of experts who can give you practical support and advice whenever you need it.
Jane Plan has two different plans you can choose from.
The Lose & Learn is aimed to help you lose weight and learn healthier habits. Once you reach your weight loss goal, you can then change to Learn to Live which provides you with meals to help you maintain your loss.
Simply choose the plan you want, and the meals you'd like to receive, and start your journey.
---
Pasta Evangelists
If you love pasta, then you're in for a treat with this subscription box.
Dedicated purely to Italian cuisine, Pasta Evangelists have a mission of showing people that there's more to pasta than meets the eye. It's not just about boiling an ingredient and adding a sauce, but so much more.
They provide you with sustainably sourced ingredients from local farmers across Italy so you can make a pasta dish you'll never forget. You'll be able to taste the authenticity and freshness that you'd never find in a jar.
Every week, Pasta Evangelists release a brand new menu of 15 recipes for you to choose from. You select the ones you want to whip up in the kitchen and they'll provide you with your recipe box as early as the very next day or the day of your choosing.
All you have to do then is follow the step-by-step instructions so you can create restaurant-quality pasta quicker than ever before.
---
The Cookaway
Tired of the same old food? The Cookaway allows you to take a trip around the world in your own kitchen with a food subscription box.
With a wide range of different global menus, you can try dishes you've never even heard of and find your next favourite meal.
Alongside the step-by-step recipe cards written by a selection of chefs with years of experience, you'll also be gifted with all the fresh ingredients you need to cook up a flavoursome new meal.
The process of ordering a box is easy. You can select the recipes you want to cook and try from their vast selection, each coming with a main and accompaniment.
Select how many people you want to cook for as well as the date you'd like to receive your box. From there, it's all in your hands and you can go on an adventure in the kitchen and treat your tastebuds to an explosion of new flavours.
---
Green Chef
If you're following a special diet but haven't found a food subscription box that fits your needs, then you may want to give Green Chef a shot.
Green Chef offer recipes for keto, lower carb, flexitarian, vegan, and vegetarian diets. No matter what one you choose, you'll be able to choose delicious recipes from a weekly menu and supply your body with the goodness it deserves. You can personalise the box to your required needs and the rest is left up to you.
Signing up for this box is super easy. Simply get started on their website, choose your dietary preference, select your box size and finish off with how many meals per week you would like. You'll then receive your personalised meal plan, fresh ingredients, and recipe cards on the day of your choosing.