Are you drinking enough water? Plenty of us don't consume nearly enough. The benefits of drinking water are plentiful, yet somehow we don't always drink enough.
To some, water is uninteresting and not an inspiring drink.
Enter the fruit infuser water bottle. Not only will you reap the rewards of water, you will also be benefitting from the nutrients and vitamins abundant in the ingredients you infuse.
You can buy bottles of flavoured water in the supermarket – and at first I thought this was a great way to encourage my family and I to drink more water – but as I took a closer look at the ingredients I realised they were full of sugar (some of them even had more than popular fizzy drinks) and other unnatural ingredients.
So, with that in mind, I jumped at the chance to research and test out some fruit infused water bottles – especially when I discovered how cheap they were!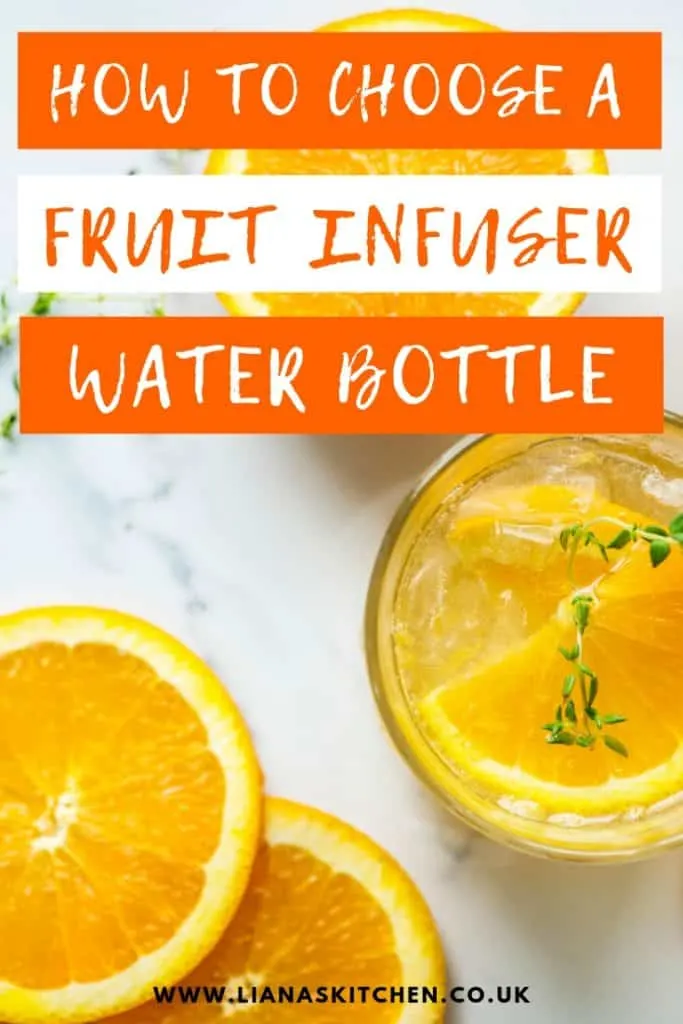 Buying Guide
BPA free – reduce the risk of potentially harmful chemicals entering your water.
Size – although it's good to have more storage capacity for your drink, if you will be carrying it around with you (to the gym, work etc) then consider how transportable it is. Will it fit in your fridge?
The lid – can you drink straight from the bottle? How easy is it to access?
The filter – make sure it can keep the ingredients from the drinking water whilst allowing the flavour to infuse with the water in the quickest time possible.
How robust is it? – you want your bottle to be durable to withstand any knocks or drops.
Holding hot water – if you want to experiment with hot water infusions you need to make sure your bottle can withstand boiling or hot temperatures.
Is it leak proof? – It sounds obvious but some brands might not be as well made as others. Check reviews to make sure nobody has reported any issues with water leaking out. There is nothing worse than arriving at the gym to discover a wet kit!
Is it dishwasher safe? – This might not be a deal breaker for you as most bottles are super easy and quick to hand wash, but it's worth knowing incase you do pop it in the dishwasher.
Does it have a warranty? – Although most of the bottles are very economical to buy, it's worth checking how easy they are to take back for a refund should they break.
Fruit Infuser Water Bottle Reviews
1. Empo Infusion Water Bottle
Features
Leak proof & shatterproof
BPA free material
Choice of 2 sizes (700ml or 750ml)
Removable infuser
Lifetime warranty
Durable and lightweight
A popular and economical product. EMPO are so confident in their product that they offer a lifetime guarantee. The bottle can be put in your dishwasher – but you will be using it so often I think you'll want it available at all times! It is very easy to wash by hand.
The size and the durability of the bottle make it a great option for taking out and about to sip on throughout the day. There is plenty of room at the bottom to pop some ice cubes in to make the drink even cooler.
See the EMPO Fruit Infuser bottle on Amazon >>
2. Bevgo Fruit Infuser Water Bottle
Features
100% BPA free
1 litre capacity
Large drinking spout
Large basket for infusing fruit ingredients
Robust lock and seal to prevent leakage
Fits in most car drink holders
Recipe ebook
A larger capacity than the previous model at 1 litre. The addition of times on the outside of the bottle is a nice touch to remind you how much you should be drinking throughout the day. This fruit infuser water bottle comes in a choice of 4 colours with a cute carry pouch.
See the Bevgo Fruit Infuser Bottle on Amazon >>
3. Hydracy Infusion Pitcher
Features
100% BPA free
1.5 litre capacity
2 interchangeables infuser tubes
Large basket for infusing fruit ingredients
Dishwasher safe
Recipe ebook with 27 recipes
A larger capacity than the other models with a capacity of 1.5 litres. This is more than just a fruit infuser bottle, you can also make ice teas and coffees. Although it really isn't intended as a portable water bottle it works great at home for having with meal times or keeping in the fridge and topping up when needed.
The fruit and tea infusion pitcher is brilliant for entertaining, families or just for making larger quantities of flavoured drinks for yourself!
Although this is much larger and more expensive than other infusion bottles, it is definitely worth the investment to be used at home alongside a more portable option that you can take out and about.
See the Hydracy Infusion Pitcher on Amazon >>
The Verdict – Which Is The Best Fruit Infuser Water Bottle?
If you are after a portable fruit infused water bottle to take out to the gym or to the office, either the EMPO or the BEVGO are suitable, with the latter having a larger capacity.
If you are trying to encourage the whole family to get involved in drinking more water (in a healthy way!) and intend to use it at mealtimes, the Hydracy Infusion Pitcher is a suitable choice.
Or, you could keep yourself covered for all eventualities and get both the bottle and the pitcher! Just think how hydrated you will be 🙂