Following on from my previous Gousto review, I thought I would give you an update with the latest box I had delivered this week.
Now, before I get into the recipes, it's confession time, I completely forgot to choose my meals. Actually, I completely forgot to pause them, as I had planned to. It was one of those really annoying moments when I felt really frustrated with myself for not remembering, and then in turn feeling disappointed for what meals had been chosen on my behalf.
There was no way I would have chosen these dishes. Not from Gousto, nor at a restuarant.
But do you know what? They tasted absolutely amazing! Every single one of them.
So, I went from frustrated and disappointed, to feeling super pleased that I had got to try something I would never have normally chosen.
And that is the beauty of a food box delivery. Variety, tried and tested recipes and incredible ingredients.
The Gousto Recipes
Paneer Jalfrezi with Buttery Rice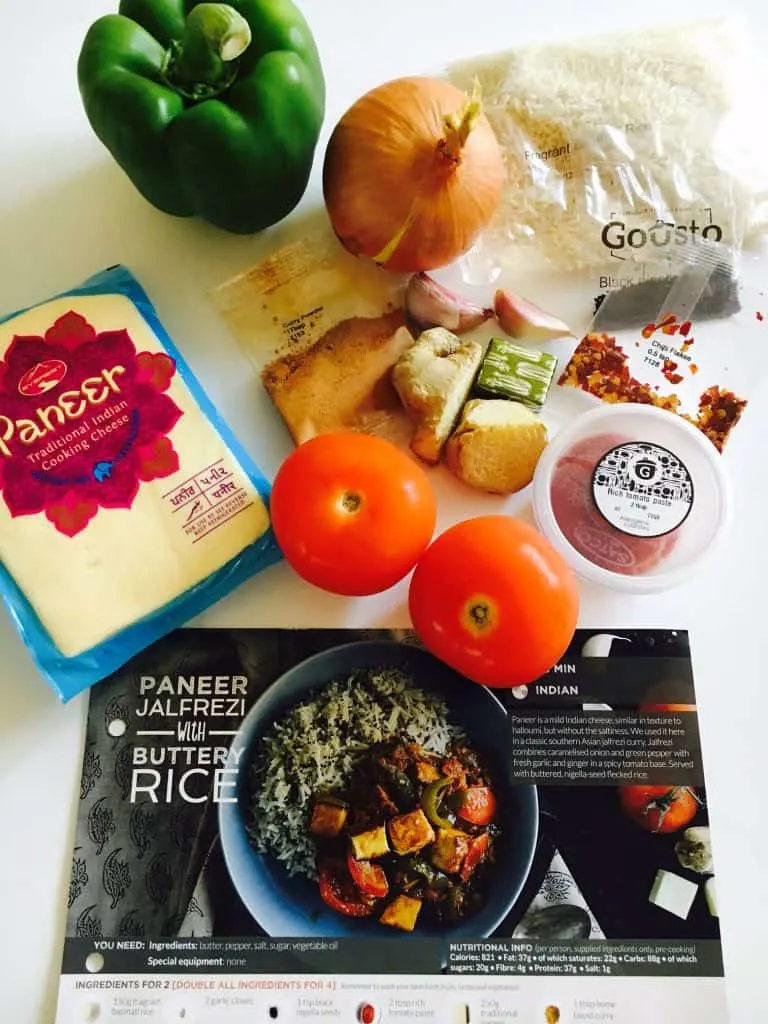 All the recipes that were chosen for me were vegetarian – which I don't deny is probably why I was initially disappointed. Despite wanting to try out more meat free meals, I felt somehow cheated.
But I needn't have felt that way. This first Indian dish was incredible. My 10 year old son even scoffed down a bowl of it, but then he is a bit of a curry monster too 🙂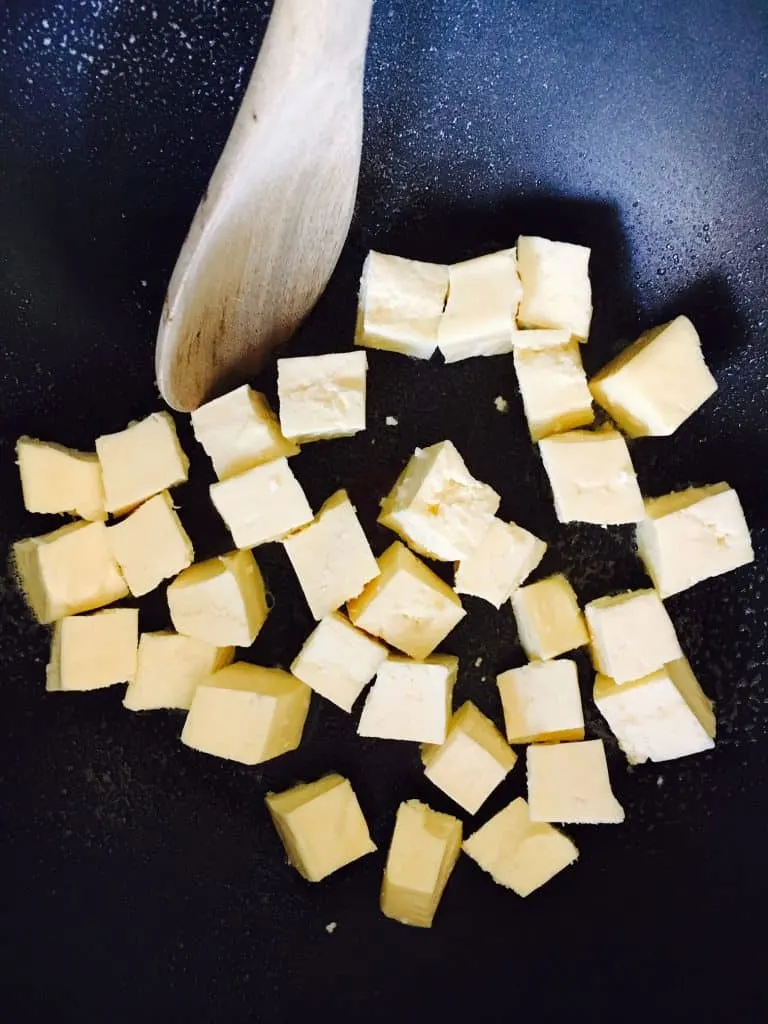 I'm a little embarrassed to say that I hadn't ever tasted paneer before. I have spent time travelling through India and tried some beautiful cuisine, but I never tried paneer. I was pleasantly surprised at how great it tasted with the spices of this jalfrezi dish.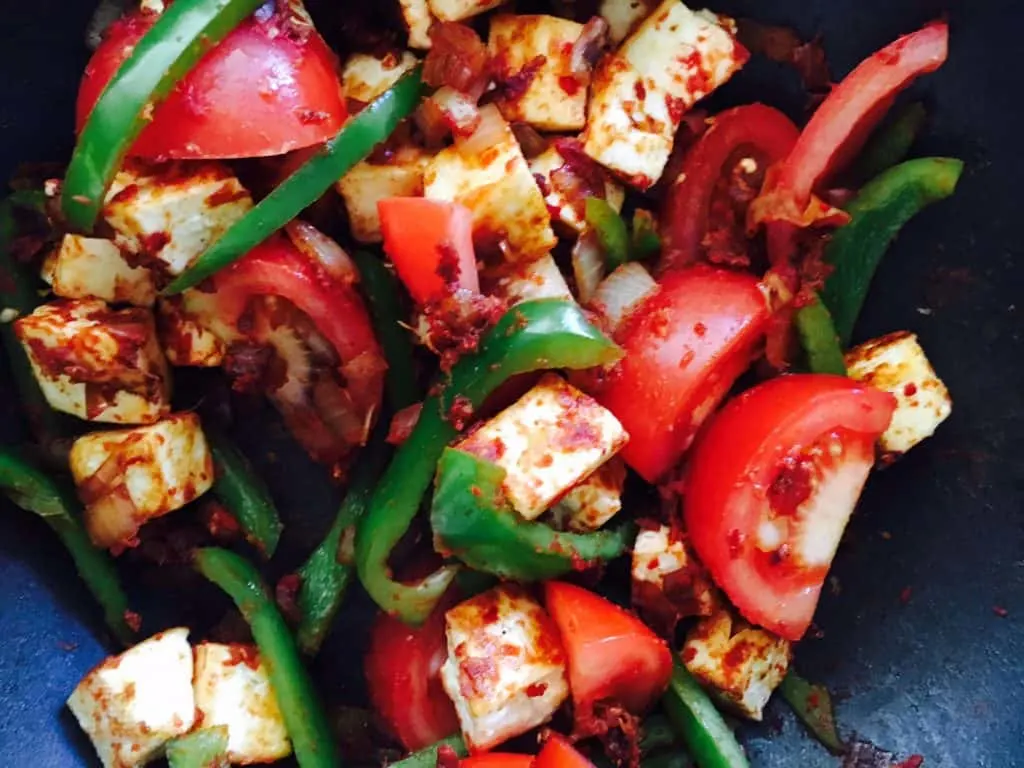 Part of the pleasure of my Gousto boxes is the cooking with lovely fresh ingredients. It all feels so simple (the recipes are super easy to understand), yet the end result tastes so professional.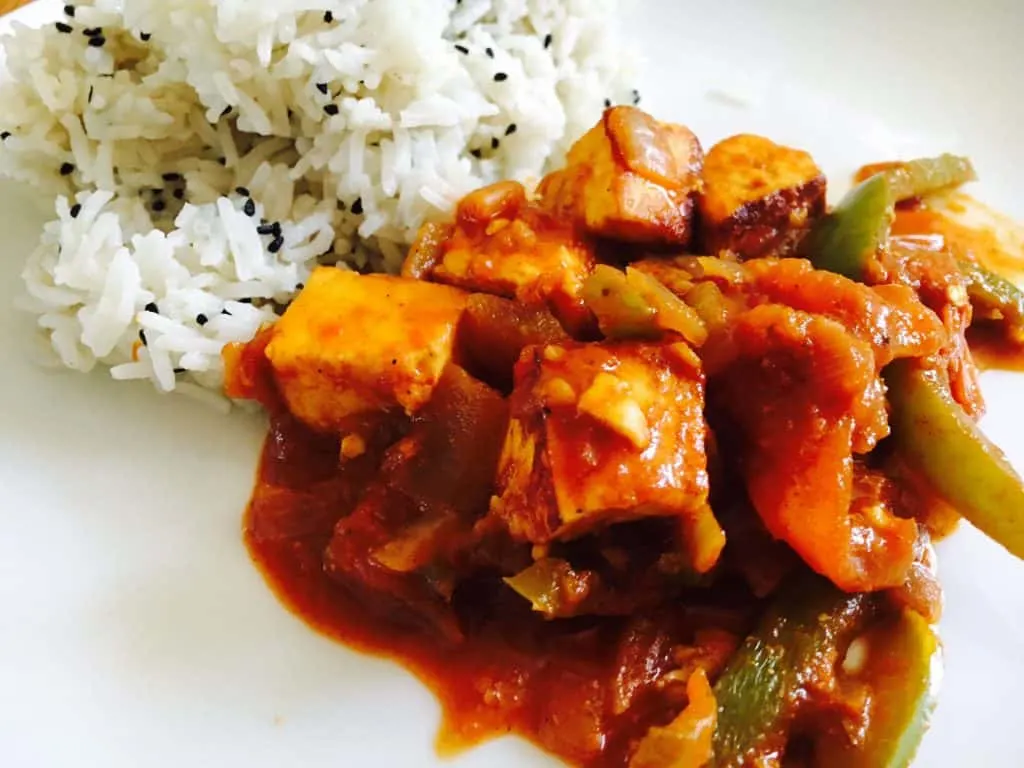 But as much as I love to cook, eating what I've made is even better. And this one didn't disappoint. It was flavorsome with the right amount of kick. The nigella-seed flecked rice was the perfect pairing.
Lentil Kofta, Harissa & Feta Wraps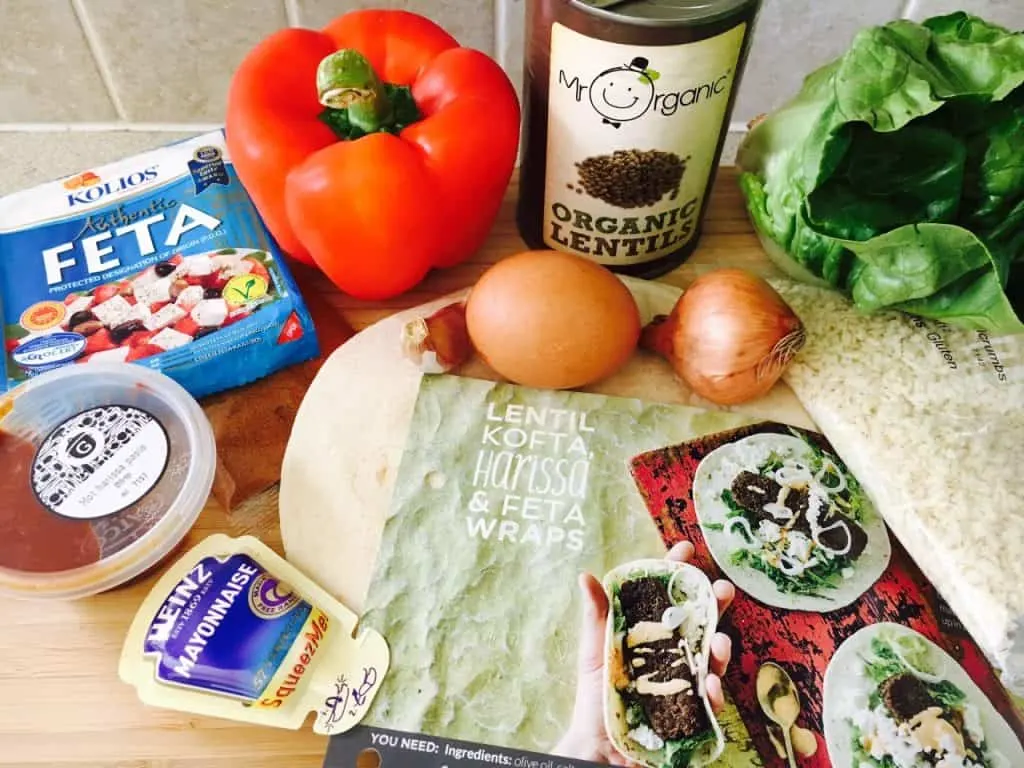 (ignore the red pepper – that's for the third recipe!)
I loved my Gousto recipe so much when I had it for dinner that I decided to make the Lentil Kofta, Harissa & Feta Wraps for lunch the very next day. The sun was shining and this meal seemed like the perfect summer's day light lunch.
I quite often have wraps for lunch but I'm pretty boring with them. Boring in the sense that I usually always have chicken and salad in them, or occassionally I'll push the boat out and have a chicken tikka masala wrap. I never thought of using lentils.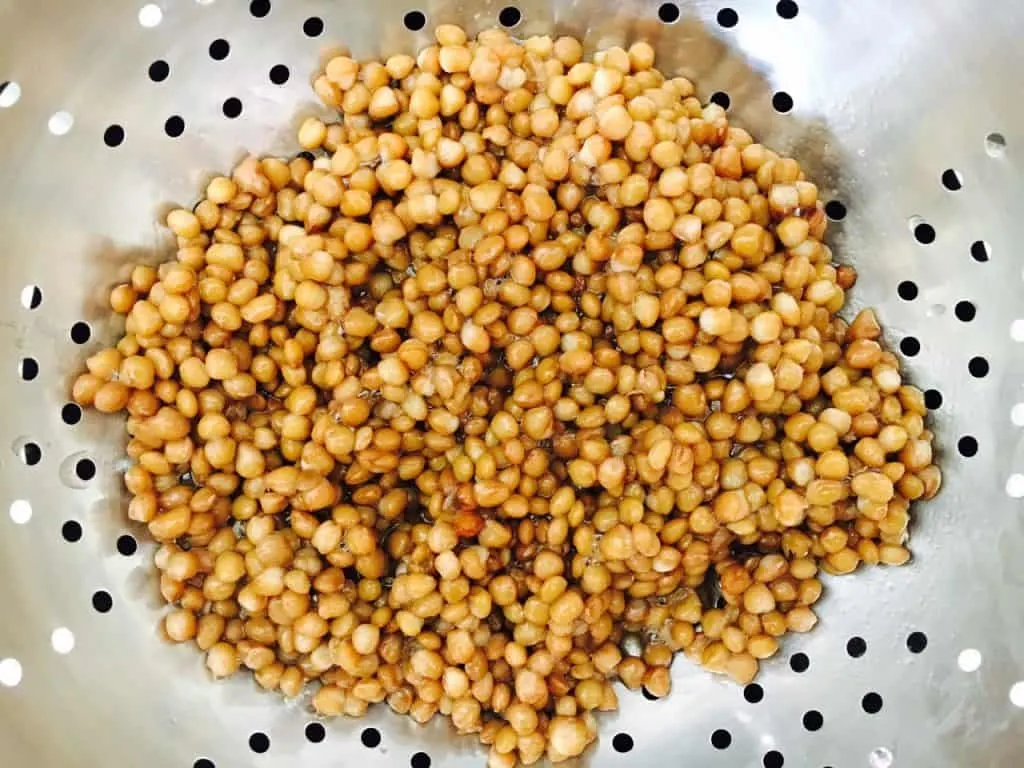 When I first read the recipe card it seemed like a faff. And I don't usually like to spend too much time making my lunch. But on going through the steps it was very straight forwards and didn't take much prep work. The lentils were easy enough to mash and as all the ingredients were measured out already by the lovely people at Gousto it meant I just had to add it all together.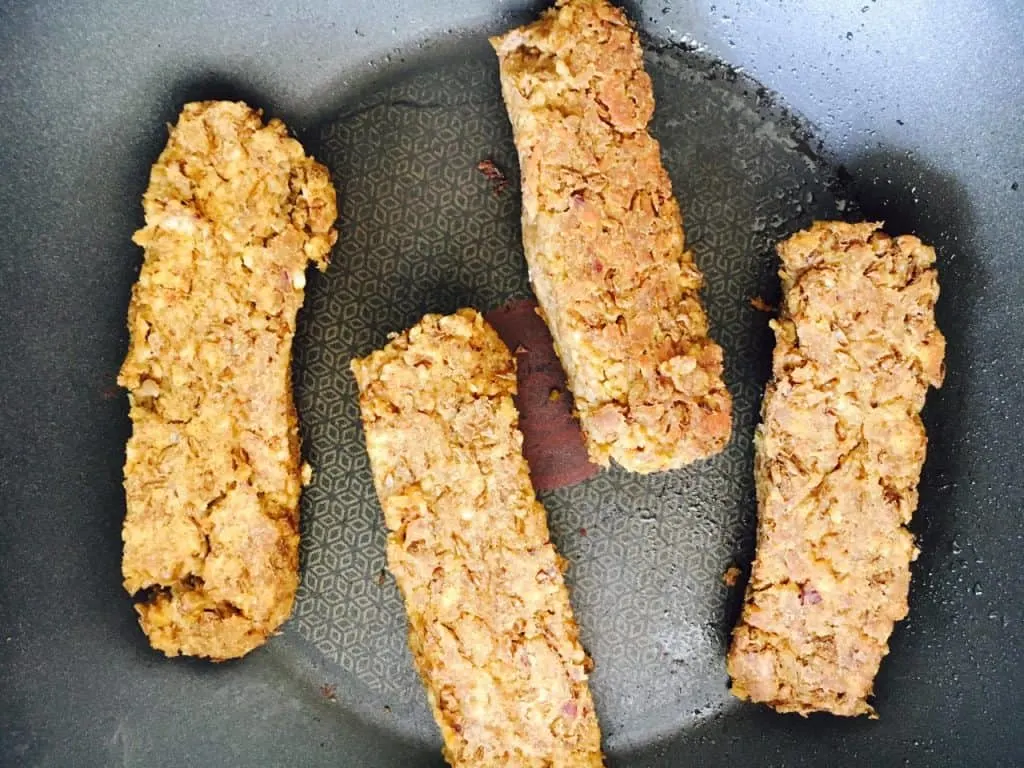 Frying the koftas only took a few minutes, during which time I heated up the tortilla wraps in the oven. The harissa mayonnais was quick to mix together and smelt delicious.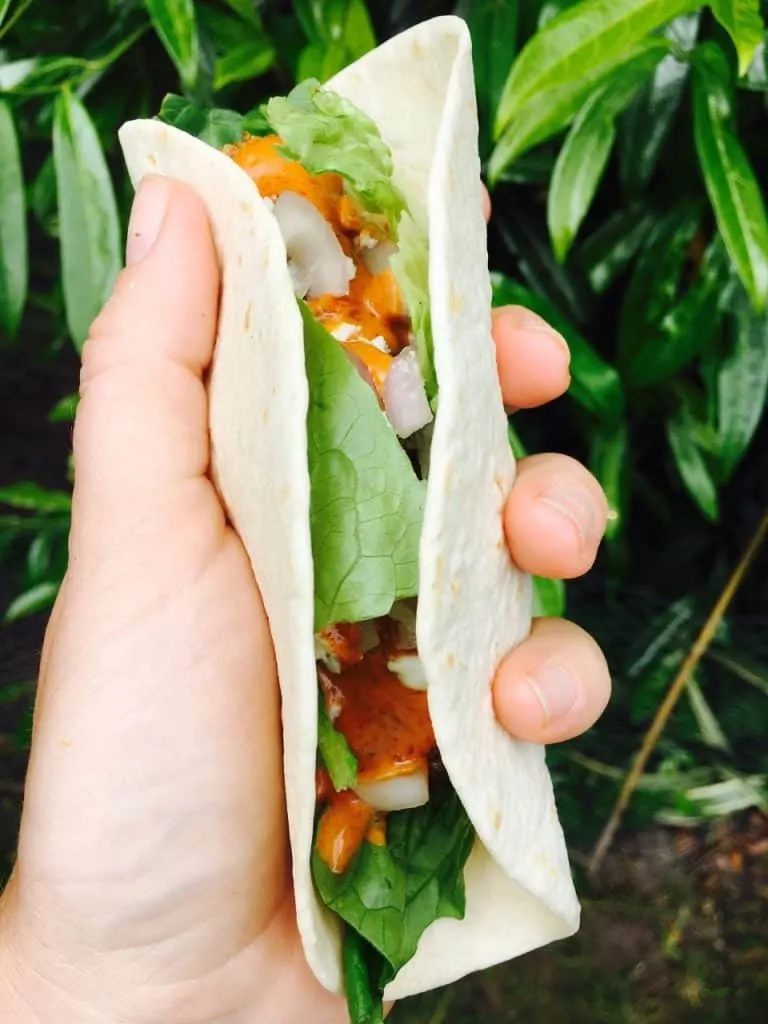 The finished recipe. As it was so lovely and summery I thought this wrap deserved to be eaten outside in the sunshine. The mix of the spicy lentil koftas (they had ras el hanout mixed in with them) with the harissa mayo was delicious.
Yet another meal I wouldn't have chosen for myself but ended up loving! Note to self: I really must keep trying new things!
Save
Save