Are you busy researching which food box is best to sign up for?
If so, my Gousto review will hopefully help you decide whether it's the one for you.
The popularity of food subscription boxes show no sign of slowing down. With the option to have anything and everything delivered, from custom picked wine, to a locally organic sourced fruit and vegetable box, we really are spoilt for choice.
And I get why they are so popular. How many times have you got to dinner time and thought…arghhh…what am I going to cook? I guess it's takeaway or a quick omelette then?!
(Please be aware that some links may be affiliate links. This means that, at no cost to you, I may receive a commission for any purchases through the links on my site. I appreciate your support!)
Gousto Discount
Before we get into the full review, if you came here to quickly grab the Gousto discount click here to get 60% off the first box.
Who Are Gousto?
The food subscription box we are reviewing today are the well known Gousto. Founded in 2012, Gousto deliver fresh ingredients with recipe cards created by chefs, for you to cook inspiring meals at home.
My Gousto Review
The Gousto Subscription
A major positive to signing up with Gousto is that you are not tied in to any fixed subscriptions. It is incredibly flexible.
You can choose to pause your delivery by just clicking a button in your account (as long as you do so 3 days prior to your scheduled delivery, check in your dashboard if you are unsure).
You can choose between ordering for 2 people or 4 people.
You can choose to order 2, 3 or 4 recipes. For the purpose of this review I decided to go in the middle with 3 recipes. Again, this can easily be changed to suit your weekly plans via your dashboard.
How Much Does Gousto Cost?
At the time of writing this review the Gousto pricing is as follows in the tables below. The more recipes you buy, the cheaper the portions work out to be.
Gousto Prices
Regular Box – suitable for 2 adults or 1 adult and 1 to 2 children.
| | | |
| --- | --- | --- |
| Recipes | Cost Per Box | Cost Per Portion |
| 2 | £24.99 | £6.25 |
| 3 | £29.99 | £5.00 |
| 4 | £34.99 | £4.37 |
Large Box – suitable for 4 adults or 2 adults and 2 to 3 children.
| | | |
| --- | --- | --- |
| Recipes | Cost Per Box | Cost Per Portion |
| 2 | £31.75 | £3.97 |
| 3 | £42.75 | £3.56 |
| 4 | £50.25 | £3.14 |
Your orders are set up to be delivered each week, but this can easily be changed in your account to fortnightly or monthly – whatever suits your needs.
Another handy option is the ability to order one off boxes.
The Ordering Process
Ordering from Gousto is really straight forward and intuitive. There are plenty of inspiring recipes to choose from without it feeling overwhelming. You can either search through all the available recipes or go via the categories of;
Most Popular, Quick & Easy, Discover, Vegetarian, Low Calorie and Family Friendly.
When you have chosen your category the recipes available will come up, displaying how many are left along with other need to know information such as the amount of time it takes to cook as well as the amount of reviews and ratings.
Can I Order A One Off Meal With Gousto?
Funny you should ask – when grabbing the screenshots for this review I spied a recipe I absolutely needed to try – so I've gone and added a one off meal! I have mine on pause for this week and next as we are busy/away with school holidays. But when I saw the picture of the Chicken Red Pepper and Lemongrass Curry I knew it had to be in my belly this weekend! A quick glance at my weekly meal planner and coincidentally I had left Saturday night blank with a potential takeaway in mind. It was clearly meant to be 🙂
To order a one off box, head into your dashboard and click on the recipes you want. You will need to order a minimum of 2 recipes. I also chose the Smoky Fish with Chive Butter Sauce.
You will see when it is available to order at the bottom of the image. You can then click in to your delivery options and choose which day you want it delivered on. Delivery is also free.
Can I Cancel Or Pause Gousto?
As mentioned before, yes, you can cancel or pause. It is super easy to do by just going in to your dashboard. Just make sure you cancel/pause in time.
The Gousto Delivery
Once you have been through the ordering process you'll know your delivery day. On the morning of your delivery Gousto will send you a text message to let you know it is on it's way together with your tracking code so you can see where it is.
What Happens If I Am Out When Gousto Arrives?
There is no need to wait in for your delivery, you can ask them to leave your box with a neighbour or in a place of your choice. It comes packed with ice packs and special insulation so that the food stays chilled and fresh until midnight.
What You Get With A Gousto Delivery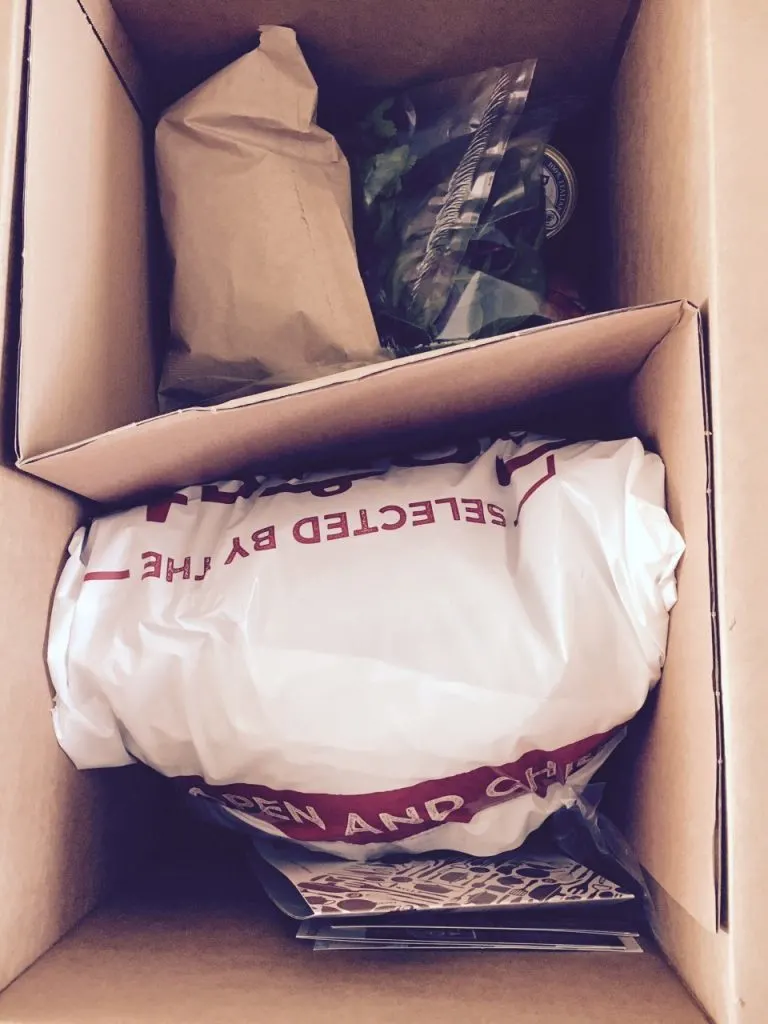 This is the super exciting part – unboxing your yummy food. All the benefits of food shopping without having to go to the supermarket!
The ingredients come in a cardboard box.
They are packaged according to how they need to be stored by you:
Everything in the Woolcool bag needs to go in the fridge (along with leafy veg and herbs).
All the items in the brown paper bag can go in a cupboard.
Store your root vegetables as you would usually, in a dark, cool and dry place.
Where Are Gousto Ingredients Produced?
This the really appealing part – Gousto use seasonal food with the majority being produced in Britain. It is of the highest of quality – so you know what you are eating is good for you. The meat we have tried so far is really very tasty!
Is Gousto Healthy?
Yes, Gousto meals are healthy. All the recipes detail the nutrition value including the calories.
Do I Need To Buy Anything Extra To Make A Gousto Meal?
There are a few extras you need but I'm pretty sure most kitchens will already have these. They include salt, pepper, butter, flour, sugar, olive oil and vegetable oil. You only need very minimal amounts.
Gousto Recipe Reviews
This is the important bit – how easy were the meals to cook and how did they taste? The short answers were they tasted AMAZING. Really very tasty. We all had different favourites – mine was the mild chicken korma (it was also my ten year old's favourite!) As you can choose which meals you want the chances are you will go for your favourites types anyway – which is what makes this subscription service so ideal.
Cooking them was incredibly simple. The recipes were easy to follow and it felt such a treat not having to measure anything out! The time to cook was just about right – the only recipe that took longer was the Barbecue Pork Steak – the potatoes took longer, but that might be more to do with our oven than the recipe being inaccurate (I really need a new oven!)
All the ingredients for 3 meals;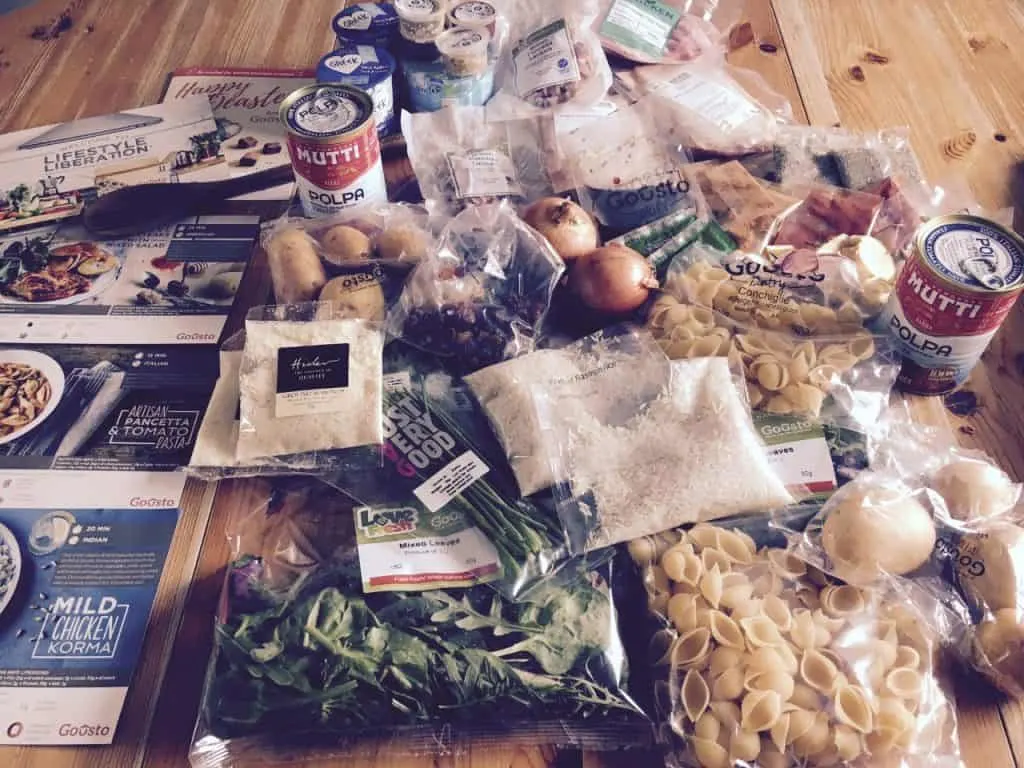 Recipe 1 – Artisan Pancetta & Tomato Pasta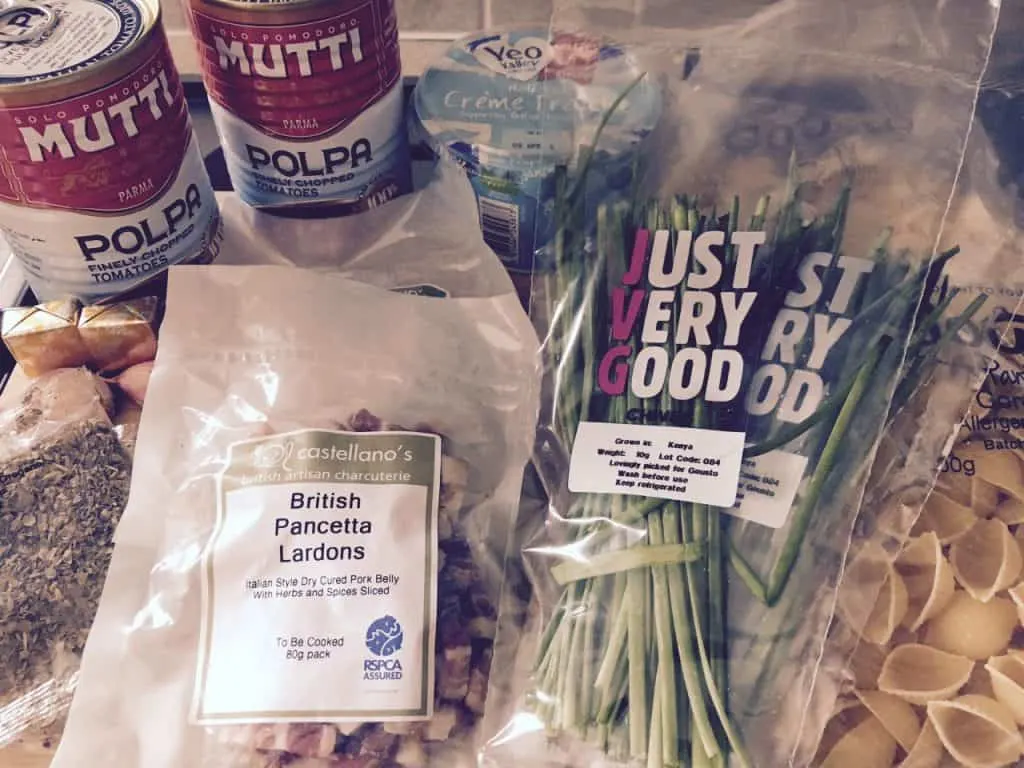 The pasta dish was a real winner in our house. It was the quickest of the meals to make and took no longer than the 15 minutes suggested by Gousto. When you choose your meals you can sort them by Quick and Easy which only has the recipes that take 20 minutes or less to make.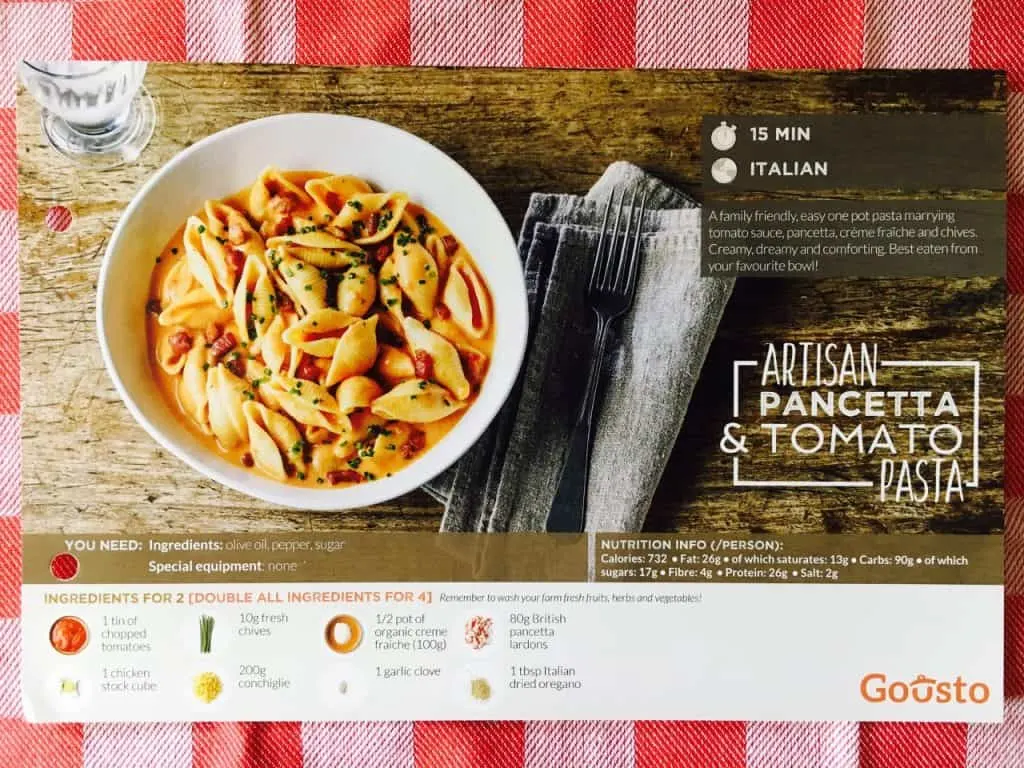 Ideal for a quick turnaround kind of an evening!
Recipe 2 – Barbecue Pork Steaks with Mixed Salad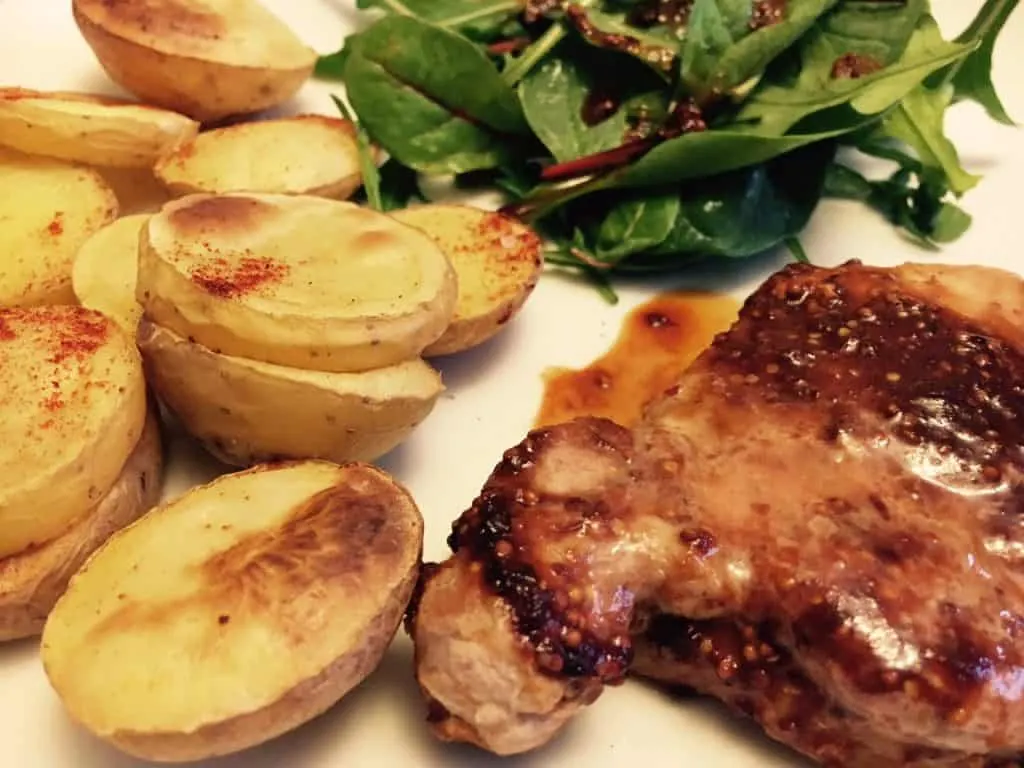 This was voted as favourite by my husband – it was full of flavour with the chipotle paste, Henderson's relish, soy sauce, wholegrain mustard and smoked paprika! This was probably the children's least favourite one but they still ate it. I used the left over sauce in the pan to drizzle over the paprika potatoes and salad – delicious.
Recipe 3 – Mild Chicken Korma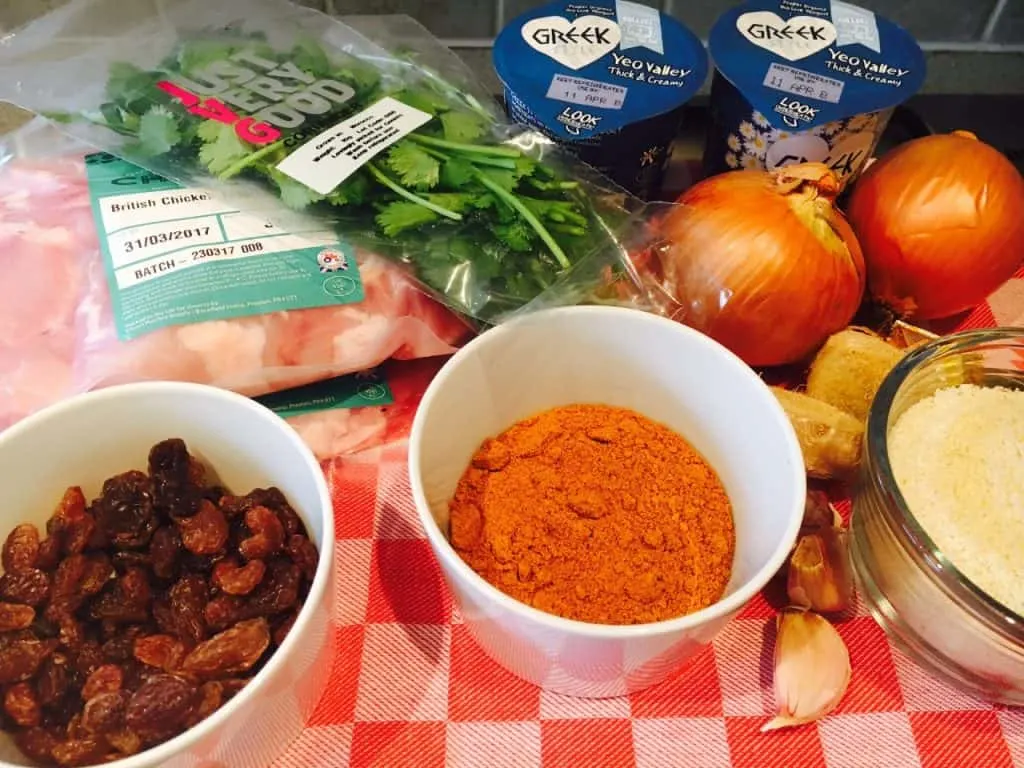 This was absolutely my top choice out of the three. It tasted AMAZING. I loved having everything there measured out, just ready to be added.
There is of course some preparation, like peeling and chopping the onions, peeling and grating the ginger and crushing the cardamom pods.
But it didn't feel like an effort or a chore. Just looking at those ingredients again is making my mouth water, it seriously tasted that good.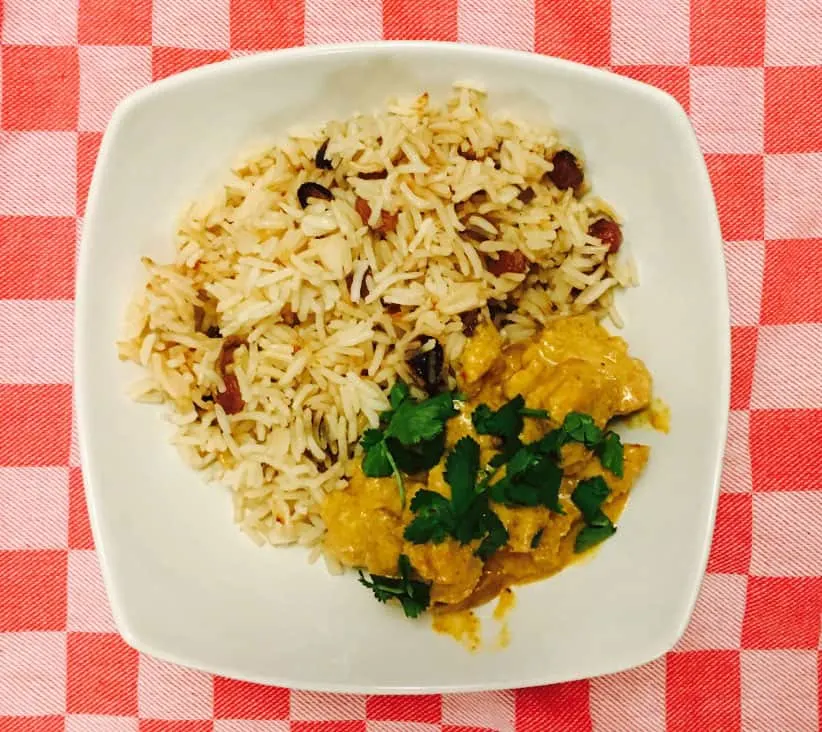 Is Gousto Worth It?
Yes, I think so. Each recipe will give you a break down of how much it costs. It is likely that you could get it cheaper if you shopped for the ingredients yourself.
However, you do need to consider that many of the ingredients required to make some of the spice mixes and sauces would cost quite a bit to purchase individually, and would you really end up using them all up? How many times have you had to throw away half used bottles of something that you bought for a recipe?
What's more, you are paying for the convenience of having the precise ingredients and recipes delivered to your door. For me, that is worth it's weight in gold (or potatoes?!)
For our first box (recipes above) we had 3 meals at a cost of £51.99 in total (although it was half price as we took advantage of the introductory offer – if you do you'll get it half price twice!)
When you consider how much you would spend on say a takeaway from the local curry house – does at least £10 per person sound fair?
Gousto is cheaper per serving the more meals you purchase. The image you see on the left is based on 4 servings (the cost per serving will be slightly more if it is based on 2 servings).
So for 4 people (or in our case, 2 adults and 3 children) you will pay £5.25 per meal if ordering 2 meals in a delivery, or £4.33 if ordering 3 meals in a delivery and £3.75 per serving if ordering 4 meals in a week.
You do of course need to cook the food yourself (and wash up!) You also need to use some of your own ingredients – as we are comparing this to a takeaway curry, in the case of the Chicken Korma recipe it was only butter, salt and vegetable oil – all ingredients you would already have, and the amount you needed was very minimal.
What I Don't Like About Gousto
I really like Gousto as a food subscription box service. If I could change anything it would be;
Reduce the amount of packaging.
Provide an option for more servings, we are a family of 5 who all eat adult portions.
Is Gousto Better Than Hello Fresh?
Gousto and Hello Fresh are very similar in how they run. Both give you the option to choose the recipes you want as well as to pause delivery when you want to.
The Gousto Final Verdict
If you hadn't picked up on it yet, Gousto is an absolute winner in our family! As you know we love to cook and create new recipes of our own, but like anything fun, if you do it all the time it takes the fun away. By using a service like Gousto, when we want to, we get to choose meals and foods we wouldn't normally. I love that the kids are keen to try the recipes, much more so than when I make new stuff!
On a health level, I feel good that the food is so nutritious and I know exactly where it has been produced. The fact that the ingredients are all measured out is ideal for reducing food waste.
Ultimately, I love that Gousto is so flexible – it's not something we have to commit to every week yet it is super simple to order in a box on the weeks we want to.
If you want to check out more Gousto reviews you can see them via each individual recipes on their site. Or better still, try them out for yourself!