I am a bit of a snacker. OK, maybe a lot of a snacker. Crisps are my biggest downfall, a habit I have been trying to break for a long time, without success. I've been eyeing up snack subscription boxes for some time now, so first up are one of the biggest brands in the world of snack boxes, Graze.
Note: If you sign up for a Graze box by clicking a link on this page I will get a small commission from Graze. This will not cost you anything more. All of my reviews are my own, I purchase them myself to avoid any conflict of opinion.
I purchase and test out lots of items for this blog, and with the food subscriptions my intention is to only try them for a month and then cancel – I can obviously only consume so much food (apparently!) But I fear Graze may have got me hooked. I'm only into my second week of deliveries, but both weeks have been so incredibly tasty, I'm not sure I'm ready to part ways after the 4th delivery.
Ordering With Graze Online
The ordering process is really straight forward. The most challenging part I found was deciding on my priority choices – you don't have to complete this bit, I started to do it but then realised that most of the choices were becoming a priority, which kind of defeats the object! They have 130 snacks to choose from, I'm sure you can feel my dilemma.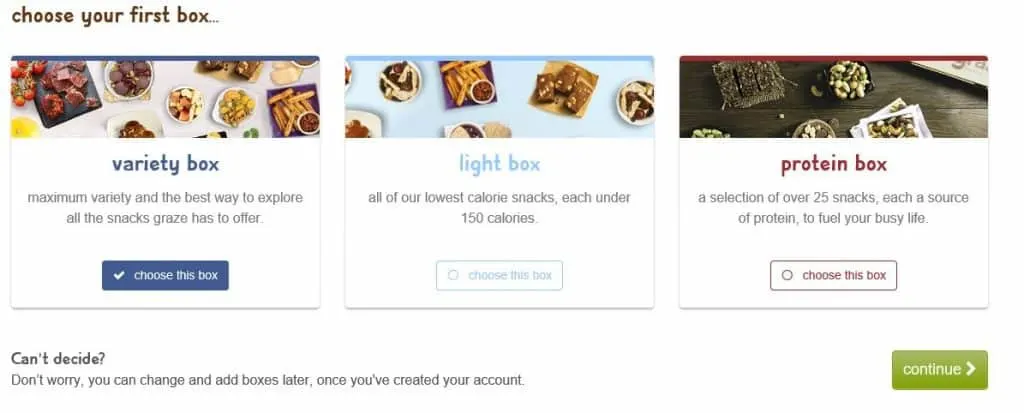 Your first decision is whether to go for the variety, light or protein box. Personally I went for the variety box because I want to taste it all! But, if you are counting calories, or are keen to increase your protein intake, opt for one of the other choices.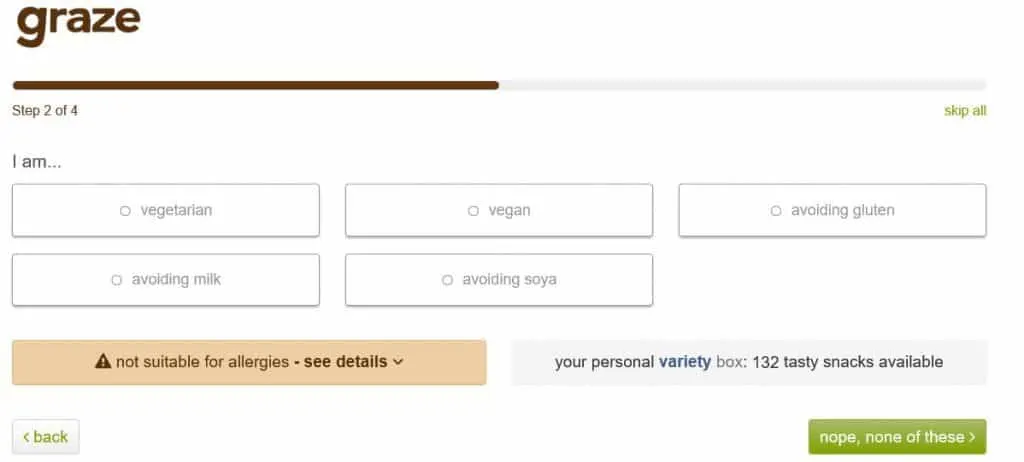 Before you order your first box you have the opportunity to advise on any specific preferences you have such as vegetarian, vegan, avoiding gluten, avoiding milk and avoiding soya.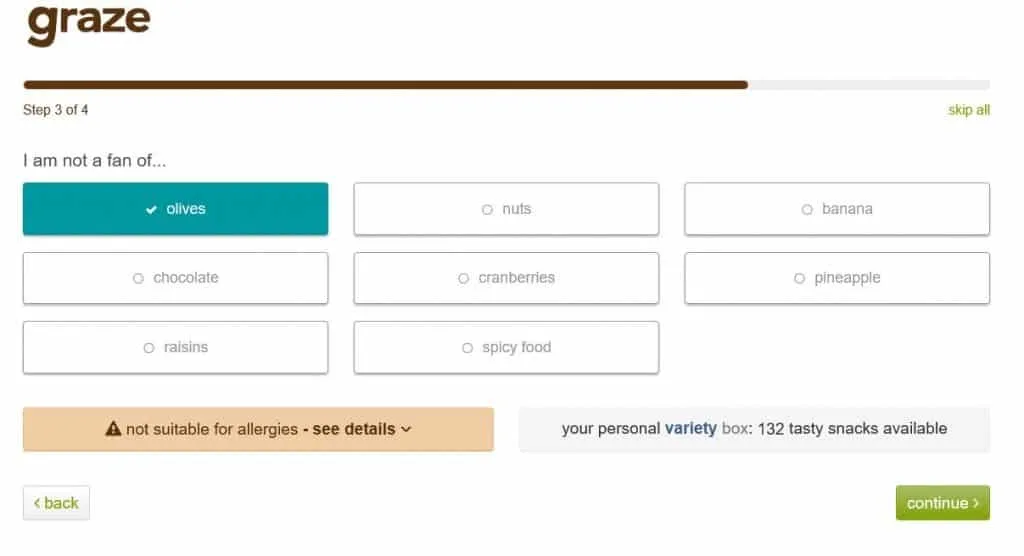 You then get to go in and tick what you don't like (yup, I don't like olives!)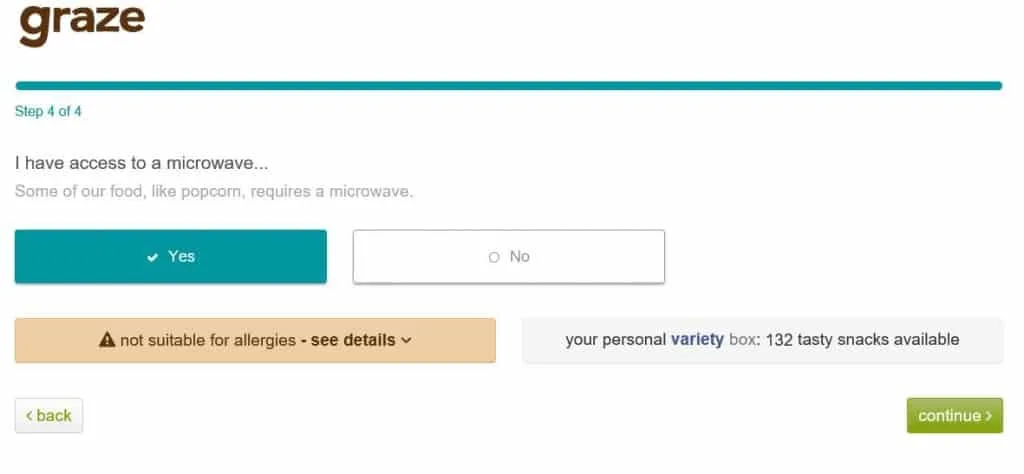 Then a simple yes or no answer to whether or not you have access to a microwave.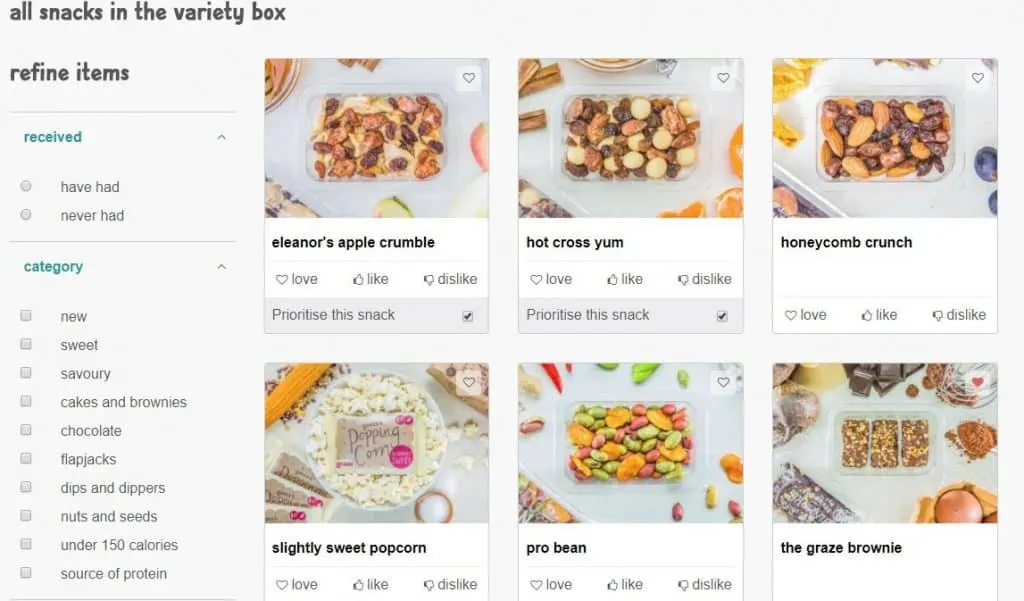 Then the really fun part of prioritising your snacks. Fun, but oh so tough.
Graze Box Offers (Can I Get A Free Graze Box?)
Graze change up their offers and you can usually get a free box by searching for a voucher online or in a magazine. There current offer is the 1st and 5th box for free (they usually cost £3.99).
Graze Box Reviews
Week 1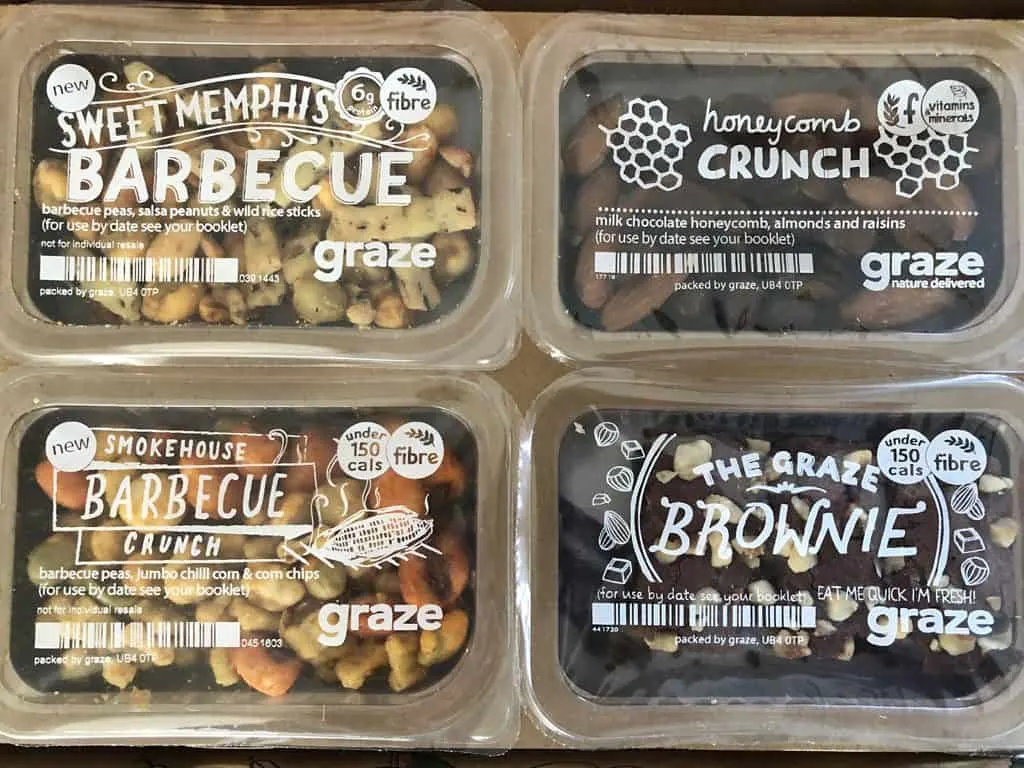 My first delivery was a great mix; The Graze Brownie, Sweet Memphis Barbecue, Honeycomb Crunch and Smokehouse BBQ Crunch. At first glance I was a bit worried that they wouldn't be enough to satisfy my snack monster needs. Fortunately, they pack so much taste into each snack, they really are enough. The taste makes you want to stop and savour each mouthful rather than shovel it all in at top speed. Not that I would ever do that of course. It's hard to pick a favourite here, if I had to it would likely be the Smokehouse Barbecue Crunch closely followed by The Graze Brownie.
Week 2
I patiently awaited my second delivery a week later from Graze. As I heard the welcome thud on the doormat I quite literally skipped to the front door to unbox my surprise treats for the week. I wasn't disappointed.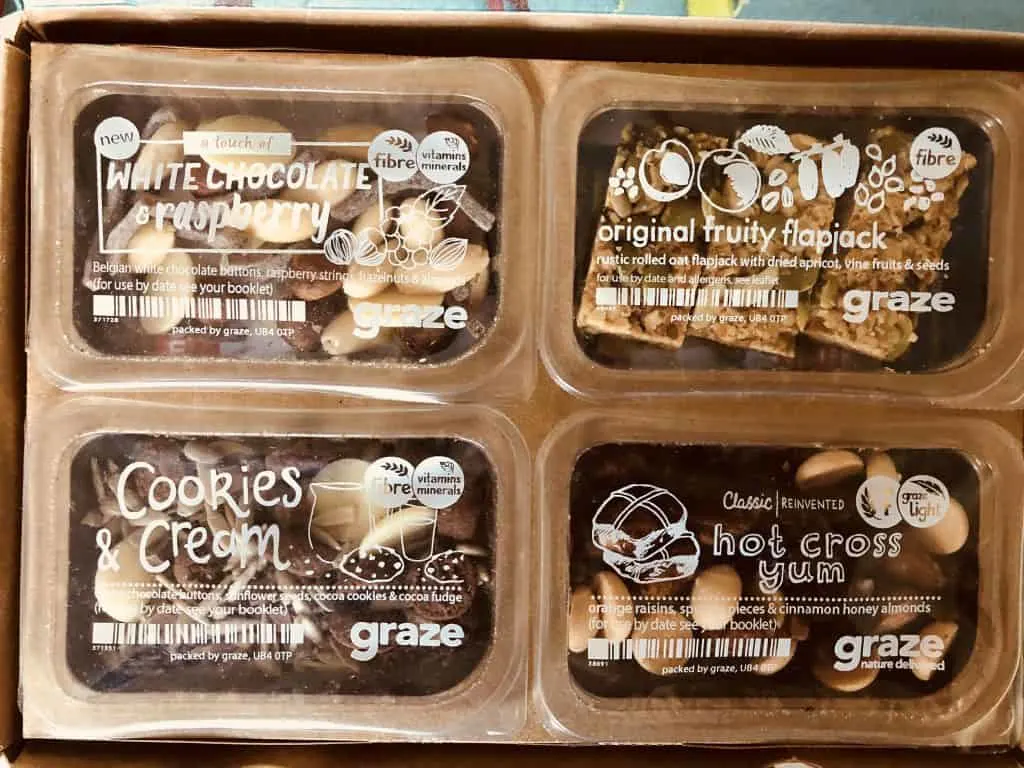 You can imagine my delight at the anticipation of tasting these deliciously named snacks. It was hard to choose which one to go for first. White chocolate and raspberry won first place because they are two of my favourite ingredients 🙂 Once again every single snack tasted amazing and felt like a really indulgent treat to spice up my usual afternoon slump.
Where Else Can I Buy Graze?
I was super excited to see Graze products for sale in Waitrose. I'm sure they've likely been there for some time, I've just been stuck down the crisp aisle 😉 On a quick look at the Graze website, I am super pleased to see that they are also in plenty of other high street shops. At the time of writing they are in Sainsbury's, Waitrose, Tesco, Asda, Boots, WHSmiths, Booths as well as Tesco Express and Ocado.
I couldn't resist a couple of Graze sharing bags. The question is, will I share?