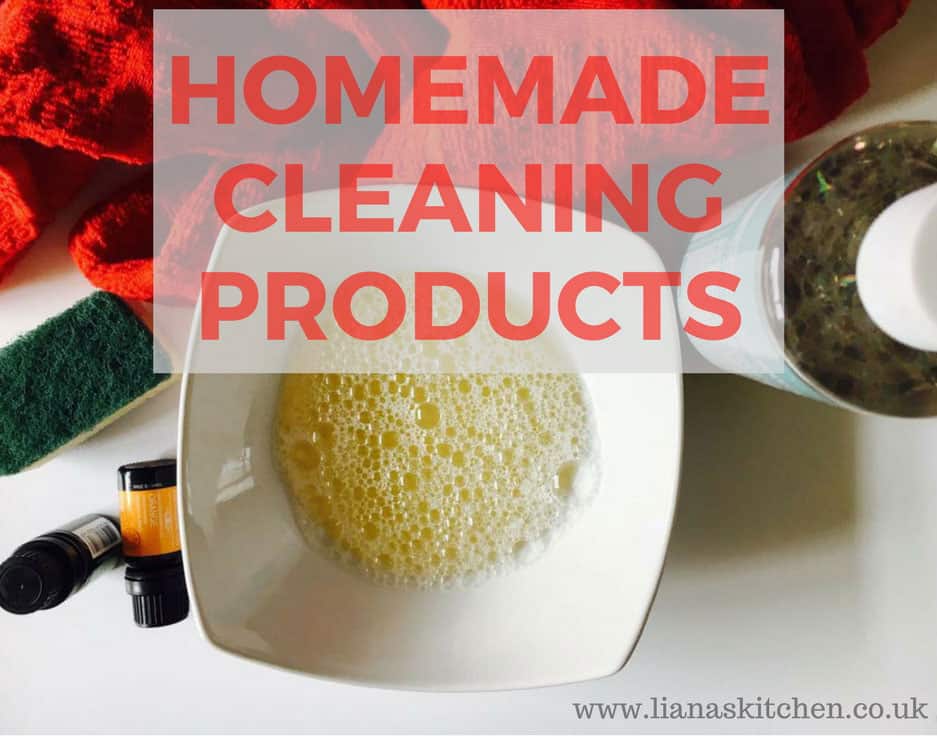 It's easy to buy house cleaning products at the supermarket. But did you know that it's also easy to make some of them in the comfort of your own home?
Before you go to the nearest store to buy expensive bottled cleaners, check out the following safe and effective natural homemade products.
Homemade cleaning products can be used to clean not just work surfaces, but also kitchen appliances such as your slow cooker, air fryer and soup maker.
To further improve the smell and quality of air in your kitchen and house you may want to investigate getting an air purifier.
[su_box title="WHAT YOU NEED" box_color="#7cd4a9″]You may not need all of the following as it will depend on what you are making, but they are all handy items to have around as they serve so many purposes.
Baking Soda – great for cleaning out the oven or other appliances with baked on grease and spillages.
White Vinegar – useful for cleaning carpets and surfaces. It also helps to clean out your dishwasher if it's starting to pong a little. Simply add some to a dishwasher safe bowl/jug and set the (empty) dishwasher off on a cycle.

TIP: Add equal parts baking soda and white vinegar and pour down your toilet. Leave for 10 minutes before flushing.
Spray Bottle – you can buy them cheaply enough online or at places like Wilkos or just recycle ones you already have at home.
Essential Oils – buy yourself a small starter pack if you don't have any.
Unscented Natural Liquid Soap – I got mine from Holland & Barrett but you can also buy them online.
[/su_box]
Slow Cooker Cleaner
The slow cooker is the perfect kitchen assistant – quietly cooking away whilst you are taking care of other much needed requirements (such as that thing called work!)
But what if you've accidentally overcooked a meal and are left with stuck on burnt food that just won't shift?
Your first option should be to soak it in warm soapy water for a couple of hours. If you want to use homemade washing up liquid, you can use my recipe later on in this article.
If soaking it doesn't work, add 2 to 3 tablespoons of baking soda in with the water and washing up liquid and switch the slow cooker on low for 2 to 3 hours. Empty contents of slow cooker and clean again.
Homemade Air Freshener
Keep your air clean and fresh using an effective natural air freshener. The problem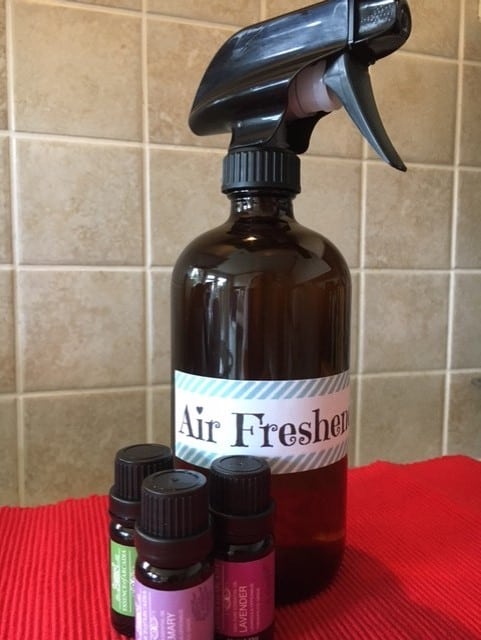 with most commercial air fresheners today is that most of them contain toxic chemicals that coat nasal passages and can block your sense of smell. Here is a recipe for a safer alternative:
Ingredients
8 drops lavender essential oil
8 drops lemon essential oil
8 drops rosemary essential oil
1 tbsp vanilla extract
Water
16oz Spray Bottle
Instructions
Add the essential oils and vanilla extract to the spray bottle and shake to mix together well.
Fill the bottle with water and shake again.
Shake before each use and spray into the air to freshen a room.
Homemade Dishwashing Liquid
Are your hands itching every time you do laundry and use detergent? You may be suffering from dishpan dermatitis, or what doctors call eczema which makes your skin sensitive whenever it's moist or soaked in water for long periods of time. The problem comes when most commercial products aggravate this condition further. Fortunately, you can make a safer and better alternative;
Ingredients
250ml unscented natural liquid dishwashing soap
10 drops lemon essential oil
10 drops orange essential oil
Instructions
Add all the ingredients into to a mixing bowl.
Stir thoroughly until the mixture becomes a smooth liquid.
Store in a sealed jar and keep in a cool dry place. Use as and when needed to wash dishes.
Natural Drain Cleaner
It's a dirty job, but someone's got to do it. It's important to keep your kitchen sink drain clean to avoid blockages. By using this natural formula just once a week you won't have to worry about calling out the plumber any time soon;
Ingredients
2oz baking soda
3.5oz salt
4fl oz distilled white vinegar
Instructions
Mix all the ingredients together.
Pour it down the plughole of your kitchen sink.
Leave for 15 to 20 minutes to let the mixture work it's magic.
Pour boiling water down the plug hole.
Homemade Carpet Cleaner
Mud, wine, or any spillage can make a great carpet ugly and smelly. But you don't need to replace it just yet. Just clean it using this homemade carpet cleaner:
Ingredients
1 teaspoon distilled white vinegar
1 teaspoon dish washing liquid
1 teaspoon baking soda
1 cup of warm water
Sponge
Instructions
Mix the ingredients together in a spray bottle and shake.
Spray soiled area and clean with a damp sponge.
Wood Floor Cleaner
Difficult stains can be frustrating to remove especially if they're on the floor. If you're looking for a natural and non-toxic cleaner that is able to clean your wood floor whilst leaving it smelling sweet, check out the recipe below.
Ingredients
4fl oz distilled white vinegar
2 tbsp natural liquid dishwashing soap
2 gallons warm water
8 drops lavender essential oil
8 drops orange essential oil
Instructions
Mix all the ingredients together in a large mop bucket.
Wash your floor as you usually would with a mop.
Rinse floor with clean water.
Homemade Disinfectant Wipes
Get rid of germs and bacteria in your home by using disinfectant wipes on your utensils, furniture, and appliances you use every day. This recipe for homemade disinfectant will not only kill bacteria and germs but will leave all your wares smelling fresh and clean.
Ingredients
1/4 cup white vinegar
1 cup water
10-15 drops of tea tree oil (or other essential oils of your choice)
15-20 squares of cloth (unwanted t-shirts and sheets work well for this)
Wipe container
Instructions
Neatly place all the squares of cloth in an empty white container and set aside.
Add ingredients in a mixing bowl and stir until all contents are mixed well.
Pour the mixture over the cloths placed in the container and wait for the liquid to soak.
Use the wipes to disinfect any item in your home.
NB. The great thing about these wipes is they are reusable! Just put them in the washing machine and follow the above steps to make another batch.
Homemade All-Purpose Cleaner
For every kind of hard surfaces, tiles, and counters, this cleans it all. Get rid of dirty and greasy stains when you use white vinegar and baking soda together. The natural antiseptic properties of lavender and rosemary will assist in making your surfaces sparkling clean.
Ingredients
1 tablespoon baking soda
2 tablespoons white vinegar
1 teaspoon natural liquid dishwashing soap
8 drops lavender essential oil
6 drops rosemary essential oil
16fl oz warm water
Instructions
Mix all the ingredients: vinegar, baking soda and essential oils in a clean spray bottle.
Fill with the water
Shake well to mix the ingredients
Spray on the stain and wipe clean with a cloth or sponge.
Glass and Window Cleaner
This glass cleaner is both cheap and simple to make. The white vinegar combined with the water makes it an effective cleaner, no more streaks! The addition of lemon and lavender will leave a nice scent behind too.
Ingredients
6fl oz water
3fl oz distilled white vinegar
2 drops lemon essential oil
2 drops lavender essential oil (optional)
Spray bottle
Instruction
Add all the ingredients to a small spray bottle and shake well to mix.
Spray on to windows or other glass surfaces.
Wipe clean with a clean towel, kitchen roll or newspaper.
Save