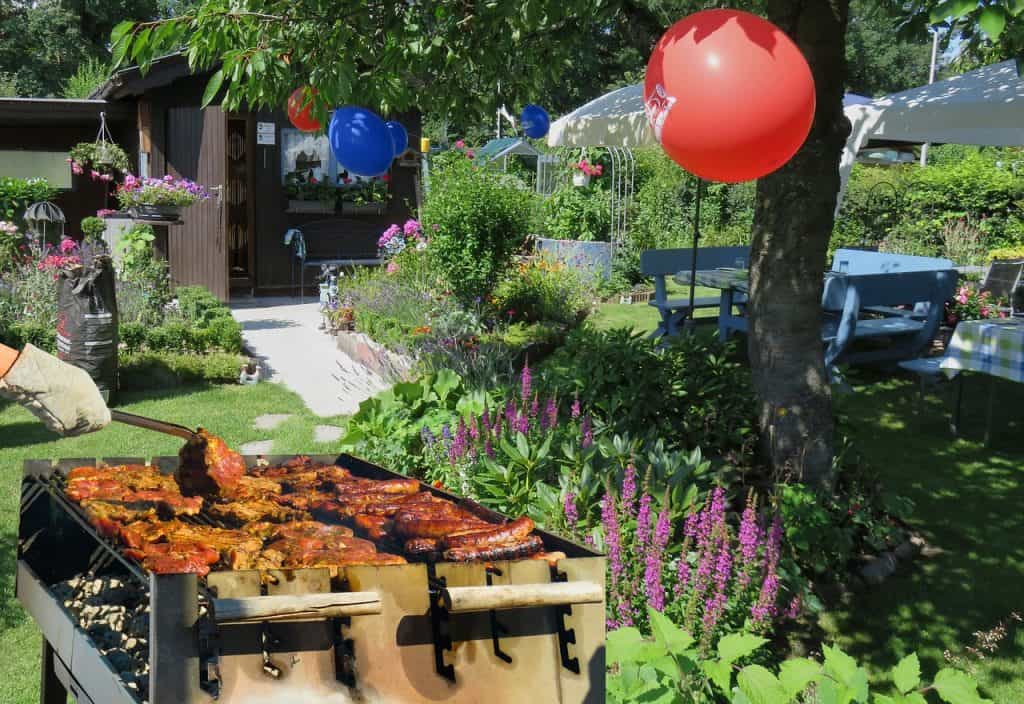 The sun is shining, the garden furniture is out of hibernation, and the BBQ is waiting to be used.
On the first sunny (or even mildly warm) day of the year, gardens across the country celebrate with the obligatory barbecue, with supermarket shelves running dry of burgers and sausages, all before midday.
Read on to learn our top BBQ ideas and tips for hosting the perfect BBQ.
Which BBQ Should You Use?
There is a huge range of barbecues to choose from. There are budget buys, I've seen them as cheap as £10 for a basic charcoal BBQ, all the way up to the more expensive models, often gas BBQs, that can run into the hundreds, or very occasionally thousands!
What you really want to make sure is that your BBQ is sturdy, as well as big enough to cook for all the people you intend to feed. As with most things you get what you pay for, and this is certainly true when buying a BBQ. If you only intend to use it for a few impromptu meals, then go for a budget model. If you intend to use it more frequently, even during the cooler months, opt for a quality gas BBQ.
Have The Right Equipment
Always make sure you have long-handled utensils to cook with, not only do they make it much easier, they make cooking much safer too. As a bare minimum you should have;
Fork for removing meat from the BBQ
Spatula for turning over food
Tongs for handling raw meat and a second set for moving the charcoal about
Dishes to hold raw meat and a separate one for cooked meat
Be Prepared
If you are hosting a BBQ for a number of people it is worth planning out the menu in advance. Some meats will taste better if they have been marinated for some time prior to cooking, not to mention, it's nice to be able to enjoy your guests company when they are there rather than being stuck in the kitchen.
Don't Stress About The Weather
We seem to have an unconditional love for our BBQs and we won't allow a minor inconvenience such as rain to come between us. You may be relentlessly checking the weather forecast, but it's no good planning your BBQ around it. Set a date and hope for the best.
Actually, you can do more than that. Prepare by making sure you have some cover to cook under (a giant umbrella or gazebo works wonders). If you have invited too many guests to fit inside your house you might want to consider a few gazebos for them too. There's nothing worse than a soggy hotdog.
If you think the BBQ might stretch out into the evening, a patio heater might be a worthy investment.
Be Safe
Don't let a fun and enjoyable BBQ end in an accident. Consider these safety tips;
Don't move a lit BBQ. Make sure it is placed on a level surface before it is lit.
Ensure it is placed well away from trees, bushes and anything else that could potentially catch on fire.
If a BBQ has flared up too high extinguish it by closing the lid and vents. Turn off a gas barbecue.
If a BBQ has got out of control don't use water to put it out – use some sand, or a fire extinguisher.
Make sure the BBQ isn't place where kids and/or pets can get too close.
BBQ Recipe Ideas
All the planning and preparation in the world won't equal the perfect BBQ if you don't have some inspiring recipes to serve up. A BBQ can be as simple or extravagant as you wish. Many supermarkets now sell fresh meat with BBQ marinades already covering them – these are a good choice if you are short on time.
Have Fun
The most important bit! BBQ parties have become a regular in the British summer calendar. Enjoy the food and drink, but most of all, enjoy the opportunity to get out and dine al fresco with some of your favourite people!