Buying an ice cream maker was a cheeky little treat to myself. As a family we do enjoy an ice cream for dessert every once in a while. However, I was beginning to wish we could control the flavours we were eating as well as what was actually in the recipes. Take a look on most ice cream cartons and you'll find a list of ingredients that really shouldn't be there.
When I started to look for the best ice cream maker suitable for our needs I soon became quite overwhelmed by the different types of machines available, not to mention the varied price range. If I bought one at the cheap end would it be any good? Or could I really justify spending that much on an ice cream machine?!
I have researched the specs and reviews of every ice cream maker I could find. I hope you enjoy my ice cream maker buying guide and that you soon will be tasting a delicious freshly made ice cream!
Best Ice Cream Maker With Seperate Freezer Bowl:
Cuisinart have truly mastered how to make stylish kitchen appliances that work really well. Like their built in freezer version mentioned next, the ICE30 model performs well and looks great in the kitchen.
With a larger capacity at 2 litres you can make a sufficient amount of ice cream all in one batch. Of course you will need to make sure you can fit the bowl in your freezer before buying it as it is larger than others. The bowl measures 16cm (height) and 20cm (diameter).
The dimensions of the whole ice cream maker are 22.5 x 20.5 x 29 cm.
As with other machines that require prefreezing, the longer you keep it cold the better the results will be. Cuisinart recommend that the bowl is kept in the freezer at temperatures of -17C or colder, for a minimum of 12 hours.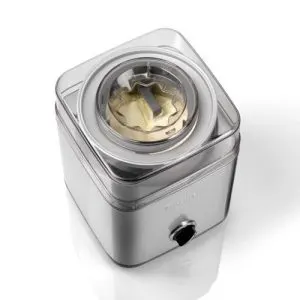 You are able to add extra ingredients such as chocolate chips, raisins etc during the process by pouring them through the ingredients funnel which is nice and wide.
Although there are reviews of the machine being noisy when running, there are no reports of the motor overheating and switching off which can sometimes be a problem with other machines. This model is more expensive than other makers of this kind but it has been designed with quality and longevity in mind. This is evident by the 5 year warranty that comes with it.
Like Cuisinart's other model (with built in freezer) the recipe stays frozen for 10 minutes after the machine has switched off.
What I really like about this model compared to other makers of this type is that it is the bowl that turns rather than the paddle. It's easy to clean, simple to use and produces quality ice cream.
The instruction manual comes with a selection of recipes to get you started, with more available on their website.
For the frequent ice cream maker who doesn't want to pay the higher price for those with built in freezers, this model makes an ideal alternative.
Main Features
2 litre capacity
Stylish stainless steel design
Moving bowl rather than moving paddle
Stays frozen for 10 minutes after program finishes
Wide ingredient funnel
5 year warranty
Top Budget Buy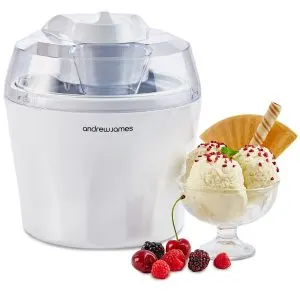 The Andrew James Ice Cream Maker is perfect if you want to buy a machine that won't cost too much. This is the ice cream maker I have and the results of this machine are fantastic.
Read my full review of the Andrew James Ice Cream Maker here >>
There are a choice of colours and you can buy a separate ice cream bowl if you want to always keep one in the freezer. The bowl takes a minimum of 8 hours in the freezer before it is ready to use.
It is really easy to use, just place the bowl in the machine, attach the paddle to the motor and put the lid on. There is a large funnel where you can pour your ingredients straight into the ice cream maker. Then you simply press the on button and the paddle will churn for about 20 minutes. Once the ice cream is finished you can either serve it immediately or put it in the freezer to harden up a little.
The ice cream maker comes with a recipe book with enough ice creams to get you started.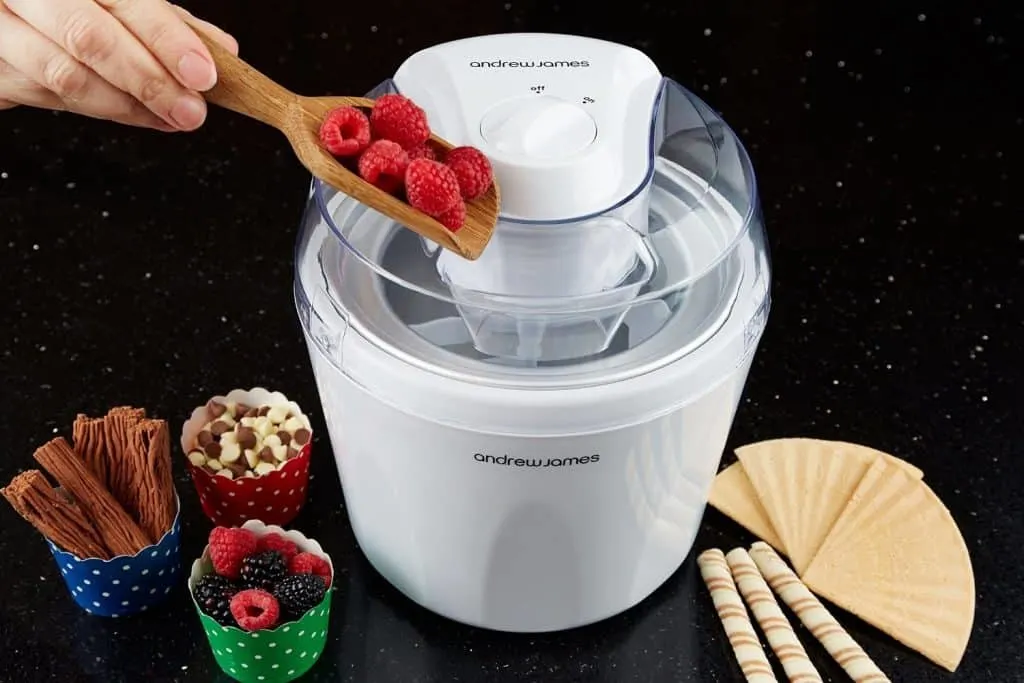 Main Features
1.5 litre capacity
Fast freezing bowl (8 hours)
Ingredients funnel
Small recipe book
2 year warranty
Ice cream ready in 20 to 30 minutes
Best Ice Cream Maker With Built In Freezer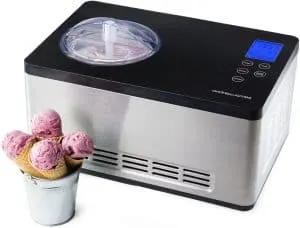 The other Andrew James model has a built in freezer. It is their premium ice cream maker and has features to warrant the title. This model has the ability to make up to 2 litres of ice cream in just 1 hour, with no need to freeze the bowl in the freezer beforehand. The LCD screen display will show how long is left of the program. Once the ice cream is ready the machine will keep it cold for a further 60 minutes, should you want it to. What is really great about this model is there is no need to wait in between batches. As soon as one is ready you can do another. The bowl is removable, making it easy to clean.
Even though the machine can make 2 litres of ice cream it is still not an over sized appliance. The dimensions are 42.4cm in length, 28.8cm in width and 26cm in height. Although this maker will fit in a spare kitchen cupboard, I have a feeling it would be more likely to stay out on the counter top – not just because of the stylish good looks, but also because of how easy it is to use.
Main Features
2 litre capacity
Built in freezer (no need to pre freeze)
Removable bowl for easy cleaning
Recipes ready in just 60 minutes
Free ice cream scoop included
2 year warranty
BEST OF THE REST
Ice Cream Makers With Separate Freezable Bowls
Ice cream machines without built in freezers are the cheapest option. They are often much smaller than those with built in freezers and are much cheaper to run. However, the disadvantage of this type of ice cream maker is that you need to plan ahead and know when you want to make an ice cream – unless you have enough space in your freezer to always have a bowl in there (and buy a separate bowl for this purpose). The bowl usually needs to be in the freezer for at least 12 hours before you can use it.
Pros: Cheap initial investment, cost effective to run, easy to store when not in use.
Cons: Space needed in freezer, planning required.

The VonShef is another budget ice cream maker that can make ice cream, frozen yoghurt and sorbet. This maker has a similar capacity to others on the market at 1.5 litres. Like other machines in this price range you will need to pre freeze the bowl in the freezer for at least 8 hours.
There are no preset programs meaning you will need to switch off the maker when the ice cream is ready.
This maker will make adequate ice cream for the occassional use but it's not a machine I would recommend for regular use. There are reports of ice cream not freezing properly and the motor heating up so do check for this.
Main Features
1.5 litre capacity
Large ingredient funnel
Recipes ready in 25 minutes (after bowl has been frozen in the freezer)
2 years warranty
Lightweight and compact design
Available in 3 different colours (white, blue and vanilla)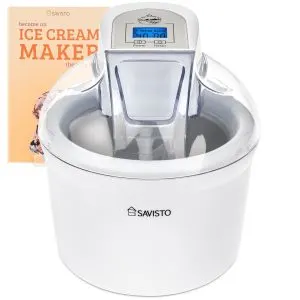 The Savisto is a promising machine at a very reasonable price. I like that it has a digital display so you can see how much longer is left of the mixing process. Unlike the Andrew James model this ice cream maker is designed to switch off once your ice cream program has finished. You can manually stop the program too if your recipe looks like it might be ready.
Similar to other models in this price range you need to pre freeze the bowl prior to churning the ice cream. The maker is capable of making up to 1.5 litres so a very adequate amount for a family.
Where the Savisto Ice Cream Maker excels is the inclusion of a recipe book containing 133 recipes! Wow.
Main Features
1.5 litre capacity
Digital display with timers
133 ice cream recipes included
2 year warranty
Compact size (height of 22cm and diameter of 19.5cm)
Ingredient funnel
Ice Cream Makers With Built In Freezers
Machines with built in freezers are the ultimate ice cream maker. There is no need to freeze ahead, you can decide to make an ice cream and do it there and then. Of course what comes with this perk is the extra cost of the machine, both initially when you buy it and then the ongoing electricity costs as the machine has it's own freezer.
Pros: No need to store bowls in the freezer in advance. Able to make batches of ice cream one after the other.
Cons: More expensive, larger appliance which will probably need to stay out on the countertop all the time.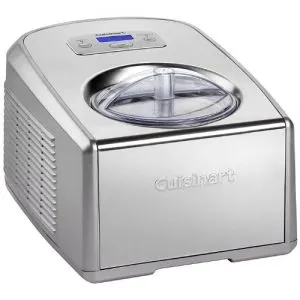 This machine not only looks stunning, it performs amazingly well too. It has the ability to make ice cream, sorbet, frozen yoghurt or gelato in around 40 minutes.
It comes with 2 paddles, one for gelato and the other for ice cream. The bowl is removable from the machine making it really simple to clean.
The machine itself is very easy to use. Just add the ingredients and set it off on the required program. There is a useful keep cool feature which will keep your ice cream cold for 10 minutes at the end of the recipe program.
This machine isn't too large either, the dimensions are 42 x 30 x 24 cm making it possible to leave out on your counter top if you have the space (and will be using it frequently) or find room for it in a cupboard.
The instruction booklet that comes with the Cuisnart Ice Cream Maker contains 15 ice cream recipes to get you started including favourites such as vanilla ice cream as well as recipes for sorbet, gelato, frozen yoghurt and frozen drinks.
Main Features
1.5 litre capacity
Built in freezer – make ice cream in as little as 35 to 60 minutes from start to finish
2 paddles included for ice cream or gelato
Removable bowl, lid and paddles for easy cleaning
Pause feature to allow you to add extra ingredients
Keep cool feature keeping your ice cream frozen for up to 10 minutes after the mixing program has finished
5 year guarantee
Cooks Professional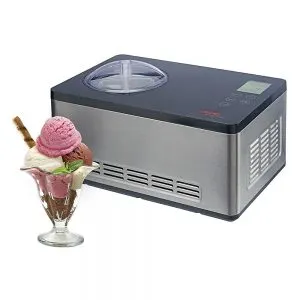 Another similar model with a built in freezer is from Cooks Professional. Without the need to pre freeze the bowl you can make fresh ice cream within the hour. The Cooks Professional has a larger capacity than the Cuisinart at 2 litres.
The handy digital display will show you how long is left of the program as well as keep your ice cream cool for up to an hour after the recipe has finished.
The bowl is easy to remove and cleaning it is straight forward – meaning you can make another batch of ice cream as soon as you want to.
Main Features
2 Litre capacity
Keep cool feature (up to 60 minutes after program has finished)
Measuring cup and spoon included
2 year warranty
Dimensions: Length 42cm, Width 29cm and Height 27cm
Best Kids Ice Cream Maker
I'm all for getting kids in the kitchen, even if it is with the bribe of an ice cream! The above models can be used by children under the supervision of an adult. Older children that are aware of kitchen safety can of course use them alone. But, for young children, sometimes they like to just do it all themselves, which is where these kids ice cream makers might be suitable. They are all reasonably priced and will produce some fun with creating new recipes.
ChillFactor 3201 Frozen Tray Ice Cream Maker Set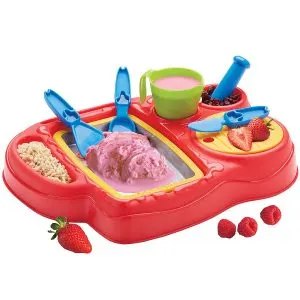 Any young child will be thrilled to get their very own ice cream maker set.
This set works on the same principle as the ice cream makers with removable bowls discussed above. The tray will require pre freezing before use (about 4 to 6 hours) but they don't get churned like the models above.
Instead, you just pour the mixture into the tray and watch it freeze, scraping the mixture to one side with the spatula to repeat.
There is a great cutting area where children can slice up fruit to add to the ice cream as well as a crushing pot to crunch up biscuits or other ingredients to sprinkle over the ice cream.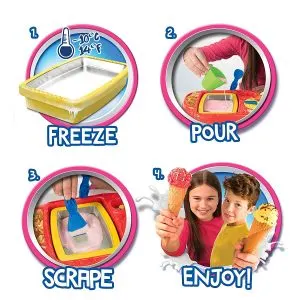 The plastic set is easy enough to wash up (another skill you would be wise to teach your children!!) and store away for future use. The downside of the set is of course how long the child will have to wait to be able to make their ice cream – and the amount it makes at a time – so perhaps the novelty might wear off. But the set is a fun introduction to cooking and making ice cream.
Main Features
knife
scraper
spoon
jug
pestle & mortar
ice cream unit and tray
Soft Shell Portable Ice Cream Maker
This will definitely intrigue the kids. The Soft Shell is a portable ice cream maker – the ice cream is made by rolling it about and shaking it for around 20 minutes! I like the idea of not needing to plug anything in, and the idea of working for your pudding is a bonus!
There are 2 openings – one for adding your ice cream ingredients such as cream, sugar and vanilla, and the other for adding the ice and rock salt.
Once everything is added, close it up and get rolling. Shake it, throw it and give it a good old workout. About 1 pint of ice cream can be made and good results are reported – but you have to work hard for it.
The material is BPA free and the maker can be put in the dishwasher for cleaning.
It's certainly not he quickest or easiest way to make ice cream, but probably one of the fun ways. Not to mention the ideal way to burn off some calories before replacing them! Perfect for a unique and unusual gift for any ice cream lover!
Ice Cream Maker Buying Guide
The nation's (and world's!) love of ice cream is an all year round affair. That's probably one of the reasons why there are so many models to choose from, and in such a varied price range.
Before you go ahead and buy one (and you might already have your eye on one having seen some of the lovely models above) make sure you are getting the right one for your use.
Ice Cream Machine Type
Essentially there are 2 different kinds of ice cream makers. For the more regular ice cream chef I would opt for one with a built in freezer. These are more expensive (considerably so) but you are able to make ice cream there and then without having to wait 8+ hours whilst the bowl freezes in the freezer. You can also make ice cream batches one after the other so you could in theory make up a few in one go and store them in your freezer (assuming you have a large enough freezer).
If you don't want to spend as much money there are certainly cheaper options. I was on a budget and ended up buying this Andrew James Ice Cream Maker which I am very happy with. You do have to think ahead and remember to put a bowl in the freezer at least 8 hours before. I usually put the bowl in the freezer and then if the recipe needs to cool down or be chilled I will make that at the same time. That way it is perfectly chilled and ready to pour in when the bowl is ready.
Capacity
Most machines have a 1.5 litre capacity which is ample for 6 generous portions of ice cream. A few models mentioned above – the Cuisinart (pre freeze bowl), Cooks Professional and Andrew James (built in freezer models) – all have 2 litres capacity.
Keep Cool Feature
The models with built in freezers all have the ability to keep your ice cream cool for around 60 minutes after the program has finished. This allows you to get on with other things whilst your ice cream maker does all the work.
Save
Save
Save
Save
Save
Save
Save
Save
Save
Save
Save
SaveB003UFNJ1Y