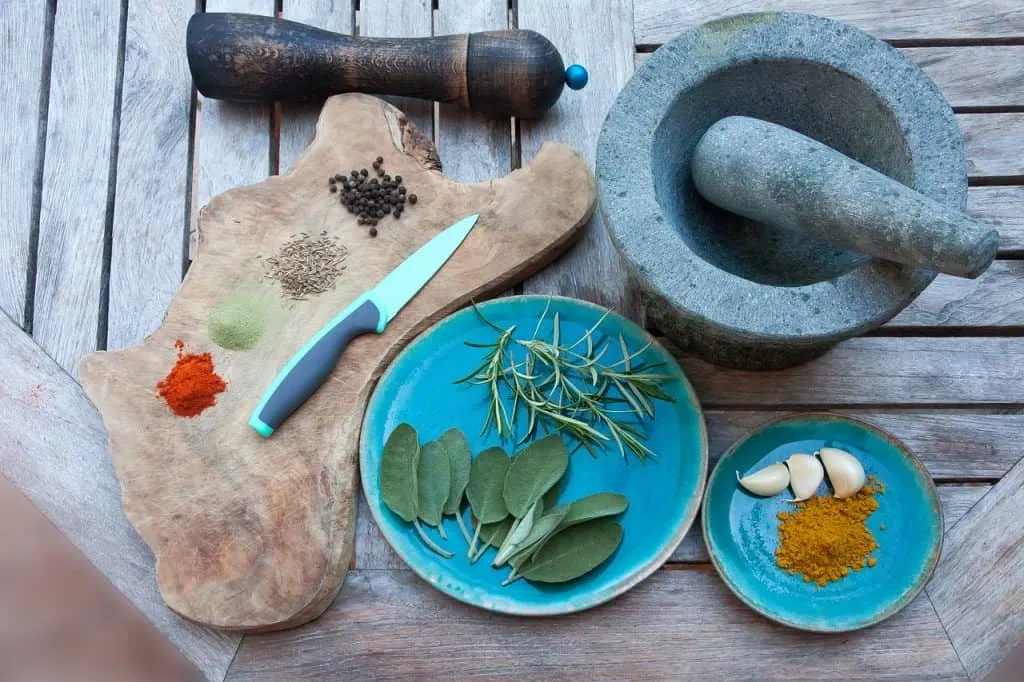 In the UK we have a long-lasting love affair with curry. The first curry house opened in London in 1810. Over 200 years later and there are more Indian Curry Restaurants in London than there are in Mumbai and Delhi combined! In the UK there are reported to be around 9,000 Indian restaurants.
We love curries so much we even have a National Curry Week to celebrate.
As much as we love to visit a restaurant, or get a takeaway, sometimes it's rewarding to be able to make a curry from scratch. There is no need to be intimidated by endless ingredients, it's very possible to keep a curry recipe simple without scrimping on taste.
What You Need
Essential Kitchen Equipment
You'll likely already have all the basic equipment you need already in your kitchen;
High-quality sharp knife
Chopping board
Non-stick pan (or wok)
Wooden stirring spoons
Something to cook it all on
Bonus Kitchen Equipment
You may already have these items, or you may decide you spend enough time making curries, or other recipes to warrant their place in the kitchen;
Spice grinder – if you want your spices to be as fresh as can be, you can grind whole spices just before you put them in a recipe for maximum flavour. Most spice grinders are also coffee grinders but be warned that if you grind up your spices in the same grinder you use for coffee you might have some spicy tasting coffee! Alternatively, you can use a pestle and mortar.
Spice box/rack – I really think a wide range of spices is a great investment for anyone interested in cooking. You can liven up any meal, not just curries, with a little spice.
Food processor – speed up chopping time and blend up pastes and sauces with minimum effort.
Slow cooker – allow your ingredients to really infuse with each other by letting them cook all day in a slow cooker. Better still, nothing quite beats coming home to the smell of a nutritious dinner ready to serve up!
Related: Slow Cooker Chicken Curry
Pressure cooker – Maybe you're short on time or you like the many other benefits of using a pressure cooker. You can even use a pressure cooker to make rice or cook lentils in a super quick time.
Related: Easy Instant Pot Chicken Tikka Masala
Rice cooker – Go for perfect rice every time by using a rice cooker. It's not cheating.
Ingredients
When it comes to making your own curry you can make it completely from scratch or you can buy some premixed spices and pastes.
Spices – they may seem like an expensive outlay at first but a little goes a long way when it comes to using spices in a curry. Ground spices tend to have a shelf life of 2 to 3 years so there is no worry of them going off before you get to use them. You can buy a curry spice already mixed together, or get each individual spice to create your own blend. Coriander and cumin are top of the list in many curry recipes, but other popular spices include cardamom, turmeric, paprika, garlic powder, fenugreek, to name a few. If you want to further enrich the taste of your curry you can opt for whole spices and grind them yourself.
Oil – you will likely need to brown some ingredients so you'll need to choose a fat to saute it in. Olive oil is sufficient, or if you want to go really authentic you can get hold of some ghee butter.
Sauce – Not all curries come in a sauce but ones that do use ingredients such as yoghurt, tomatoes, onions, coconut milk, cream and vegetable to make a sauce.
The Main Ingredient – Either meat, fish, vegetable or beans.
The Process
You can make your own curry paste if you wish, they are not as complicated as they sound. Jamie Oliver has some easy curry pastes you can follow here.
If you are short on time or would rather the convenience of a ready-made one, there are plenty of great options available in supermarkets.
Companies like Gousto also have some delicious curry recipes that are delivered to your door, all premeasured ingredients, all you have to do is chop, cook and eat.
Preparing and making a curry shouldn't really take longer than 45 minutes. Follow some of these popular recipes from BBC Good Food for foolproof results.