It hardly needs to be said that 2020 has been a year unlike any other.
And although as a nation we have always loved to bake, this year has seen levels of home baking like no other.
As people had to stay home, we saw the huge increase in people searching for recipes online, together with the rush in the supermarkets for cooking supplies!
But which recipes were people searching for most?
With the help of Google Trends, and some traffic estimation software (Ahrefs), I have gathered together the top 9 baking related recipes that sparked the Great British people's baking interest the most in April 2020.
Getting Our Bake On – The Baking Trend
Our love of baking has slowly been increasing over the years, but as the following Google Trends results will demonstrate, we went baking crazy in April 2020!
Source: Analysis by Liana's Kitchen (Google Trends data)
Which Cities Baked The Most In Lockdown?
Without a doubt the whole of the UK embraced their inner baker, but some areas baked more than others, or at least had the intention to.
The city with the most baking related searches during the lockdown period goes to Edinburgh, with Leeds, London, Birmingham and Glasgow not far behind.

Source: Analysis by Liana's Kitchen (Google Trends data)
The Most Popular Baking Google Searches – April 2019 vs April 2020
But which recipes were we seeking to bake the most during this time?
I've taken the highest searched for baking recipes (according to Ahrefs) and compared estimated search volumes in April 2019 vs April 2020 to see what the increase was year on year.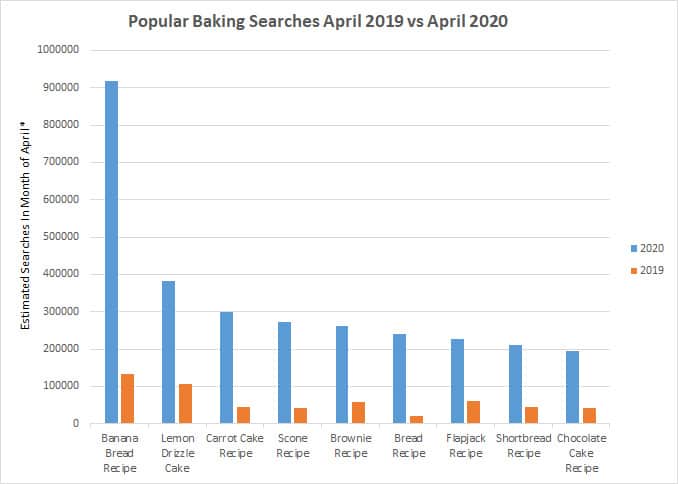 Source: Analysis of Ahrefs data by Liana's Kitchen
The Recipes
1. Banana Bread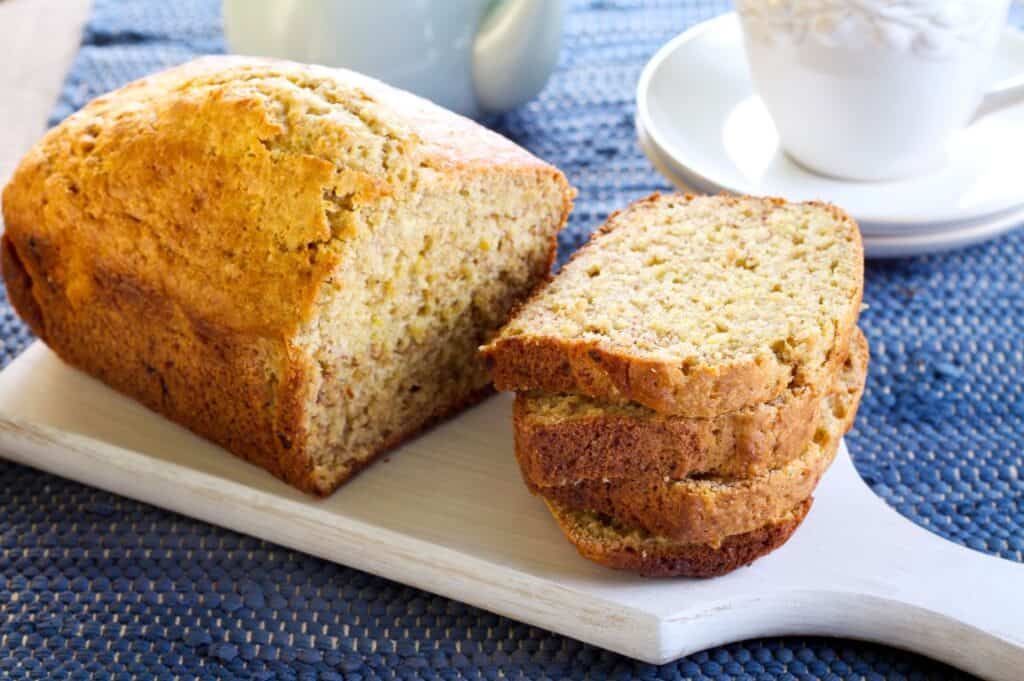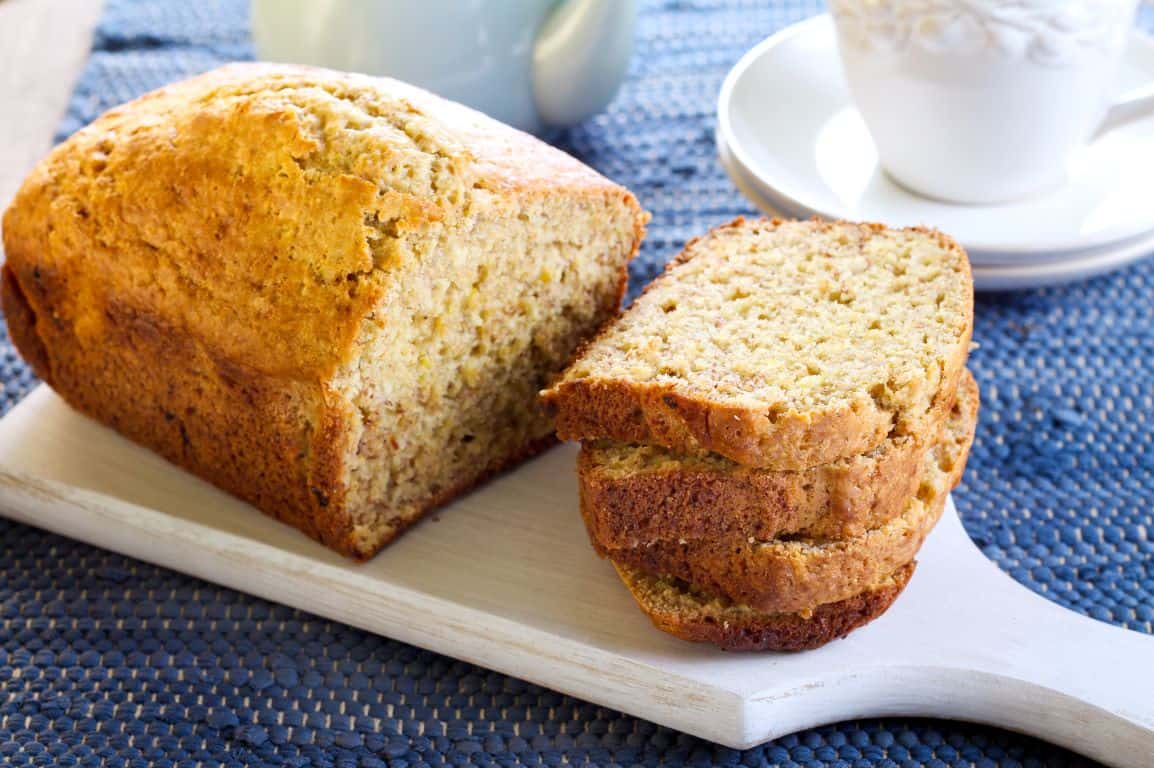 Banana Bread was the clear winner in April 2020 with a 917,300 estimated monthly search volume* in the United Kingdom. It comes as no surprise that this sweet bread topped the lockdown baking charts – it is a quick and easy recipe to make that is also useful for using up those ripe bananas that are lurking in the fruit bowl.
Banana bread saw a 595% increase in Google search volume in April 2020 compared to April 2019 in the UK.
2. Lemon Drizzle Cake
Lemon Drizzle Cake has been a British favourite for many years and was voted the UK's favourite cake in 2018. The tasty lemon flavoured cake is light and refreshing and works perfectly with an afternoon cuppa.
3. Carrot Cake
Carrot cake is an Easter classic, but even allowing for this, the recipe saw an increase from the estimated 46,000 searches* in April 2019, up to 300,000 estimated searches* in April 2020. Although the cake has carrots in it, don't be fooled into thinking it is a healthy option – there is still plenty of sugar and butter involved – but we won't judge. Carrot cake is worth it.
4. Scones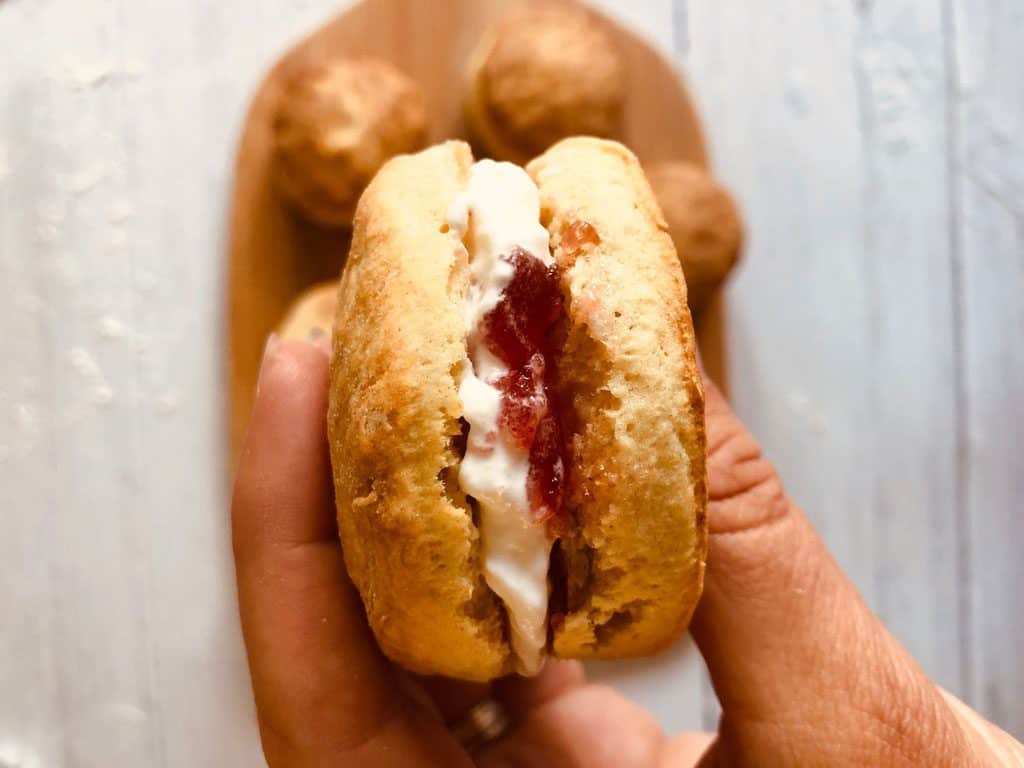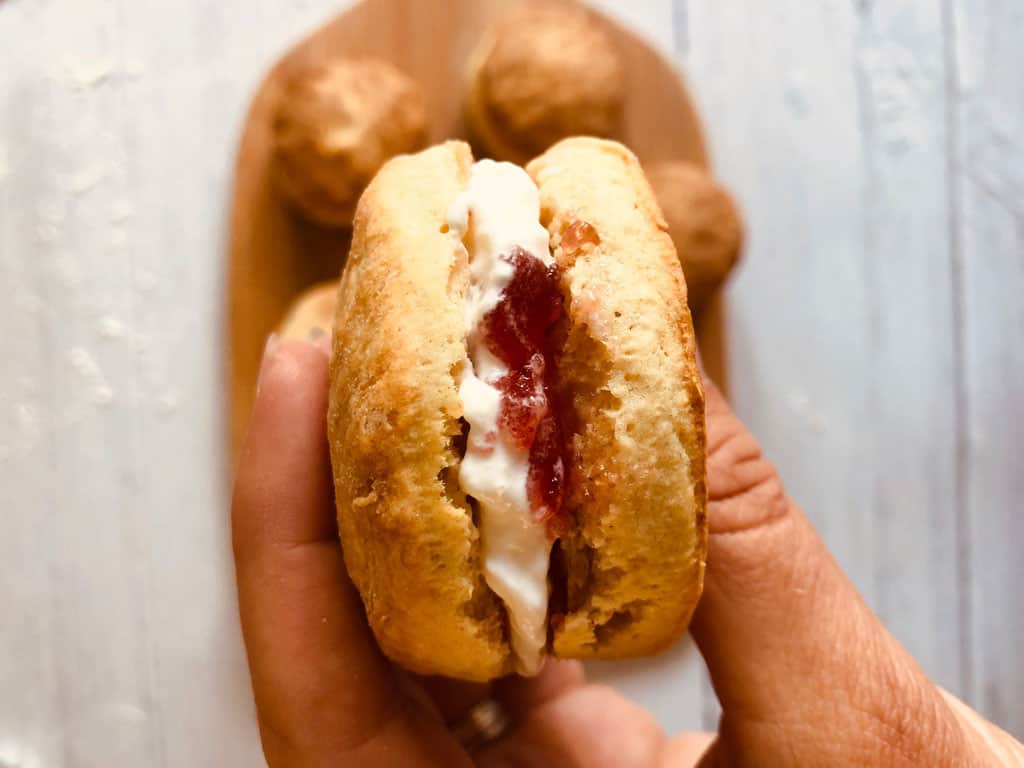 Scones are a classic British recipe that are often enjoyed with some jam and cream alongside a cup of tea. They are a great recipe to make with children – they are quick and easy to prepare as well as a short cooking time. Scones saw a sizeable increase in search in April, but saw an even larger jump in May as we all made them for VE 2020 celebrations.
5. Brownies
Brownies may have been born in the USA but we've embraced this culinary import with all our hearts (and bellies!)
The deliciously indulgent chocolate squares can be made in a variety of ways, with some preferring them firm and crunchy, and others enjoying them with a more gooey and fudge like consistency.
But one thing we can all agree on – brownies taste amazing.
6. Bread
Making bread at home is usually something reserved for long weekends where time is more abundant. But during April, many of us had a whole lot more time to enjoy the process of making bread from scratch.
Of course, in the early days, buying bread in the shops wasn't always an option, and so this likely added to those turning to Google for bread recipes – assuming you could buy the flour of course.
Side Note: the search term 'sourdough starter' saw a dramatic increase in search intent, up from 22,000 estimated searches* in April 2019 to 355,000 estimated searches* in April 2020 – a huge 1,514% jump!
And the city who were the most keen to learn how to make sourdough starter? Bristol!

Source: Analysis of Google Trends data by Liana's Kitchen
7. Flapjacks
A Simple Flapjack Recipe is a classic snack that appeals to all ages. And with only 4 ingredients in a traditional flapjack recipe, they're not that hard to make either. The slow release from the porridge oats makes them ideal for keeping those energy levels up!
8. Shortbread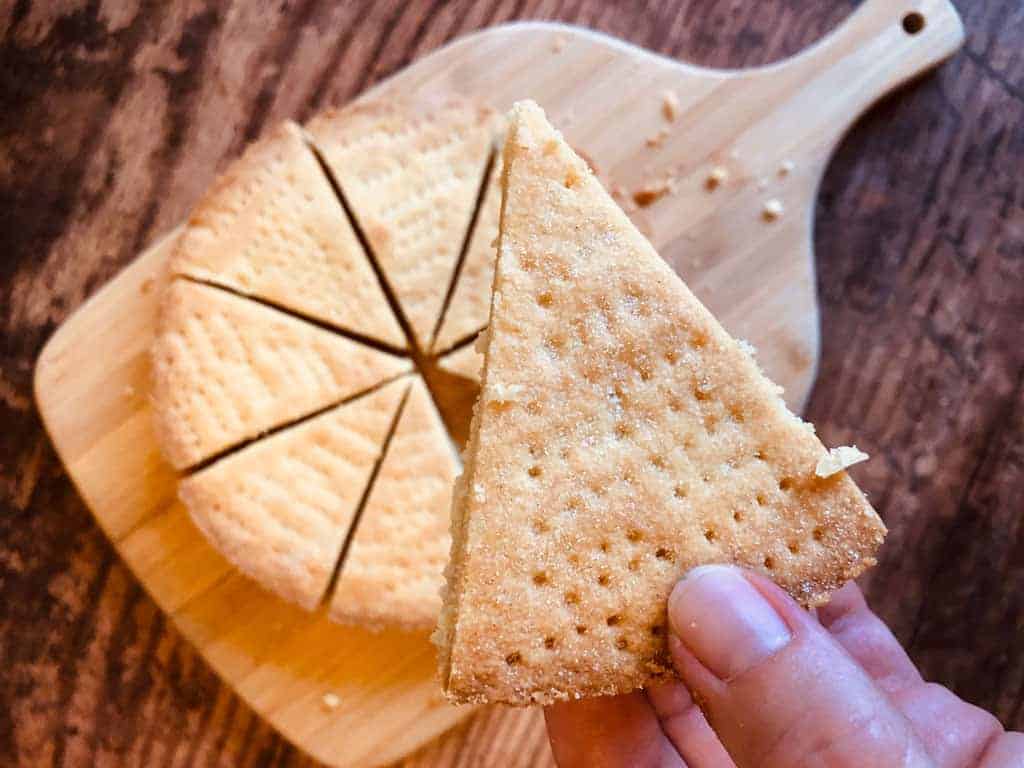 Shortbread is a popular Scottish biscuit that is enjoyed throughout the whole of the UK. As it can be made with only 3 ingredients (flour, butter and sugar), it's was the perfect lockdown bake to make.
9. Chocolate Cake
Probably the most indulgent bake on the list, chocolate cake definitely hits the spot when looking for a tasty baking treat. Of course, as Easter also happened during this period, chocolate related recipes often peak during this time of year – but estimated search volume* increased by a multiple of over 4 in 2020 as more people turned to baking to fill their day.
Redistribution Of This Data
Liana's Kitchen grants you permission to reuse, host, or repost the graphics and images from this article. When doing so, I ask that you kindly attribute me by linking to Liana's Kitchen or this page. If you want to get in touch with me about any aspect of this data, please feel free to do so here.
* To learn more about how Ahrefs gather their data, please visit their website.