Pancakes are one of those foods that you can get away with eating for breakfast, lunch, dinner or dessert.
As a kid I used to excitedly wait for each pancake day to come around. I knew it was a green light to scoff a load of pancakes with any and every topping combination allowed. And things haven't really changed!
Side Note: You might like my favourite pancake recipe.
If you are considering a pancake maker, I've put together a buying guide to help you choose the best one for your needs and budget.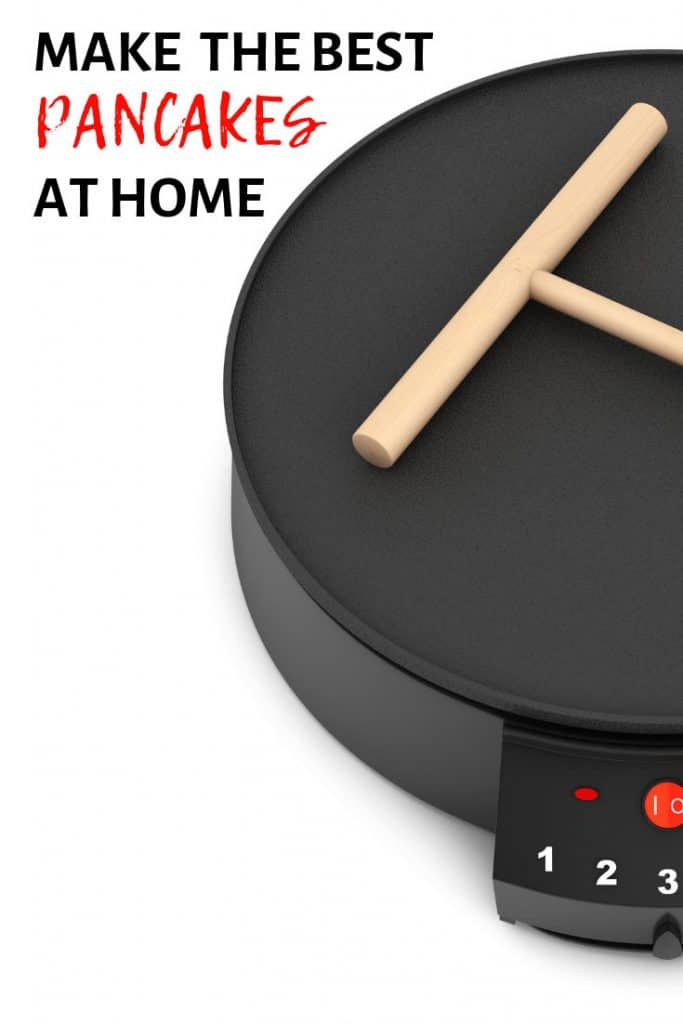 Side Note: If you are searching for a crepe maker, it is the same thing!
What Is A Pancake Maker?
We would always use a frying pan to cook and flip our pancakes – and it was fun. The sizzle and the flipping of pancakes, with one inevitably hitting the ceiling, or landing on the floor.
But one Christmas I got given a pancake maker. At first I was sceptical that this machine would be able to replace the traditional frying pan for pancake making. I was concerned that it would only be dragged out once a year on pancake day.
But after some use (ok, a lot of use), I am pretty sold on this method. Not only are the pancakes super easy to make, it's also had quite a bit of use as we experiment with lots of different pancake recipes.
Pancake makers for home use are much more compact and cheaper to buy than the ones you see in restaurants and cafes. They run on electricity and are essentially a hot plate that cooks your pancake for you.
Most models can cook more than just a pancake though, they make crepes (which is different to a pancake, see the questions at the end for how they are different!) omelettes, flour tortillas and possibly chapattis and blinis.
Pancake Maker Reviews
1. Breville VTP130 Traditional Crêpe Maker

The Breville Crepe Maker is a popular choice from a trusted brand. Breville have a wide collection of highly reviewed kitchen appliances ranging from smoothie makers to sandwich toasters.
This particular pancake maker is practical and produces great results. The hot plate is really quick to heat up and gives you a choice of 5 different settings, depending on how hot you want the plate to get. The higher you put it, the hotter it will get. For thicker pancakes or omelettes you would probably want to use a 4 or a 5, whereas a thinner crepe will cook just fine on 2 or 3.
The lip on the side of the hot plate ensures that no mixture runs off the edge and gets spilt. The hot plate is really easy to clean, especially as you don't really need to use any oil or butter to grease it. I would recommend a plastic spatula for flipping it though.
One huge advantage to using this pancake maker is that you can cook straight on the hot plate without the need for butter or oil. This is brilliant for making pancakes much healthier, as well as safer to cook.
What can you make on the Breville Crepe Maker?
You can make so much more than crepes. You can of course make pancakes, but you can also make flour tortillas, omelettes, blinis as well as American pancakes.
At A Glance Features:
Maximum Pancake Size: 30cm
Time to Cook Pancake: 1 to 2 minutes
Plate Material: Non-stick aluminium
Power: 1000 KW
Settings: 5
Recipes Included: Yes
Accessories: T-Stick
Guarantee: 1 Year
2. Andrew James Pancake Maker, Crepe Maker With Utensils
Andrew James are another well known, trusted, kitchen appliance brand. This pancake/crepe maker is well reviewed with users enjoying the non stick surface which makes for an easy clean up after use.
A point to consider with this model, compared to the Breville Crepe maker is that the Andrew James doesn't have a lip/ridge at the edge of the hot plate to stop any mixture running off. But, the hotplate is large enough for the mix to not need to reach that far, as well as your consistency shouldn't be so runny that it will go off the edge!
This model is a powerful 1200w with the ability to reach up to 250˚C when put on the highest setting. The variable temperature dial allows you to cook a variety of foods on the 33cm hotplate, from pancakes to tortilla wraps.
Andrew James have made this crepe maker a really great package by including all the accessories needed to make some fantastic pancakes.
Aside from the actual pancake maker itself you also get the wooden T-Stick (to spread the batter), wooden spatula (to flip and move the pancake), silicon oil brush (if you want to thinly apply any oils before cooking) and a ladle to easily pour the batter on the hot plate.
At A Glance
Maximum Pancake Size: 33cm
Time to Cook Pancake: 1 to 2 minutes
Plate Material: Non-stick aluminium
Power: 1200 watts
Settings: Variable to a maximum of 250˚C
Recipes Included: Yes
Accessories: T-Stick, Wooden Spatula, Silicon Oil Brush, Ladle
Guarantee: 1 Year
3. VonShef Professional High Quality Electric Crepe and Pancake Maker
The VonShef Crepe Maker is quick to heat up and also comes with a 33cm cooking area. The non-stick hot plate is made from diecasted aluminium coating plate, making it super easy and fast to clean after use.
The variable temperature means you can cook according to the thickness of your mixture without the risk of it burning or being undercooked.
Like the other pancake makers you can make a variety of different things on your hot plate. It is possible to also make naan bread, tortillas, roti and blini.
The VonShef Crepe Maker offers excellent value for money and is a fantastic addition to any pancake loving kitchen!
At A Glance
Maximum Pancake Size: 33cm
Time to Cook Pancake: 1 to 2 minutes
Plate Material: Diecast Aluminium Coating Plate
Power: 1250 watts
Settings: Variable temperature dial
Recipes Included: Yes
Accessories: T-Stick, Wooden Spatula, Silicon Oil Brush, Ladle
Guarantee: 2 Years
Pancake Maker Buying Guide
Before you go ahead and buy a crepe maker it's worth knowing a few things that will help you in deciding which one will suit your needs the best, from where to buy it to what features you should be looking for.
Where Can I Buy A Pancake Maker?
Many of the well known kitchen appliance brands make and sell pancake makers. You can either buy directly from their website, on the high street or online.
Electric or Gas?
Most pancake makers intended for home use will be running on electricity. Larger commercial machines tend to be run on gas.
Check the Size
Large pancakes and crepes are certainly welcome in our kitchen but you need to consider the space the pancake maker will take up. If you have a small kitchen it might be preferable to get a smaller maker and just make lots of little ones!
The Cooking Surface
All of the makers I checked out were made from non stick metal, similar to a non stick frying pan. But there are some made from cast iron which will heat up more evenly but will of course be much heavier to move around (assuming you won't be having it out on the kitchen surface the whole time).
Controls and Functions
Most pancake makers will have a choice of heat levels which will determine how light or dark your pancake comes out. At the very least your maker will have a display light to show when it is at the optimum temperature and ready to be cooked on.
Accessories
Check what comes in the box. Aside from the actual appliance itself, at the very least it should have a wooden T-shaped bar to spread out the batter. A recipe book is a pleasant extra and most manufacturer's will at least provide you with a few pancake recipes to get started with. If you are seeking out more, you can check back here or grab yourself a pancake recipe book.
What Oil Should I Use?
On some pancake makers you don't need to use anything to cook a them in – which is fantastic if you are watching your calorie intake and your health. If grease is required, the same oil that you like to use when cooking a pancake in a drying pan. I use whatever I have available in the kitchen. Recently I have really enjoyed using coconut oil as it gives the pancakes a lovely extra taste. My other favourite is just a little butter. Other oils can be used and traditionally vegetable oil is a popular choice.
Will My Pancake Stick To The Hot Plate?
I've not experienced this problem. I use a spatula (plastic, not metal), to gently keep it from sticking – the same as I would when making it in a frying pan.
Frying Pan vs Pancake Maker
Most households will already have a frying pan which they can fry a pancake or crepe in, so a pancake maker isn't an essential buy, but it I find it so much easier to use one.
If you think you will make pancakes (or any of the other foods that can be cooked on them) on a fairly regular basis it is definitely worth the investment. They are so cheap to buy and I don't find mine too hard to store when it isn't in use.
I like that with a pancake maker the temperature never gets so hot that it burns the mix, but more than that, I love that I don't need to use oil or butter.
Pancake makers are also great for getting children involved in cooking, I think they are much safer to use than a frying pan on the hob.
Can I Make An Omelette On My Pancake Maker?
Yes, most models will cook a omelette too. Essentially they are just hot plates which are use in place of a frying pan.
Can I Flip My Pancake?
Yes, you will need to flip your pancake to ensure it cooks on both sides – especially if you are making a pancake which is thicker, rather than a thinner style crepe. But you'll need to use a non metal spatula to do so, or you'll scratch up the metal hot plate.
You can't flip it in the same way you can in a frying pan, for obvious reasons!
But it might not be a bad thing, how many pancakes have you dropped on the floor, or got stuck to the ceiling when flipping them?!
How Do I Cook The Perfect Pancake?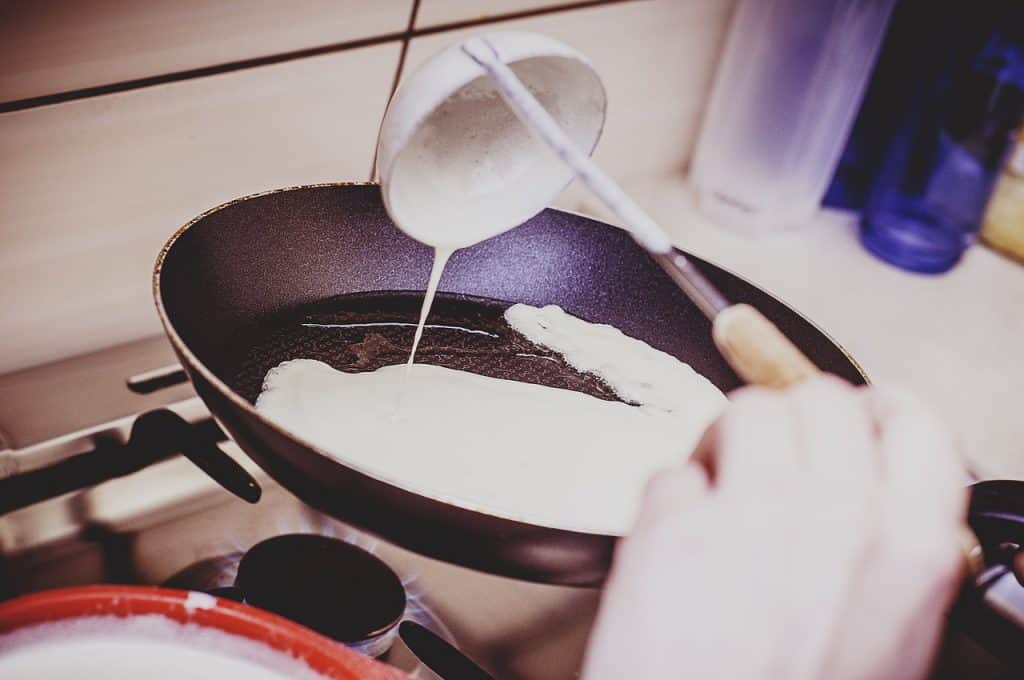 If you are using a pancake maker you just need to switch it on (according to manufacturer's instructions) and then add a little butter or oil of your choice. If you are using a frying pan heat it over a medium heat and then melt a little butter/heat a little oil.
After a few minutes, add 1 large spoonful of pancake mix to the centre of the hot plate. Using either a wooden spoon or plastic spatula, spread out the mix into a circle. Don't spread it so thin that it will rip when you try to flip it. If you have a 'T-Shaped' wooden instrument that came with your pancake maker you can use this to spread it out. In a frying pan I just tilt the pan until it is all evenly spread out.
Allow the pancake to cook for around 1 minute (don't allow the pancake to burn) and then gently flip it over with a spatula to allow the other side to cook. Both sides of the pancake should be golden brown in colour. If you are making a thin pancake (or a crepe) it may cook much faster so keep an eye on it.
How Do I Clean My Pancake Maker?
The same way you would clean any other appliance. Use some washing up liquid and hot water, taking care not to get any of the electrical parts wet. Don't submerge it in water but instead use a damp cloth to wipe it. Always check the manufacturer's instructions. I find my pancake maker really easy to clean, much easier than a frying pan.
General Pancake Questions
Are Pancakes Healthy?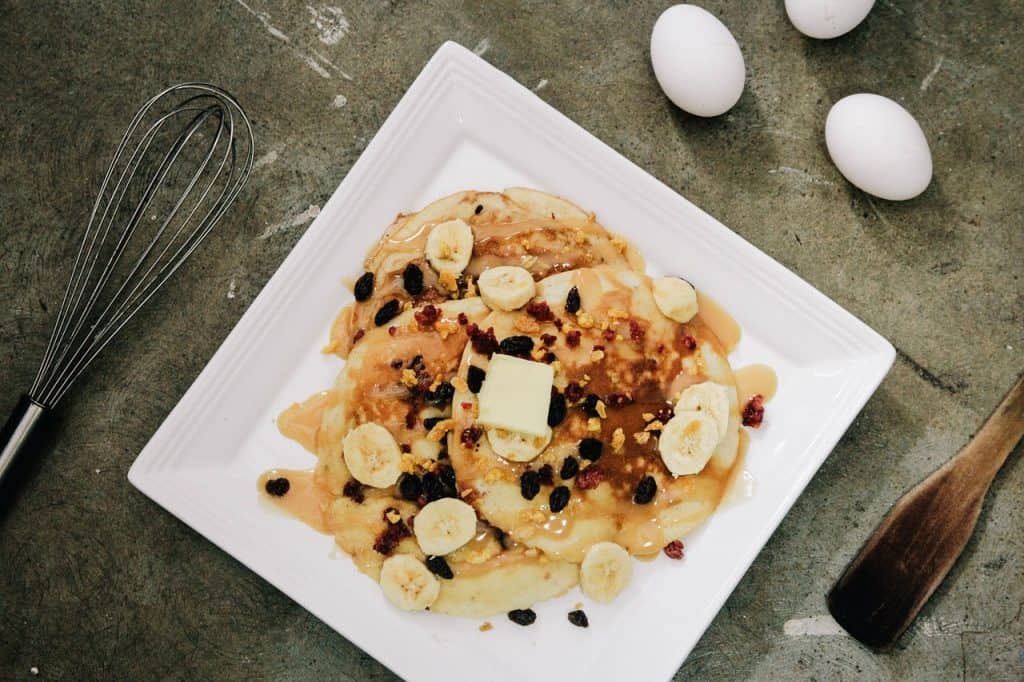 Yes and no. It depends very much on how you make them, what toppings you put on them and how many (and often!) you have them.
By making your own mix you will be able to control what goes in your pancake. If you use wholemeal flour instead of plain, you will be increasing your fibre intake which is not only better for your digestive system, it will also help you feel fuller for longer. You can even try our oat pancake recipe below, replacing the flour with porridge oats for a super filling breakfast alternative.
What you cook your pancakes in will also impact it's health properties. Try using a light extra virgin olive oil, coconut oil, or a little butter (not margarine). But most importantly, you really only need to use a tiny bit to cook with.
Can't I Just Use A Pancake Batter Mix From The Supermarket?
Yes you can. They are cheap to buy and easy to use. Personally, I love the taste of pancakes made from scratch and think making the mix at home is quite cheap and can be made with ingredients that you already (usually) have in your cupboard, at least for a simple pancake recipe.
The other issue, aside from the taste, is you can't control exactly what ingredients are in the mix.
Having said that, pancake mixes have progressed significantly over the years, and there is much more choice. Ocado stock a wide range of mixes, including gluten free varieties.
Is There A Difference Between Crepe and Pancake?
I'll confess that I always thought a crepe and a pancake were the same thing. I assumed that a crepe was just the French way of saying pancake. There is however a difference in the ingredients. A crepe does not have a raising agent in it such as baking powder or baking soda, whereas pancake batter does. As a result, a pancake tends to be thicker and fluffier than a crepe which is flatter and thinner.
In terms of pancake makers vs crepe makers, they are exactly the same. As discussed before, a pancake or crepe maker is essentially a hot plate that will cook pancakes, crepes and even omelettes.
Do I Need To Let My Pancake Batter Rest Before Cooking With It?
Personally I don't allow mine to rest before using it (I'm too eager!) but I know some people who prefer to leave it for about 3o minutes to allow the flour to soak up some of the wet ingredients which then potentially produces a better textured pancake. I've never had a problems with using my pancake batter straight away but it does no harm to leave it to rest if you have the time.
What Is A Simple Pancake Recipe?
Although there are plenty of ready made mixes available, it is really easy to make a basic pancake recipe from scratch.
There are many pancake recipe variations (see below), and they are all straightforward to make. However, this one is probably the most traditional and well known;
Easy Pancake Recipe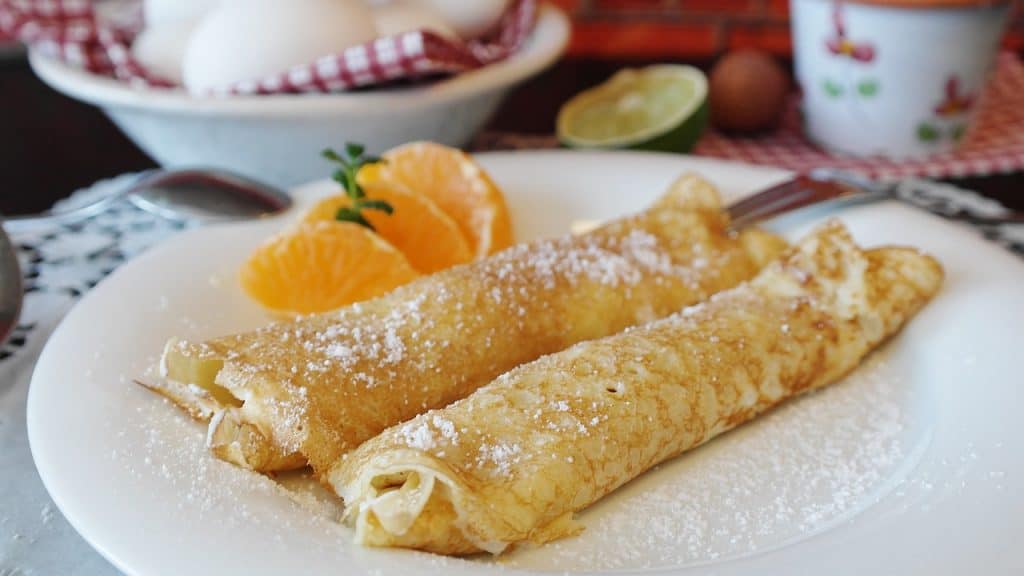 115g plain flour
300ml milk
1 egg
Oil/butter of choice for frying (or you can cook straight on the hot plate of a pancake maker)
Sift the flour into a mixing bowl and add the egg and half the milk. Whisk until a smooth batter has formed. Add the rest of the milk and continue to beat until smooth.
If using a frying pan, heat your oil of choice (just a little) in a frying pan. If you are using a pancake maker adding oil or butter is optional.
Pour some pancake batter mix into the middle of the frying pan/hotplate, usually around 3 tablespoons is enough, depending on how big you want your pancake.
Either use a T Shaped batter spreader to spread the mix out evenly or gently tilt the frying pan to coat the base.
Allow the pancake to cook for about 1 minute, or until the pancake can move freely. Using a spatula, flip it over to cook the other side.
Remove the pancake from the frying pan or hot plate and serve with a topping of your choice.
What Is An American Pancake?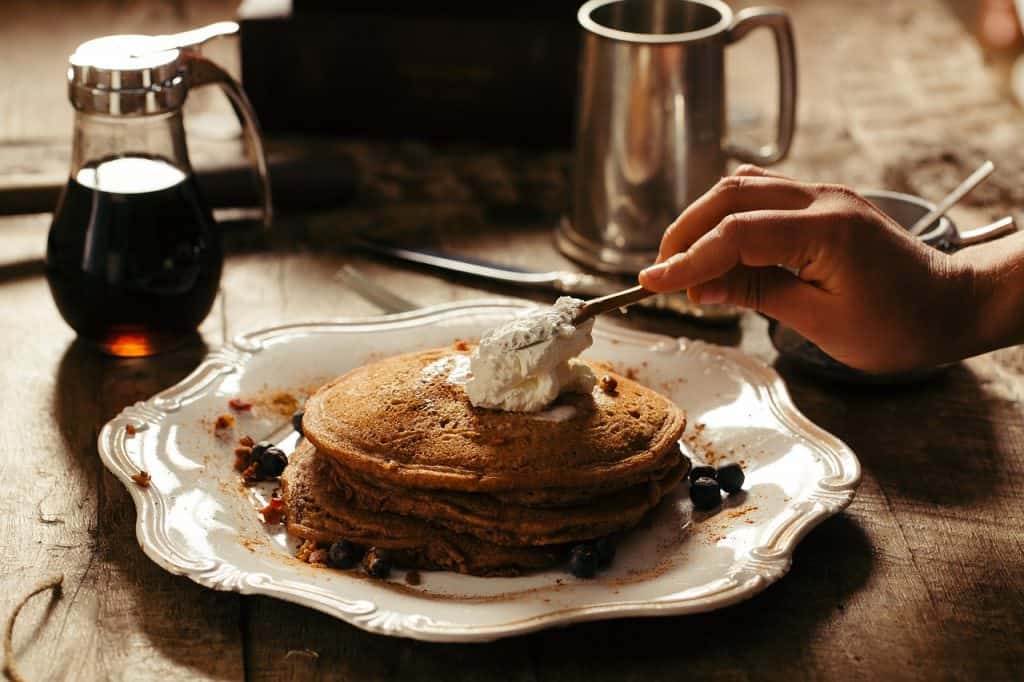 An American pancake is typically served for breakfast and is usually much thicker than the British equivalent. Pancakes made American style typically use a raising agent such as baking powder, whereas a UK pancake usually consumed on Shrove Tuesday doesn't. They taste deliciously indulgent, especially when you add lashings of maple syrup 🙂
Troubleshooting: Pancake Mixture
We've all been there. The pancake mix is too thin, too thick, full of lumps. Why oh why didn't we just buy the premade pancake mix?!
Too Thin: Add a little more flour and whisk again.
Too Thick: Add a little more milk and whisk again.
Lumpy: Always sieve your flour before adding it.
Troubleshooting: Cooking A Pancake
You've made the perfect mixture, so why aren't you producing the perfect pancake?!
Pancake keeps ripping: Make sure you are adding enough mixture to your frying pan (or pancake maker) to allow it to reach the whole surface, without being too thin in areas. Don't try and flip the pancake until it is cooked enough to not fall apart when moved.
Pancake keeps sticking: I've not had this problem with my pancake maker before, I think because it heats up the plate to the perfect temperature as well as being made from a high quality non stick material. Always make sure you adequately grease the pan/surface with butter or oil. If you are using a frying pan, don't put it on a really high temperature or the mix might burn and stick. Gently loosen the pancake as it cooks with a non metal spatula to prevent it sticking.
Can You Freeze Cooked Pancakes/Pancake Batter
Yes you can freeze both cooked pancakes and the batter. For the pancakes, allow them to cool and layer them up with something in between them such as kitchen roll or foil to stop them from sticking to each other. Store them in a suitable container and put them in the freezer. When you are ready to eat them, allow them to defrost and then reheat in the oven for about 10 minutes on a medium temperature. You can also reheat them in a microwave.
To freeze the batter just place it in a suitable freezer friendly container. It should keep in the freezer for 2 to 3 months.
Do I Need A T-Shaped Stick To Make A Pancake?

Most pancake makers come with one and they are what a lot of restaurants use when making pancakes. They are useful for spreading out the mix to make it evenly spread, but you will still need to use a spatula to flip it and lift it off to serve.
They are cheap to buy and are made out of either wood or stainless steel like this one. The ones that come with pancake makers tend to be wooden and aren't quite as effective as the stainless steel ones.
[su_button url="https://www.amazon.co.uk/WMF-1872426030-Profi-Crepes-Distributor/dp/B001V7B30C/ref=as_li_ss_tl?ie=UTF8&qid=1487688872&sr=8-2&keywords=pancake+spreader&linkCode=ll1&tag=lianaskitchen-21&linkId=df5da0786561facb211f8ba7aa68340d" target="blank" background="#1793ff" size="8″ center="yes" icon_color="#1793ff" rel="nofollow"]CHECK ON AMAZON[/su_button]
Where Can I Find Other Pancake Recipes?
I'm so glad you asked! We have a collection of pancake recipes you can check out:
Drop Pancakes (or Scotch Pancakes)
Oat Pancake Recipe
Pancake Toppings
Since you're going to all the trouble of making a pancake it makes sense that you should fill it with a pancake topping to make your mouth water.
Although I will have to agree that there are some amazingly delicious sweet pancake fillings, savoury choices are beginning to win over my taste buds. It's the perfect excuse to have a pancake for lunch 😉
I hope you've found my pancake maker buying guide useful. I'd love to hear about your favourite recipes and toppings in the comments!
And remember, a pancake maker isn't just for Shrove Tuesday/Pancake Day – you can use it all year round!