Pasta is a staple in most households. It's definitely our go to in the name of a quick yet satisfying dinner. But pasta from the cupboard, although tasty enough, is not a patch on freshly made pasta, like you get in a good Italian restaurant, or in the chiller section of the supermarket.
But isn't making pasta from scratch at home a real faff? It does of course take longer than the packaged stuff, but it's not as hard as you might imagine. And it tastes oh so good.
Top Pasta Makers For Home Use
Marcato Atlas 150 pasta machine Chrome –
Top Manual Choice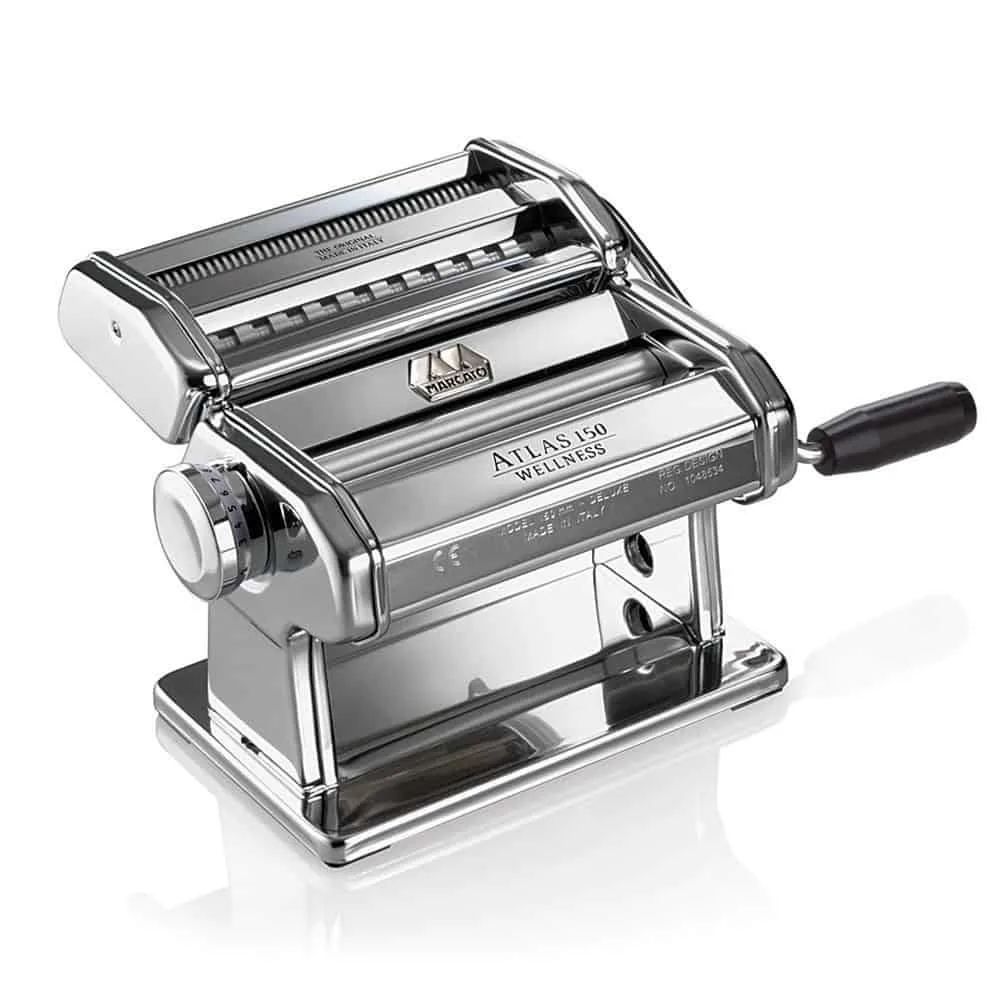 This pasta machine comes in a choice of 2 finishes, chrome as pictured, or black. Both are equally stylish and would fit in any modern kitchen.
The quality of this pasta maker is incredible, and is most definitely built to last. This is backed up with the 10 year warranty offered with purchase.
The usual care needs to be taken with ensuring that dough isn't too thick when pushed through.
Fortunately it comes with 10 thickness settings which can be easily altered with a pull out and twist selector.
There are a number of attachments that come along with the machine which are easily attached.
It is easy to clean (follow instructions – don't put it under a tap, use a small brush to wipe it clean instead).
If you are looking for a pasta machine that will get a lot of use, this should be the one you go for.
---
Marcato 08 0155 12 00 Pasta Machine with Atlas Motor –
Top Electric Choice
If you liked the above manual machine by Marcato, you'll love the this model which has the added luxury of an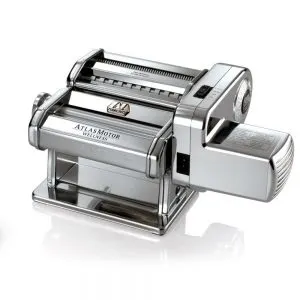 electric motor! No more manually turning the handle round and getting sore arms. This machine does it all for you.
As with the manual version, the motorised model is made from solid chromed steel with carbon steel gearing and light alloy wheels. Quality is paramount with this machine and you can be sure that it is built to last.
The motor is powerful at 100 watts, enabling your pasta making to become a much less laborious task. However, should you want to occasionally experience the feeling of working for your food, the turning handle is included for operating it manually.
This pasta maker comes with a clamp so that it can be easily attached to a kitchen worktop to stop it from moving about.
There is the ability to change the thickness of the pasta with 9 different sizes to choose from. An attachment is also included for you to choose between narrow and wide pasta.
Importantly, the machine is incredibly easy to clean by simply brushing the rollers.
---
Homdox 3 in 1 Pasta Machine –
Best Budget Buy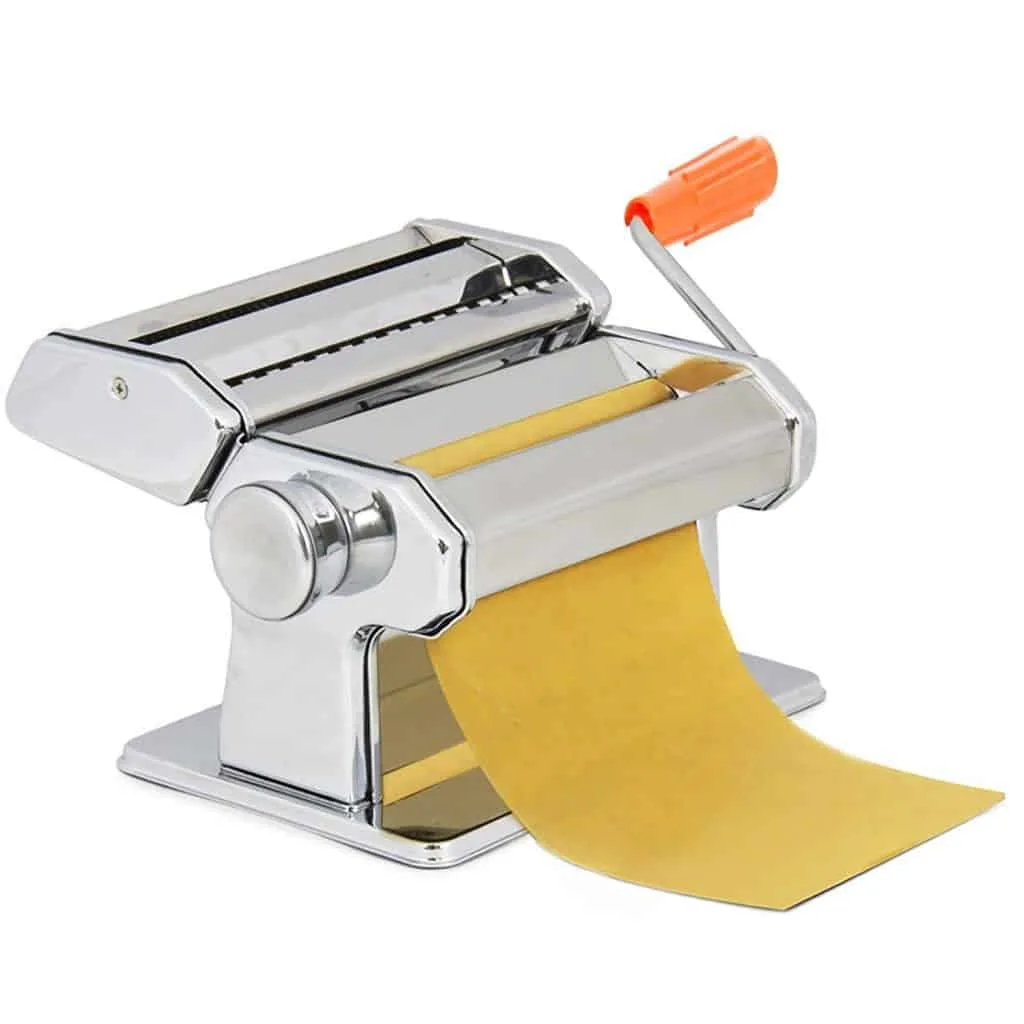 The Homdox is our preferred budget option. This machine offers durability as well as versatility. It comes with 2 stainless steel cutting blades as well as 6 different thickness levels enabling you to make a variety of pastas.
This pasta maker can be easily dismantled to allow for easier storage, ideal for the busier kitchen worktop.
Also included is a clamp for securing the machine in place when pasta is being made.
---
Lakeland Silver Pasta Maker
This pasta machine from Lakeland is another budget buy and comes with a 3 year guarantee.
There are 9 thickness settings, easily turning your pasta dough into lasagne sheets, fettuccine, tagliatelle – or whatever your Italian wish may be!
A clamp is provided to attach it to kitchen worktops.
There are however mixed opinions when it comes to the quality of the machine with a few reports of the dough getting caught in the pasta maker and the flimsiness of the parts.
---
Andrew James Fresh Pasta Maker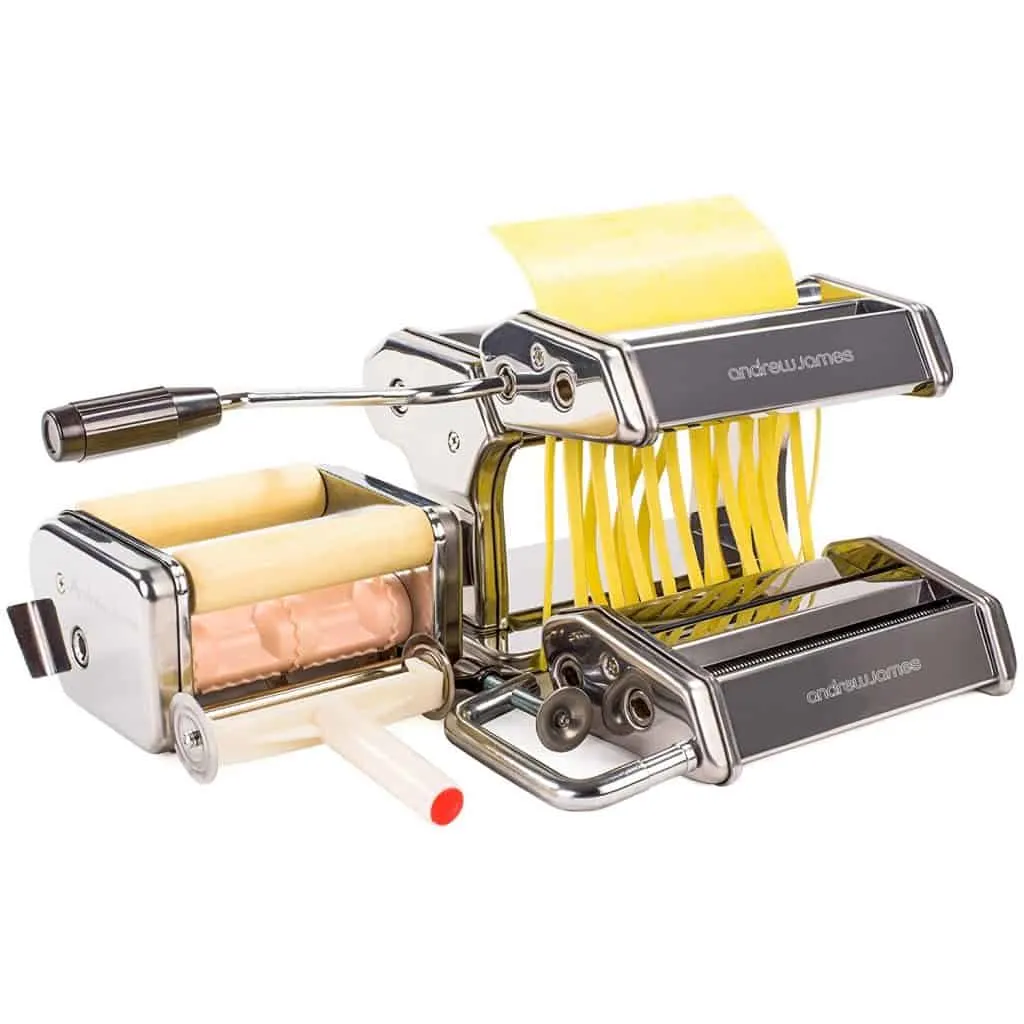 This is another contender for best budget buy, especially as it is made by Andrew James, a brand I know produces great products and offers quality customer service.
This particular model offers 11 different settings enabling you to change the width and thickness of your pasta. It is made from heavy duty carbon steel which is built to last and can be felt in the weight of the machine.
The usual pasta types can be easily made, including lasagne, fettucine, spaghetti and tagliatelle.
There is a table top screw and clamp which allows you to keep the machine in place whilst making the pasta.
The 11 different settings that the maker comes with include 4 cutters and 7 thickness settings. The included ravioli cutter is a nice bonus.
It comes with a 2 year warranty.
---
Accessories
Alongside your machine you might want to think about getting a few extra accessories to make your pasta making easier.
Pasta Drying Rack
Although you can leave fresh pasta to dry by laying it flat out on a clean surface, it is much better to hang the strands up to dry. Pasta drying racks are worth looking at, especially as most of them are foldable. Look for one that allows the air to freely move about as the pasta hangs out to dry, as well as one that is easy to clean.
---
Features to Consider
Before buying your pasta machine you might want to think about what features to look for.
Build – This is the most important factor, how well made is the machine? Look at what materials it is made out of, are there any removable parts and does the manufacturer offer a warranty?
Manual Vs Electric – This will likely come down to budget as well as frequency of use. Electric is of course the easier way to make pasta, but the inclusion of a motor will likely double the price. If you think you are going to be getting a lot of use out of it, go for the electric. If you think it has the potential to gather dust at the back of a cupboard, go for a more economical manual.
Settings & Attachments – Having a choice of settings that include different thicknesses and widths is important for you to be able to make the largest variety of pasta shapes and types.