Pizza ovens are a great way to enjoy pizza at home. To ensure the cooking process is as simple as possible, and you make the best pizza, it's a good idea to invest in the best accessories.
In this guide, we will discuss some of the most important pizza oven accessories that every home pizza chef should have for their outdoor pizza oven.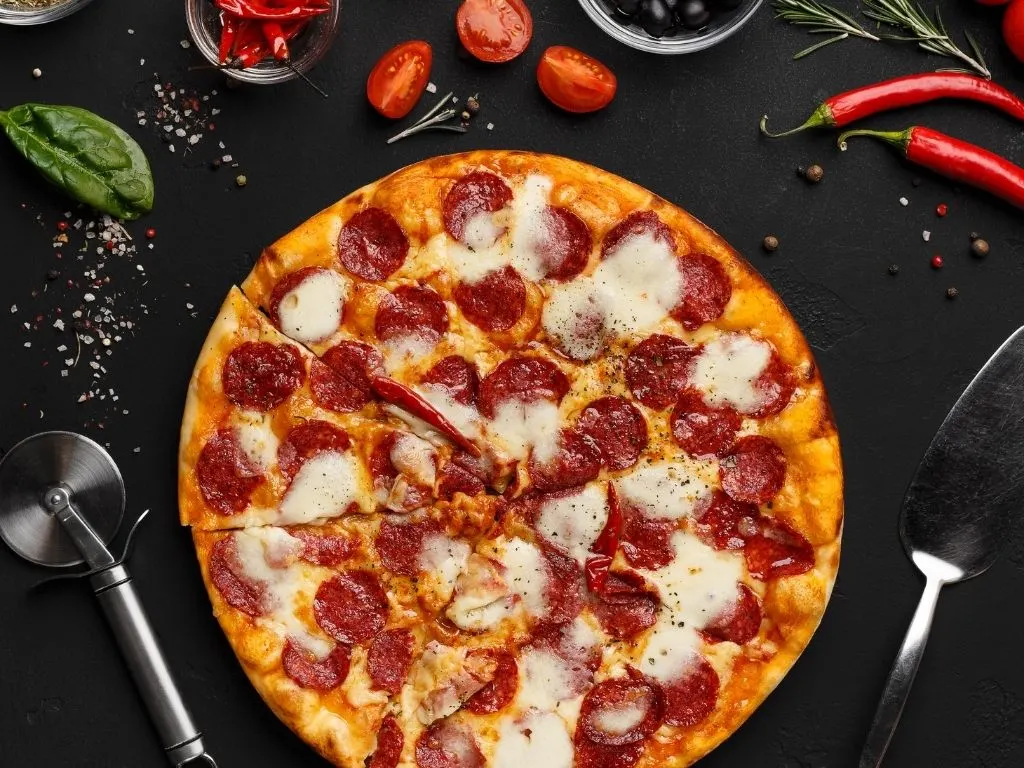 Related: Gas Pizza Oven Buying Guide – BBQ Pizza Ovens
What Pizza Oven Accessories Do You Need?
Some pizza oven accessories mentioned below are essential, other's are nice to have, to further enhance your pizza-making experience.
Before you invest in any of the following accessories, check that the pizza oven you have bought or are planning to buy doesn't already include them.
Pizza Peel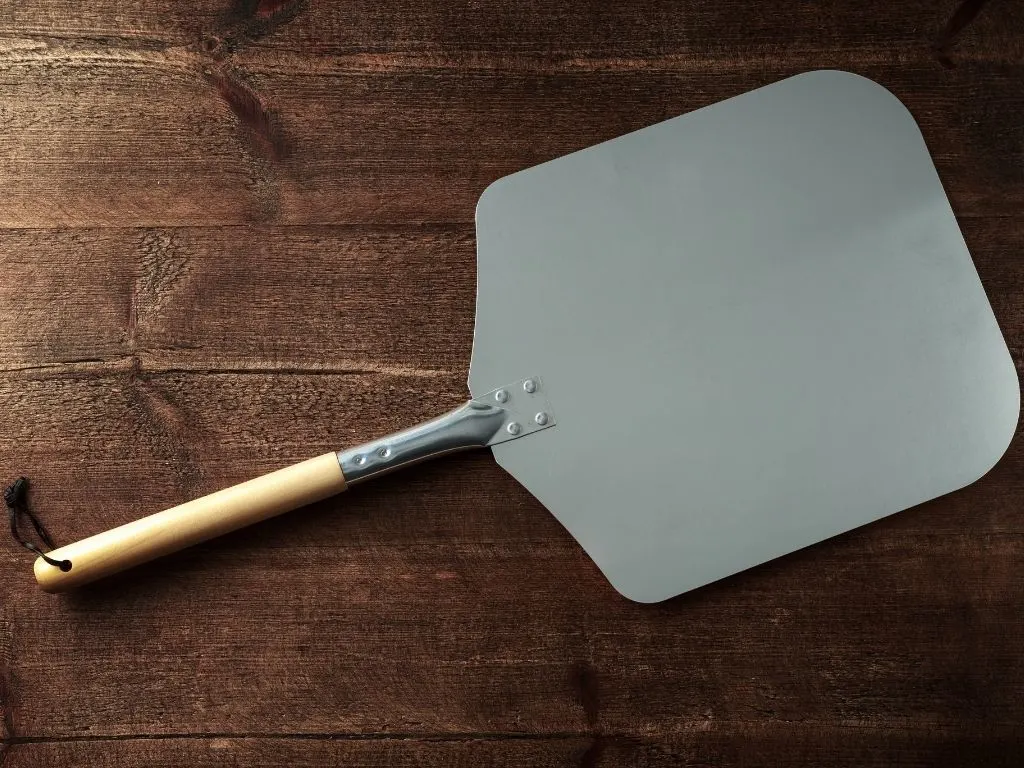 A pizza peel is used to slide pizzas into and out of a pizza oven. It is usually made of metal (usually aluminium), or wood.
A pizza peel will reduce the risk of burning yourself as well as the pizza dough ripping or the base collapsing, especially thin based pizzas.
Essentially a pizza peel makes it easy to transfer pizzas in and out of a pizza oven.
Ideally, you want the peel to be long enough so that it reaches all the way from your work surface to the oven's floor without having to move closer or farther away from the oven.
A pizza peel has a lip on one side which lets it grip onto doughy crusts while sliding them in and out of an oven with ease.
A good quality pizza peel should be sturdy enough to withstand heavy use on a frequent basis.
Make sure the handle of the pizza peel is easy to grip and you can handle it with ease.
Pizza Cutter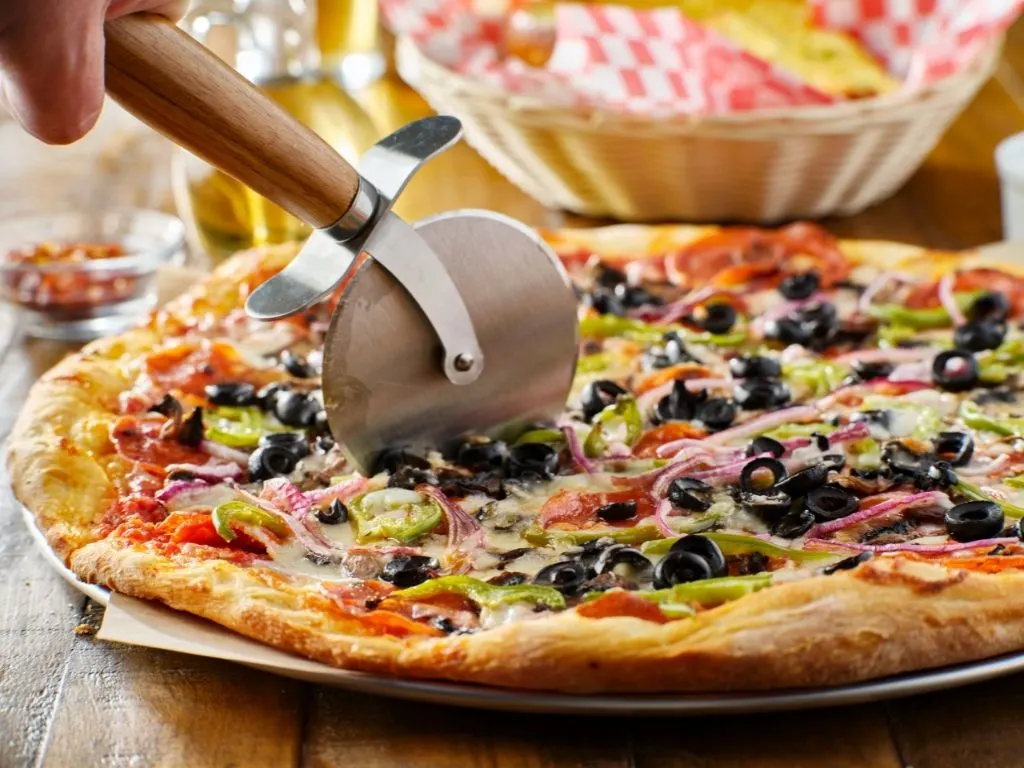 Pizza cutters are essential for a perfectly cut pizza.
Typically made from stainless steel, pizza cutters are used to cut pizza crusts into slices.
They are used after the pizza has been cooked as they can go through hot cheese and dough with ease.
A good quality pizza cutter should be sturdy and sharp enough that it doesn't bend or crack.
Pizza cutters can also be used to cut foods other than pizza including pasta dough, fudge, brownies and flatbreads. Be careful not to use it on recipes that are too tough or you will risk bending and breaking it.
A good pizza cutter will also be easy to clean.
Heat Resistant Gloves
Heat resistant gloves are essential for cooking a pizza in a pizza oven.
Although you should be using a pizza peel or paddle to transfer the pizzas in and out of ovens, there is still a risk that you might burn yourself, and a glove or gloves will protect you from the high heat or a wood-fired or gas pizzas oven.
Gloves with silicone gripping on the outside of the glove across the palm and fingers help to grip the handle of the pizza peel.
Dough Scraper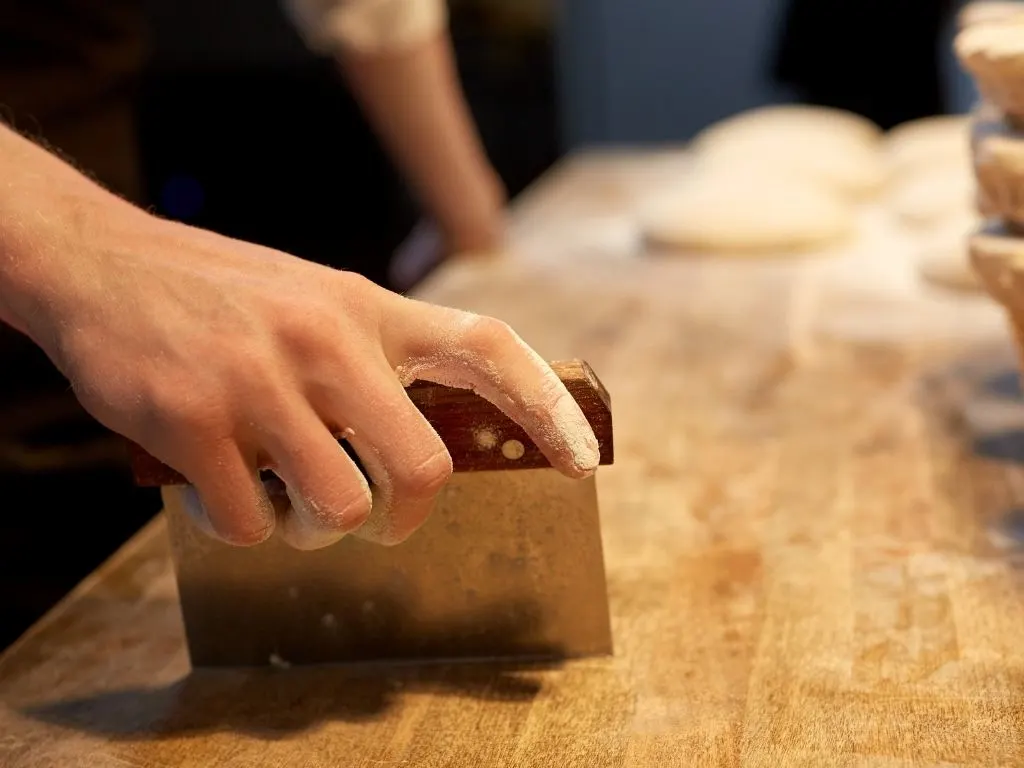 Pizza dough is a delicate and sticky substance that can easily get stuck on the surface of your worktop.
A pizza dough scraper is an inexpensive tool that makes it easy to scrape up the excess dough without having to scrub the entire counter.
A dough scraper comes with two blades (a straight edge for scraping and a curved edge for cutting), which allows you to cut or scoop up any excess flour from your worktop.
The best part about using one of these tools is that they are dishwasher safe, so you don't have to worry about getting them clean by hand!
Pizza Oven Brush
A pizza oven brush is needed to clean a pizza oven, in particular, a wood-fired oven.
Many oven brushes have both a brush and scraper tool included. The brush part can clean away any ash, and the scraping part, usually made from stainless steel, is used to scrape away any stuck-on dough or fallen pizza toppings.
Depending on the size of your pizza oven will determine the length of the brush that you need.
Pizza Oven Cover
Protect your outdoor pizza oven from the weather by covering it up when not in use. Many pizza oven covers also include carrying handles so that you can easily pick up and transport your oven as and when you need to.
Make sure it is made from a 100% waterproof material to ensure your outdoor pizza oven is protected from all the elements.
Pizza Oven Table
If you don't already have somewhere suitable to place your pizza oven you might want to consider buying a table specifically for it.
Make sure the table is stable, can withstand heat and is easy to clean.
Tables with shelves are a good idea so that you can store your pizza oven accessories close by!
Apron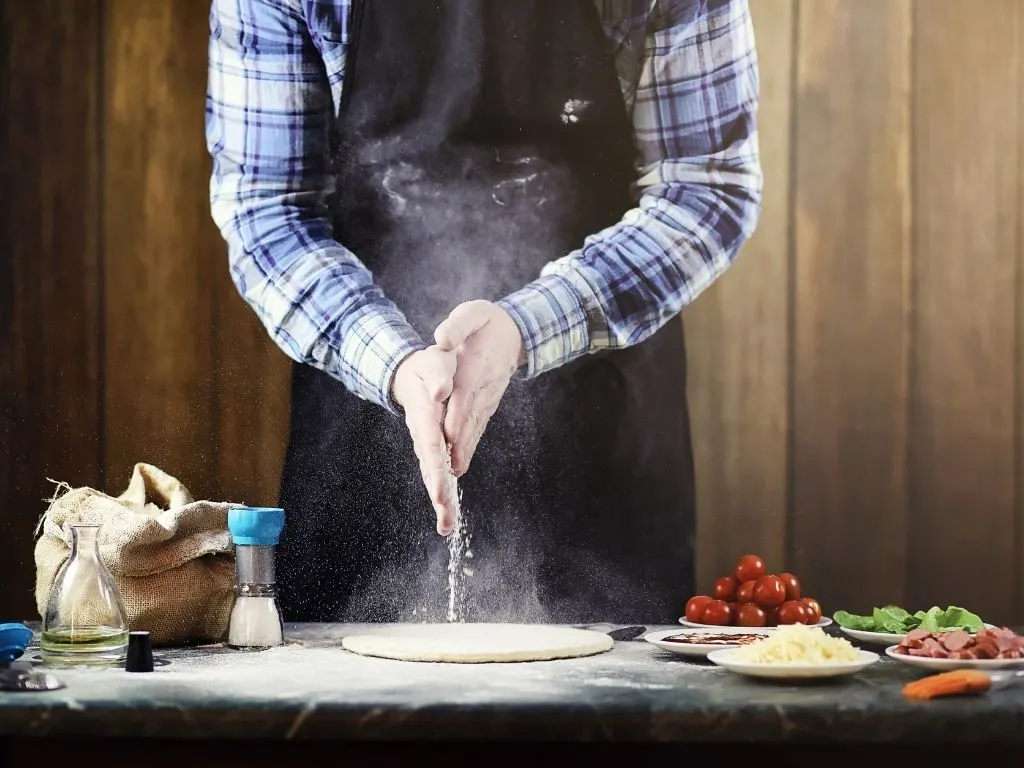 Look the part of a pizzaiolo by wearing an apron. You'll also be protecting your clothes from any flour or flying pizza toppings that might come your way!
There are plenty of different apron designs available, ones with a pocket are useful for storing any tools.
Pizza Oven Tools
If you want to buy a selection of the above pizza oven accessories lookout for a set of pizza oven tools. They vary in what they include but usually offer at least a pizza peel and cutter.
Where To Buy Your Pizza Oven Accessories
There are plenty of places you can buy accessories from. We recommend checking directly with the brand where you bought, or intend to buy your pizza oven from.
Pizza Oven Brands With Pizza Oven Tools
Ooni has a wide range of pizza oven tools. Just like their pizza ovens, you can be confident that their accessories are made with quality and style in mind.
As experts in pizza oven cooking Ooni know which features are required to keep on making the perfect pizza!
Pizza Oven Recipes