The amount of money we spend on food in our house is a regular sticking point when discussing the household budget.
In my head I like to think we're quite good with what we buy at the supermarket, but the reality of what we really spend always surprises me when I'm going through our bank accounts.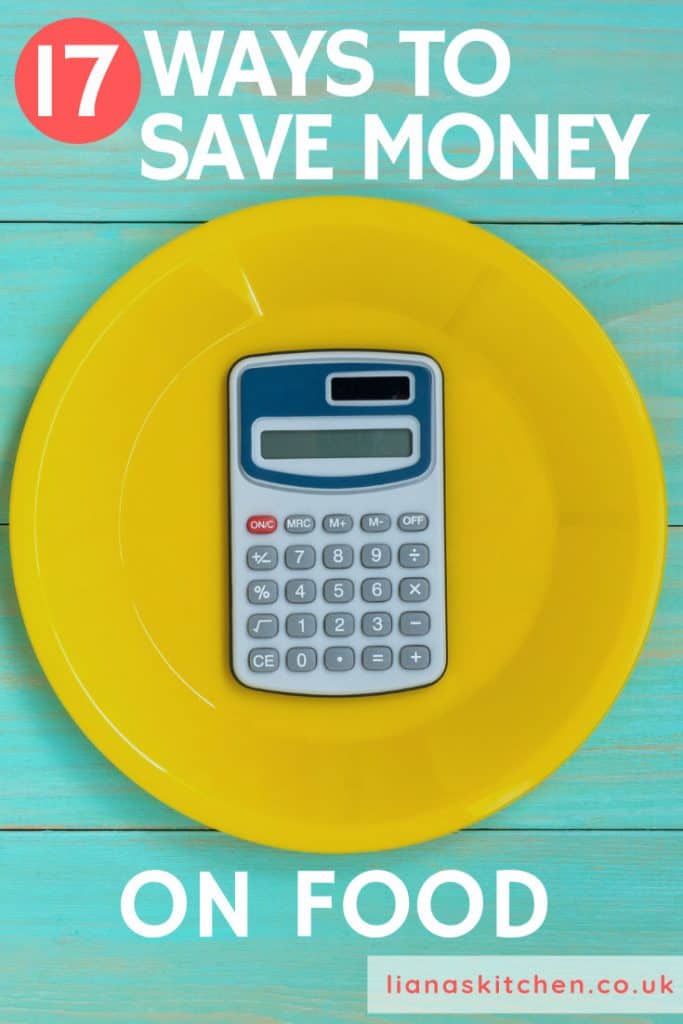 But then I remind myself that there are 5 of us, and 3 of them are growing boys – who seem to be forever hungry.
However, as with everything, there is always room for improvement. A little bit of money saved here and there really adds up over the weeks. If you want to save up for something, whether it's something smaller like new boots (yes please!) or a larger spend (holiday anyone?!) it really pays to keep a closer eye on your personal finances.
So, with that in mind I decided to gather up all the different ways we could reign in the food spend, and share them with you here.
17 Ways To Spend Less Money On Food
1. Start A Meal Planner
Using a meal planner is not only great for budgeting, it is also useful for reducing food waste and diet control. Sit down once a week and plan out every single meal you and the rest of the house are going to have. Allow for a little bit of flexibility to switch meals about, but as a general rule, know what meals you are planning to have.
This will not only enable you to only buy what you need, it will also help you to get an overall picture of how balanced your diet really is. Try and involve the whole family and ask them to contribute ideas – better still, nominate a day(s) each week that they get to cook their chosen meal for everyone else.
It's the ideal way to get kids learning about cooking, as well as giving you some much needed time off! Obviously if they are little you will need to supervise, but as they get older you really will start to reap the rewards of children that are capable of not only looking after themselves, but also cooking for you!
I also find it much more inspiring to cook when I know what we're eating each day.
2. Make A Shopping List
With your meal planner you can easily create a shopping list each week. Keep a shopping list pinned up somewhere for everyone to see. Ask family members to add to the shopping list as they use up the last of something, or add a new meal to the meal planner from #1.
Having a shopping list to work from is much better than winging it at the supermarket. Challenge yourself to stick to it when you are there too – remember supermarkets are marketing geniuses and they will be doing their best to get you to buy everything you really don't need.
3. Do A Weekly Shop
It makes sense to do a weekly shop so that you don't have to keep on popping to the shops every couple of days. The more you visit the more you'll spend. If you can't face spending that long in a supermarket check out some online deliveries.
4. Check Your Brand
Don't be fooled by the packaging. Always compare the cost of everything that you put in your shopping trolley. A lot of the time supermarket own brands taste just as good as branded foods and cost significantly less.
5. Choose The Right Supermarket
We've all got out regular supermarkets that we like to shop at – but if you are watching your budget you should consider where you are spending your money. Budget stores like Aldi and Lidl offer some really great choices and are usually cheaper. You may need to visit more than one supermarket as some of the budget stores don't always have such a wide range of products.
6. Visit The Supermarket At The Right Time
At the end of each day every supermarket will slash the prices on foods that they need to sell before the best before date. If you are in the right place at the right time you can pick up some absolute bargains. If you are committed to saving money on your food shop get to know when these times are and visit accordingly.
7. Don't Shop When You're Hungry
This is a popular tip for people who are trying to lose weight. If you visit a supermarket when you are hungry it will likely sway your choices when it comes to making the right food choices. The same goes for if you are on a food budget. Shop after you've eaten – you'll be thinking more clearly and won't be as easily tempted to buy up everything that looks appealing.
Remember – stick to your meal planning and shopping list from #1 and #2!
8. Shop Alone
The whole process will be easier and quicker if you are shopping alone. Without company there won't be any requests for this, that and everything in sight.
However, this isn't always possible. One option is to get an online delivery (see #9), but if you have no choice but to take the kids along with you, go with some pre agreed rules about what you will and won't be buying.
Depending on their ages you can get them involved by giving them jobs to do like picking out and weighing the fruit etc. The busier they are, the less likely they will be to get distracted by the temptation the shelves!
If you have got them taking part in the meal planning (see #1), you can ask them to go off and pick up all the ingredients needed for their recipe.
9. Check Out Online Deliveries
Not only is this so much more convenient than having to battle the aisles, it is also a brilliant way of reducing your spend. There have been many times that I have done an online food shop and managed to get the overall cost down by removing items or swapping them at the end. Most online food deliveries also alert you to any special offers they are promoting, making sure you don't miss out on them.
Keep an eye out for any special offers that any supermarkets are running – sometimes you can grab some decent money off vouchers if you are a new customer or haven't shopped with them for a while.
10. Bulk Buy
Even if you are shopping weekly it is also worth considering some bulk buys from places like Costco. Again, don't be swayed by items you don't really need, just get things that make sense. And of course, make sure you have space to store any excesses you purchase.
11. Bulk Cook
If you are busy during the week but have a bit of extra time at the weekend you could bulk cook, or prepare some of your meals. For example, if you usually enjoy a meal like spaghetti Bolognese, you could double or triple up what you usually make and store the extra portions in a freezer until you are ready to eat it.
12. Make Use Of A Freezer
Not only is a freezer helpful for storing any extra foods you make (see #11), you can also buy frozen foods from the supermarket. Frozen foods, especially vegetables and some fruits, are much cheaper to buy frozen and the nutritional value is not necessarily worse than fresh. There will also be less wastage with frozen food versus fresh.
Depending on how many people there are in your house, you may need to invest in a larger or second freezer. You can store any additional freezers in a garage – check for them on places like Gumtree for second hand options.
13. Use Up Leftovers
Chances are not everything you cook and serve up gets eaten. Don't just throw it away, keep it for the next few days, or store it in the freezer (see #12). I like to use our soup maker for making sure we don't waste anything from our meals – especially the last of the meat from a roast joint.
14. Choose Your Meat Wisely
Depending on how you are cooking you don't necessarily need to buy the most expensive cuts of meat. If you are using a slow cooker you can use really cheap cuts such as chicken thigh, beef brisket and pork shoulder.
Making your own burgers can also work out more economical if you buy the mince and mould it yourself (using a burger press makes this even easier!)
15. Eat Less Meat
Nobody is saying you have to become a vegetarian or go vegan, but if you can cut down on your meat consumption you will most definitely save a lot of money. It's easy to be stuck in the habit of eating meat every day and for a meal to feel strange without it. But there are some amazing vegetarian recipes available and making one day a week meat free isn't hard to achieve.
Meat Free Monday is a useful resource if you are inspired to give it a go.
16. Cook Less
Yes, it sounds obvious to cook less but I'm sure I'm not the only one who has cooked enough spaghetti to feed the whole street. For meals that this is more likely to happen with (rice and pasta can be quite tricky to estimate), weigh out the portions using an electronic kitchen scale.
If you do cook too much, fear not, you can always save cooked food for the next day, or share with a neighbour to make sure it doesn't go to waste.
17. Take A Packed Lunch
It's easy to rack up the food bill when you are buying lunches out every day. Even if you are eating a supermarket meal deal, it still adds up over the month.
Get into the habit of making a packed lunch the night before – it doesn't all have to be boring sandwiches every day either – if you cook enough pasta the night before this can be eaten hot or cold the next day for lunch.
Likewise, soup can be stored in a thermos flask, some of the best food flasks these days keep warm for around 9 hours.