Shepherd's pie and cottage pie are both British dishes made with a minced meat filling and topped with mashed potatoes.
The two pies are quite similar, but there are a few subtle differences.
So, which one is which? Let's take a look at the differences between shepherd's pie and cottage pie to find out!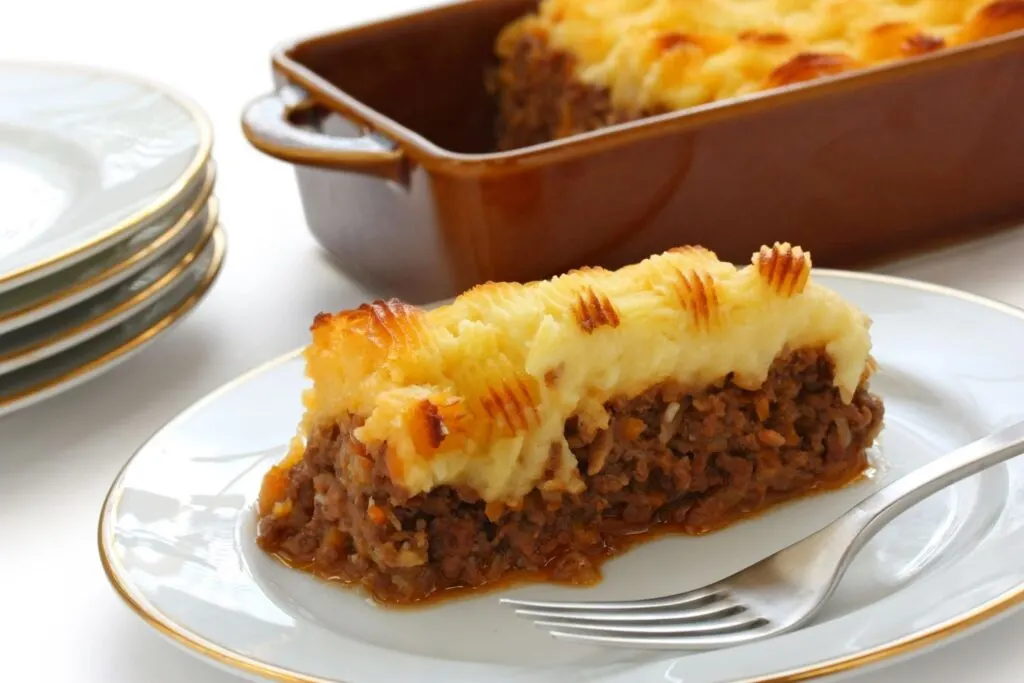 Shepherd's Pie vs Cottage Pie
The main difference between shepherd's pie and cottage pie is the meat. They both use minced meat but the types are different;
Shepherd's Pie – Lamb
Cottage Pie – Beef
Why Is It Called Cottage Pie?
Cottage pie gained its name because it became popular among the working-class people who typically lived in cottages at the end of 18th century England.
The ingredients in cottage pie were very cheap and easy to get because they would use whatever leftover bits of meat or vegetables they had lying around. They used potatoes as a filler so the dish could stretch further.
Why Is It Called Shepherd's Pie?
Shepherd's pie got its name from the relationship between shepherds and their sheep and is thought to have been first used in Scotland and Northern England.
Cottage pie came before shepherd's pie and they are often used interchangeably, but shepherd's pie uses lamb mince instead of beef mince.
How Are Cottage Pie and Shepherd's Pie Prepared?
The basic preparation of both shepherd's pie and cottage pie is the same: the meat is browned in a pan with onion and garlic, then stock and any herbs and vegetables are added.
Popular vegetables include finely sliced celery, carrots and sometimes some green peas are stirred in too.
The meat filling is then transferred to a baking dish, covered with potato mash and baked until the potatoes brown on top. For a crispy browned cheese top, sprinkle a little cheese on top of the mashed potato before putting it in the oven.
How Is The Mash Prepared For Shepherd's Pie And Cottage Pie?
The mashed potato is prepared in exactly the same way for both shepherds and cottage pie.
Like with a regular mashed potato recipe, start by peeling and chopping the potatoes, Maris Piper or King Edward work well as a potato variety, before boiling them in water until soft.
Add butter, milk and any seasoning before using a potato masher to mash it all together until smooth. You can stir in some grated cheese to turn it into a cheesy mash, or for a more indulgent mashed potato stir in some cream.
What Vegetables Are Used In Shepherds Pie And Cottage Pie?
The same vegetables are used in both shepherd's and cottage pie, although they are optional ingredients.
Adding vegetables is a great way to make this an all in one meal without the need to cook any extra side dishes.
Vegetables that are typically included in either meal are celery, carrots, peas, or similar.