Over the years, I have self-published a number of recipe books. They can be bought directly from Amazon or, in some cases, directly from me.
Below are my books available to buy and details of some currently being created.
Soup Maker Recipe Book
1. 100 Soup Maker Recipes
My original soup maker recipe book became the inspiration for this blog!
The 100 soup maker recipes were originally tested in a Morphy Richards Soup Maker but have since been retested in a Ninja Soup Maker. In other words, the book is suitable for all soup makers (with a few adjustments for different models).
The book is available as a paperback or to download on Kindle.
2. 150+ Soup Maker Recipes
With many more soup maker recipes created, I decided to publish a second soup maker recipe book. However, this time, I decided to sell the digital version directly from my website.
This book includes many of the favourites from my first book and plenty of extras added.
Buyers of this digital book will receive all future updates of the book for free.
Version 2 of the book will be released by the end of November 2023, when the price will increase from £3 to £5.
If you already have the digital book, the latest updated version 2 will be automatically emailed to you.
There will be around 20 soup recipes added and a collection of smoothies, sauces and dips (for the Ninja Soup Maker & Blender).
If you don't already have the book you can buy it now and lock in the price at £3 before it increases to £5 at the end of the month.
What happens when you buy the book?
Once payment has gone through, you will be sent an email with a link to download the digital book as a PDF. The book can be read on your preferred digital device. Each time I update the book you will automatically receive it via email.
Slow Cooker Recipe Book
3. 100 Slow Cooker Recipes (Paperback)
4. 100 Slow Cooker Recipes (Digital)
Smoothie Recipe Book
5. Weight Loss Smoothies
Air Fryer Recipe Book – Coming Soon
Coming soon! My air fryer recipe book will be released in early 2024. Stay tuned for more details.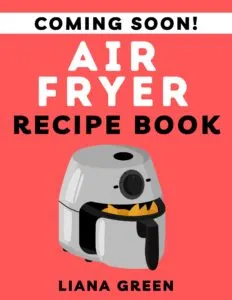 Multi-Cooker Recipe Book – Coming Soon
Coming soon! My recipe book for multi-cookers will be released in 2024. The recipes are being tested in Ninja Foodi Multi-Cookers, Instant Pot and Cosori Multi-Cookers – but they can be adapted for any appliance with an electric pressure cooker function.