Chicken Tikka Masala is a regular for us. I'm all about minimal ingredients and simple steps when making dinner, and so this easy chicken tikka masala is the perfect recipe to throw in the Instant Pot.
Side Note: Do you have an electric pressure cooker? I have both the Instant Pot and the Pressure King Pro – I've not decided which one I prefer yet. Once I've compared them some more I'll write a Instant Pot vs Pressure King Pro review 🙂
But, now, back to the easy chicken tikka masala recipe!
The Ingredients
1tbsp olive oil (or your choice of oil)
4 chicken breasts (or 3 large ones)
1 onion, chopped
4 garlic cloves, crushed
1tbsp grated ginger (or 1tsp of ground ginger)
4tbsp chicken tikka masala powder (or you can make your own, see recipe notes at the end to see how)
300g passata
150ml chicken stock
150ml cream (you can substitute with coconut milk or yoghurt)
How To Make Easy Chicken Tikka Masala In An Instant Pot
Everything can be done in the Instant Pot, from sautéing the onions, garlic, chicken and spices, bringing it to the boil and then pressure cooking it. I like to use a chicken tikka masala spice powder that has already been mixed (we use a lot of it!) but you can make your own. The steps to making chicken tikka masala in an Instant Pot are;
Sauté onions and garlic for a few minutes. Add in the spice mix and stir to coat the onions and garlic. I like to add a little bit of the chicken stock at this stage to create a paste as well as deglaze the bottom of the Instant Pot inner bowl. Make sure you scrape away any spices stuck to the base.
I then add in the chicken breasts (whole) and quickly sear them on each side, letting them get coated in the masala paste mix. I usually sear them for about 1 minute on each side, just enough for the meat to seal.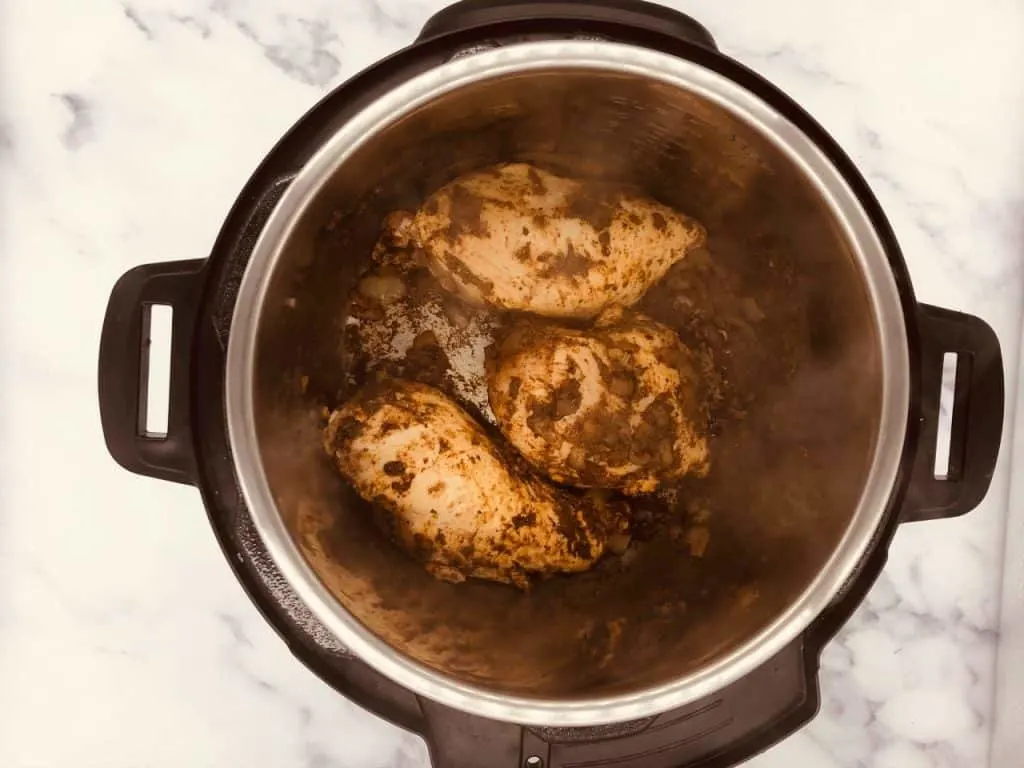 With the sauté function still on, add the passata and stock. Give everything a good stir to ensure there is nothing stuck to the bottom.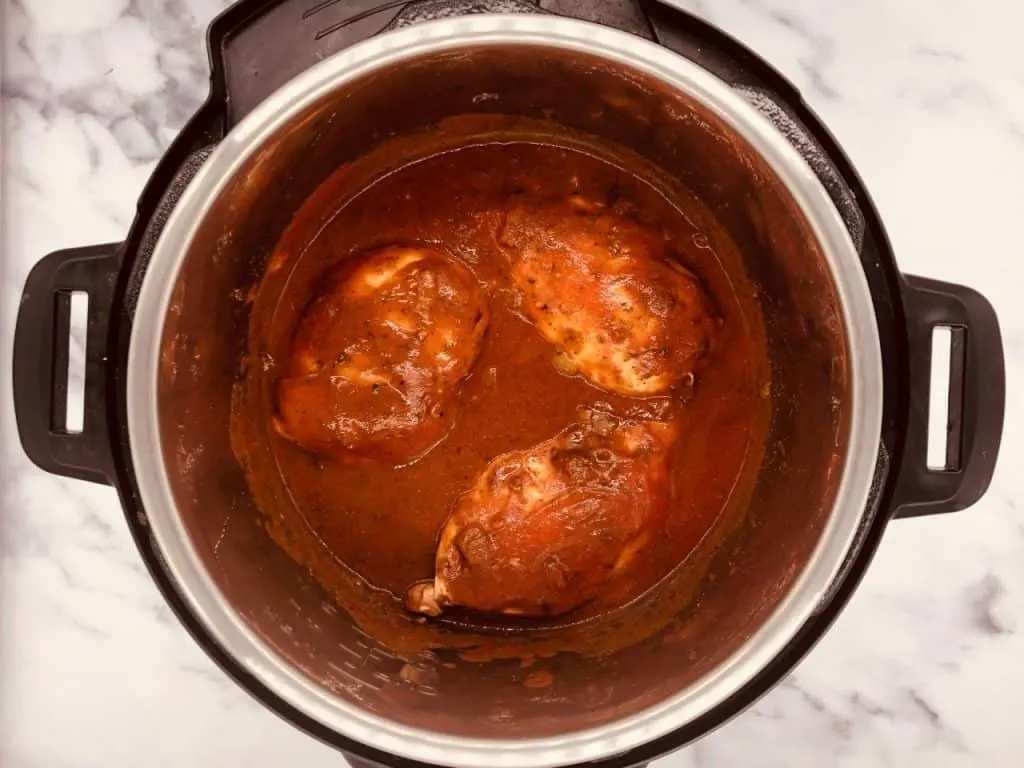 Set the Instant Pot to high pressure for 7 minutes. It will take about 6 minutes to come to pressure. When it has finished do a quick release.
Remove the lid from the Instant Pot and using some tongs take out the chicken breasts.
Switch the Instant Pot to the sauté function to allow the sauce to thicken up.
In the meantime shred up the cooked chicken breasts. Once shredded, put them back in the Instant Pot. Add in your cream (or substitute) and stir through.
Garnish with coriander and serve with rice, naan bread and maybe some onion bhajis? 🙂
How Long Does It Take In The Instant Pot?
This recipe has very minimal preparation time, just a case of chopping up the onion and crushing the garlic. The sauteeing step takes about 5 minutes all in (onions, garlic, spices and chicken).
Cooking in an electric pressure cooker is quicker than other methods, but what a lot of the marketing doesn't reveal is the time needed for the cooker to get up to pressure. How long it takes is dependent on what you have inside, that is, the quantity (large volumes will take much longer), as well as the temperature of what's inside.
For this chicken tikka masala recipe, the Instant Pot took 6 minutes to get to pressure. I then set it for 7 minutes at high pressure with a quick release at the end. It was then left on the saute function for about 5 minutes whilst I shredded the chicken breast. This also gave the sauce some time to boil down and thicken up a little before adding in the cream (or your chosen substitute).
So, from first chop to plating up I would say to allow just under 25 minutes for this chicken tikka masala recipe. Plenty of time to tuck into the poppadoms 😉