If you're looking for a quick to prepare slow cooker beef madras recipe, you've come to the right place!
Beef madras is a curry house favourite ,and it's perfect for cooking in the slow cooker – the longer the beef cooks, and the lower the temperature, the better it tastes.
Read on to learn how to make a quick and easy slow cooker beef madras.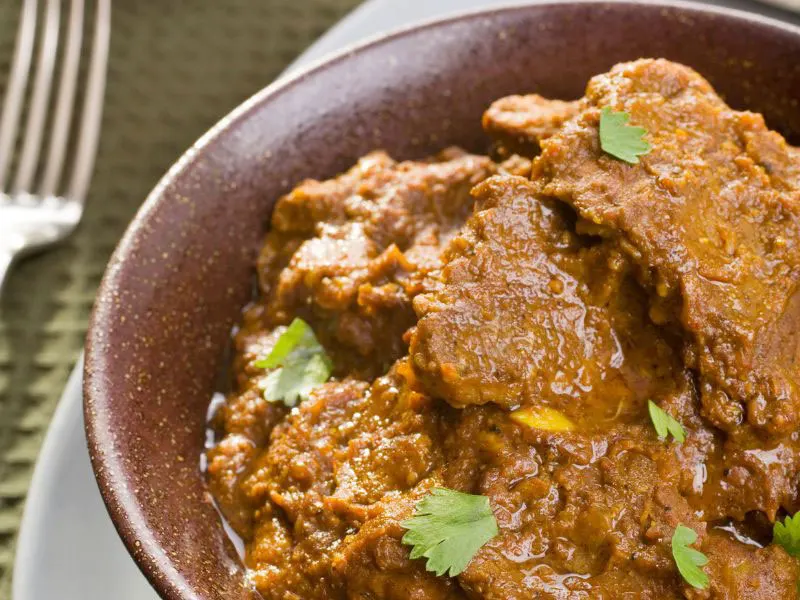 What Is Beef Madras?
Madras takes its name from the city of Madras (now called Chennai) in the south of India. Madras is a curry made with tomatoes and various hot spices. The exact spice blend can vary depending on the cook, but chilli powder, cumin, and turmeric are typically used.
Madras is often hot, so it's perfect for those who enjoy their curry with a hot kick.
While this recipe has been made with beef, madras can also be made with other meats such as chicken or lamb, or, without meat, as a vegetable madras.
What You Need To Make Beef Madras In A Slow Cooker
The ingredients used to make beef madras vary, as do the methods for making it.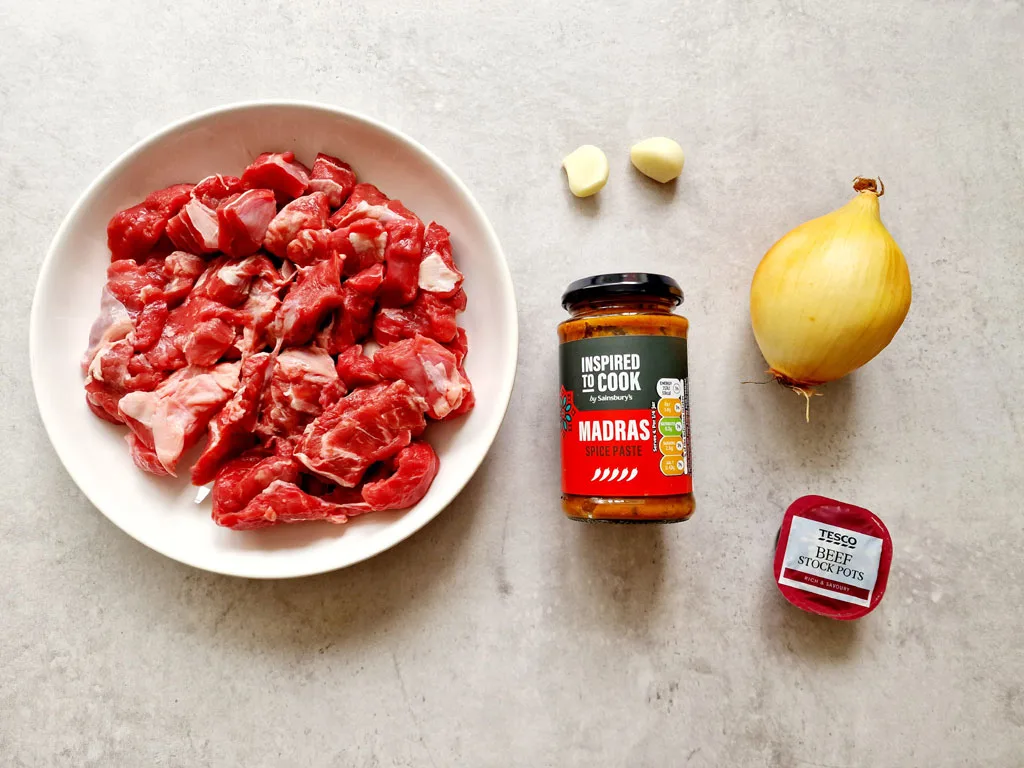 This recipe is intentionally a super quick to prepare version – using a premade madras paste – if you want to make everything from scratch you can follow a recipe like this one.
Beef – use about 400g of diced beef to serve four people. Adjust the amounts accordingly.
Tomato Puree & Chopped Tomatoes – I used a tin of passata (not pictured) and tomato puree as I didn't have any tomatoes. You can use either, as well as fresh chopped tomatoes.
Beef Stock Pot – use either a stock pot or cube.
Onions & Garlic – 1 onion and 2 cloves garlic, crushed.
Madras Paste – you can use any brand of madras paste or, make your own from scratch.
Slow Cooker – I used a Morphy Richards Slow Cooker; you can use any type.
Check out my complete guide to buying a slow cooker
How To Make Slow Cooker Beef Madras
As I have already mentioned, this version of slow cooker beef madras is a simple, quick to prepare version, and so it really is a dump and leave slow cooker recipe!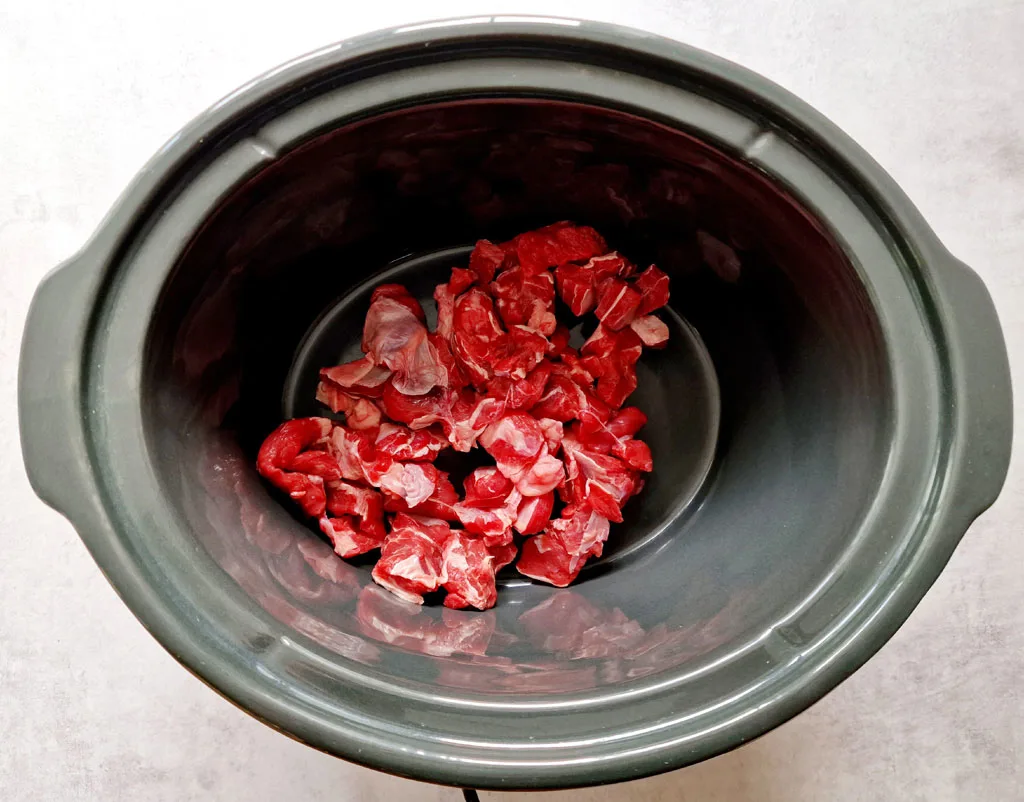 An optional step is to seal the beef in a large frying pan, or if your slow cooker has a saute function, you can do it directly in there.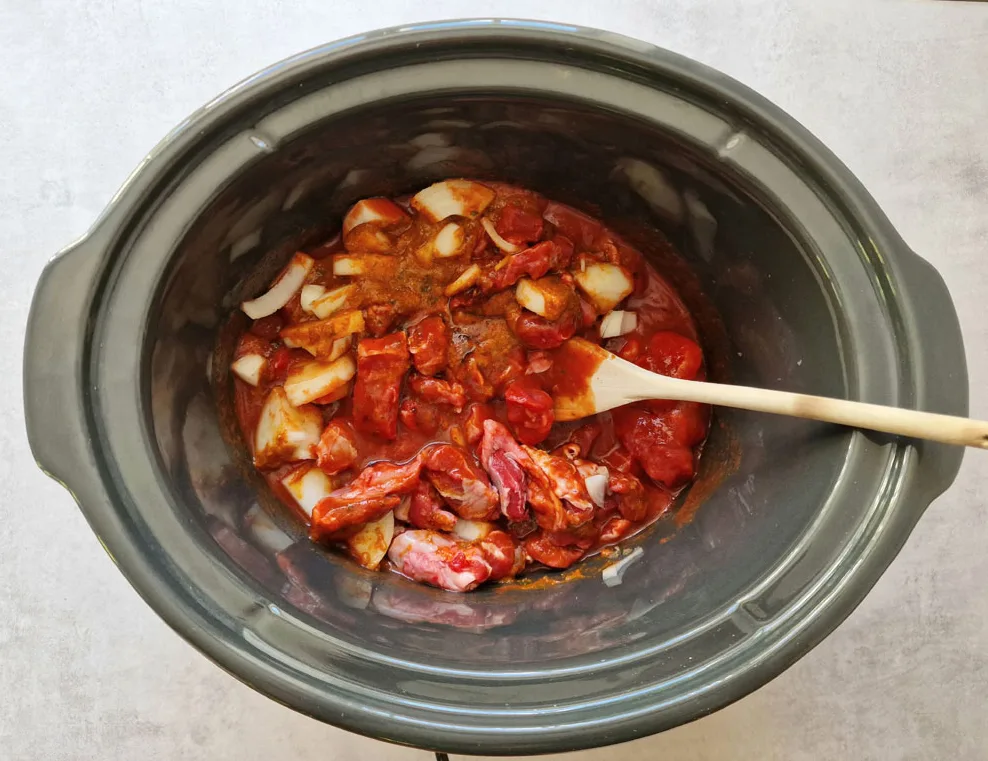 However, I just add everything directly to the slow cooker and stir it together.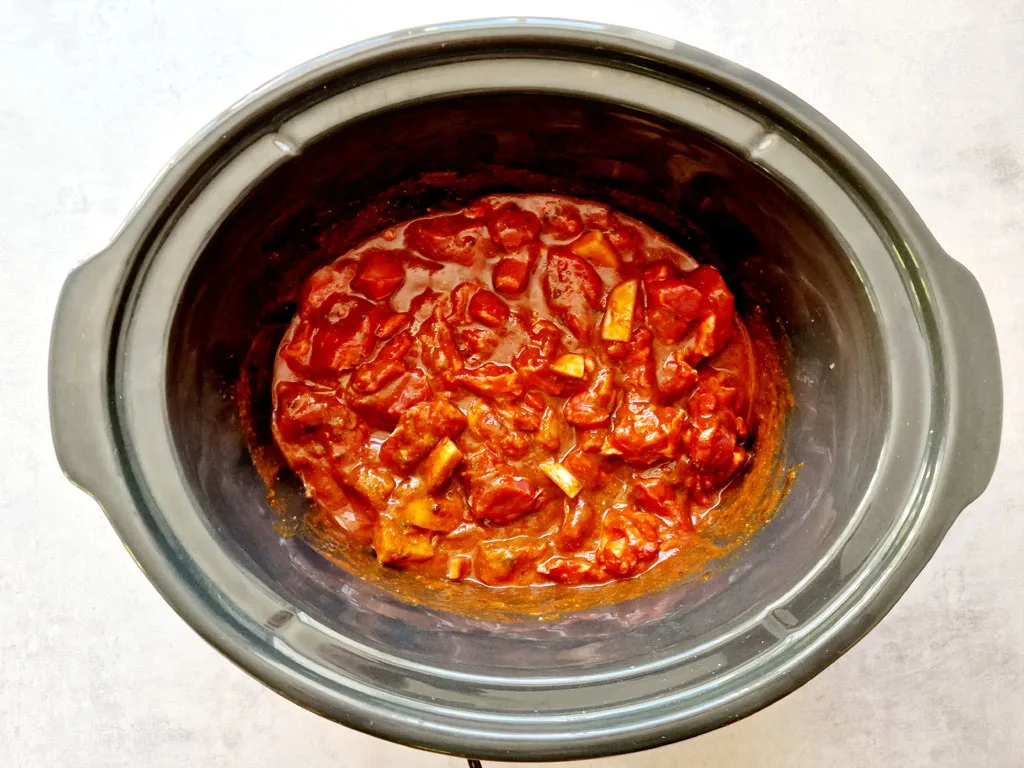 There is no need to add additional water; just add the stock pot/cube directly to the slow cooker.
Set the slow cooker on low for 6 to 8 hours or high for 4 hours.
The meat should be soft and tender at the end of the cooking time.
Serve with rice and or naan bread.