Infuse your dishes with the vibrant, smoky, and spicy flavours of homemade Harissa paste.
This quintessential North African condiment, packed with charred bell peppers, fresh chillies, and a unique spice mix, adds depth and complexity to a multitude of dishes.
Making your own Harissa paste at home not only lets you control the heat level but also offers a freshness that can't be matched by store-bought versions.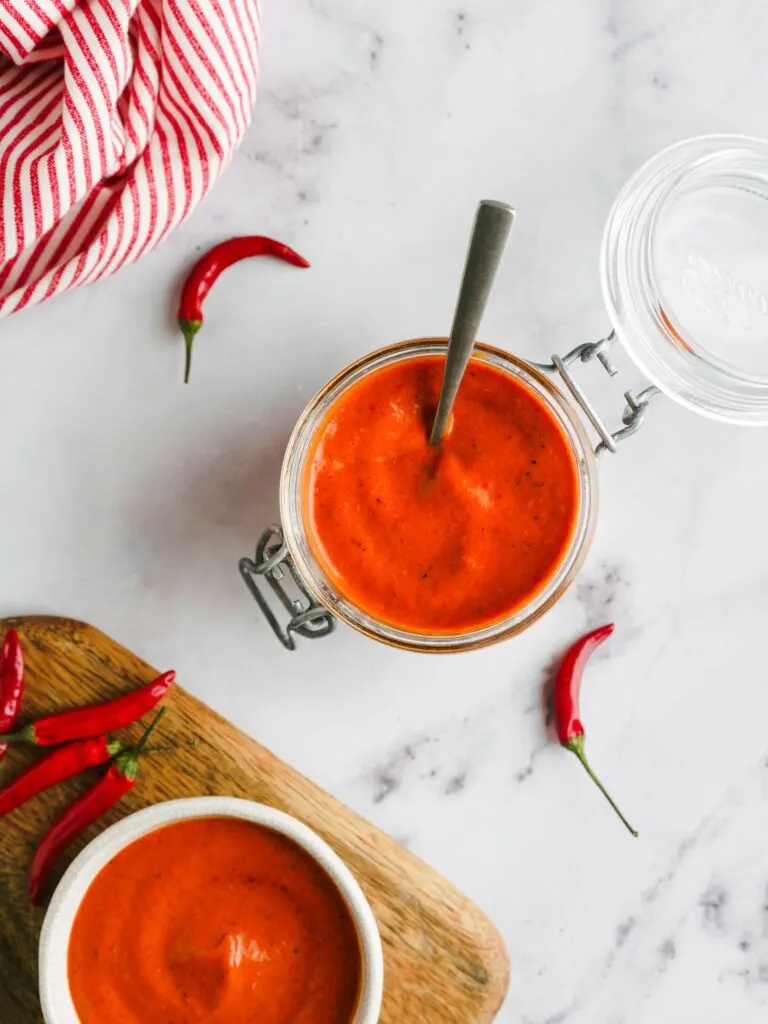 How To Make Homemade Harissa Paste
There are many different variations for making Harissa paste at home, use the following as a guide and adjust according to your tastes.
What You Need: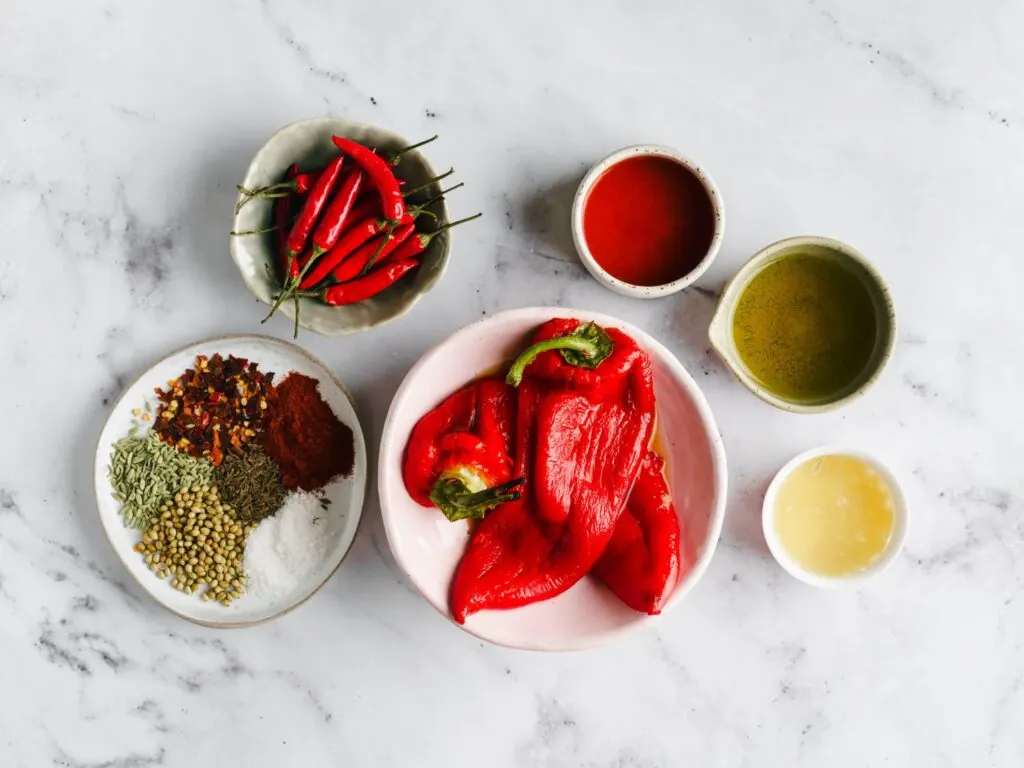 Red Bell Peppers: These are used to provide a smoky and slightly sweet flavour to the Harissa paste once they're charred and skinned. If you can't find red bell peppers, you could use other sweet red peppers or even jarred roasted red peppers.
Garlic Cloves: Garlic adds a depth of flavour, if you're not a fan of raw garlic, you can use roasted garlic for a milder, sweeter taste.
Tomato Puree: This adds a concentrated tomato flavour and a bit of body to the Harissa paste. You could use sundried tomatoes as an alternative for a different depth of flavour.
Red Chillies: These provide the fresh, fiery heat in the paste. The type of red chillies you use can greatly affect the heat level, so choose according to your preference. If fresh chillies aren't available, dried ones can be used.
Red Bird's Eye Chilli (optional): This is one of the hottest types of chilli. It's optional, but it can add an extra fiery kick if you like your Harissa very hot. If you want to add heat without the extreme intensity of bird's eye chilli, you could use a serrano or jalapeno pepper instead.
Olive Oil: It helps to bind the ingredients together into a paste and also acts as a preservative. You can substitute with other oils, but olive oil is traditionally used and adds a distinct flavour.
Lemon Juice: The acidity from the lemon juice brightens the flavours and helps to preserve the paste. Lime juice or vinegar could be used as an alternative.
Salt and Black Pepper: These seasonings enhance the overall flavour of the Harissa paste. Adjust according to your taste.
For the spice mix:
Cumin Seeds, Fennel Seeds, and Coriander Seeds: These seeds add depth and complexity to the Harissa. They are toasted and ground for maximum flavour. If you don't have whole seeds, you could substitute them with ground spices, but the flavour might be less fresh and intense.
Dried Chilli Flakes: They add additional heat to the paste. You can adjust the amount depending on how spicy you want your Harissa to be.
Smoked Paprika: This adds a smoky flavour to the paste.
Making a batch of homemade Harissa paste is surprisingly simple to create. Toasting the spices yourself truly brings out their full potential, creating a deeply aromatic base for the paste.
Charred red bell peppers give the Harissa a smoky-sweet note, while a mix of chillies provides that signature fiery kick.
Adjusting the heat is entirely up to you, so you can easily adapt the recipe to your taste. And don't worry if you don't have a gas hob to char the peppers, a hot grill will do the trick too.
Making It
Combine the spices: Start by gathering your spices – cumin seeds, fennel seeds, coriander seeds, dried chilli flakes, and smoked paprika – and place them in a small frying pan over medium heat.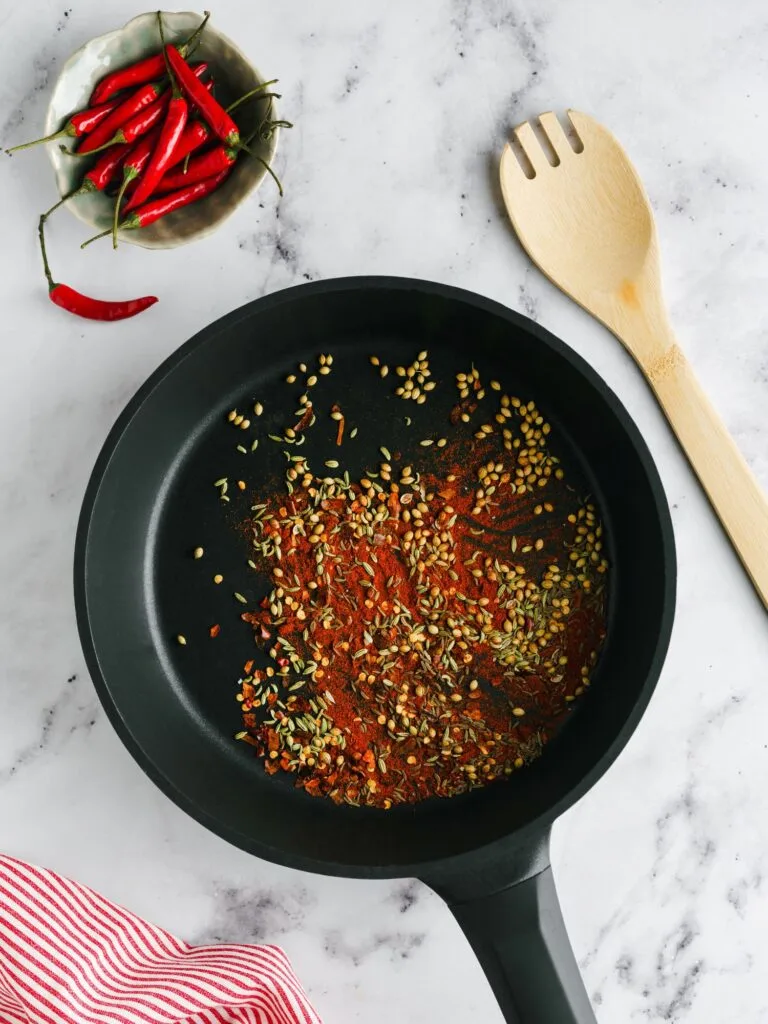 Let these spices toast for a few minutes, shaking the pan regularly to prevent them from burning. Once the spices start to pop and release their aromas, remove the pan from the heat.
Grind the spices: Next, transfer the toasted spices to a pestle and mortar. Grind until you have a fine, evenly ground spice mix. This freshly ground mixture will lend your Harissa paste an intense, authentic flavour.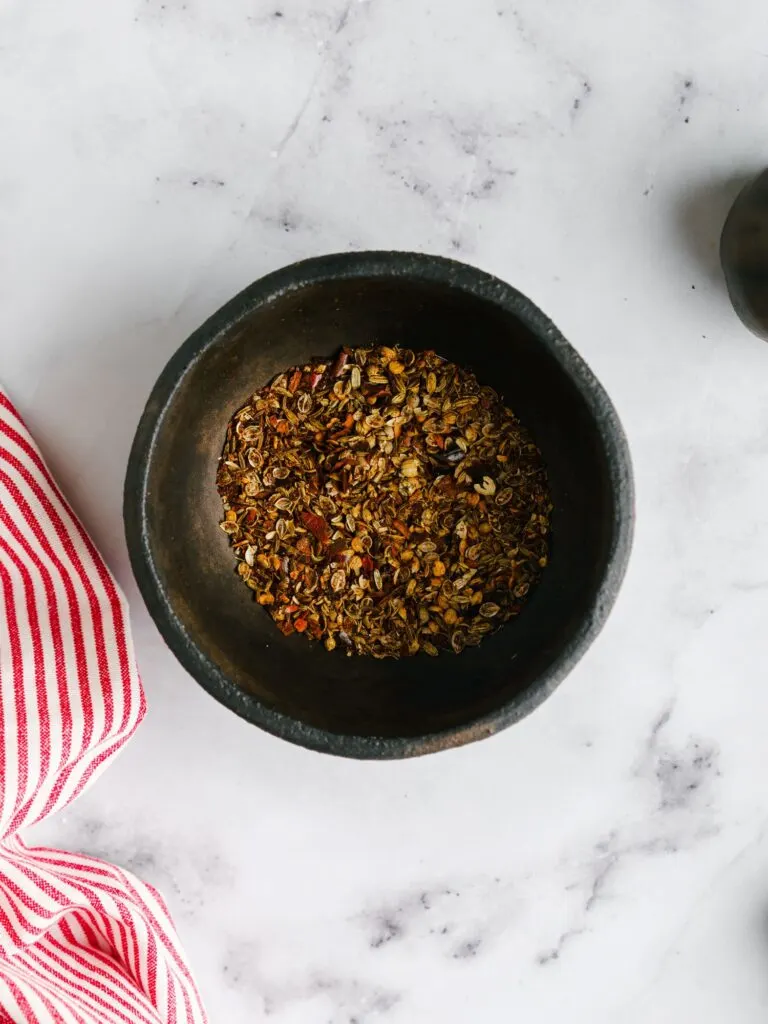 Char the peppers: Char your red bell peppers until they are blackened all around. This can be done over a gas hob or under a hot grill. Charring the peppers deepens their flavour and gives the Harissa its distinctive smokiness. Once charred, remove the skins and cut the peppers in half to discard the seeds.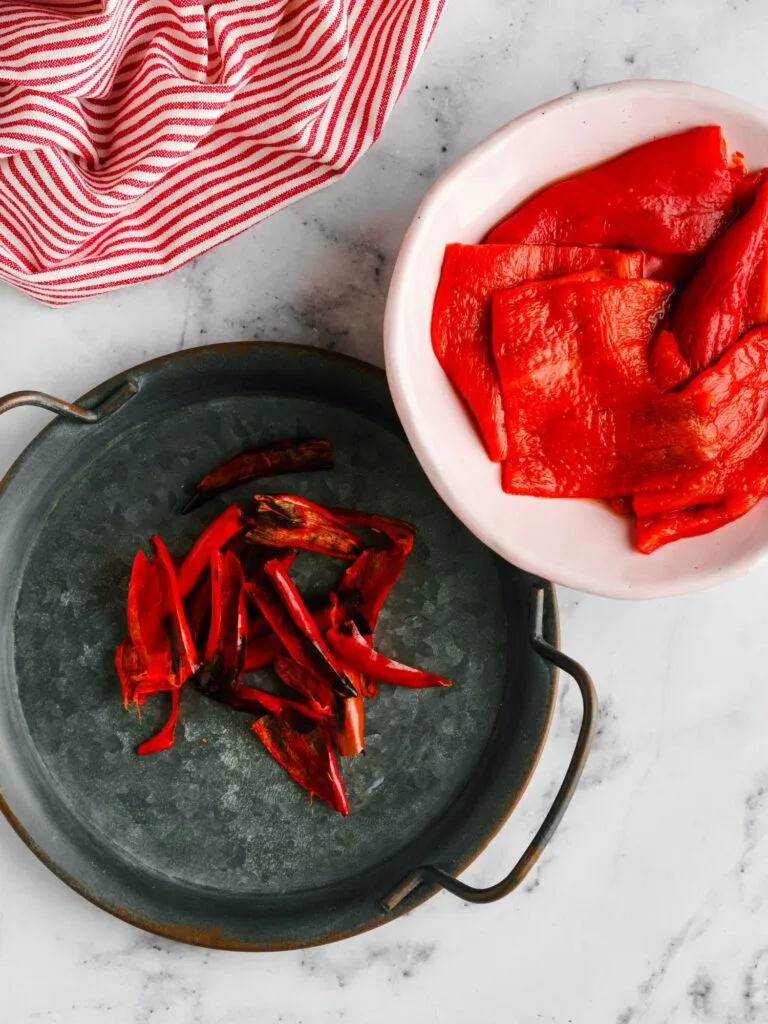 Blend the ingredients: Now it's time to bring it all together. In the bowl of a food processor, combine the charred bell peppers, fresh red chillies, an optional bird's eye chilli for extra heat, peeled garlic cloves, tomato puree, the ground spice mix, lemon juice, olive oil, and a generous pinch of salt and pepper. Blend until you have a smooth paste.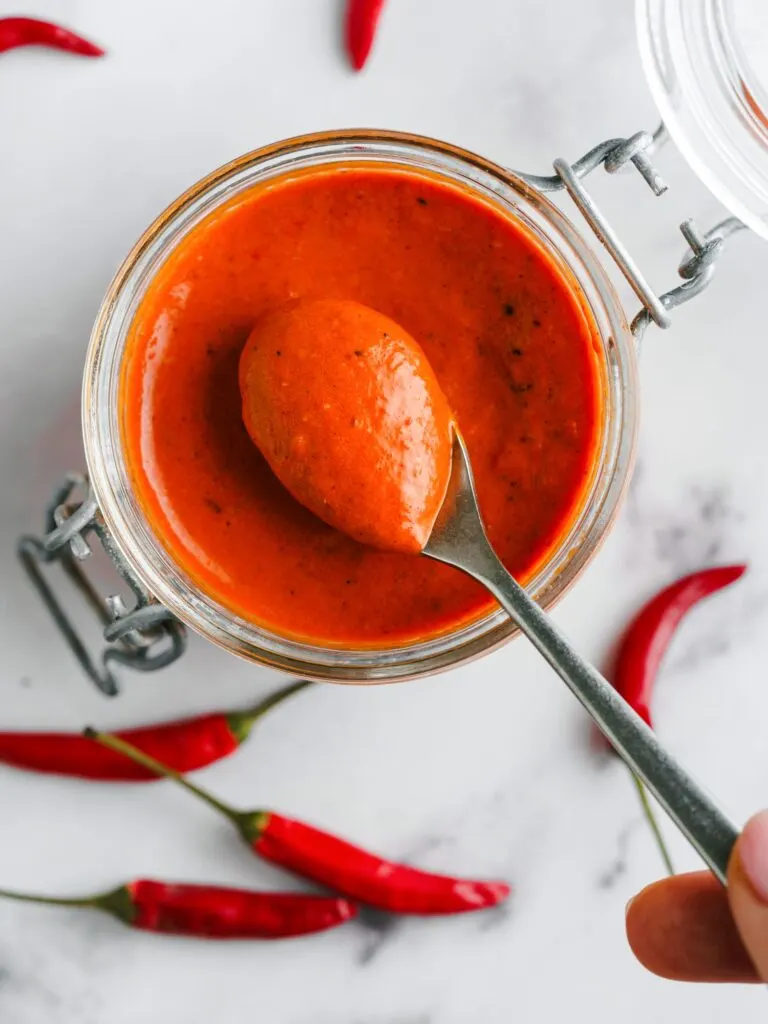 Adjust and store: Taste your Harissa paste and adjust the seasoning if necessary. Once you're happy with the flavour, transfer your Harissa to a sealable jar or container. Homemade Harissa paste can be kept in the fridge for up to a month, getting more flavourful as it sits.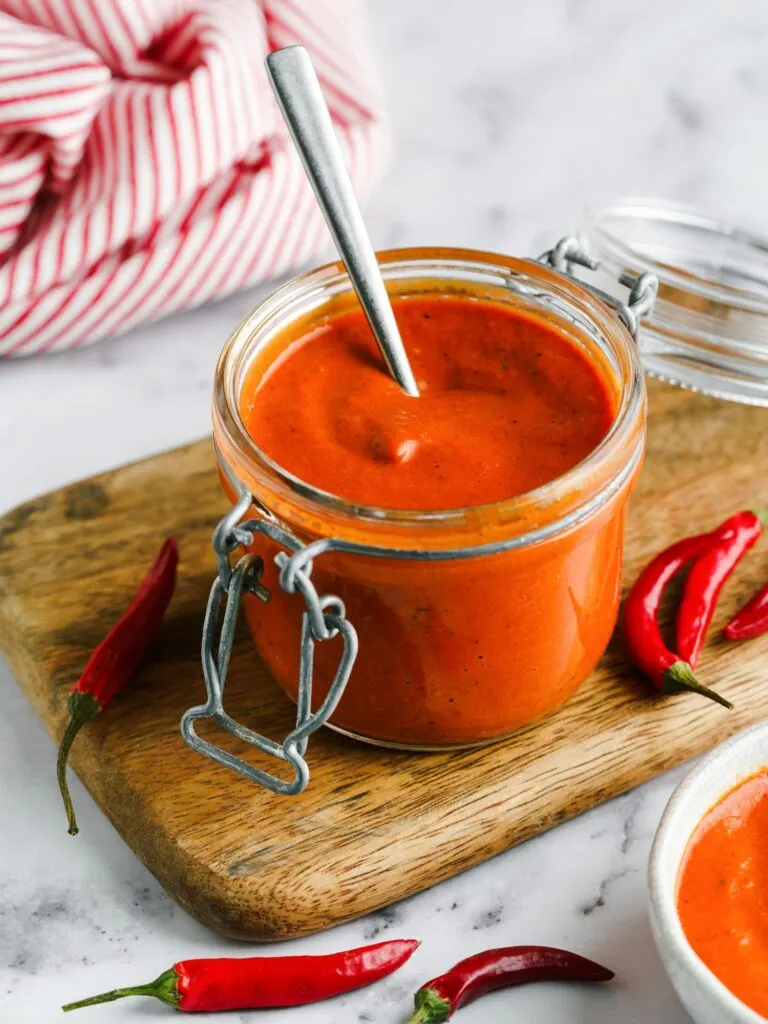 Uses For Harissa Paste
Harissa paste can be used in a variety of ways to spice up your meals. Use it as a marinade for Harissa chicken traybake, fish, or vegetables before grilling or roasting.
Stir it into stews or soups for an extra flavour kick. Or, serve it as a condiment alongside bread and other appetisers.