Harissa chicken tray bake is an easy to prepare one-pan wonder that doesn't compromise on taste. The fragrant heat of harissa paste combines with the juicy, tender chicken pieces, and a mix of roasted vegetables.
How To Make Harissa Chicken Traybake
The harissa paste gives the chicken an exciting kick, while the roasted vegetables offer a sweet, caramelised contrast.
And the best part? It's all made in one tray, so you're not left with a pile of dishes to clean.
This is the perfect recipe for those busy days when you want a satisfying meal but don't have hours to spend in the kitchen.
What You Need:
The ingredients below are enough to serve 4 people. Adjust the quantities according to your needs.
For more concise instructions or to print it out scroll down to the recipe card at the bottom of the post.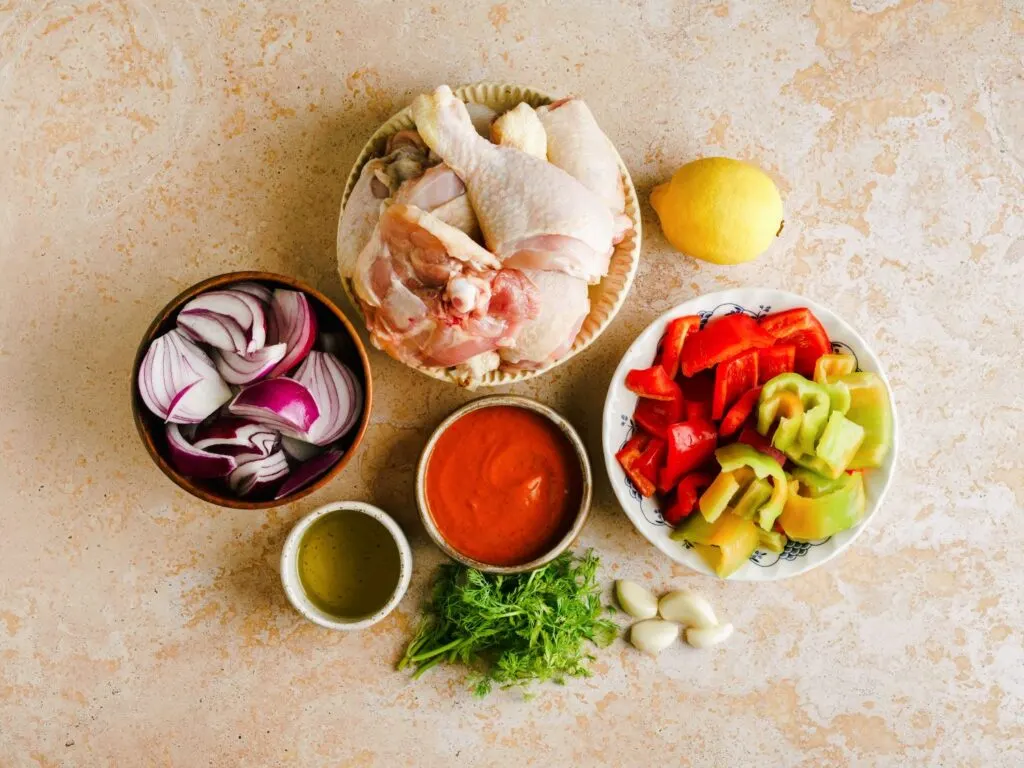 Chicken (legs, thighs or a combination, bone-in, skin-on): This recipe calls for 8 pieces of chicken, which could be legs, thighs, or a mix of both. Bone-in, skin-on chicken is often preferred for its flavour and moisture retention. If you prefer, boneless skinless chicken can also be used, but keep in mind it may not be as juicy or flavorful.
Harissa Paste: This is a spicy and aromatic chilli paste that's widely used in North African and Middle Eastern cooking. It's made from various types of peppers, spices, garlic, and olive oil. You can use a shop bought Harissa paste or have a go at making your own.
Red Onions: The recipe requires two red onions cut into wedges. Red onions have a slightly sweet flavour that gets even sweeter when roasted. You can substitute with other onions if you prefer.
Red and Yellow Bell Peppers: Bell peppers add a sweet, slightly tangy flavour to the dish. The colours also add a nice visual appeal. Feel free to use any colour of bell pepper you have on hand or prefer.
Garlic Cloves: Garlic adds a fragrant, savoury flavour that complements the other ingredients. The recipe calls for whole unpeeled cloves which get wonderfully soft and sweet when roasted. If you don't have fresh garlic, you could also use garlic powder or minced garlic.
Olive Oil: Used to coat the vegetables and help them roast nicely. If you prefer, you can substitute it with other oils.
Salt and Black Pepper: These are used to season the dish. Adjust the amount to your personal preference.
Fresh Coriander: Fresh coriander adds a bright, slightly citrusy flavour that contrasts the spicy, savoury elements of the dish. If you're not a fan of coriander, fresh parsley or chives can be used instead.
Lemon Wedges: Squeeze fresh lemon juice over the chicken to enhance the flavours. If lemons aren't available, limes could also be used.
Making It:
Preheat your oven: Begin by preheating your oven to Gas Mark 6/200°C/180°C for fan ovens.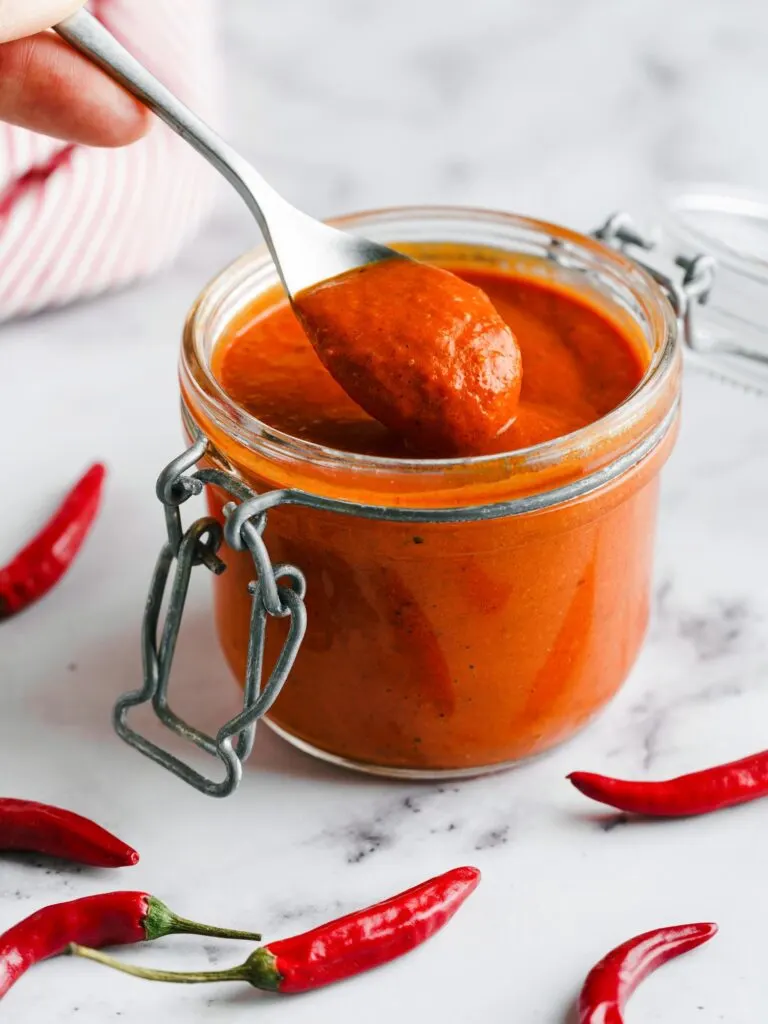 Prepare the chicken: Next, it's time to prep your chicken. Coat the chicken pieces with the harissa paste. Use your hands or a brush to evenly distribute the paste, making sure every part is covered.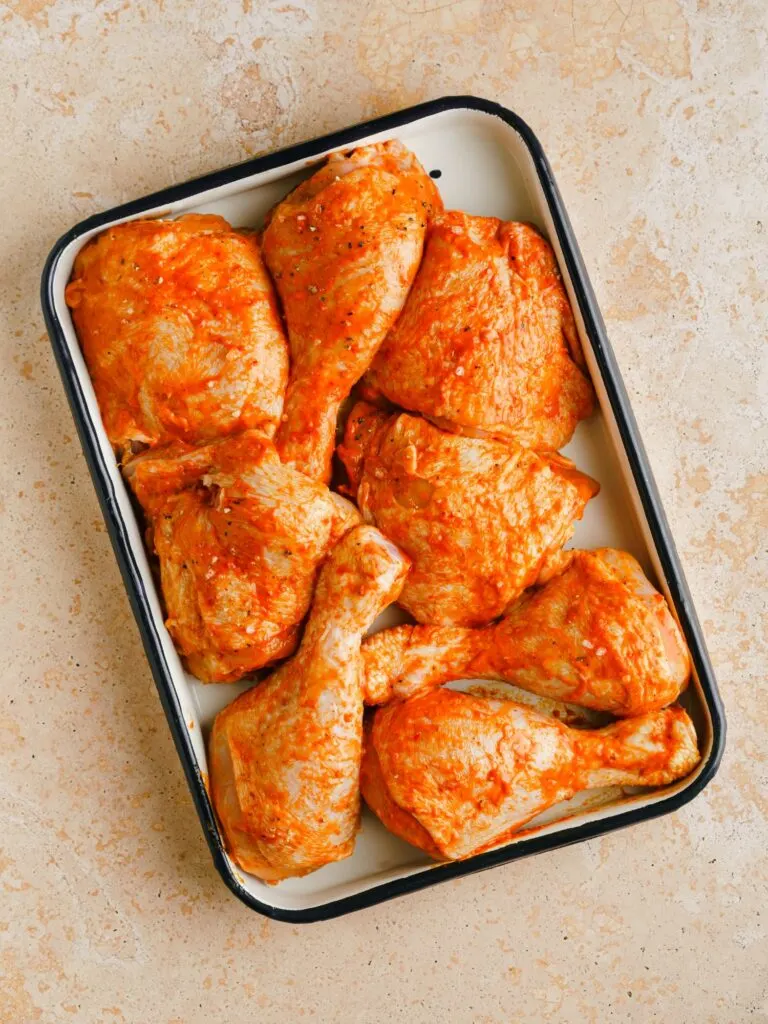 This will infuse the chicken with the flavoursome and spicy characteristics of harissa. Try and leave the chicken to marinate for at least 30 minutes.
Prepare the vegetables: Take a large roasting tray and add your onions, bell peppers, and garlic cloves. Drizzle these with the olive oil, then toss everything together to ensure the vegetables are well coated. This will help them roast and caramelize nicely.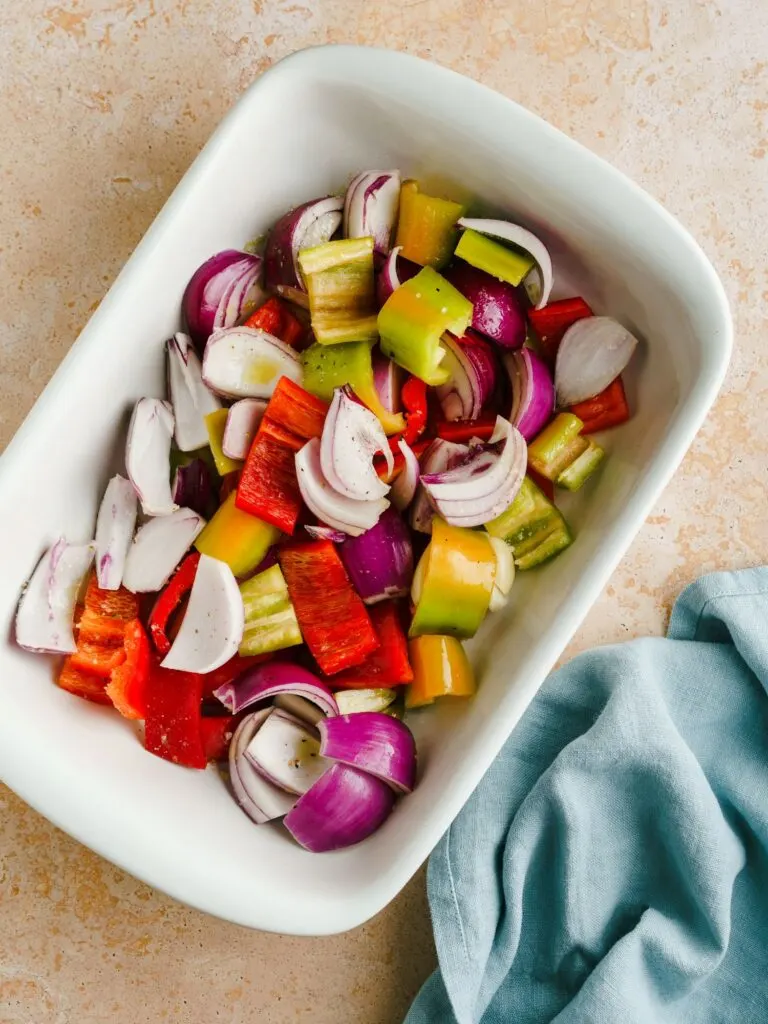 Arrange them in a single layer on the tray for even roasting, then season them with salt and pepper.
Add the chicken to the tray: Position the harissa-coated chicken pieces among the vegetables on the tray.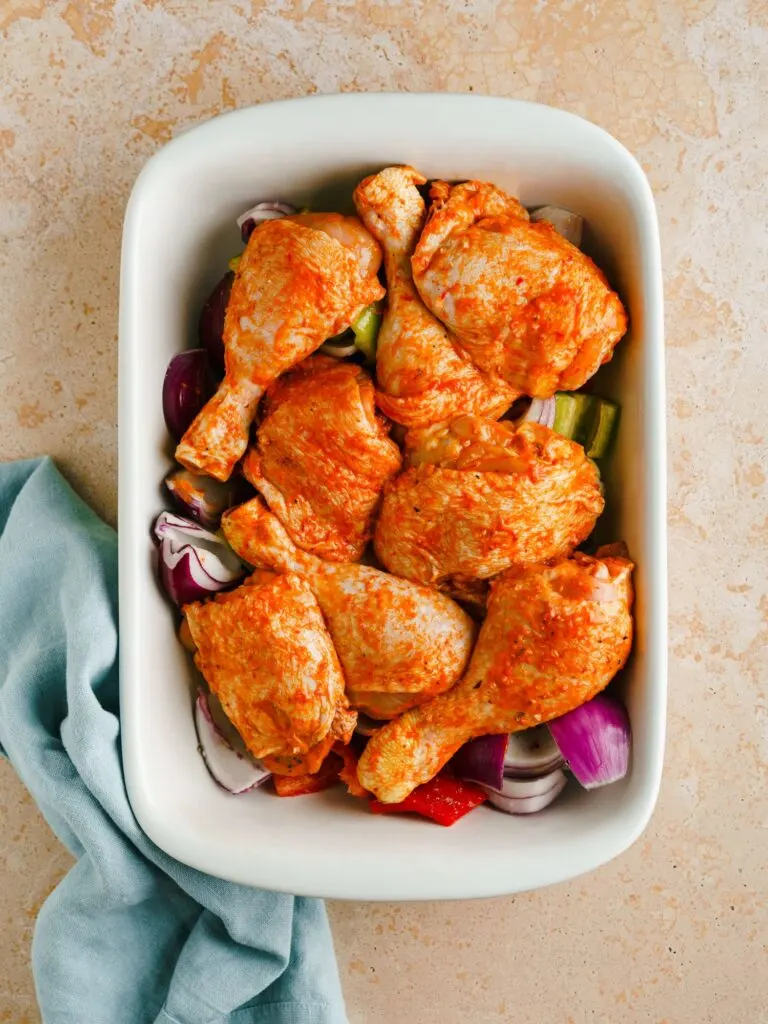 Nestling the chicken amongst the veggies ensures the flavours will meld together as they roast, with the juices from the chicken adding an extra dimension of flavour to the vegetables.
Bake: Put the tray into your preheated oven and bake for approximately 45-50 minutes. The aim is for the chicken to be fully cooked and no longer pink at the bone, with clear juices.
The vegetables should be tender and nicely roasted, with some caramelized edges. Every oven is different, so keep an eye on your dish to prevent overcooking.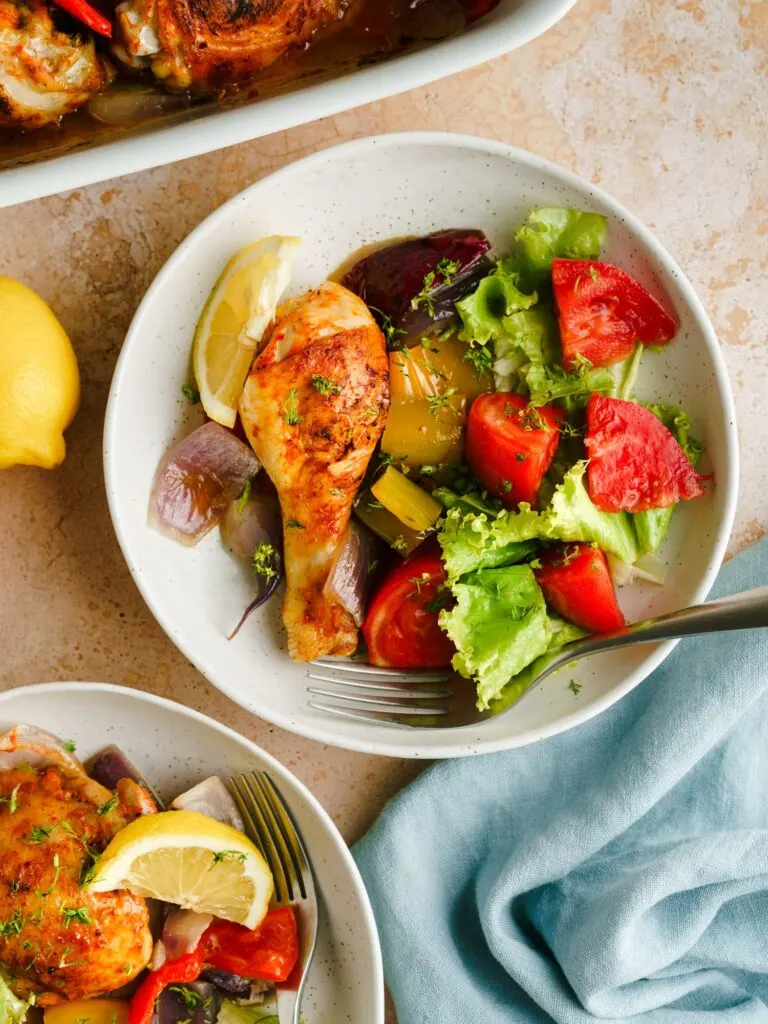 Serve: Once done, carefully remove the hot tray from the oven and let it rest for a few minutes. This allows the juices in the chicken to redistribute, leading to a more tender and flavourful meal.
Before serving, discard the skins from the roasted garlic cloves.
Finish off the dish by sprinkling freshly chopped coriander over the top for a vibrant burst of flavour and colour.
Serve with lemon wedges on the side and add a squeeze of fresh, tangy lemon juice to your portion as you prefer.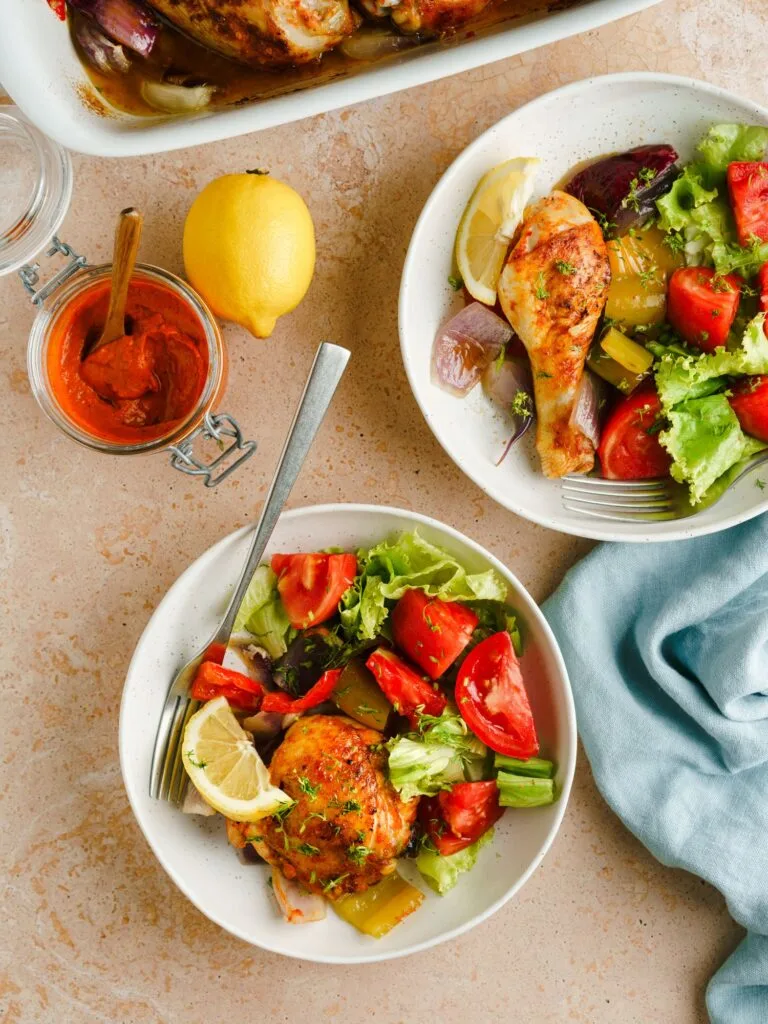 What To Serve With Harissa Chicken Tray Bake
This vibrant Harissa chicken tray bake is a complete meal on its own. However, if you want to add more to your table, consider pairing it with a fresh green salad for a crunchy contrast.
You could also serve it with some steamed green beans or broccoli on the side for extra veggies.
And don't forget the lemon wedges; a good squeeze of lemon brings a fresh zing that complements the spicy harissa beautifully.
More Tray Bake Recipes
Are you interested in making more tray bake recipes? Here are some suggestions for you!