Embrace the vibrant, wholesome flavours of the Mediterranean with this simple yet tasty Mediterranean chicken tray bake recipe.
This one-pan meal combines succulent chicken thighs with brightly coloured vegetables, and herbs all topped off with salty feta cheese and black olives.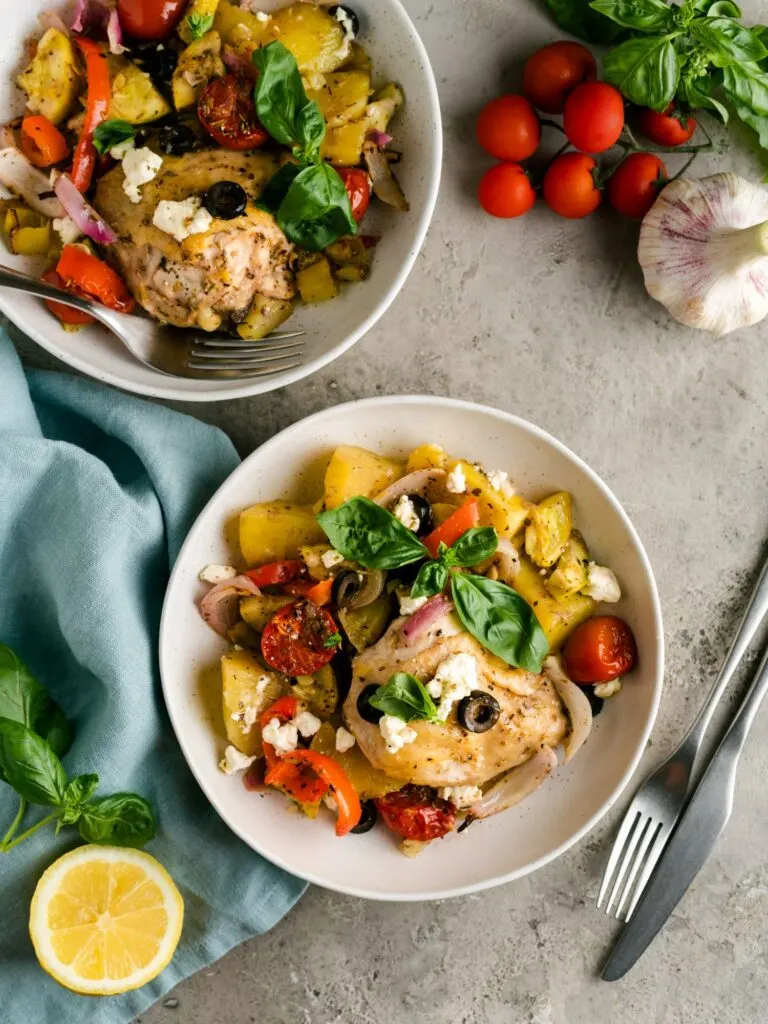 How To Make Mediterranean Chicken Tray Bake
This chicken tray bake recipe can be as customised as you wish, depending on what ingredients are available.
The measurements below are enough to serve 4 people, adjust according to your needs. If you want to print out the recipe head down to the card at the bottom.
What You Need: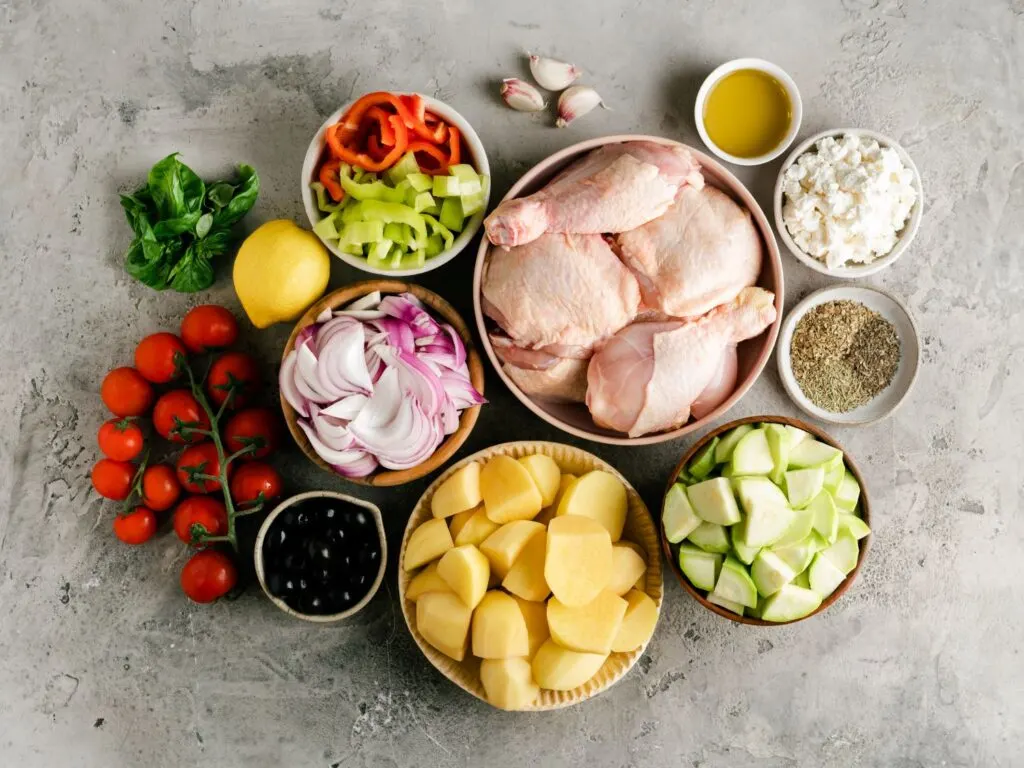 8 chicken thighs, bone-in, skin on
2 tbsp olive oil
500g baby potatoes or regular potatoes, halved/quartered
3 tbsp olive oil
1 red bell pepper, deseeded and cut into strips
1 yellow bell pepper, deseeded and cut into strips
1 large red onion, peeled and cut into wedges
250g cherry tomatoes
1 large courgette, cut into 1cm slices
1 lemon, zested and juiced
3 cloves of garlic, crushed
2 tsp dried oregano
1 tsp dried rosemary
1 tsp dried thyme
Salt and freshly ground black pepper, to taste
100g feta cheese, crumbled
50g black olives, pitted
A handful of fresh basil leaves
Making It:
Begin by preheating your oven to 200°C/180°C fan/gas mark 6.
Arrange the halved potatoes in a large roasting tray. Drizzle with 1 tbsp of olive oil, season to taste, and toss everything to ensure the potatoes are well coated. Place the tray in the preheated oven and roast for 20 minutes.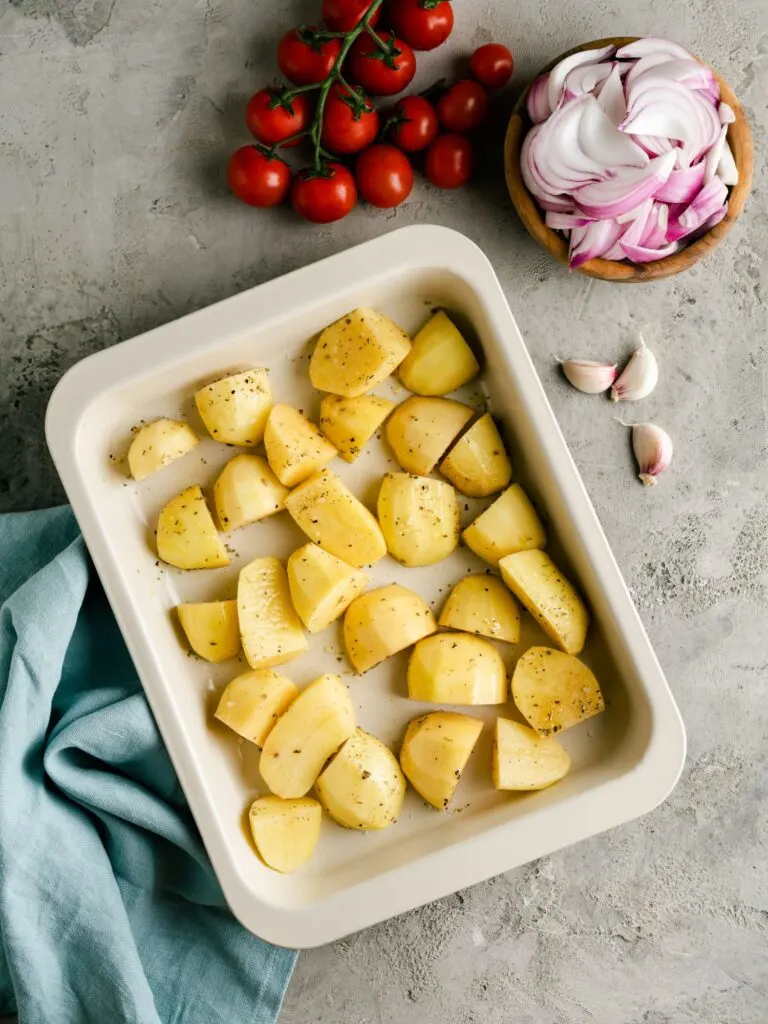 In the meantime, combine the bell peppers, red onion, cherry tomatoes, and courgette in a large mixing bowl. To this, add the lemon zest and juice, minced garlic, remaining olive oil, and dried herbs. Season with salt and pepper and toss until the vegetables are evenly coated.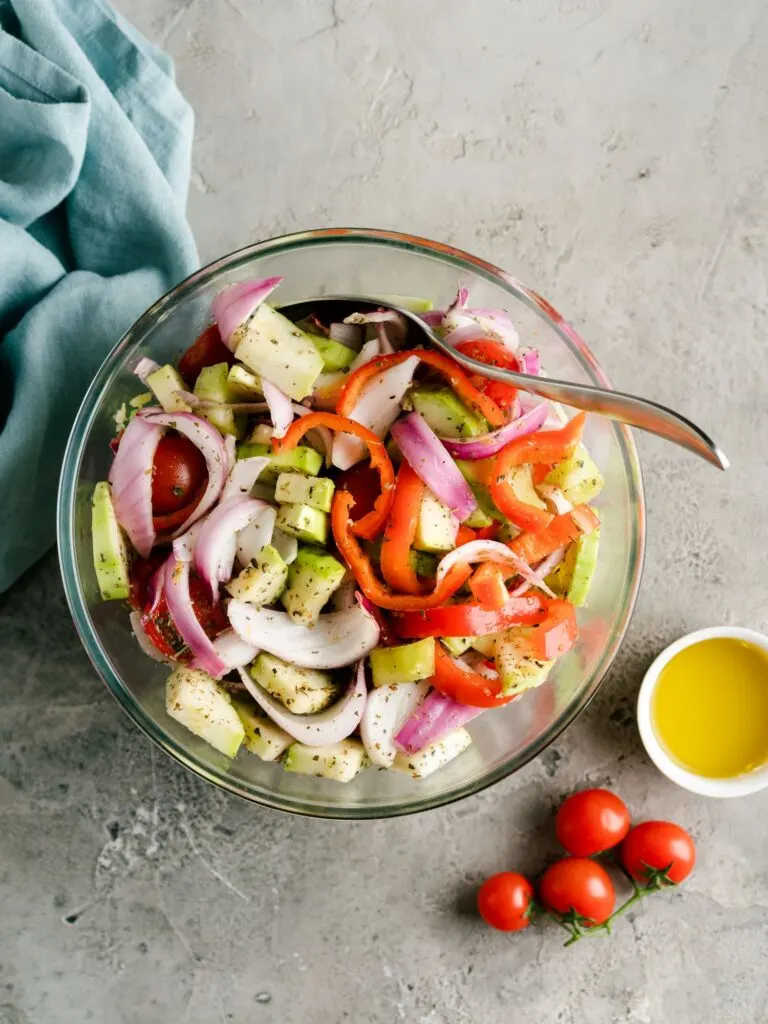 After the potatoes have roasted for 20 minutes, add the chicken thighs to the roasting tray. Drizzle with olive oil and season to your liking.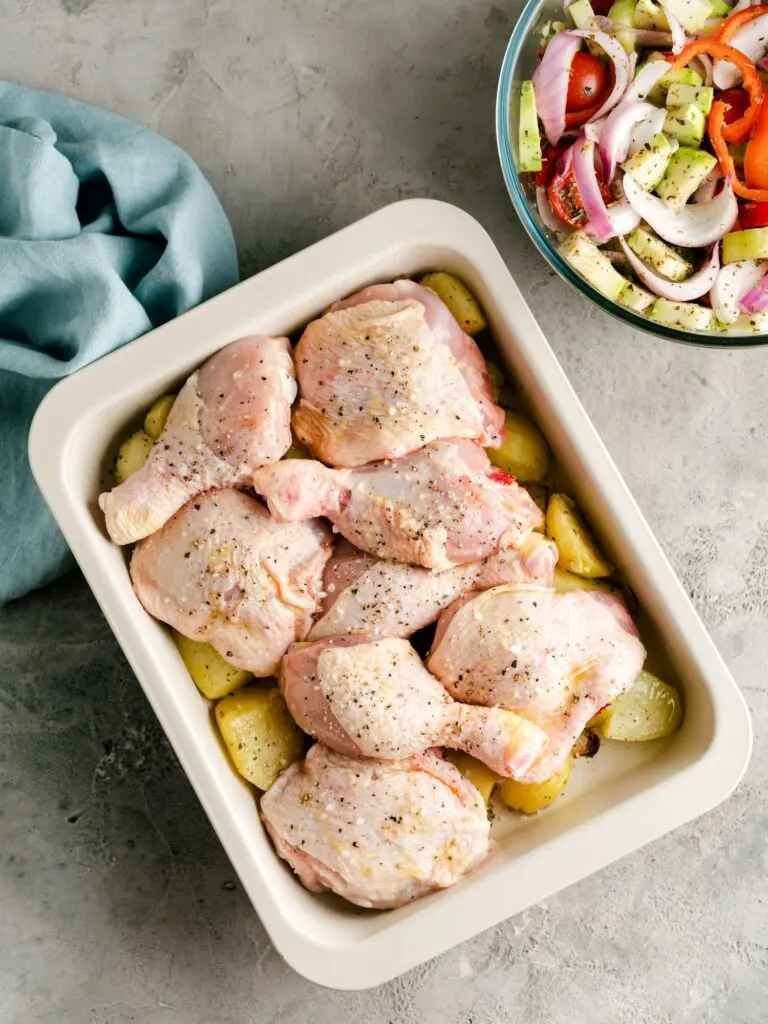 Next, scatter the mixed vegetables around the chicken in the roasting tray.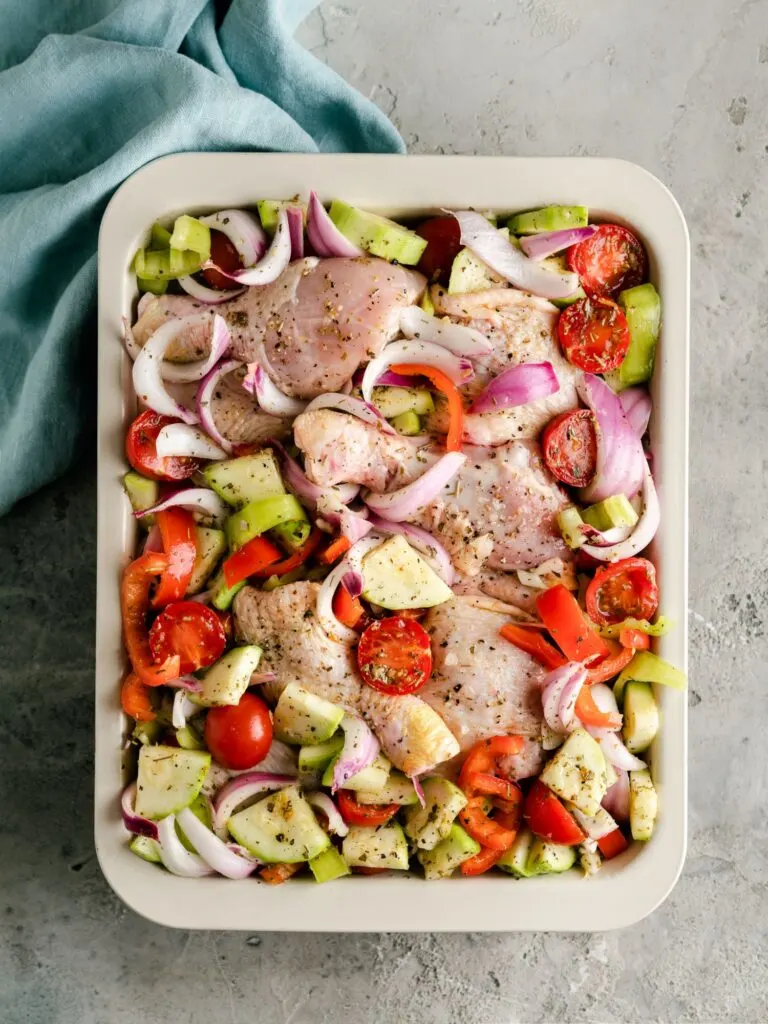 Return the tray to the oven and bake for a further 30-35 minutes. The chicken should be thoroughly cooked and the vegetables well roasted and caramelised. To check, pierce the chicken with a knife – the juices should run clear.
Remove the tray from the oven and sprinkle the crumbled feta cheese and black olives over the top.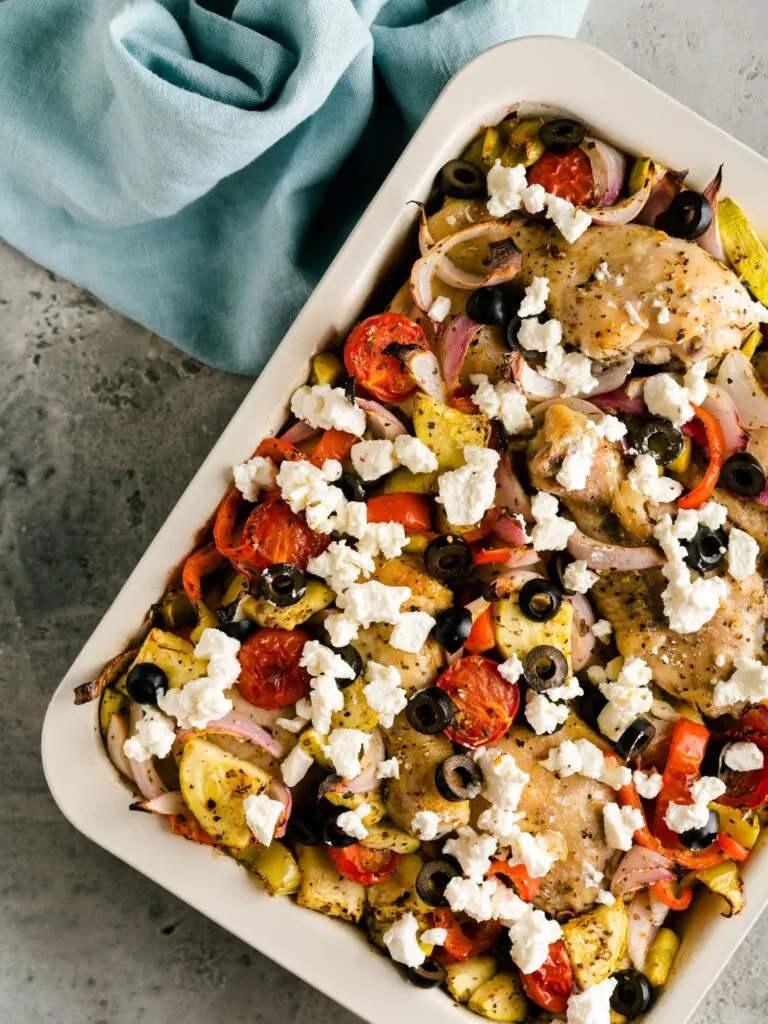 Return the tray to the oven for another 5 minutes or until the feta has slightly melted.
Once done, remove the tray from the oven and allow it to cool for a few minutes. Finish by sprinkling with fresh basil leaves.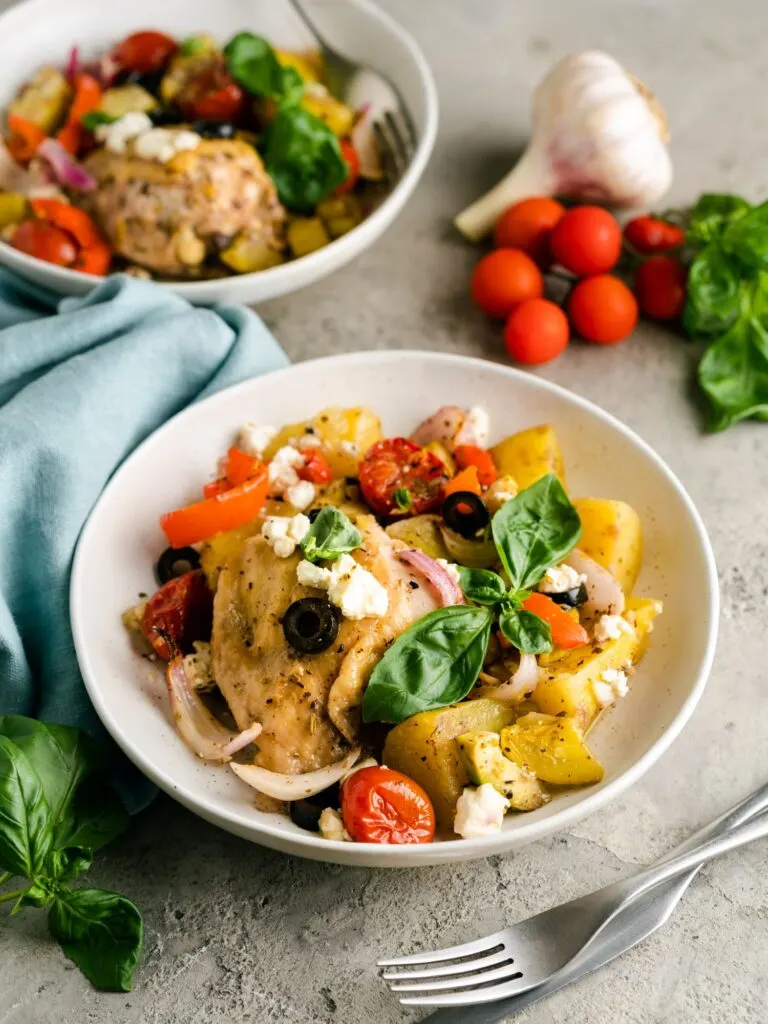 This Mediterranean chicken tray bake is best served hot, accompanied by some crusty bread to mop up the tasty juices.
Enjoy a little slice of the Mediterranean from the comfort of your own kitchen!
More Tray Bake Recipes: