Sausage tray bake is a family friendly quick to prepare meal that is perfect for dinner any day of the week.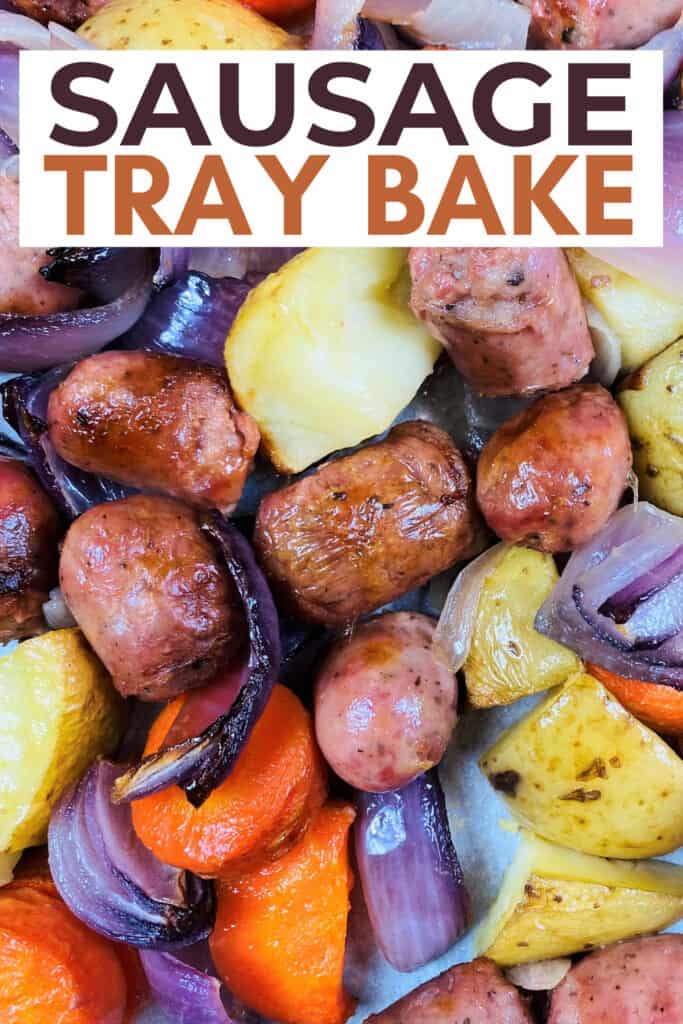 How To Make Sausage Tray Bake
This simple recipe includes roasted vegetables drizzled in oil, sprinkled with your favourite herbs or spices, mixed alongside roasted sausages.
Use your favourite vegetables, or what is currently in season.
For this sausage tray bake I used potatoes (Maris Pipers work well), carrots and red onions. But you could use sweet potatoes, butternut squash, parsnips – they all taste amazing when roasted!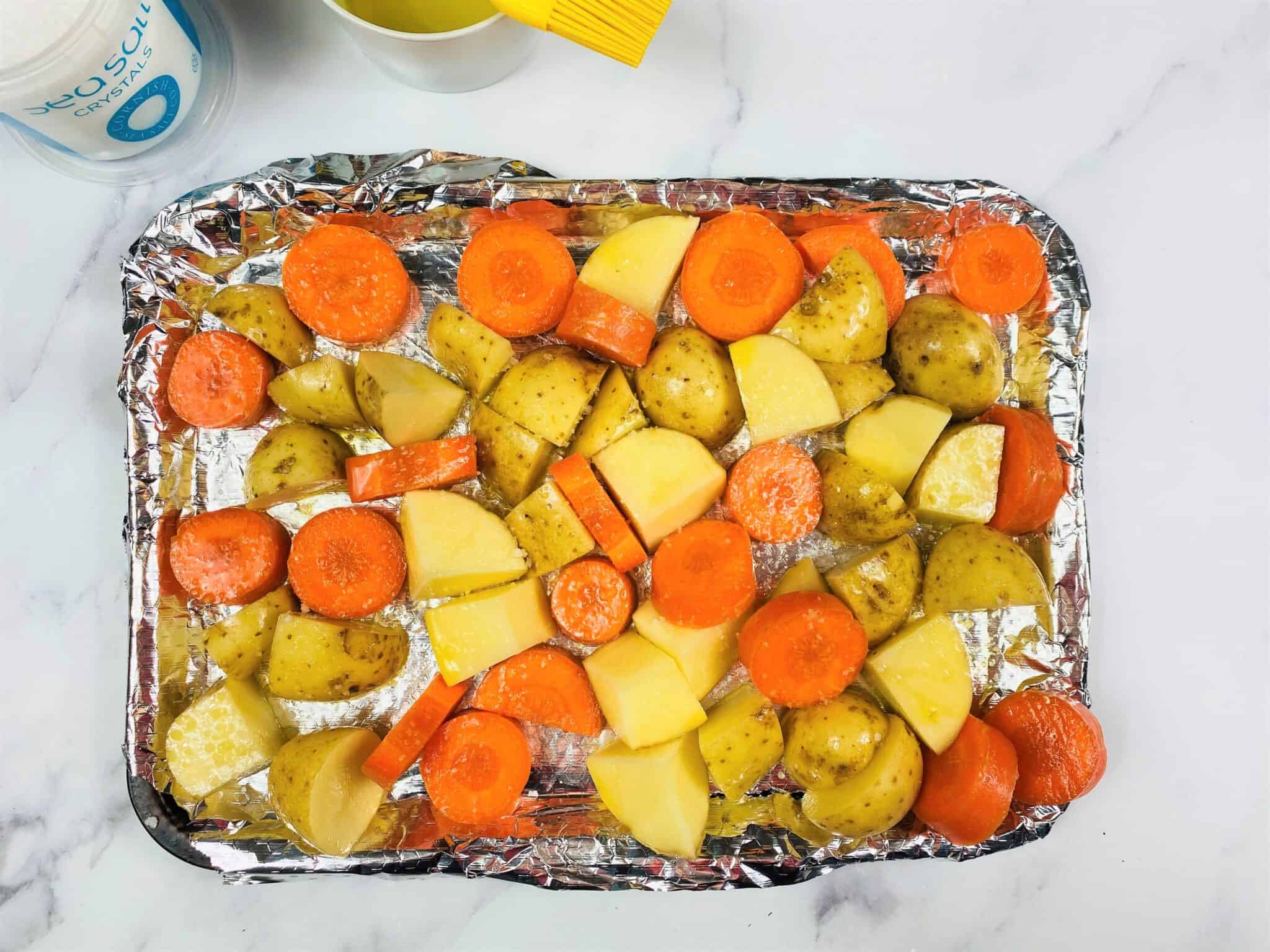 I used plain pork sausages, but you could use some flavoured ones – I particularly like the Bramley apple flavoured ones for tray bakes!
The only ingredients I peeled were the red onions – the rest just got washed and chopped up. I tried to cut the carrots to a similar size as the potatoes so that they would be ready at the same time.
You will need 2 baking trays for this as you won't want to cook the sausages in the same tray as the vegetables.
In tray 1 add the chopped potatoes and carrots. Drizzle with some olive oil and season with sea salt and black pepper. You can also add in some extra dried herbs or spices if you want to.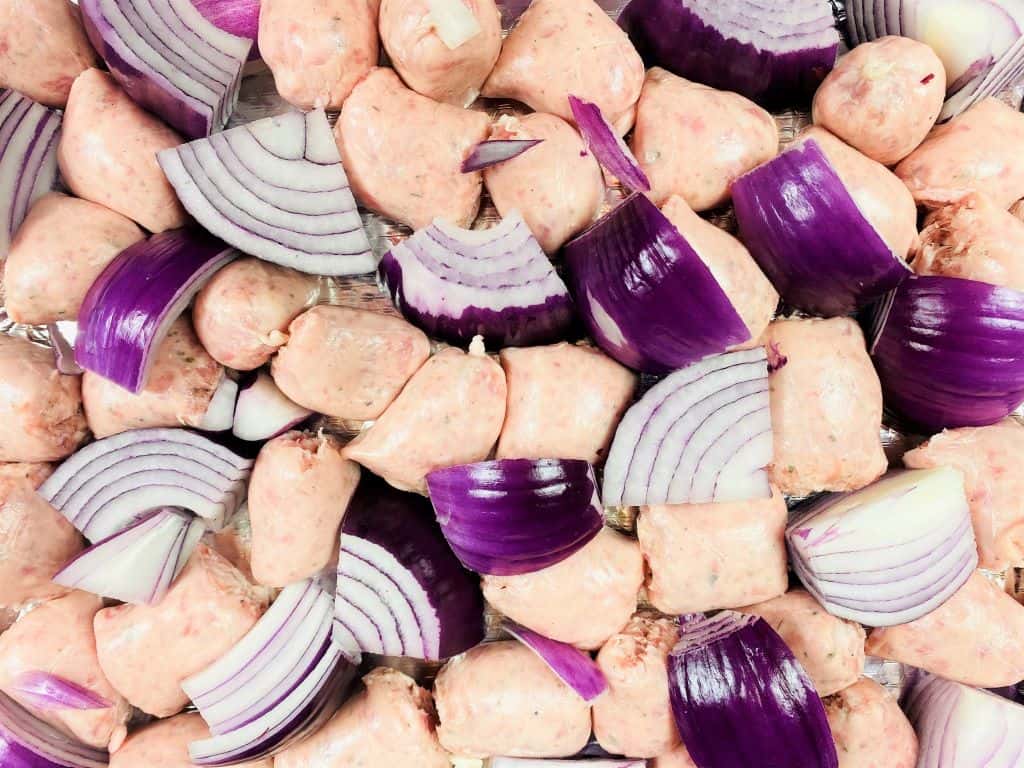 In tray 2 add the raw sausages – I cut each sausage into 3 so that they are bite sized. Add in the red onions having quartered them.
Place tray 1 on the top shelf of a preheated oven (200C/180C Fan/Gas Mark 6), and tray 2 beneath it.
Cook for around 40 minutes, or until the sausages are browned and the vegetables are cooked through.
Drain the fat from the sausage tray and mix with the roasted vegetables.
Serve as it is, or with my favourite – a side of roasted Brussel sprouts!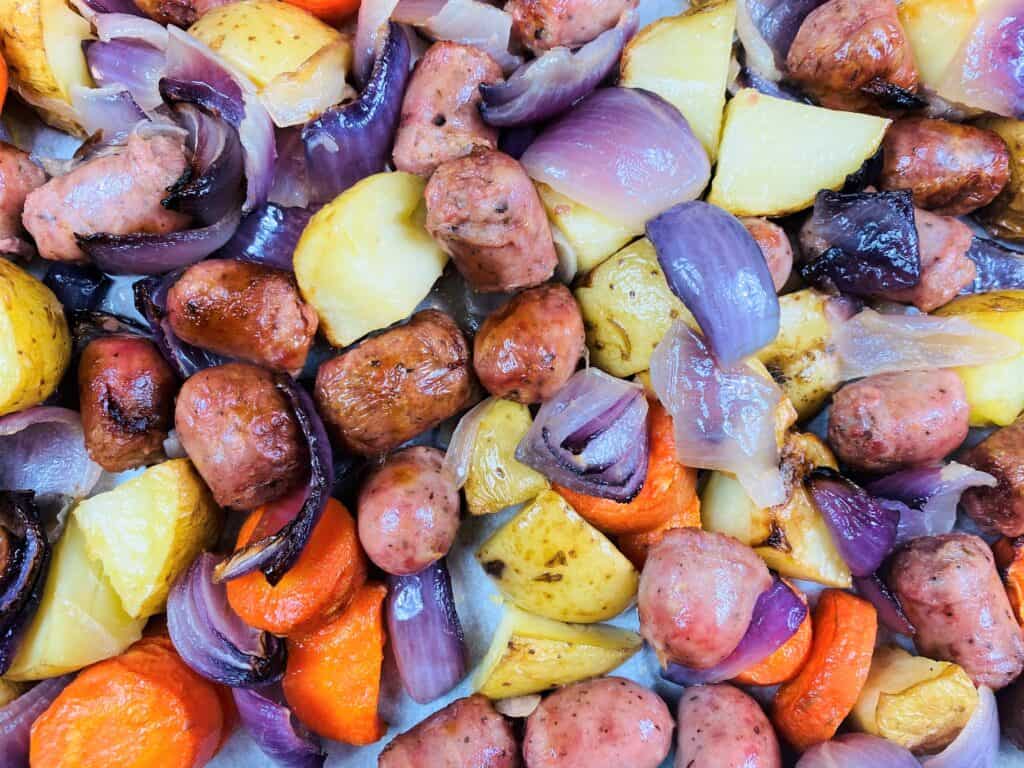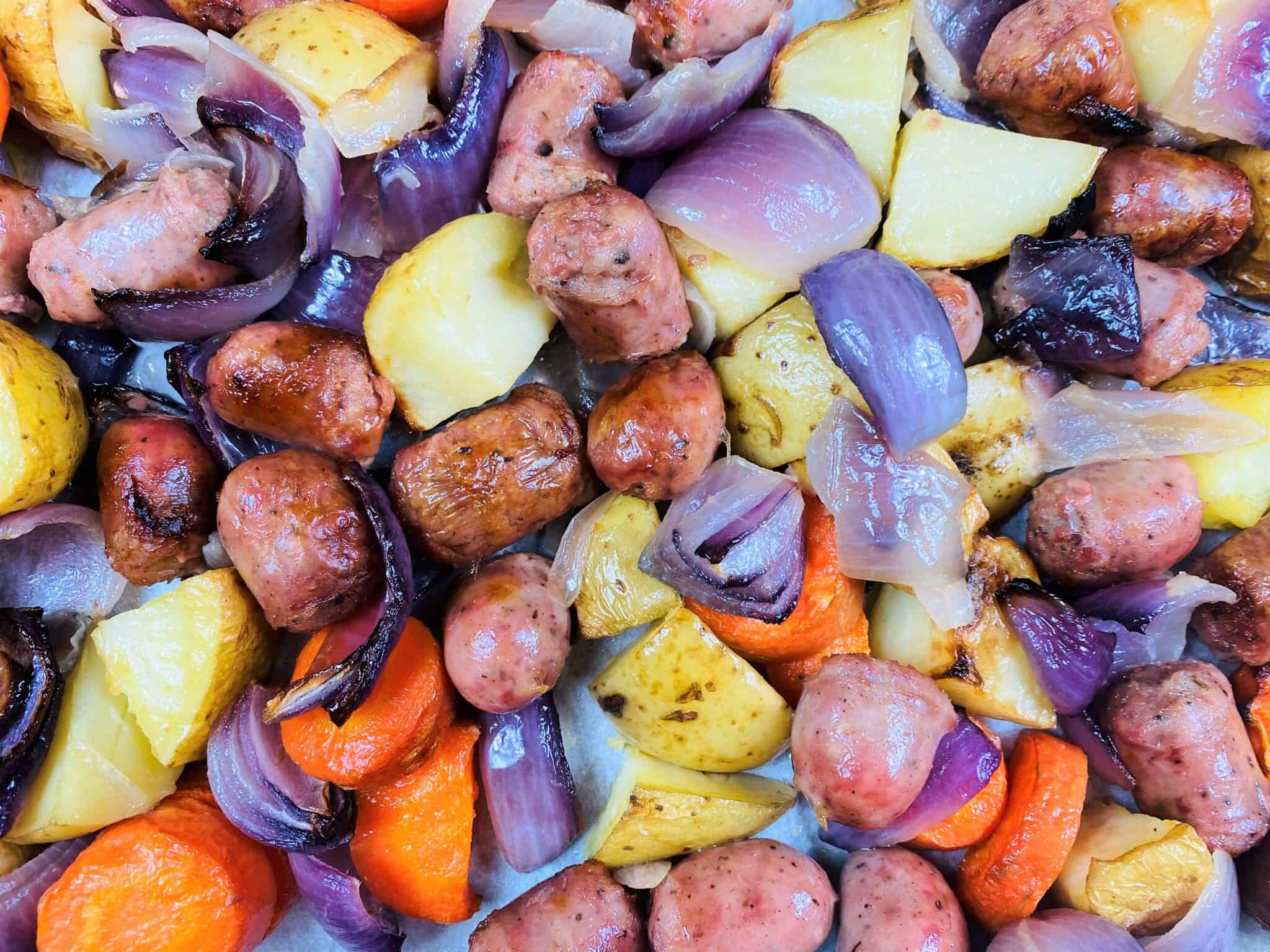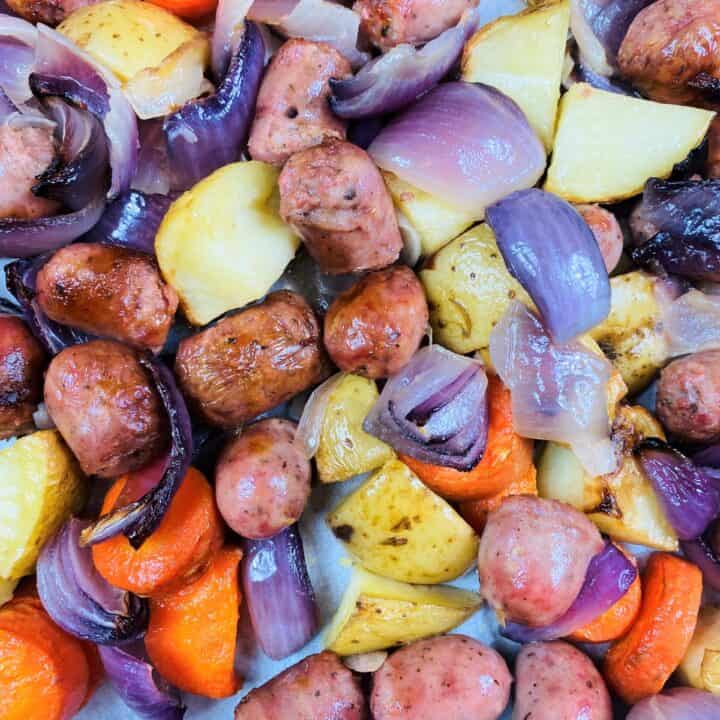 Sausage Tray Bake
Sausage tray bake is a quick to prepare recipe that is perfect for a simple meal any day of the week.
Ingredients
12 pork sausages
3 large red onions
750g Maris Pipers
500g carrots
1tbsp olive oil
Sea salt and black pepper
Instructions
Preheat oven to 200C/180C Fan/Gas Mark 6.
Wash the carrots and potatoes and chop up to similar sizes. Add to a baking tray.
Drizzle with olive oil and season. You can also add your favourite herbs and spices.
Cut up each sausage into 3 (or in half if you prefer) and quarter the red onions.
Place sausages and red onions in a 2nd baking tray.
Place tray 1 - with the vegetables - on the top shelf of the oven and tray 2 - with the sausages - below it.
Cook for about 40 minutes, checking on them half way through and shaking about to make sure all sides are cooked. The sausages will be brown and the vegetables will be cooked through.
Nutrition Information:
Yield:

4
Serving Size:

1
Amount Per Serving:
Calories:

340
Total Fat:

23g
Saturated Fat:

7g
Trans Fat:

0g
Unsaturated Fat:

15g
Cholesterol:

59mg
Sodium:

711mg
Carbohydrates:

21g
Fiber:

5g
Sugar:

10g
Protein:

15g