Do you love the flavours of the Mediterranean? It's time to bring that taste home with this recipe for roasted Mediterranean vegetables.
Roasting is a great way to cook because it caramelises the vegetables and brings out their natural sugars, making them sweet and savoury.
Roasted vegetables are full of flavour and provide a great side dish or light lunch option.
Roasting Mediterranean Vegetables
The choice of vegetables you use for roasting when making this recipe is entirely up to you, as well as what you have available.
Here are some ideas;
Peppers – mixed colours
Cherry tomatoes
Courgettes
Red onions
Baby potatoes
Mushrooms
Aubergines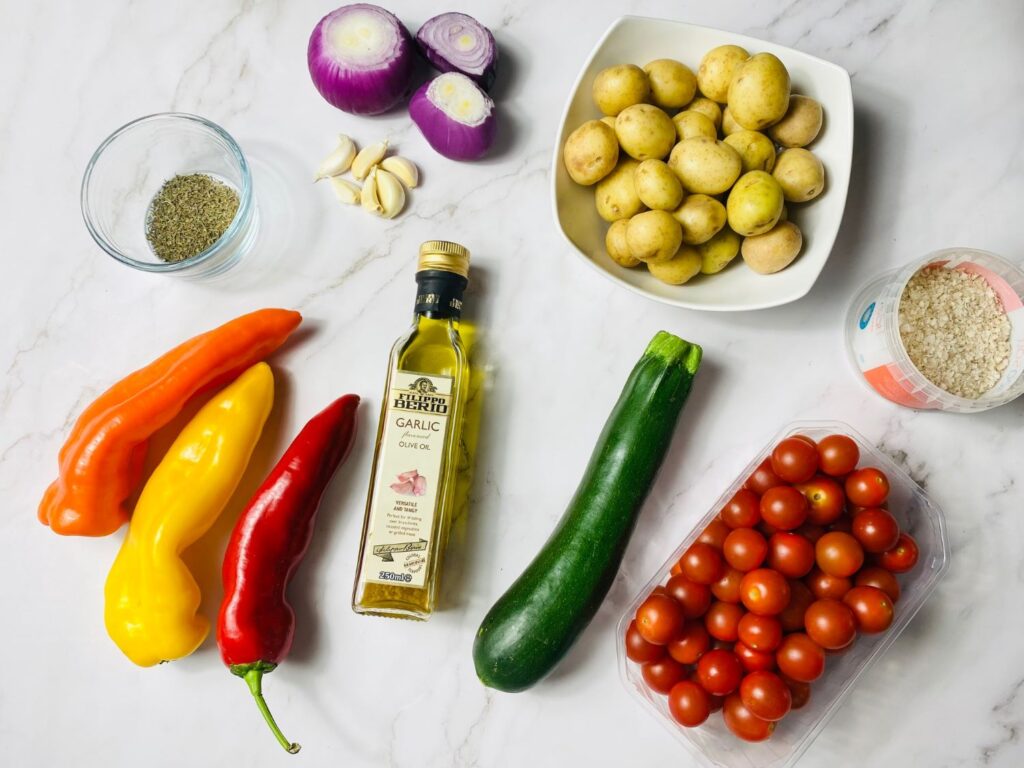 You will also need:
Olive oil
Dried herbs – thyme and oregon are good choices
Salt and pepper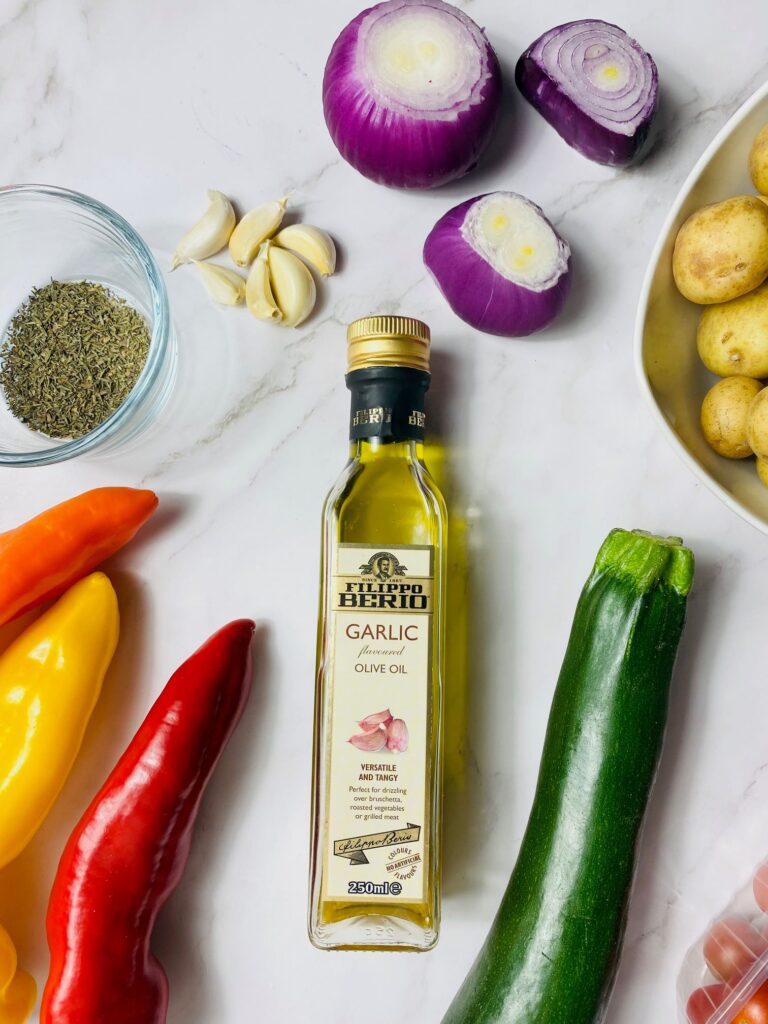 You can optionally top off your roasted Mediterranean vegetables with some feta or halloumi cheese, olives and pine nuts.
Preparing The Vegetables
Before you start preparing the vegetables, preheat the oven to 200C/180C Fan/gas mark 6.
Give all the ingredients a good wash and chop them up. Try and slice them to roughly the same size, this way they will cook more evenly and be ready at the same time.
If you are including new potatoes you will need to cook them for a little bit before the remaining ingredients. If they are large potatoes slice them in half before putting them on a baking tray. Drizzle with olive oil and sprinkle with some dried herbs.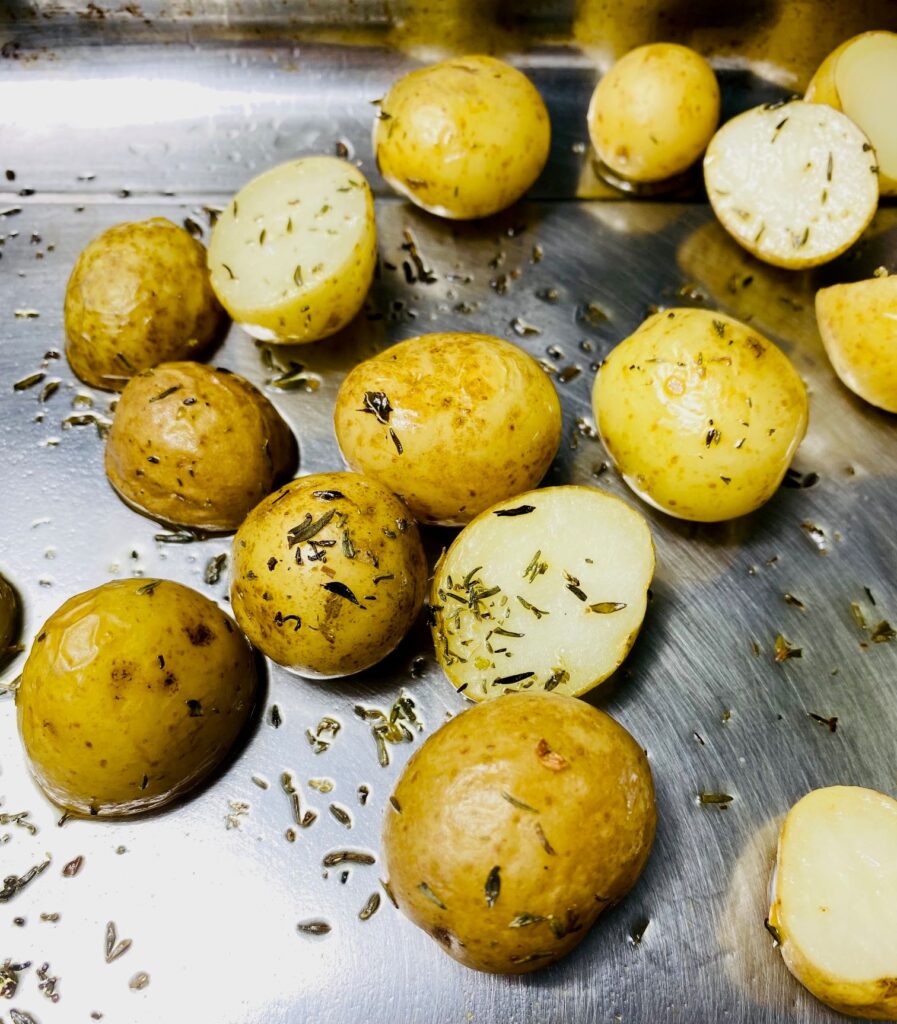 Cook them for about 10 minutes before adding the remaining ingredients to the baking tray. Drizzle with some more oil and add some more dried herbs. Sprinkle some sea salt and a little pepper over the top too.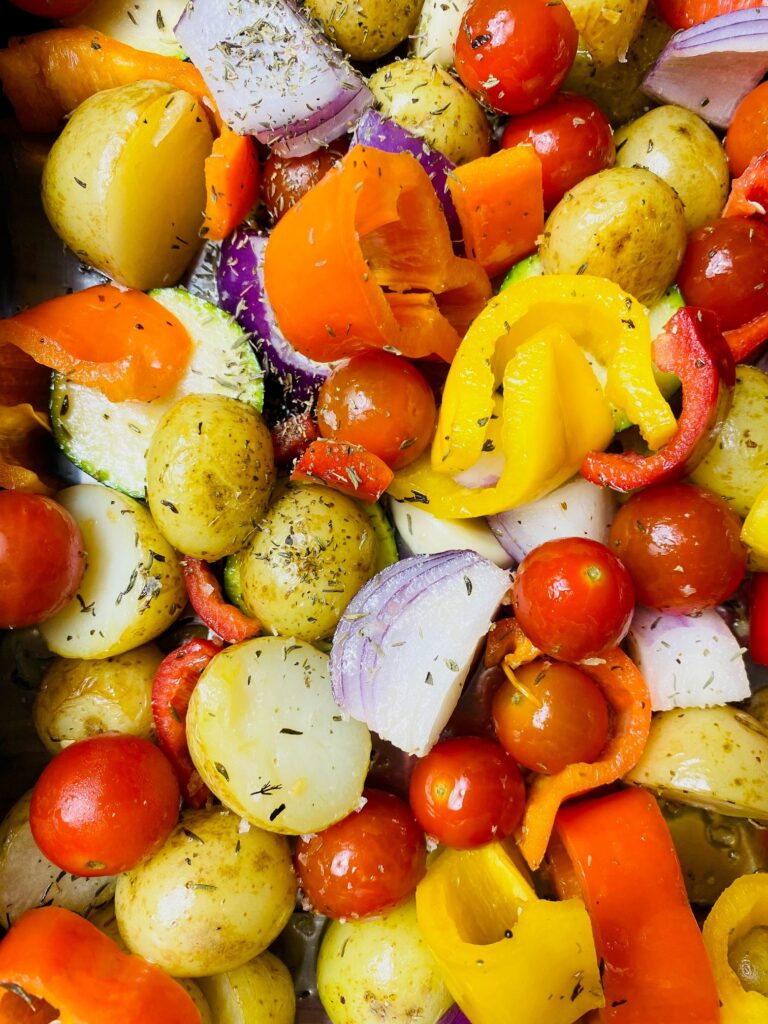 Return to the oven and cook for a further 20 minutes or until the vegetables are soft and starting to burn slightly (char) in a few places.
If you want to melt some cheese over the top you can sprinkle it on a few minutes before the end of the cooking time so that it can melt.
Serve immediately either on its own or as a side dish as part of a main meal.
I hope you've enjoyed this Roasted Mediterranean Vegetable recipe, let me know in the comments if you make it!
You might also like;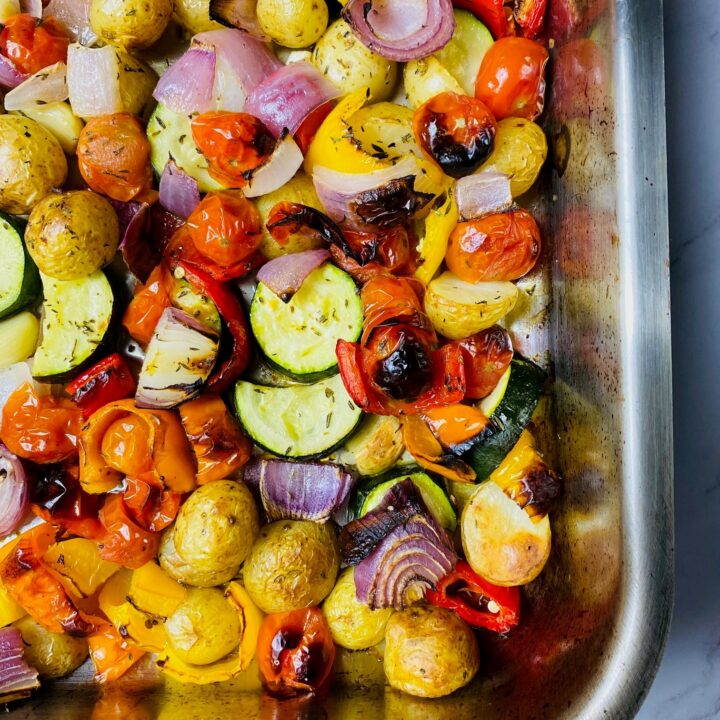 Roasted Mediterranean Vegetables
Roasted Mediterranean Vegetables are a quick and easy recipe to prepare. Drizzled in olive oil they take less then 30 minutes to roast in the oven.
Ingredients
750g new potatoes
2 to 3 sweet mixed peppers
1 to 2 courgettes
250g cherry tomatoes
1 to 2 red onions
4 cloves garlic
2 tsp dried mixed herbs
3 tbsp extra virgin olive oil
Instructions
Preheat the oven to 200C/180C Fan/Gas Mark 6.
Prepare the vegetables by washing them and chopping them to similar sizes. Peel the garlic cloves and bash each one so that they slightly split open.
If you are including potatoes in your Roasted Mediterranean Tray Bake they will need a head start on the cooking time as they take a little longer. Place them on a baking tray and drizzle a little of the olive oil over them. Sprinkle some dried herbs and some sea salt and pepper. Put the baking tray in the hot oven and cook for 10 minutes.
Remove the tray out of the oven and add the remaining ingredients. Drizzle the remaining olive oil over them and some more dried herbs and if required some more salt and pepper.
Place the baking tray in the oven and cook for a further 20 minutes, checking on them after 10 minutes and give them a good shake.
The vegetables are ready when they are softened and some of them are slightly charred.
Nutrition Information:
Yield:

4
Serving Size:

1
Amount Per Serving:
Calories:

341
Total Fat:

11g
Saturated Fat:

2g
Trans Fat:

0g
Unsaturated Fat:

9g
Cholesterol:

0mg
Sodium:

30mg
Carbohydrates:

57g
Fiber:

8g
Sugar:

10g
Protein:

8g