Chicken and chorizo tray bake is a quick to prepare oven meal that the whole family will enjoy.
Add a touch of Spanish flair to your meals with this tasty Chicken and Chorizo Tray Bake. It's a hearty, flavourful, and easy-to-make dish that combines succulent chicken, smoky chorizo, and an assortment of fresh vegetables, all baked to perfection.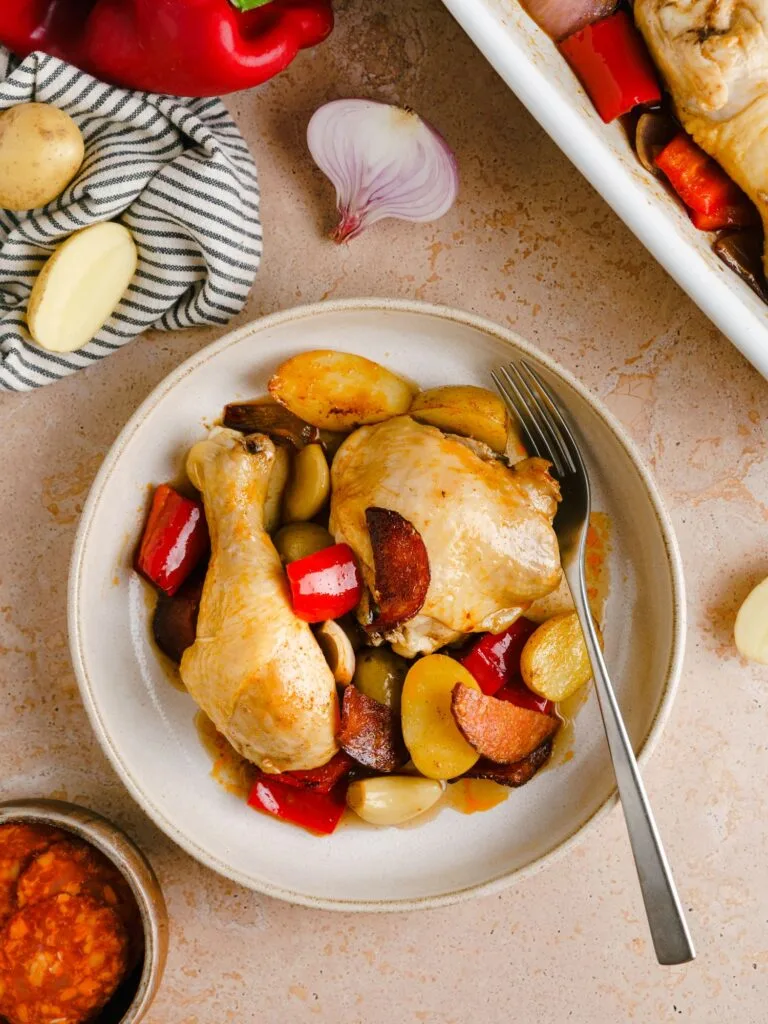 How To Make Chicken and Chorizo Tray Bake
The combination of chicken and chorizo is the perfect match, alongside other vibrant and full of flavour Mediterranean ingredients.
To print out this recipe, please head down to the recipe card at the bottom of this post.
What You Need: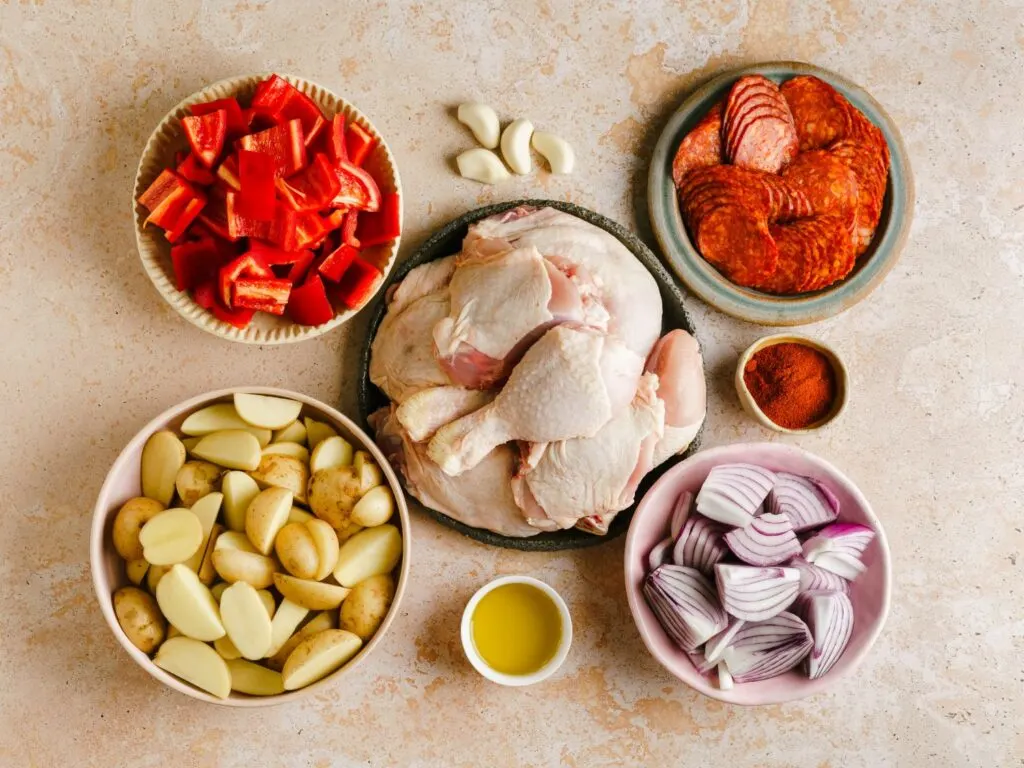 Chicken pieces – I used a combination of chicken thighs and chicken legs. I used 2kg in total; this comfortably fed 5 of us; you can reduce this to 1.5kg for fewer people. Thighs and drumsticks are ideal as they stay juicy and tender during baking. If you prefer, you can substitute with chicken breasts, though be careful not to overcook them as they can become dry.
Chorizo – if you can, use diced chorizo, either prepared or use a chorizo sausage and chop it up yourself. I could only get fine chorizo slices, but I would typically prefer chorizo chunks.
Onions and garlic – you can use red or brown onions, chop them into chunks. I used four garlic cloves, but you can use as many as you want.
Mixed sweet peppers – sweet peppers add colour and a slight sweetness. Feel free to experiment with different colours of bell peppers, or for a kick of heat, try using a spicier pepper variety. Deseed the peppers and chop them up into large chunks.
Potatoes – you can use any type of potatoes you prefer. I used sweet potatoes, but new potatoes or regular all rounder potatoes will work just as well. I allowed about 100g per serving, around 400g for four people. I didn't peel the potatoes; I just gave them a good wash to clean them. Dice the potatoes, or cut them into potato wedges. Don't leave the potatoes too big; they must cook simultaneously with the chicken.
Oil – you won't need to add too much as the chorizo will release plenty of oil as it cooks. Used for lightly oiling the baking tray and brushing over the ingredients. It can be replaced with other types of cooking oil if desired.
Spices and/or herbs – I used about 2 tbsp of smoked paprika, sprinkling it all over the ingredients of the tray bake. Smoked paprika gives the dish a warm, smoky flavour. If you don't have smoked paprika, regular paprika can be used instead, or for a spicy kick, try hot paprika. You can also use herbs such as rosemary, thyme and/or parsley.
Making the Chicken and Chorizo Tray Bake
Start by preheating your oven to 220C/200C fan/gas 7. While the oven is warming, lightly oil a large baking tray with some of the olive oil. This will prevent the ingredients from sticking.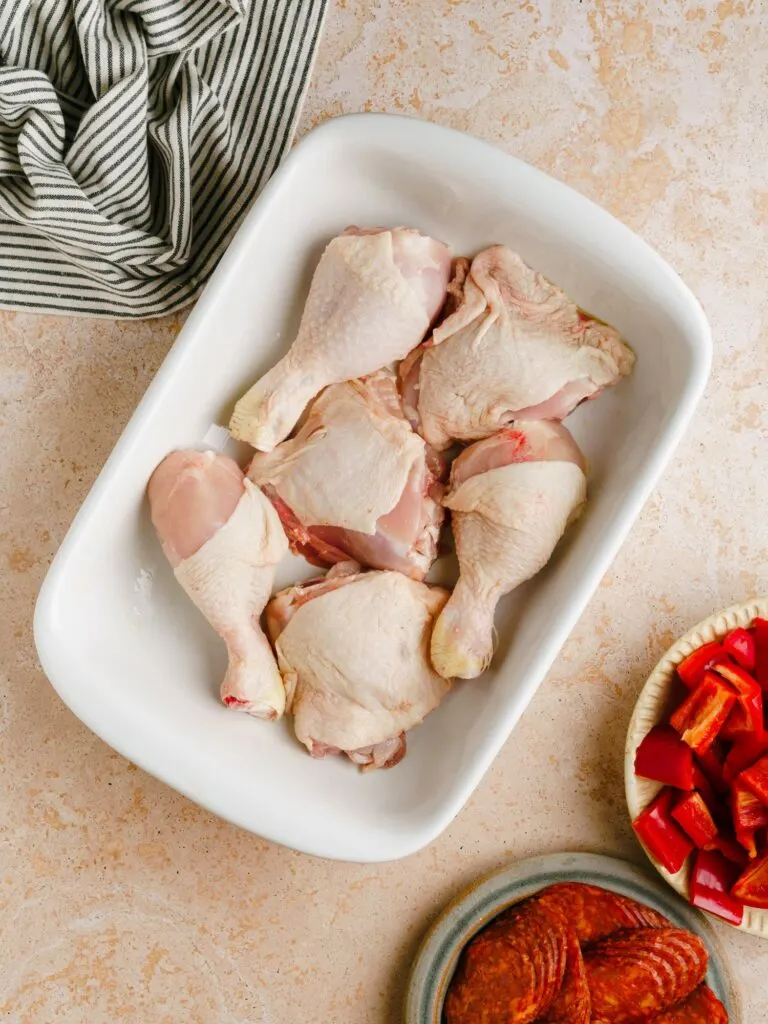 Lay your chicken pieces in the oven safe tray or dish.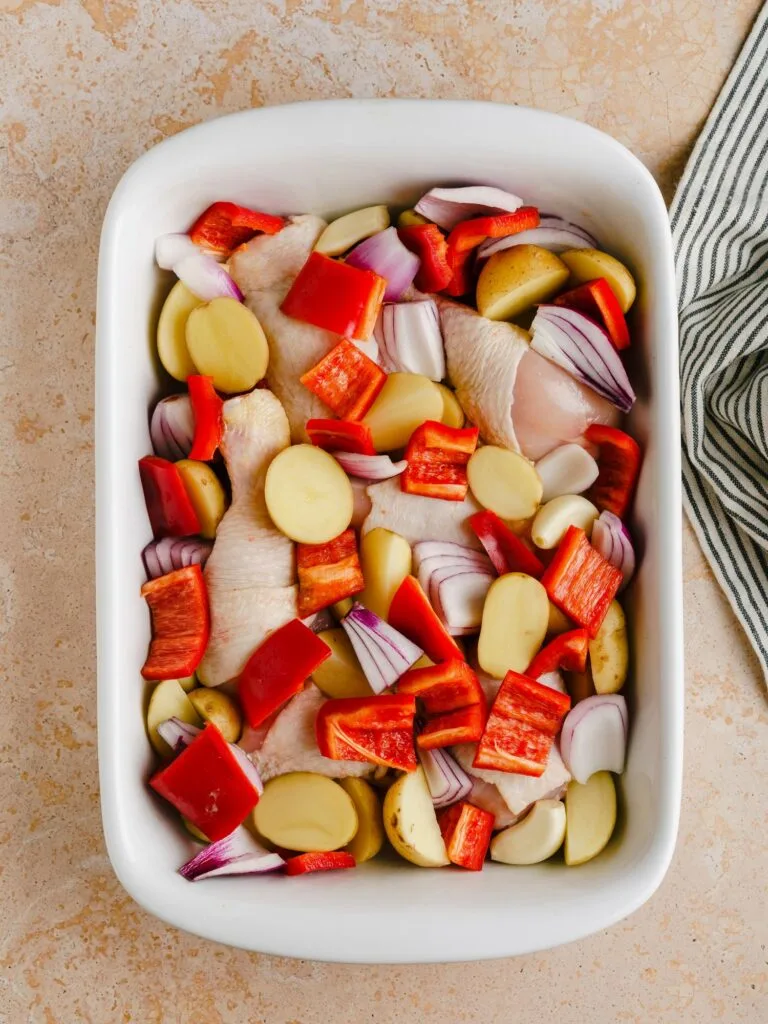 Next, scatter the chopped chorizo, garlic cloves, quartered red onions, potato cubes, and sliced sweet peppers throughout the tray.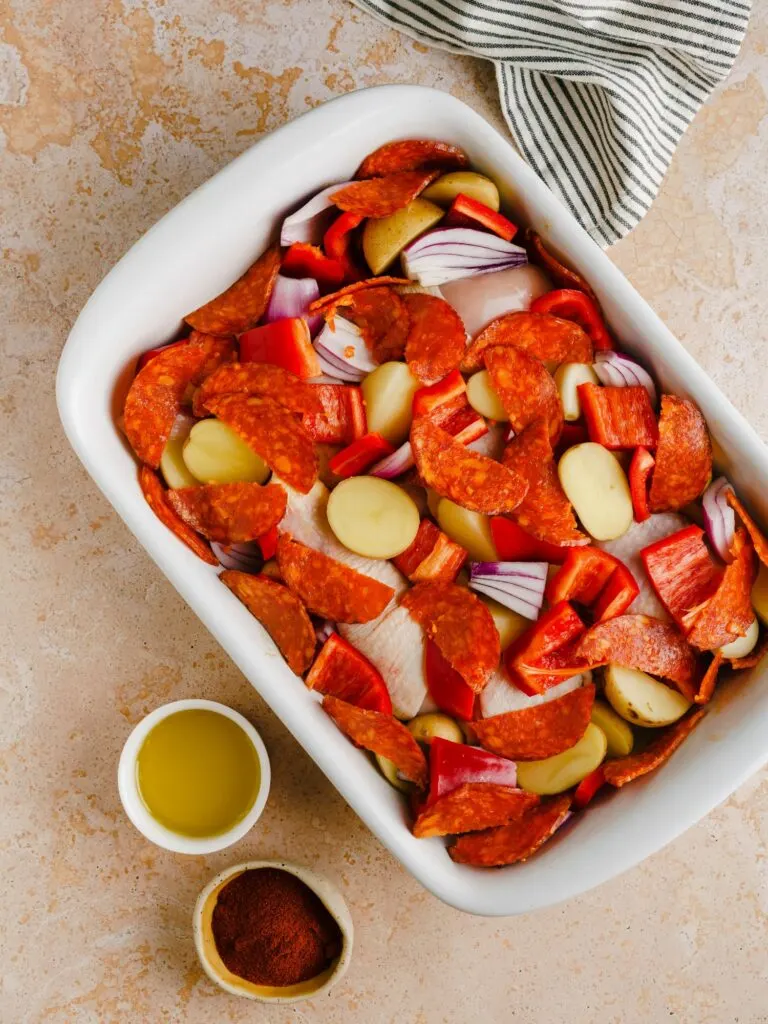 Brush all the ingredients with olive oil. This will help them roast to perfection, bringing out their natural flavours.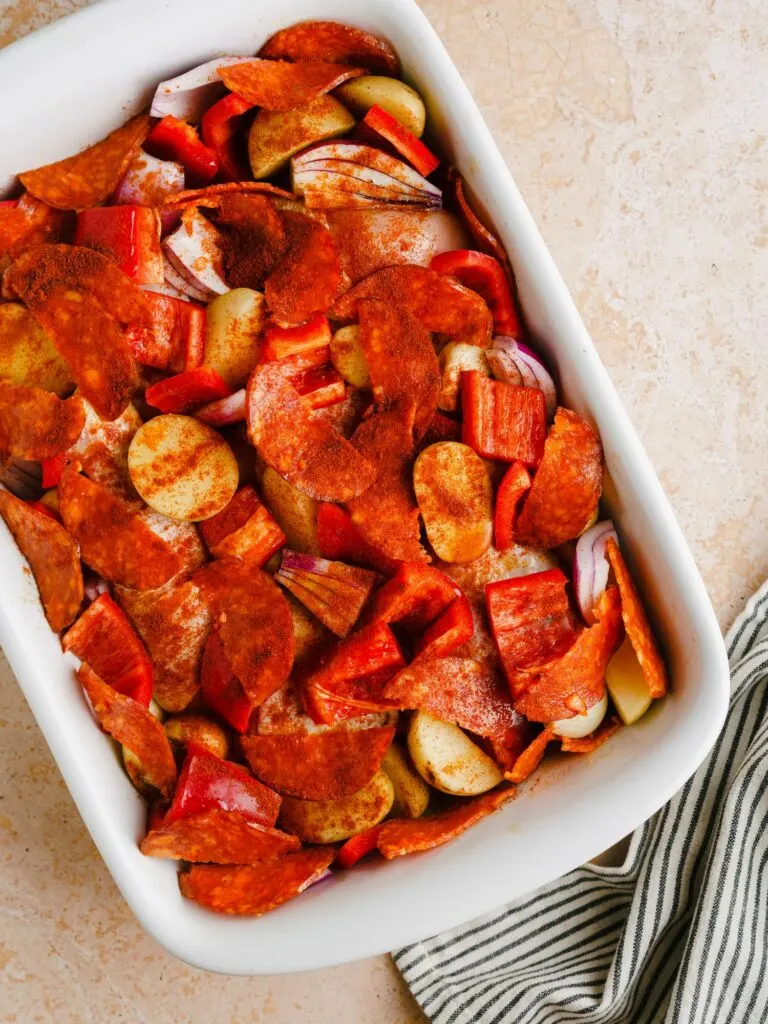 After that, evenly sprinkle smoked paprika over everything. This will give the dish a beautiful colour and smoky flavour that pairs perfectly with the chorizo.
Pop the tray in your preheated oven and let it cook for about 45 minutes. You might need to extend the cooking time if your chicken pieces are large.
During the cooking process, be sure to check on the tray bake at least once. Turn the chicken pieces over and baste all the ingredients with the juices that have collected in the tray. This will keep everything moist and flavourful.
Serving the Chicken and Chorizo Tray Bake
Once you've checked that the chicken is thoroughly cooked, it's time to serve!
This tray bake is a complete meal on its own, but if you want to lighten it up a bit, pair it with a simple green salad. For a more filling meal, serve it with crusty bread to soak up the delicious juices.
Can I Add Other Vegetables To This Dish?
Yes, you can add different or additional vegetables to this chicken and chorizo tray bake. This dish is very versatile. Try adding cherry tomatoes, courgettes, or chunks of butternut squash.
How Do I Store Leftovers?
Leftovers can be stored in an airtight container in the fridge for up to 3 days. Reheat in the oven or microwave until piping hot.
Can I Make This Dish In Advance?
Yes, you can prepare everything in the tray, cover it and keep it in the fridge for a few hours before baking. Remember to bring it to room temperature before placing it in the oven.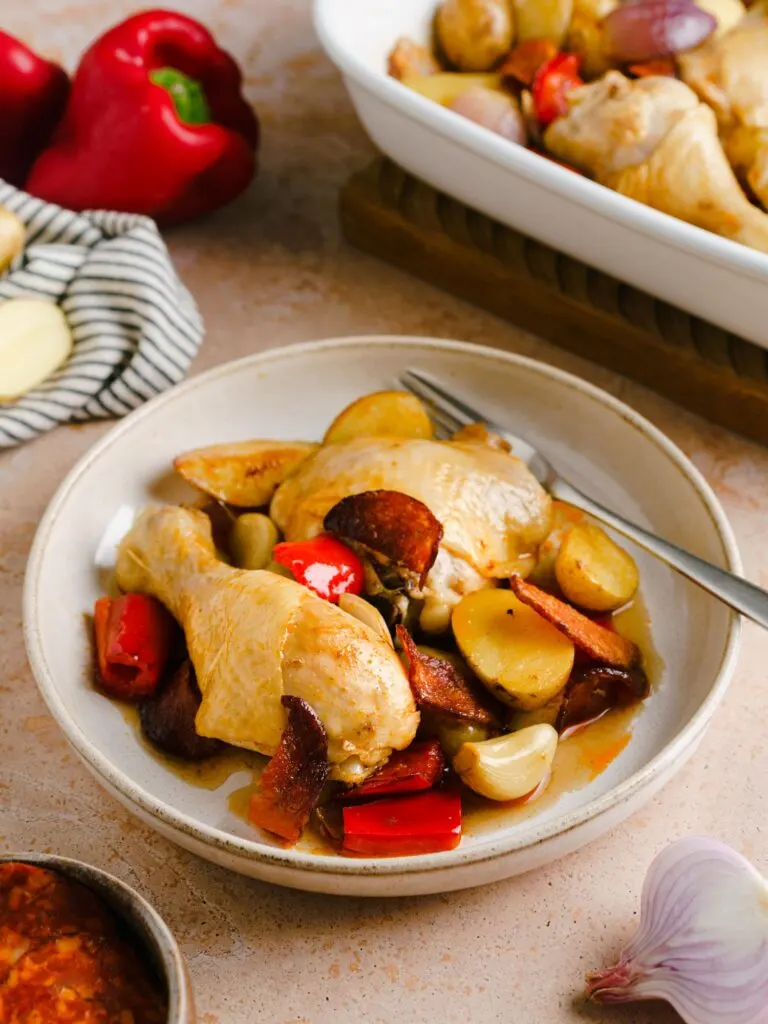 More Tray Bake Recipes
If you love the idea of cooking everything together, you might like the following tray bake recipes: