Did you know there are over 4,000 types of potatoes in the world?
In the UK alone there are over 500 varieties of the humble potato, but most of us only need to be familiar with the main ones that we use for every day cooking.
Whether you are buying your spuds at the supermarket, market stall or growing potatoes at home, it's worth knowing which common potatoes are available, and what type of recipe they are best for.
First we will list out the most popular potato types, and then at the bottom of the article you will find a round up of the best potatoes for each style of cooking.
Types Of Potatoes For Everyday Cooking
This list is by no means exhaustive – there are many more potato varieties, but these are the most common and popular types available in the UK. If I've missed your favourite off the list, feel free to let me know in the comments!
Baby (New) Potato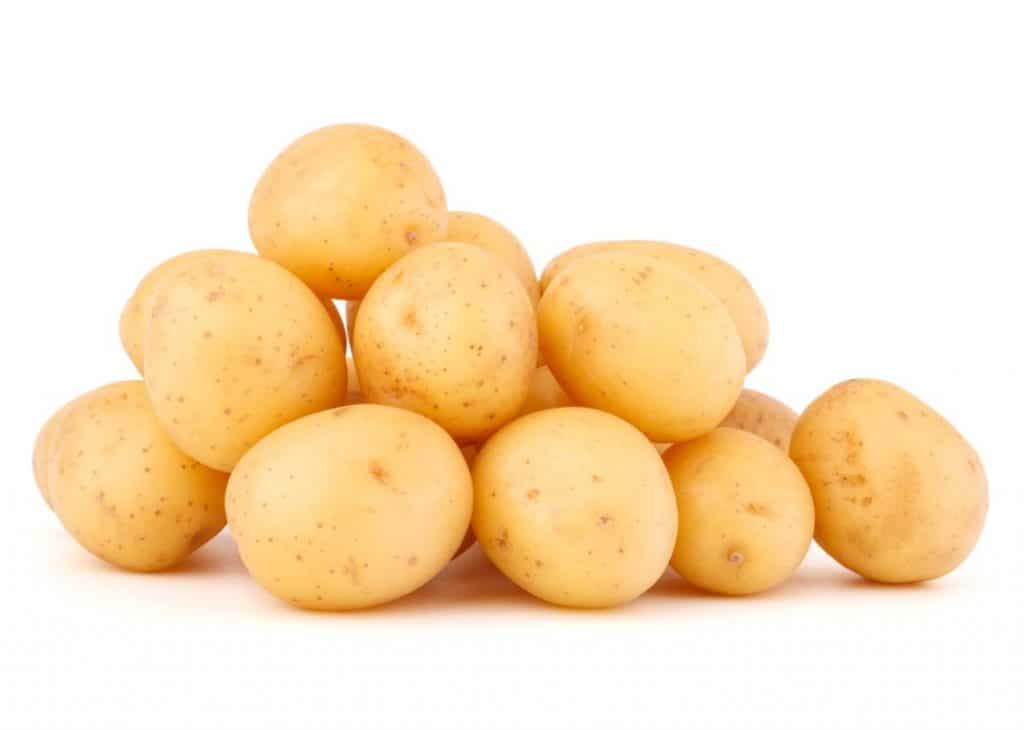 Baby potatoes are basically the 'baby' version of a potato variety, picked before it has grown to full size. They tend to be sweeter in taste than when fully grown and have a creamy interior.
They can be used in many potato dishes; boiled, roasted, steamed – they work great in salads. They take about 15-20 minutes to boil on the hob, or about 8 minutes in a microwave.
The skin can be left on baby potatoes, or if you prefer you can peel them.
Baby potatoes taste great when they've been cooked in butter and herbs!
Charlotte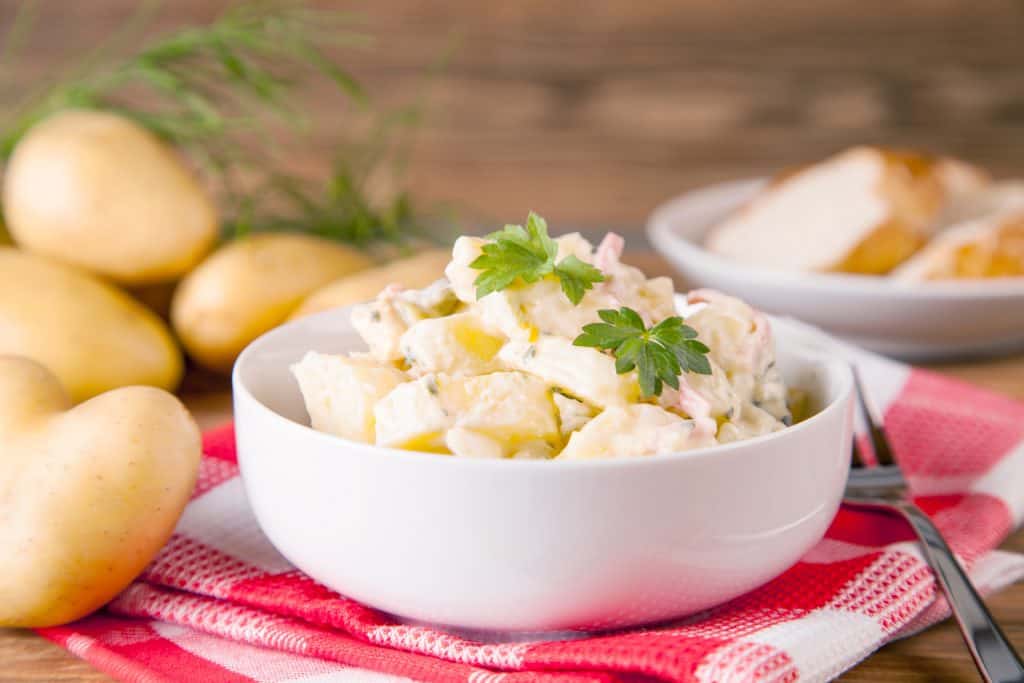 Charlotte potatoes are a popular choice in the UK for salads. They are quite long potatoes with a waxy light brown skin that is thin enough to leave on. The flesh is firm and yellow, ideal for holding shape when boiled.
Charlotte potatoes taste amazing when they have been boiled, sliced and sauteed. They are also perfect for roasting.
Desiree
Desiree are great all-rounder potatoes, with their red skin and creamy yellow flesh inside, they are ideal for chips, potato wedges, mashed potato, or roast potatoes.
Although originally from Holland, the Desiree is regularly grown throughout England and Wales. The versatile potato can be large in size, has a shiny red skin and a creamy, waxy flesh that is firm and very tasty!
Jersey Royal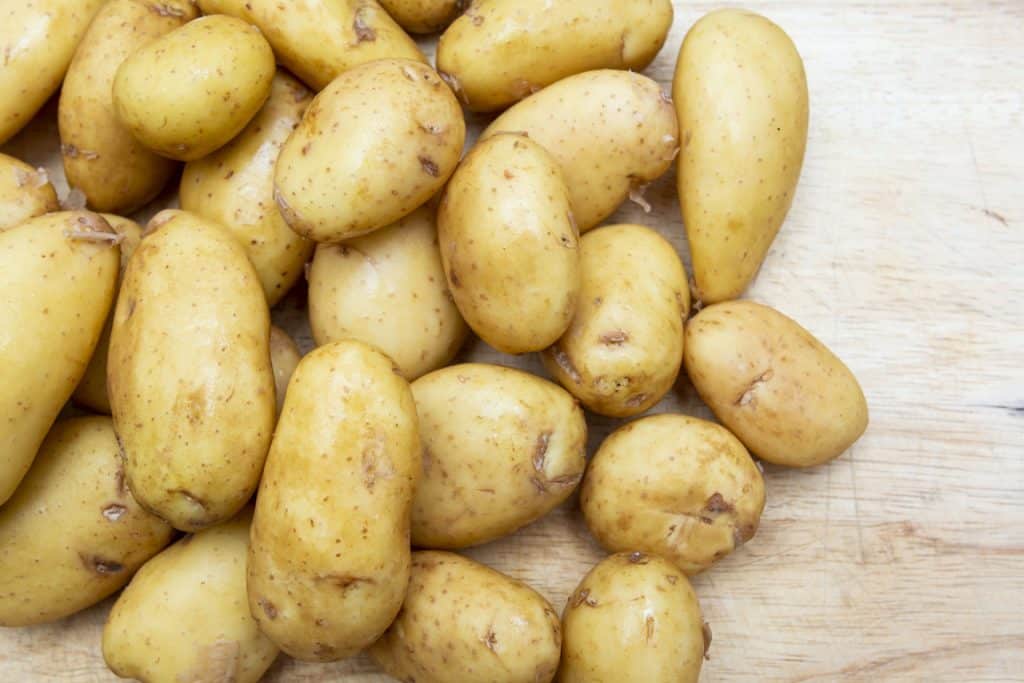 Jersey Royal potatoes are unique and exclusive to the island of Jersey. The small and sweet potatoes have been grown on Jersey for 140 years, with around 20 farmers on the island growing them – with some farmers exclusively growing this crop and variety only.
This potato type are small in size and waxy – perfect for boiling and for using in potato salads.
There is no need to peel the skin of Jersey Royals, just give the skin a good clean and cook the whole potato.
King Edward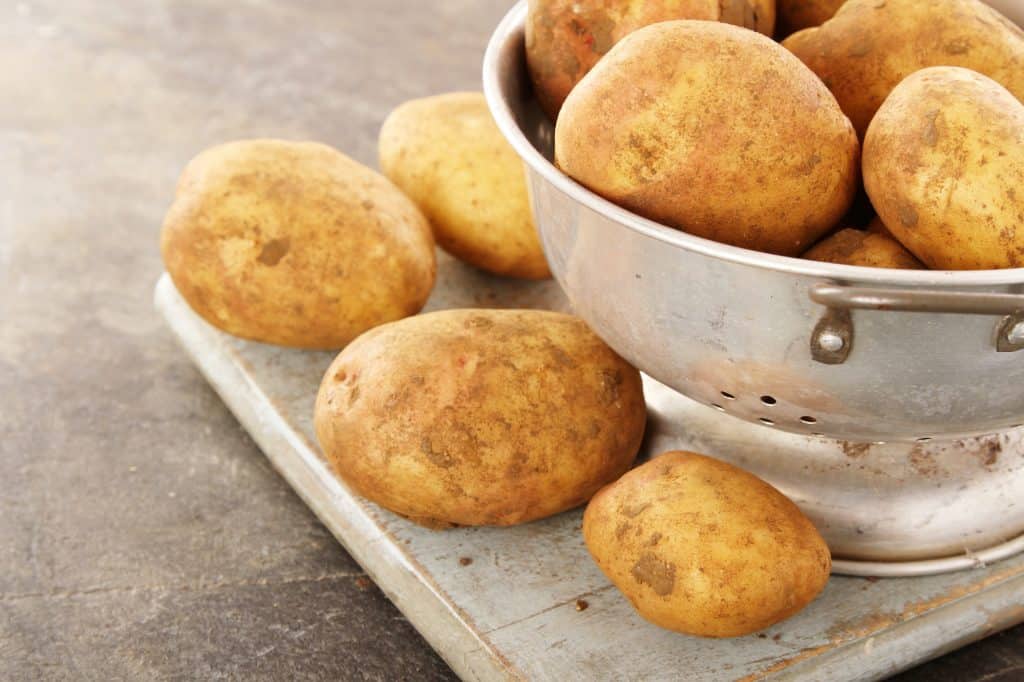 King Edward potatoes are a classic all-rounder – grown in the UK since 1902, they taste great and store well.
Named after King Edward VII – they originated in the same year of his coronation – they can be found in all high street supermarkets, and in many allotments and back gardens.
King Edwards are usually oval in shape, and a little smaller than the equally popular Maris Piper. The light brown skin is easy to peel, and the floury and waxy, creamy-white flesh makes them ideal for roasting, boiling and mashing.
Maris Piper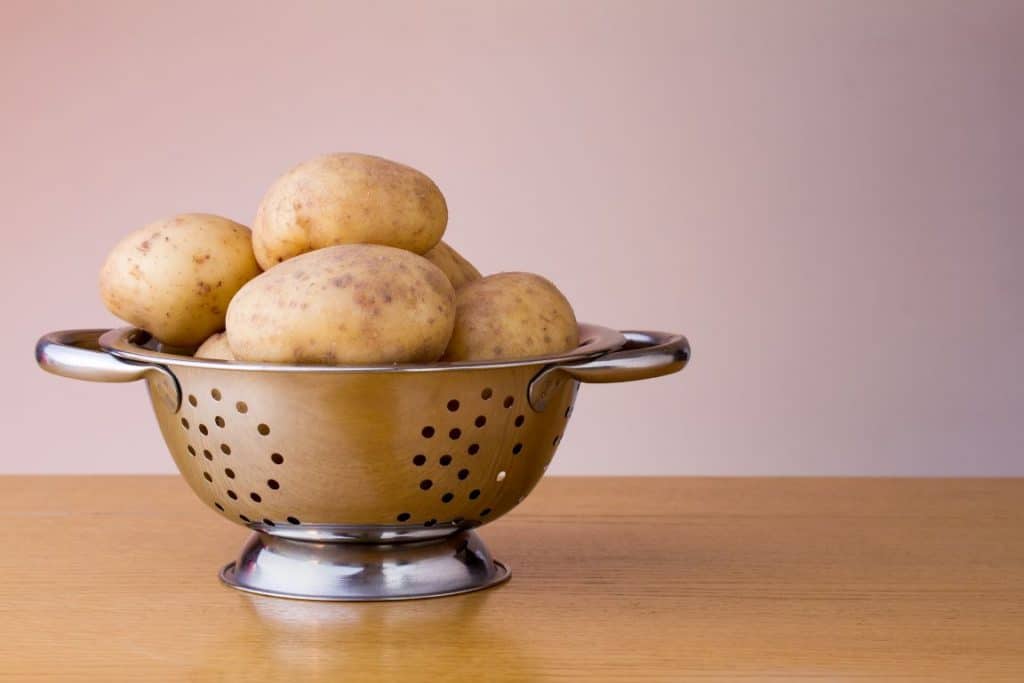 Maris Pipers are probably the most frequently bought potato in the UK. They are a versatile, all rounder, commonly used for making chips, as well as roast potatoes.
Maris Pipers are a popular choice, not only for the variety of cooking styles it is suited too, but also, the storage life. Maris Pipers are easy to store and keep well for long lengths of time.
Although the Maris Piper is most well known for making chips, it is also well suited for frying, boiling, mashing and roasting.
They have a smooth brown skin and a creamy flesh.
Best Potatoes For Roasting
Desiree
King Edward
Maris Piper
Best Potatoes For Mash
Desiree
King Edward
Maris Piper
Best Potatoes For Chips
Desiree
King Edward
Maris Piper
Related:
Air Fryer Chips
Homemade Oven Chips
Best Jacket Potatoes
Baking Potatoes – many supermarkets simply label potato varieties suitable for jacket potatoes as 'baking potatoes.'
Maris Pipers
Related: Microwaved Jacket Potato – Slow Cooker Jacket Potatoes
Best Potatoes For Salads
Charlotte
Jersey Royals
New Potatoes
Waxy potatoes like Charlotte, Jersey Royals, or any new potatoes are best for potato salad – they hold the potato together during the boiling process and don't fall apart when tossed. Try to avoid using floury potatoes as these are more likely to crumble.
Best Potatoes For Boiling
Charlotte
Desiree
Jersey Royal
Best Potatoes For Soups And Stews
What's your favourite potato? Let me know in the comments which potato you use the most, and what you use it for!