There are plenty of ways to cook a jacket potato – many methods take quite a bit of time – but today, we're going for the quickest method I know, the microwave jacket potato.
Is it the best way to cook a jacket potato?
In my opinion, no, it's not. It doesn't come out all crispy on the outside, like it does when it's baked in the oven (but you can crisp it up if you really want – more on that later), but sometimes speed is the name of the game in the kitchen, and microwaving a jacket potato certainly ticks that box!
Related: Slow Cooker Jacket Potatoes
And actually, it does taste pretty good, especially with the right jacket potato toppings.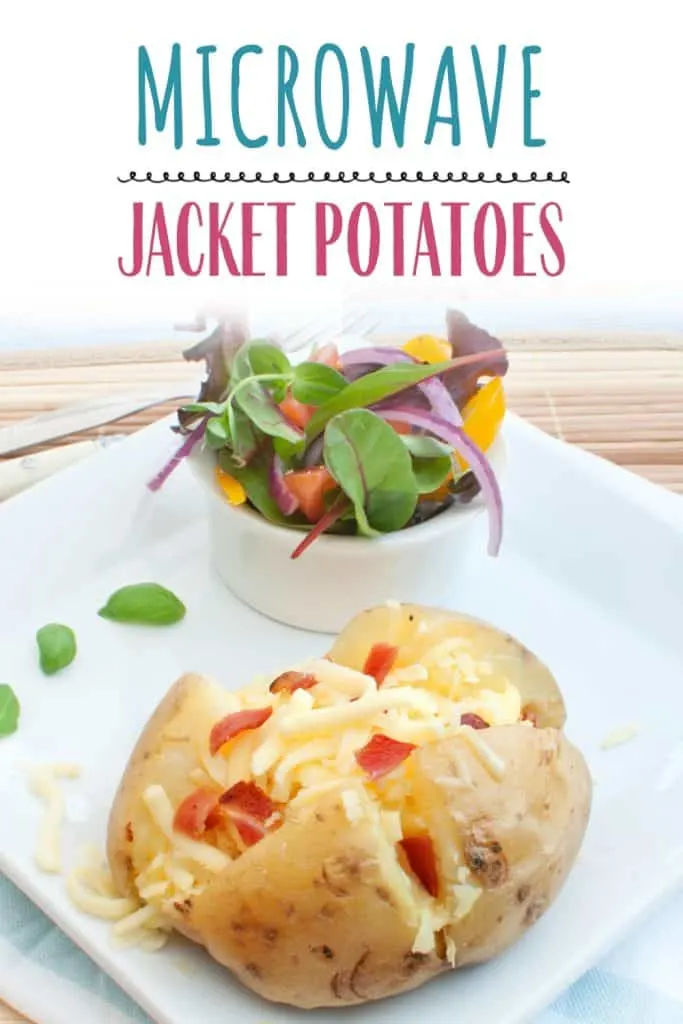 How To Cook Jacket Potatoes In The Microwave
As discussed in the introduction above, microwaving a jacket potato is the most convenient method as it is so quick. You can cook more than one baked potato at a time, making it a suitable choice if you are cooking for more than one person.
Related: How To Cook A Jacket Potato – 5 Different Methods
Pick Your Potato
You'll usually find loose baked potatoes available at the supermarket so you can pick and choose the best sized ones. You don't want one that is too large, or it will take ages to cook, or one that is too small, as it won't fill you up (although you can of course have more than one if need be!)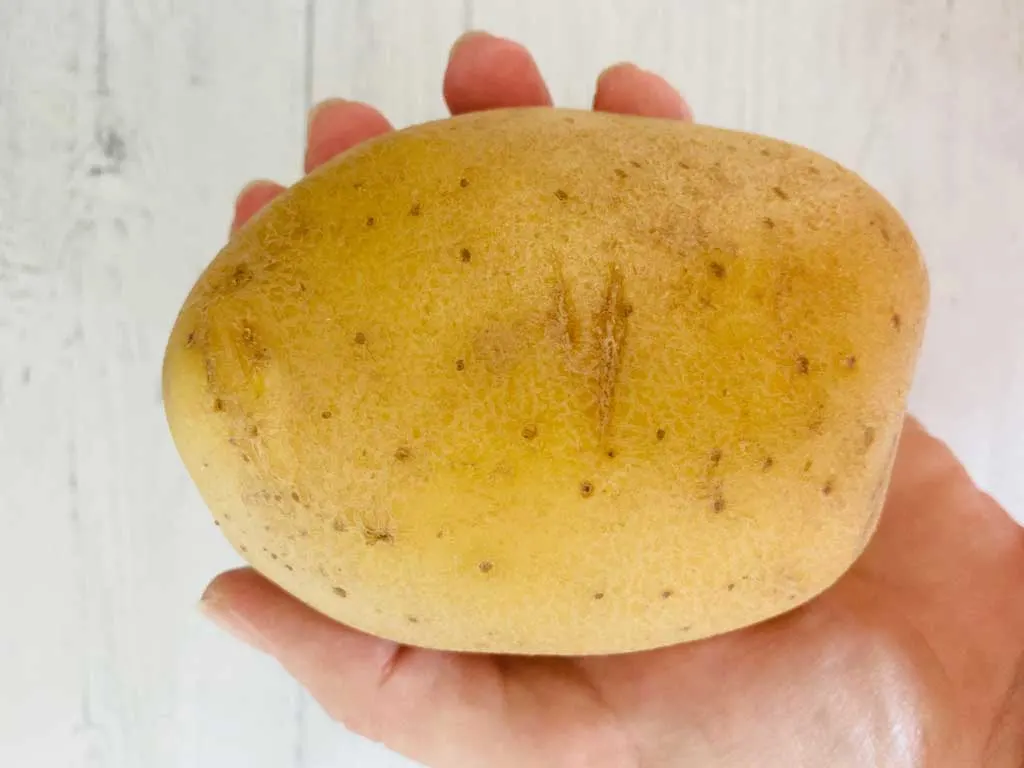 I tend to use medium sized ones – I weighed one yesterday for the purpose of writing up this recipe and it came in at around 350g, so maybe slightly larger than medium. Either way, 250g – 350g is an ideal weight range I would say, don't get to hung up on the weight of them.
If you don't have any baked potatoes, other good varieties for jackets include Maris Piper, King Edward and Vivaldi.
Related: Types of potatoes
Prepare Your Potato
Give the jacket potato a good wash and scrub in some cold water. I love eating the skin of jacket potatoes so I like to make sure it is as clean as possible. Next, pat it dry with some kitchen roll, and then, with a fork, pierce it several times.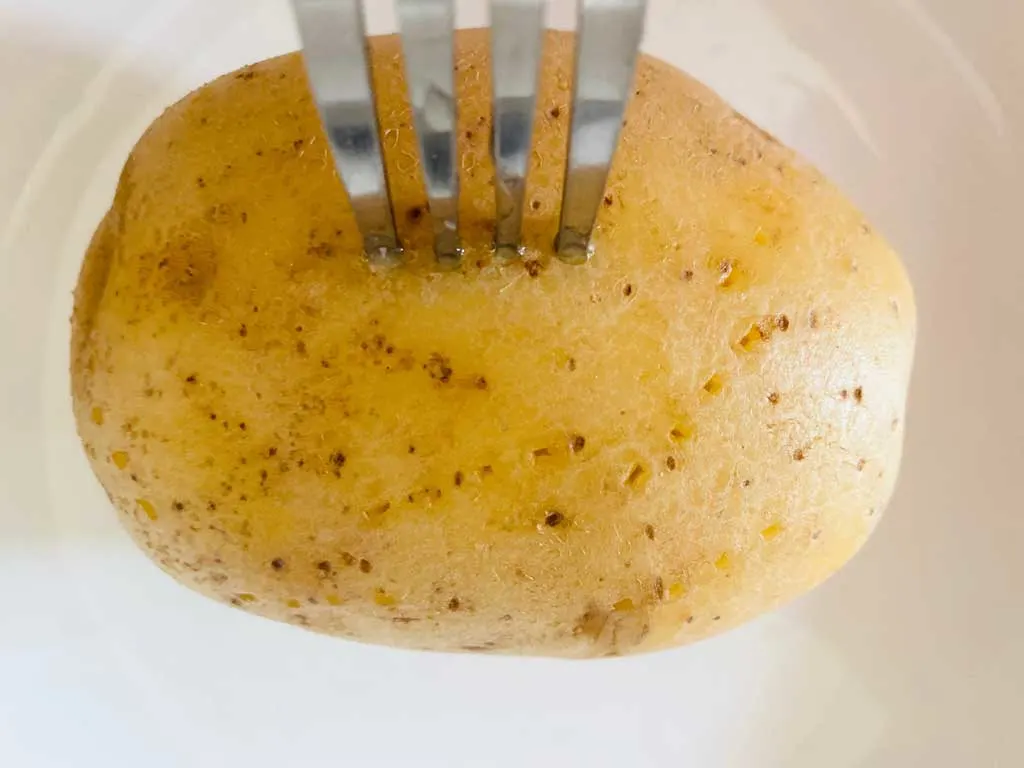 The reason for piercing the skin of a potato is to allow some of the heat and steam that builds up inside to escape. If you don't pierce the skin before cooking the potato in the microwave, it might go pop. Which isn't great for a clean microwave!
Related: How To Clean A Microwave
Cooking Your Potato In The Microwave
Place the potato (or potatoes) on a microwaveable plate and put it in the microwave. Some microwaves will have a setting for jacket potatoes so all you need to do is press the button.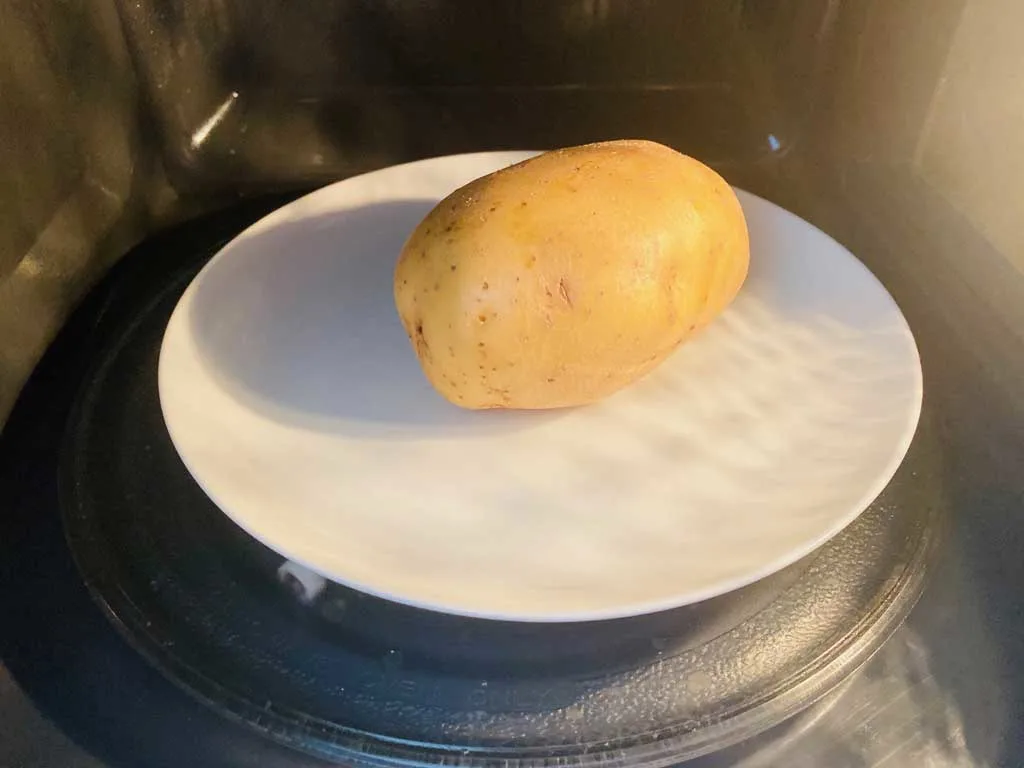 If your microwave doesn't, you will need to cook them on high power – how long for will depend on the size of your potato – but for a medium sized one it will be around 8-10 minutes. Set it off for 4 minutes, and then when it beeps, open the door and turn the potato over. Set the microwave off for another 4 minutes.
To check if the potato is cooked through, pierce it with a sharp knife, it should be soft all the way through.
If it isn't, put it back in the microwave for another 2 minutes and check again. Repeat until it is cooked through.
Crisping Up A Jacket Potato
Cooking a jacket potato in a microwave won't result in a crispy skin. If this is something you want, you'll need to transfer the potato to a preheated oven (220C/200C/Gas Mark 7) and cook for 10 to 15 minutes.
To crisp them up even more, before putting them in the oven, brush some oil over the skins and optionally sprinkle some salt over the surface.
Serving The Jacket Potato
When the jacket potato is cooked to your liking, slice it open with a sharp knife. Serve with your choice of jacket potato toppings.