Learn how to cook jacket potatoes at home using 5 different appliances.
Potatoes are a popular and versatile vegetable that can be prepared and cooked in a variety of ways to produce many different results. Jacket potatoes, sometimes called baked potatoes are tasty, filling and full of goodness.
They make the ideal hot lunch, a side dish option, or for a small dinner.
They can be as healthy as you choose them to be depending on what toppings you decide to use.
This article is going to guide you through 5 different methods to cooking a jacket potato – there is an option for every person with a variety of kitchen appliances covered.
How To Cook Jacket Potatoes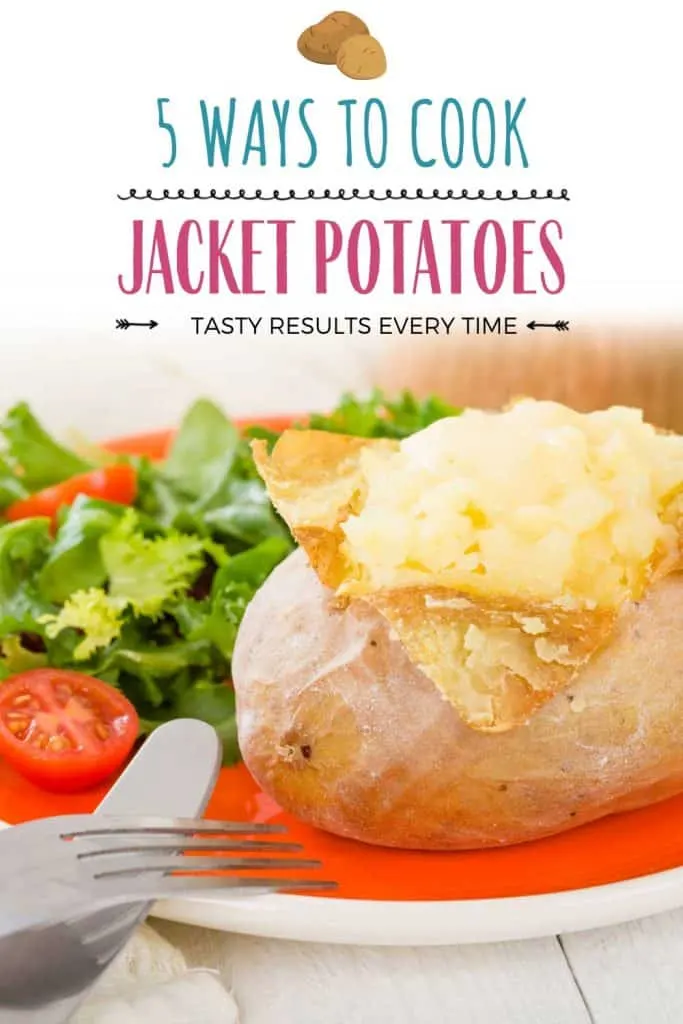 Which Potato Makes The Best Jacket Potato?
Lots of supermarkets have sections for baked potatoes, either the bagged variety or preferably, loose.
As a general rule, the best type of potato for jackets tend to be the floury ones which will give you a light and fluffy interior, ideal for a tasty baked potato. Look for Maris Piper, Melody, Vivaldi, King Edward and Desiree varieties.
Choose large potatoes that are round.
Related – How To Store Potatoes
Preparing The Potatoes
As each method follows the same preparation steps, we'll cover them here first.
After washing the potatoes clean – if necessary, scrub them with a brush – you need to prick them with a fork. It is essential that you don't miss out this step or you will potentially be faced with an exploding baked potato.
This is because when the potato cooks in its skin, the skin acts as a seal. As the potato bakes and expands the steam and water has nowhere to go – hence the potential explosion.
To Foil Or Not To Foil?
Lots of recipes suggest wrapping the potato in some foil, but I prefer not to – that is because I love a crispy skin on my baked potatoes. It's also great to save on the foil!
If you're not bothered by crispy skins, or you prefer your baked spud to be soft on the outside too, then go ahead and wrap them in foil.
The exceptions to the foil rules are;
if you're cooking the potato in a microwave, definitely don't use foil (ever!)
if you're cooking the potato on an open fire (bbq, bonfire etc), you will want to wrap them in foil to stop them from burning in the flames.
5 Different Ways To Cook Jacket Potatoes
Which method you go with will depend on the time available to cook it, and what appliances you have available. More often than not I make my jacket potato in the microwave and then crisp it up in the oven. Or sometimes now, my air fryer.
1. Cooking Jackets Potatoes In An Oven
First up is the traditional way of making jacket potatoes, and that is in an oven. It's a tried and tested way and people have been cooking baked spuds this way for many years.
Making Them
Preheat the oven to 200C (fan) 180C/gas mark 4. Wash the potatoes, prick them with a fork, and sprinkle with some salt. For crispier skins you can also brush some olive oil over them.
Place them on the middle shelf, straight onto the wire rack. Leave them to cook for about 1 hour before checking on them. If they are ready they should be soft on the inside and the skin crispy on the outside. If they're not, leave them for a further 15 to 20 minutes.
This method is best for – when you plan ahead and will be at home whilst it cooks. You might have other foods to cook alongside the baked potatoes and so it makes sense to do them all in the oven at the same time. Cooking a jacket potato in an oven also produces the best crispy skins.
2. Cooking Jacket Potatoes In The Microwave
If you're short on time, using a microwave to make baked potatoes is a good option. Personally, I don't think they taste as good as they do in an oven, but they are still yummy enough.
A compromise is to cook them in the microwave and then crisp them up in the oven afterwards if you have the time.
Making Them
After washing them, pat them dry with kitchen roll, and pierce them several times with a fork. This is essential when using a microwave to make baked potatoes – the pressure build-up from the steam will cause the potato to explode in the microwave if you don't put holes in the potato beforehand.
Place the potato on a microwaveable plate and cook for 4 minutes on high. Turn the potato over (careful, it will be hot to the touch), and cook for a further 4 minutes. Leave it to stand for 1 minute. Check that the potato is cooked through by piercing it with a sharp knife, it should be soft in the middle. If it is still too hard, put it back in the microwave for another 1 minute.
Optionally crisp up the skin in the oven for 10 to 15 minutes afterwards.
This method is best for – when you are short on time, or don't want to switch the oven on.
Related – Microwave Jacket Potato – Microwave Recipes
3. Jacket Potatoes In The Slow Cooker
Using a slow cooker to make jacket potatoes is a great way to come home to a delicious lunch or dinner. Using a slow cooker is ideal if you need to leave the house, or if you can't be on hand to attend to them cooking.
Again, like the microwave, you won't get the same crispy skin as you do in an oven, but you can crisp them up in there after if you want to.
Making Them
After washing the potatoes and piercing them with a fork, wrap them in foil and place them in the bowl of the slow cooker. Cook on low for 8 to 10 hours, or high for 4 hours.
Optionally crisp them in the oven for 10 to 15 minutes before serving.
This method is best for – when you need to go out/be away from the kitchen, and leave your spuds cooking.
Related – Slow Cooker Jacket Potatoes – Slow Cooker Recipes – Slow Cooker Buying Guide
4. Jacket Potatoes In An Air Fryer
If you already have an air fryer you likely already know that it produces some pretty amazing food! Making jacket potatoes in an air fryer is just as simple as making them in an oven, and they taste just as good (maybe better?!)
Using an air fryer is more energy efficient than an oven as well as unnecessarily heating up your kitchen!
Making Them
Wash the potatoes and pierce them with a fork. Pat them dry with a kitchen roll. Spray them with some olive oil (or an oil of your choice), and place them in the air fryer basket. How many spuds you can fit in the air fryer will depend on the model that you have. Make sure they aren't touching each other so that there is plenty of space for the hot air to circulate.
Cook at 200C for about 45 minutes – this will vary according to your air fryer. Check on them at the mid way point and turn them over.
This method is best for – the same tasty results as an oven in a shorter amount of time.
Related – Air Fryer Recipes – Air Fryer Buying Guide – How Does An Air Fryer Work?
5. Electric Pressure Cooker Jacket Potatoes
If you have an electric pressure cooker you can also make jacket potatoes in them. They cook quicker than the oven, they still taste great, but they won't be crispy. Like the microwave method discussed above, you can of course pop them in the oven for 10 to 15 minutes to crisp up.
Making Them
After washing the potatoes, pierce them with a fork. Add 250ml of water to the inner bowl of the electric pressure cooker, place a trivet inside the bowl and place the potatoes on top.
After placing the pressure cooker lid on top and sealing it, cook on high pressure for 15 minutes (you might need to increase/decrease the time if you have particularly small or large potatoes).
Leave the pressure cooker to release naturally – it should take about 10 minutes. Check the potatoes are done by piercing them with a sharp knife.
Optionally place them in the oven to crisp up. Or, if you have the Ninja Foodi you can just switch to the bake or air fryer option and crisp them up in the same appliance.
This method is best for – you don't want to use your oven but you still want that super fluffy on the inside baked potato result. Remember to factor in the time the pressure cooker will take to come to pressure too – all in all it should take about 35 minutes to make a jacket potato in an electric pressure cooker.
Related – Pressure Cooker Recipes – Pressure King Pro Reviews
What's your go to method for making jacket potatoes? Do you have any favourite baked potato toppings? Let me know in the comments!