Roasted potatoes are a favourite among many people. Making the perfect roast potatoes might seem tricky, but with a few simple steps, you'll soon be making (and eating!) the best roast potatoes you've ever had 😉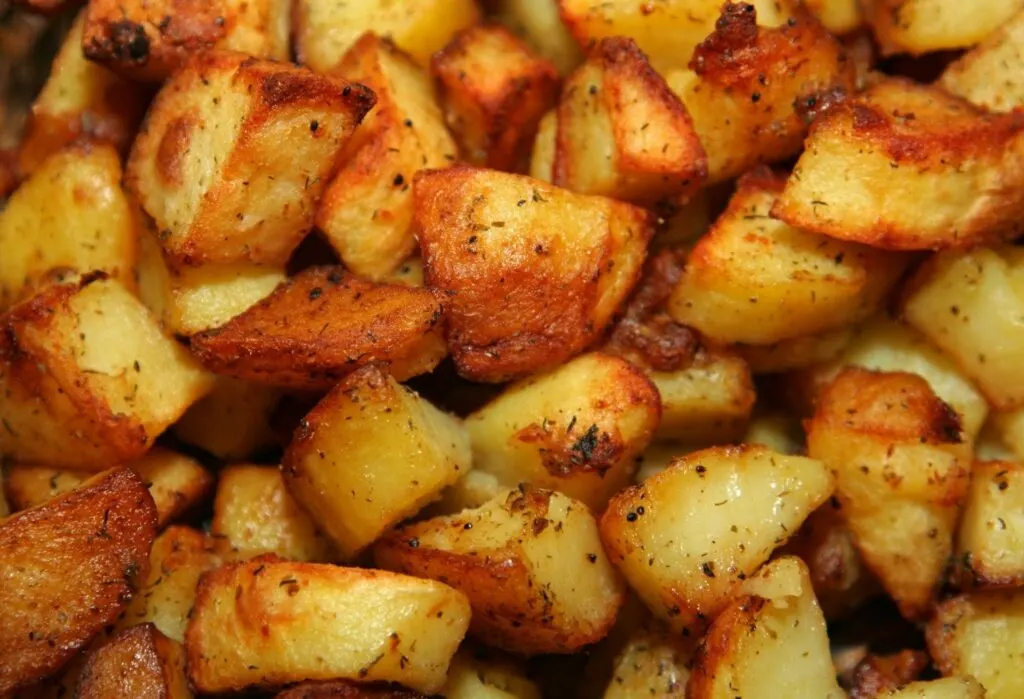 How To Make Perfect Roast Potatoes
This roasted potato recipe involves using a saucepan on the hob to parboil the potatoes, followed by a hot oven to roast them.
Related: Air Fryer Roast Potatoes
What You Need:
Maris Piper Potatoes – or a potato variety of your choice; see below for more details.
Fat – this can be oil, butter, or an alternative like goose or duck fat.
Salt and Pepper
Optional Seasoning
Large saucepan with water
Baking Tray
The Best Potatoes For Roasting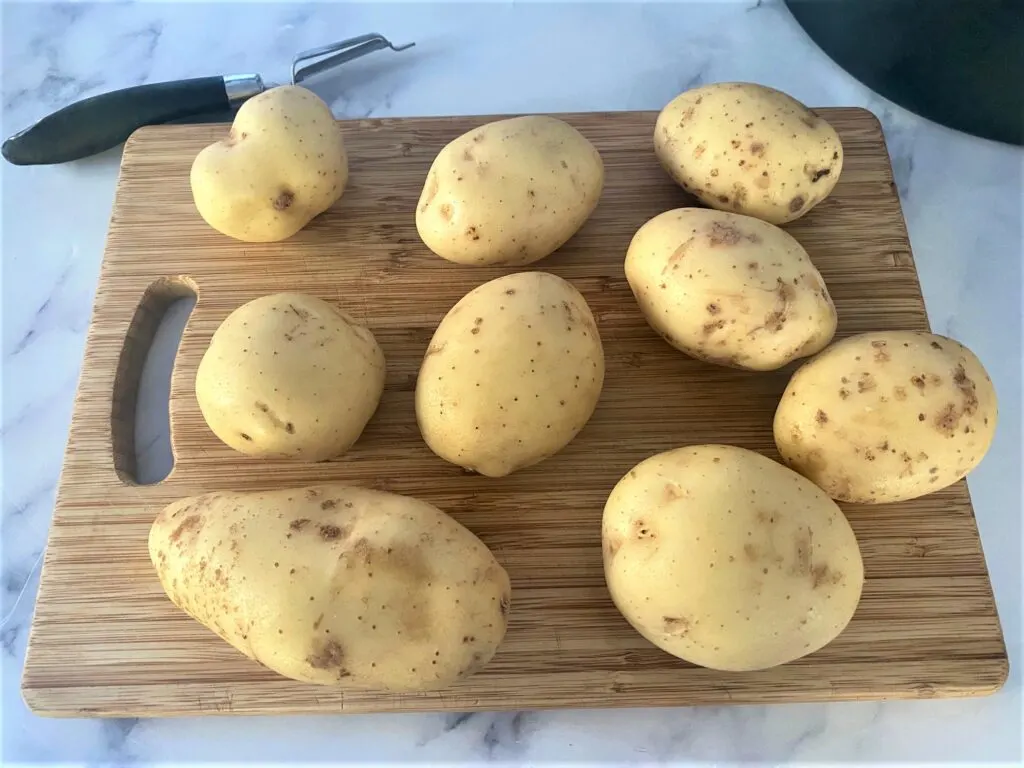 Maris Piper or King Edward are the best potatoes for roasting, but you can try other varieties. The key thing to remember is you need a floury type of potato.
The Best Oil For Roast Potatoes
There are differing opinions on what makes the best oil for roast potatoes. Traditionally at Christmas time, many people enjoy the extra indulgence of roasting their potatoes in goose or duck fat, whereas at other times of the year, an oil such as olive or sunflower is used.
The Best Roasting Tin For Roast Potatoes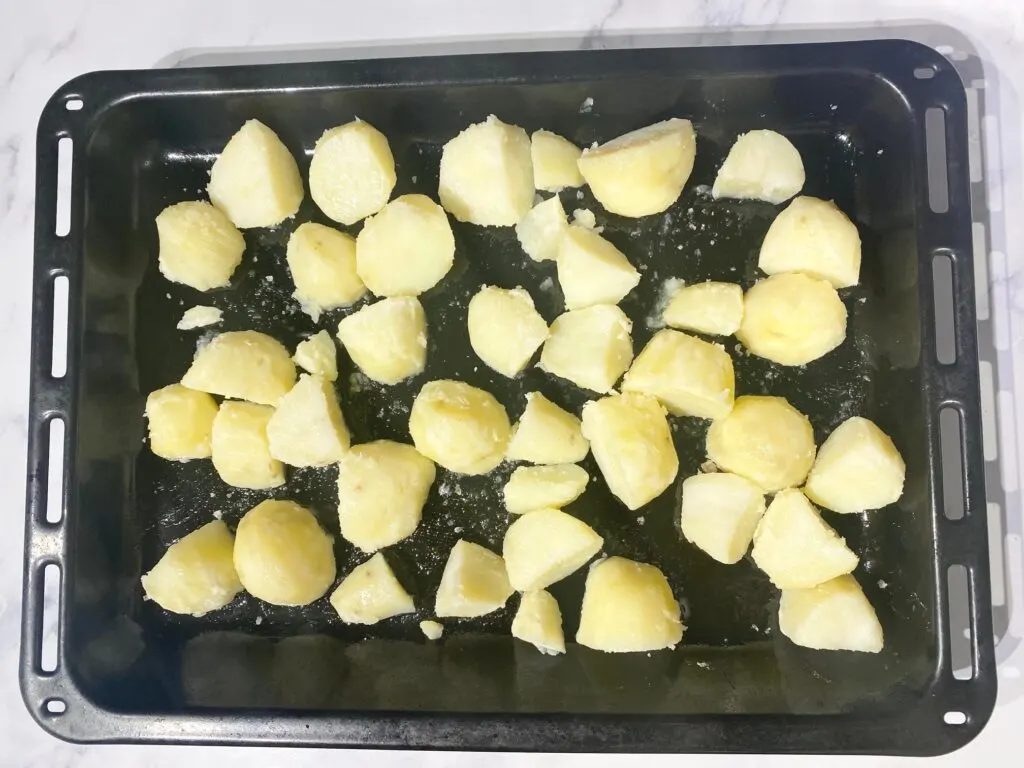 Try to use a shallow roasting tin that is large enough to spread out the potatoes so that they are not touching each other. This will help to make the best crispy roasted potatoes!
How Many Potatoes Do I Need Per Person?
You should aim for approximately 250g of potatoes per person. This will vary depending on what else you are serving with the meal.
Should You Boil Potatoes Before Roasting?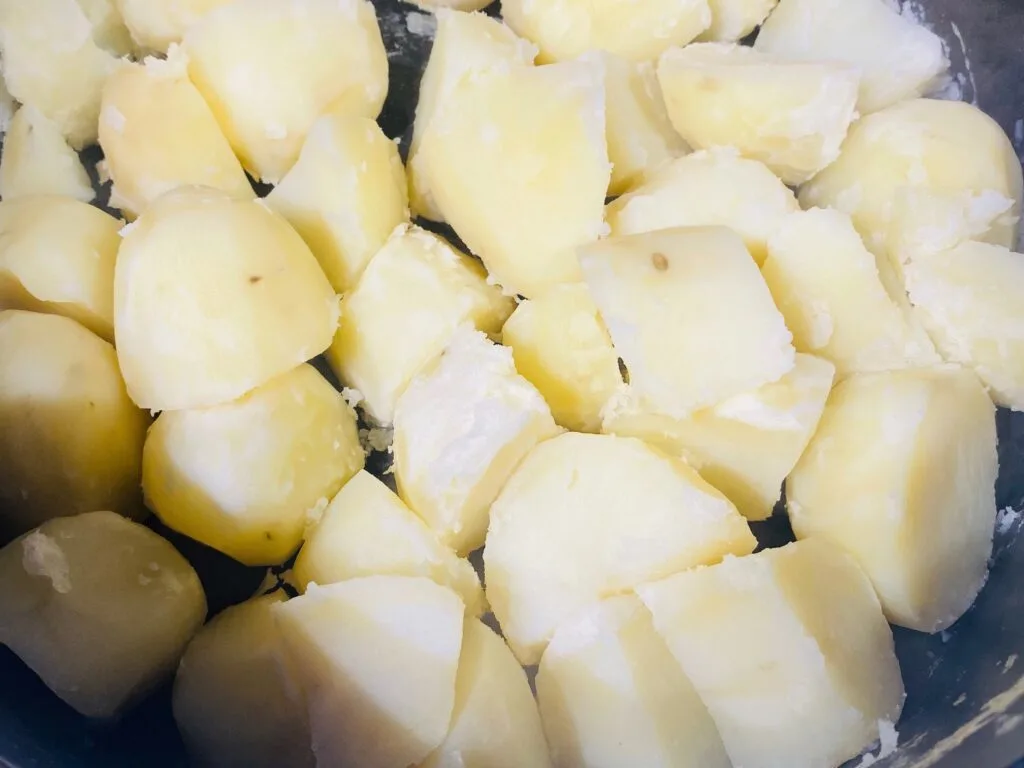 Yes, potatoes should be parboiled before putting them in the oven. They need to be boiled until they are just about tender and soft enough to pierce a fork through them.
How Do You Get Crispy Roast Potatoes?
The critical thing to remember is not to add the potatoes to the roasting tin with the fat until it is very hot.
Parboil the potatoes until tender and then leave them to completely dry while you heat the baking tray in the oven.
Bash the potatoes about so that they are fluffy.
Resist the urge to keep turning the potatoes during the cooking time. They need to be able to crisp up.
How Long Do Roast Potatoes Take To Make?
From beginning to end, roasted potatoes take about 60 to 90 minutes. This includes each step from peeling, parboiling to roasting. It's essential to account for each step so that you get the timing of your Sunday Roast or Christmas Dinner right.
How Long Do Roast Potatoes Last?
Roast potatoes are best eaten on the day they are made. If you do have any leftovers, it is best to store them in the fridge, where they will last for 3 to 4 days – but after this time, they will start losing their texture and moisture.
Can You Eat Roast Potatoes Cold?
Yes, you can eat roast potatoes once they have cooled down.
Can You Freeze Roast Potatoes?
You can freeze roasted potatoes, but they won't be as lovely as when eaten straight from the oven.
Once cooled, freeze roasted potatoes for 3 to 4 months.
Can You Make Roasted Potatoes In Advance?
Yes, you can save on time and prepare the potatoes for roasting. Parboil the potatoes, drain the water and bash them in the colander. Coat in fat and allow them to cool down before putting them in the freezer.
To reheat from frozen, put the cold roast potatoes straight into a hot baking tin with heated oil in it.
How To Reheat Roast Potatoes
The best way to reheat cold roast potatoes is to place them in a roasting tin and pop them back into the oven. This will give them a lovely crispy exterior once again.
Roast Potato Seasoning
There are lots of different seasonings that you can add to your roasted potatoes to jazz them up.
Sage and Onion
Scatter some sage and onion over the cold parboiled potatoes before roasting. This will give them a lovely mild flavour.
Garlic, Rosemary & Parmesan Roasted Potatoes
Mix garlic, chopped rosemary, parmesan and a little flour to coat the parboiled potatoes before roasting in the oven.
Spicy
If you like your roast potatoes with a bit of a kick, then try adding some chilli or cumin spices.
What To Serve With Roast Potatoes
Roasted potatoes are traditionally served with a Sunday Roast or Christmas Dinner, but they can also be served alongside;
Oven Baked Salmon
Sausage Casserole
Steak
Chicken Kiev
Nut Roast
Vegetable Stew