Are you ready to make perfectly crispy and fluffy roast potatoes in an air fryer?
Look no further; with this simple step-by-step guide, you will soon know how to make air fryer roast potatoes, and you won't be cooking them any other way 😉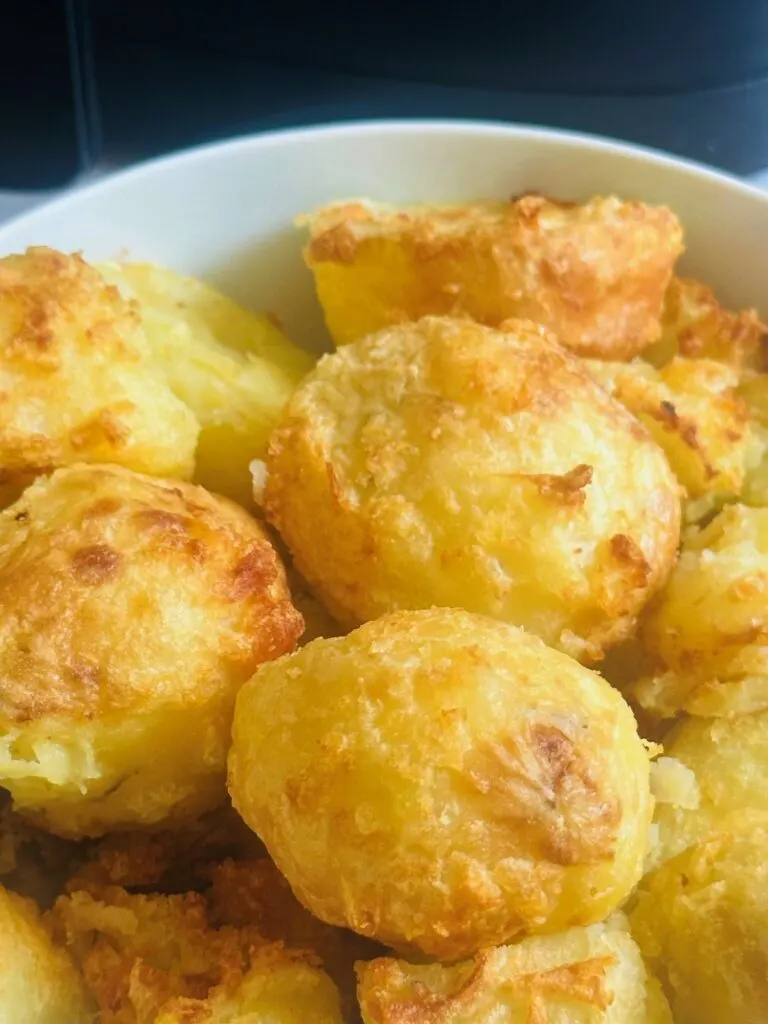 How To Cook Roast Potatoes In An Air Fryer
I have made roast potatoes in so many different air fryers so many times over the years; I feel like I have perfected the steps and techniques to confidently say these are my favourite way to make roast potatoes.
And that's quite the claim!
What You Need To Air Fry Roast Potatoes
The amounts below are enough to serve 4 people. Feel free to adjust the number of potatoes depending on how many people you are serving.
4 large, or 8 medium sized potatoes – you can use a different type of potato, but my favourite for potato for making roast potatoes are Maris Pipers
1 to 2 tbsp olive oil – if you want crispy roast potatoes (who doesn't?!) you need to add some oil. You can choose a different oil, I just prefer olive oil.
Seasoning – I tend to use a little salt and pepper to season, sometimes a bit of season-all.
Air fryer – I have made these roast potatoes in most popular air fryer brands: Philips, Ninja, Cosori and Proscenic. They all had similar results.
Making Air Fryer Roast Potatoes
I used 2 medium-sized potatoes per person (Maris Piper), so 8 in total. I used just 1 tbsp of olive oil, which was enough to crisp them up to taste like the roasties we know and love!
Peel each potato and depending on its size, either cut it in half or quarters.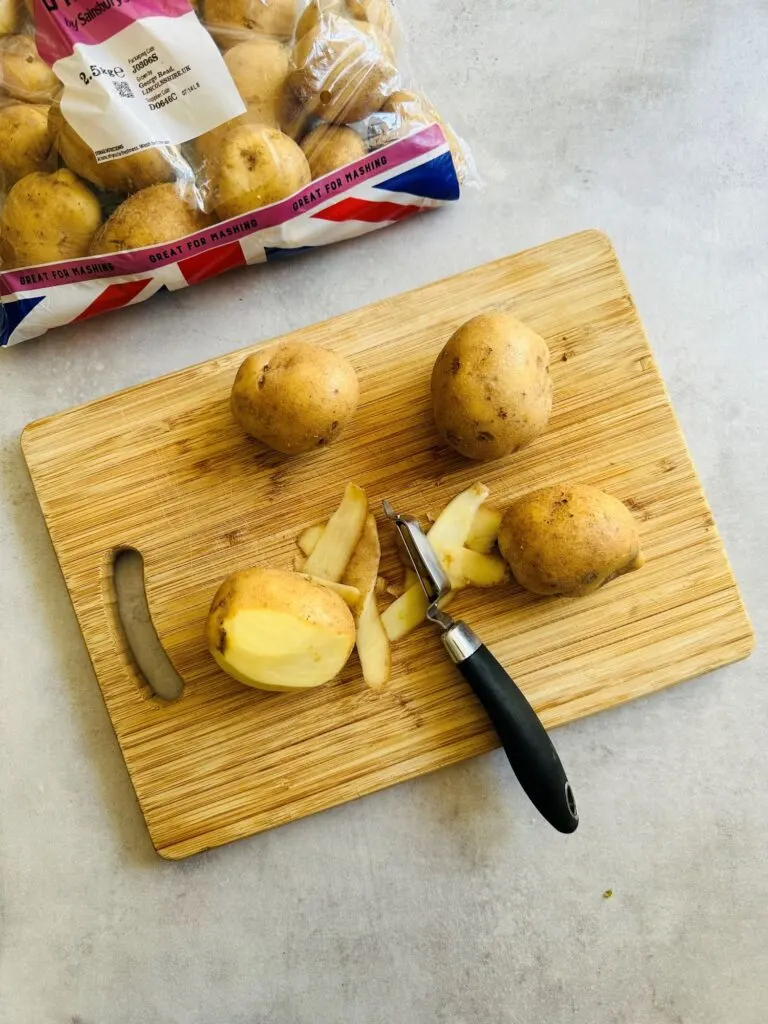 Do You Parboil Potatoes Before Air Frying?
If you want crispy on the outside and soft and fluffy on the inside, parboiling potatoes before adding them to an air fryer is recommended. It's essentially the same process for making roasted potatoes in an oven.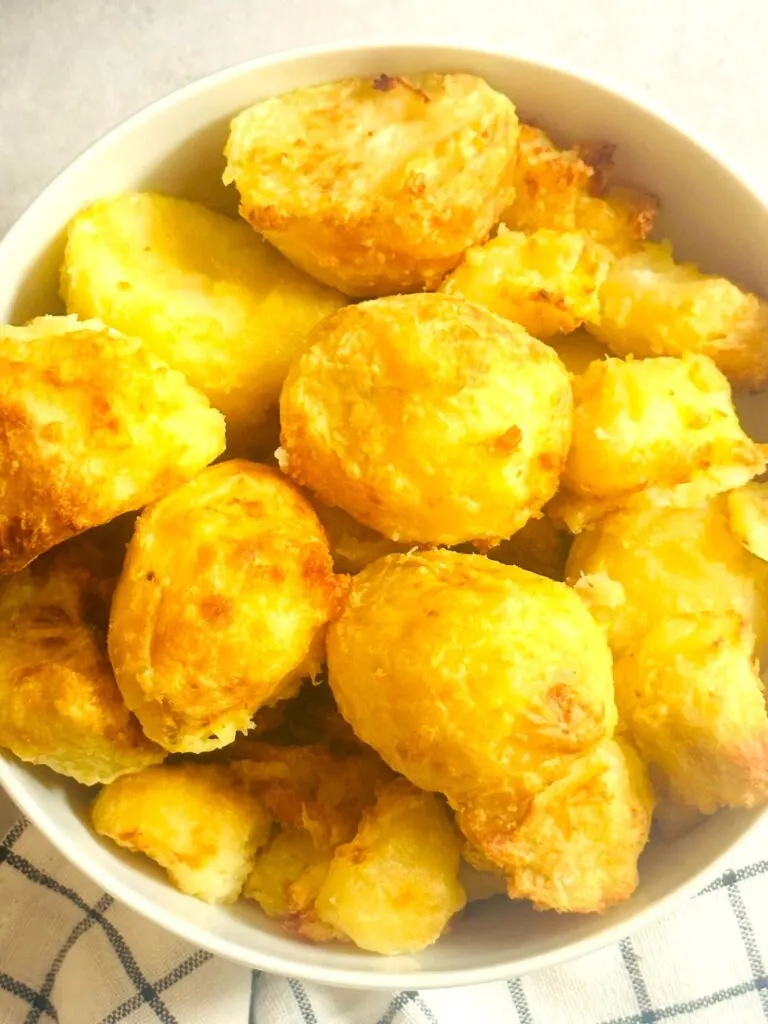 Once you've peeled the potatoes and cut them up, add them to a saucepan and fill them with water. Add a little salt to the water and bring to a boil before simmering for around 7 to 10 minutes. Different sized potatoes, and saucepans, will cook the potatoes at different rates.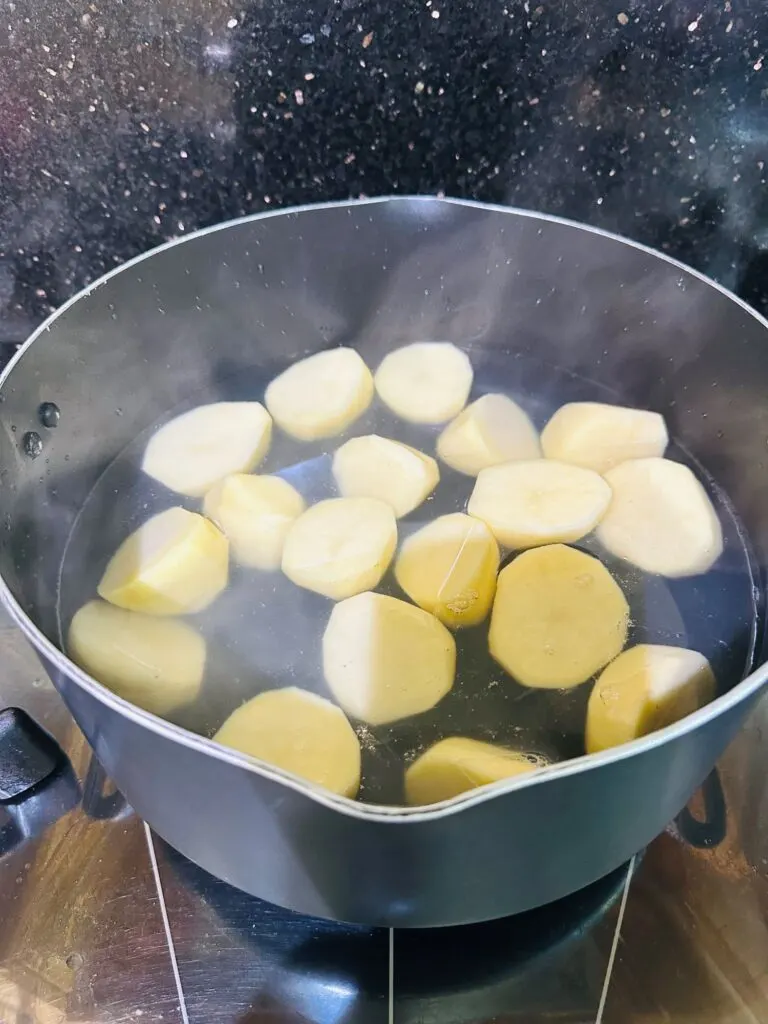 Check that they are done by inserting a sharp knife into one of the potatoes; it should be easy to insert with the potato being soft on the inside. The outside of the potatoes should be very slightly beginning to flake, but don't let them cook for too long, or they will start to fall apart.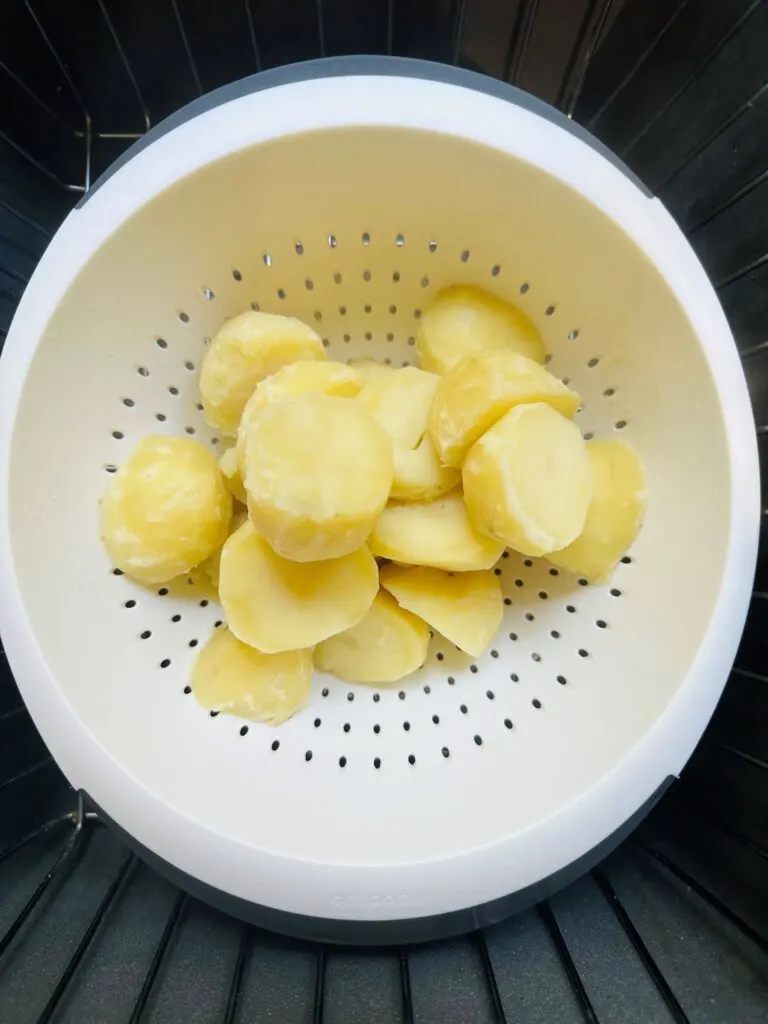 Once they are ready, drain them in a colander and then give them a good shake about – you want the outsides to become a little fluffy, with the potatoes flaking a little.
Drizzle (or spray) 1 to 2 tablespoons of oil as evenly as possible over the potatoes, and if you want to, season with some salt and pepper.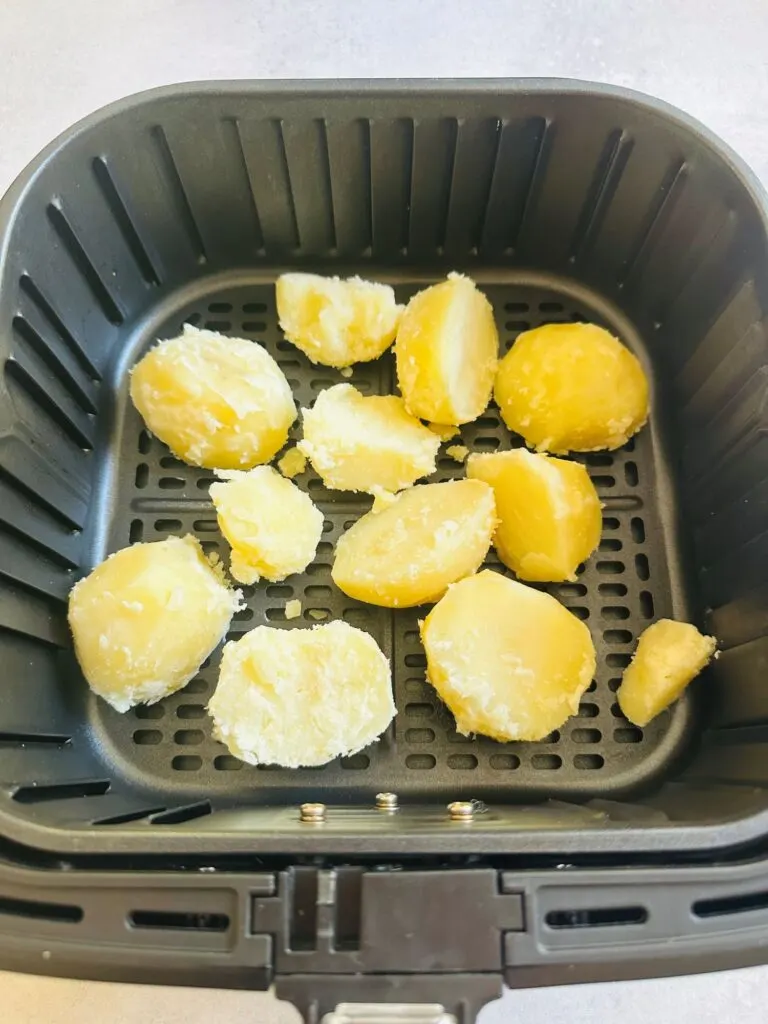 Transfer to the air fryer basket and set the temperature to 200C and the time to 20 minutes. Keep checking on the potatoes every 5 minutes or so, and give them a really good shake each time. This will help ensure the roasties are crisp all over.
Making Air Fryer Roast Potatoes Without Boiling
It's perfectly possible to make roast potatoes in an air fryer without boiling them first. I have made them this way plenty of times. The difference will be that the outsides are not as crispy as when they are parboiled. But they still taste great, just with a different texture.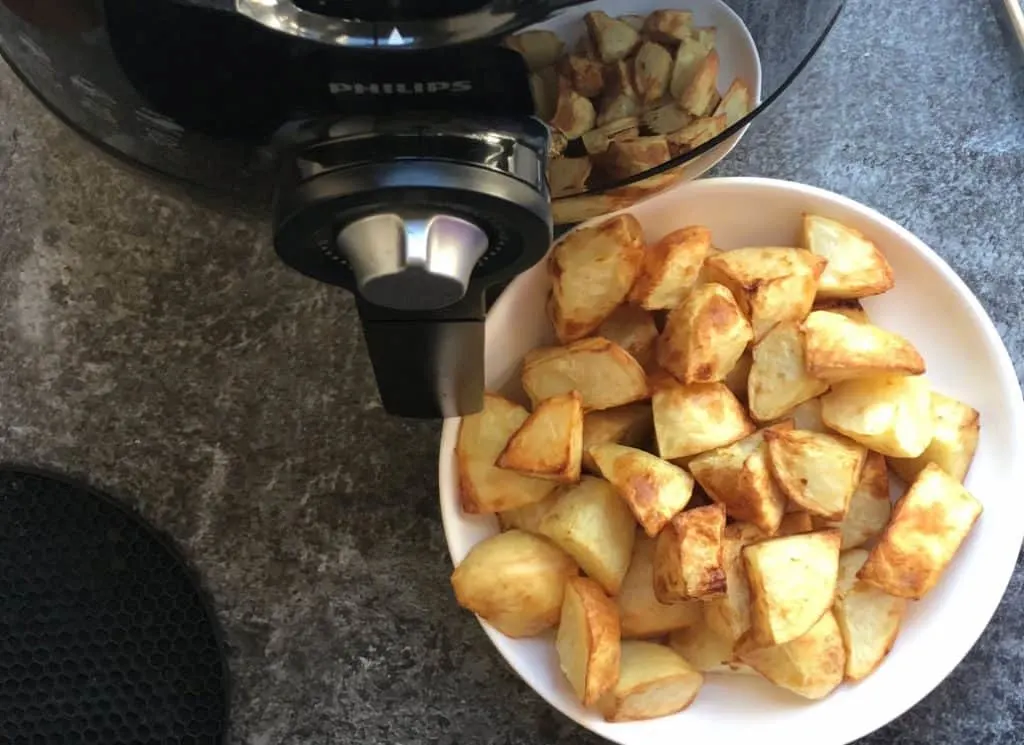 Prepare the potatoes in the same way, peeling and cutting them into halves or quarters, depending on their size.
Drizzle or spray 1 to 2 tablespoons of oil over them and optionally add some seasoning. Transfer to the air fryer basket and air fryer at 200C for 25 to 30 minutes. Check on them every 5 to 10 minutes and give the basket a good shake – this will help to crisp up the outside and ensure each potato is evenly cooked.
You might also like Air Fryer Recipes – What Can You Cook In An Air Fryer?
How Long To Cook Roast Potatoes In Air Fryer
How long it takes to cook air fryer roast potatoes will depend on which method you are using, either parboil and air fryer or just air fryer (no boiling).
Parboil + air fryer: boil in a saucepan for 7 to 10 minutes, air fry at 200°C/400°F for 20 minutes, shaking at regular intervals.
Just air fryer: at 200°C/400°F for 25 to 30 minutes, shaking regularly.
Remember: different air fryer models cook at different times, so check on them regularly. The size of the potatoes and how many you are cooking will also affect the cooking time.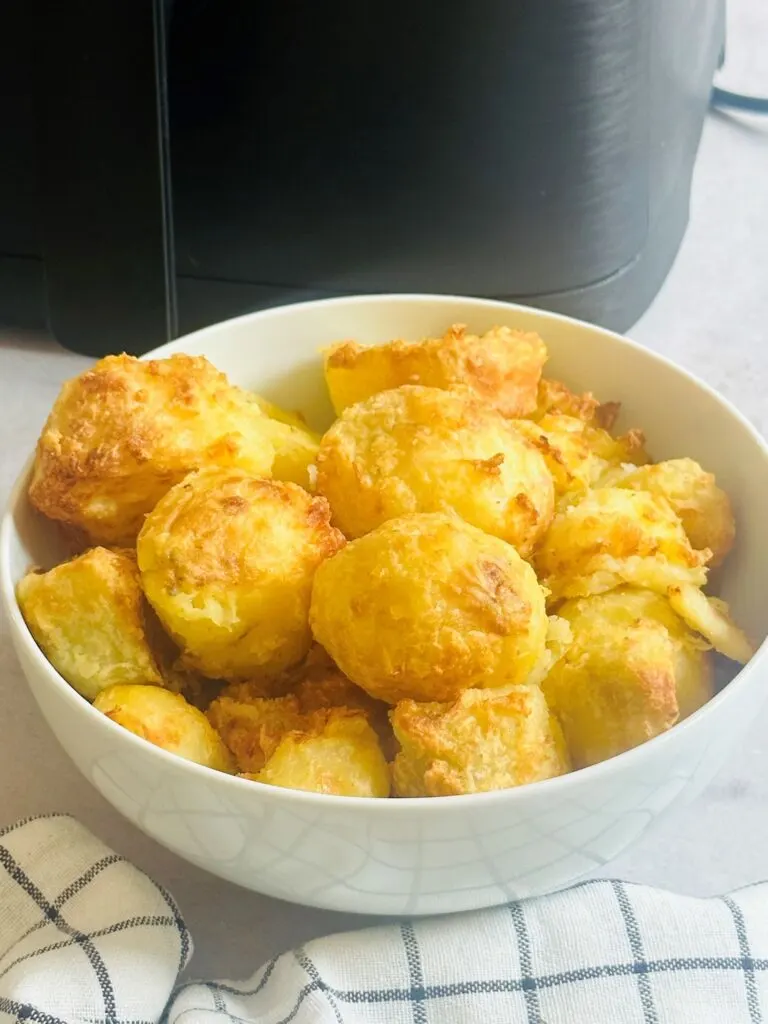 Did you like this recipe? Do you want some more? If so, please head over to my Air Fryer page on Facebook where I share some more recipes.
More Air Fryer Recipes
Are you looking for more air fryer potato recipes? Try these ones out!