If you are anything like me, the idea of making air fryer chips might have been one of the main factors when deciding to buy an air fryer!
Chips were certainly the first recipe I made in my air fryer.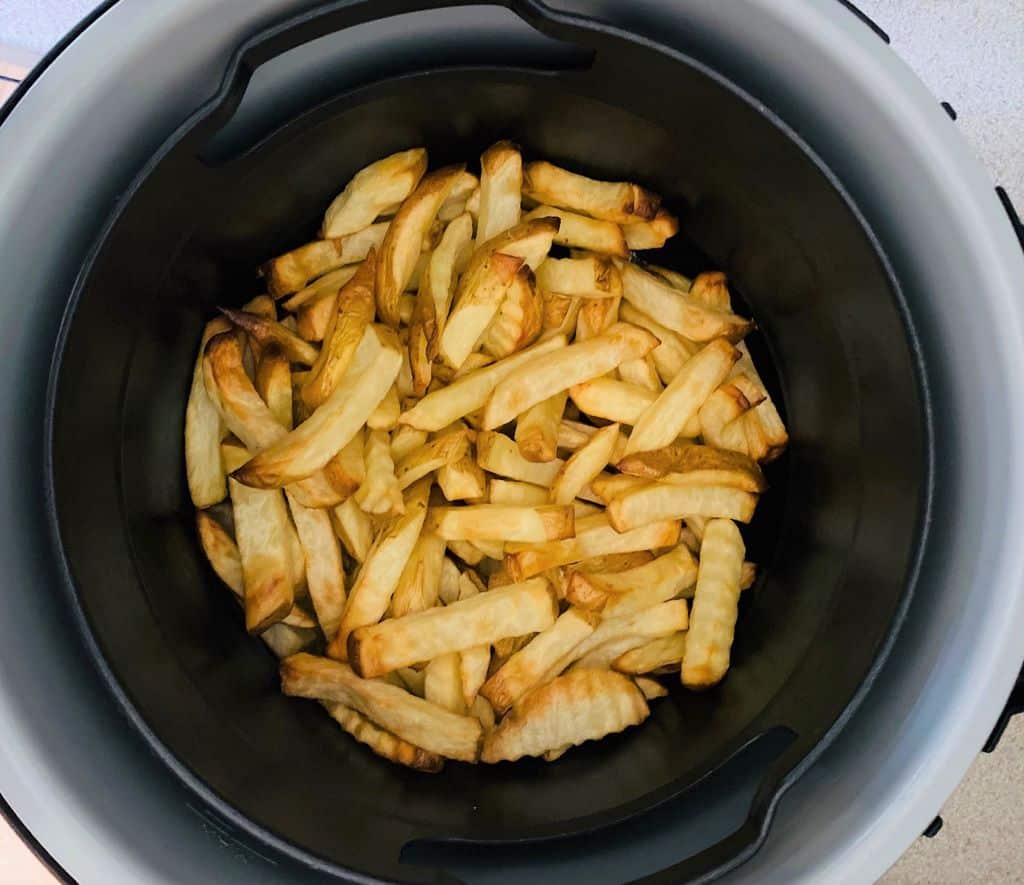 There are various different methods to making chips in an air fryer – today I'm going to share with you the quickest, easiest and yet tastiest method out of them all!
Side note: I've tried lots of air fryers, check out my air fryer review for my favourite models as well as my top air fryer recipes.
How To Make Air Fryer Chips
What you will need – ingredients and equipment:
Air fryer (!) – I've made these chips in a Philips air fryer, a Power Air Fryer (High Street TV) and more recently, the Ninja Foodi. Each of these air fryer models are quite different, but this method of making chips turned out great in each of them. Depending on the air fryer you have you might need to adjust the time a bit, just remember to keep an eye on them during the cook time.
Potatoes – There are a few varieties of potatoes that are great for making chips. Try using either Maris Piper, King Edward or Rooster. How many you use will depend on a) the size of your air fryer and b) how many you are cooking for.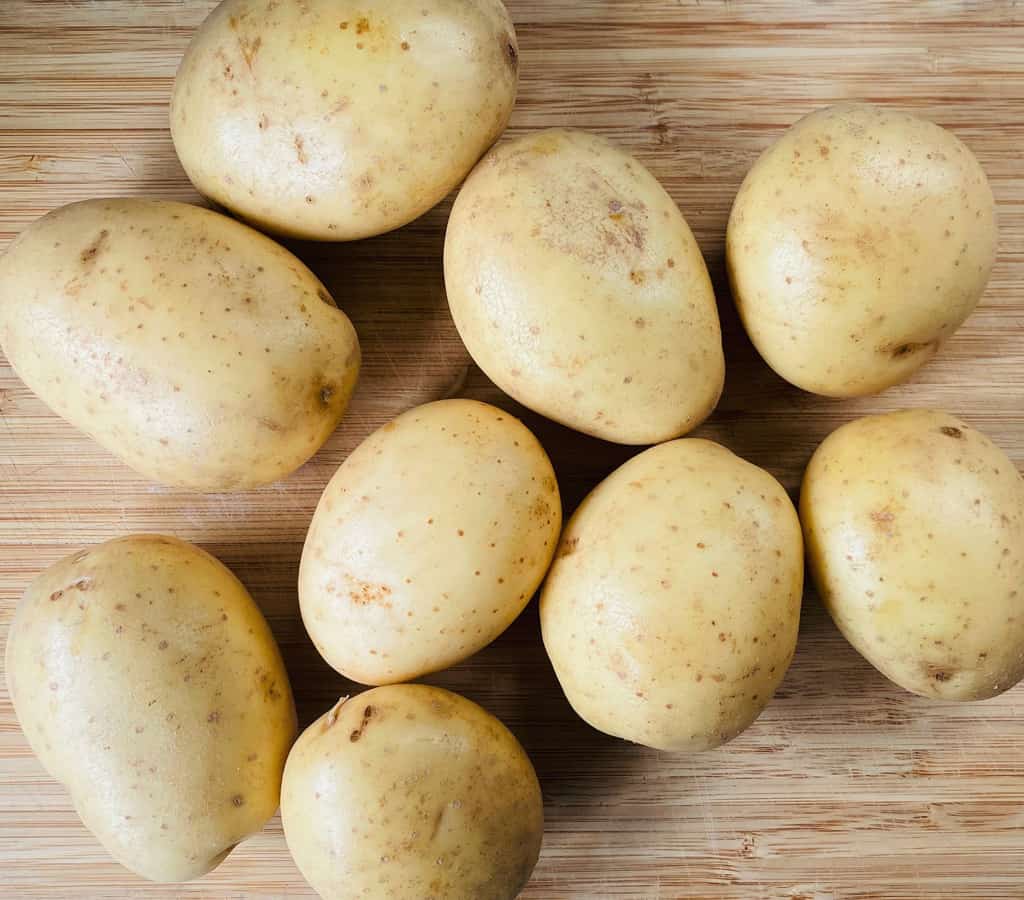 Oil – You can air fry chips without any oil, but I think they taste much better with at least a few sprays. You really don't need to use that much, especially if you use a spray bottle to distribute it. You can either use a specific low calorie oil spray (like Frylight), or make your own up with a little oil, diluted with water.
Seasoning – Sprinkle your favourite spices over the chips after spraying them with oil – I like to use smoked paprika, or a chip seasoning by Schwartz.
Bowl/Saucepan/Colander – Many recipes suggest leaving the chopped potatoes to soak in cold water for at least 30 minutes – this helps to remove excess starch from the potatoes. I've made air fryer chips both ways, soaking them in water, or, just rinsing them in water. I couldn't tell much difference between the 2 methods, so I now just opt for the latter and just rinse them – it's a much quicker process!
Tea towel/kitchen roll – After washing the potatoes you will need something to pat dry them with, a clean tea towel, or some kitchen roll will do the job.
Step By Step Air Fryer Chips
1. Prepare the potatoes
Depending on how you like your chips, you can either peel the potatoes, or just give them a good scrub and leave the skin on. You can slice the potatoes up thin, like french fries, or leave them a little thicker, like regular chips.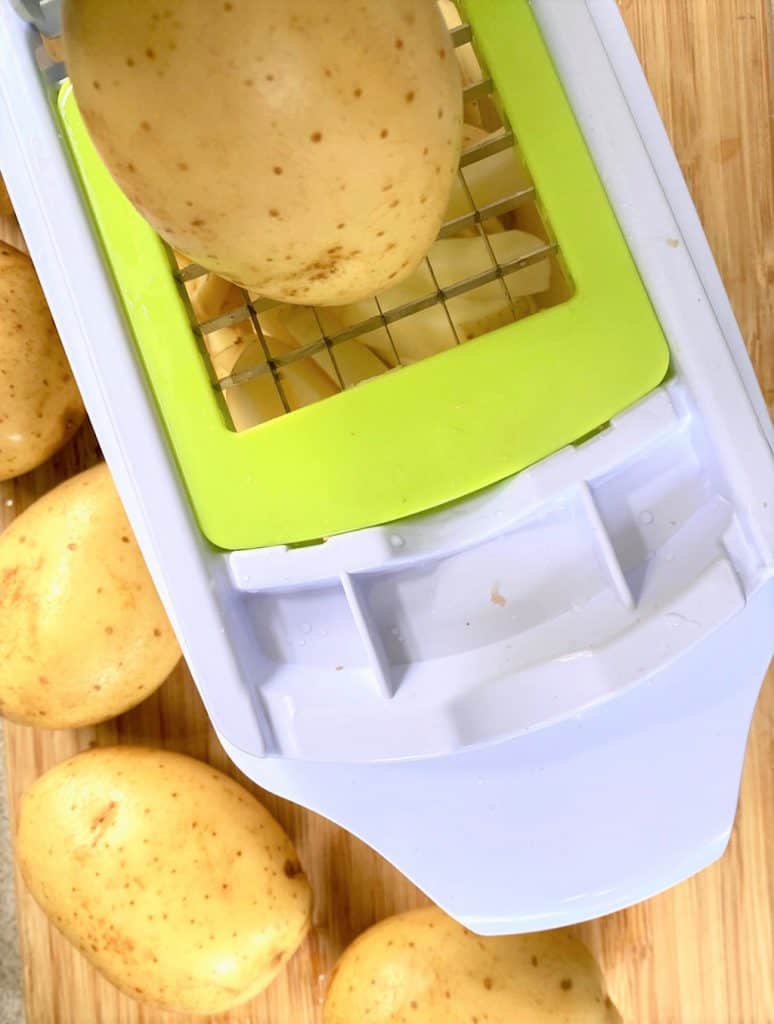 You can slice them up using a vegetable slicer/chipper if you have one.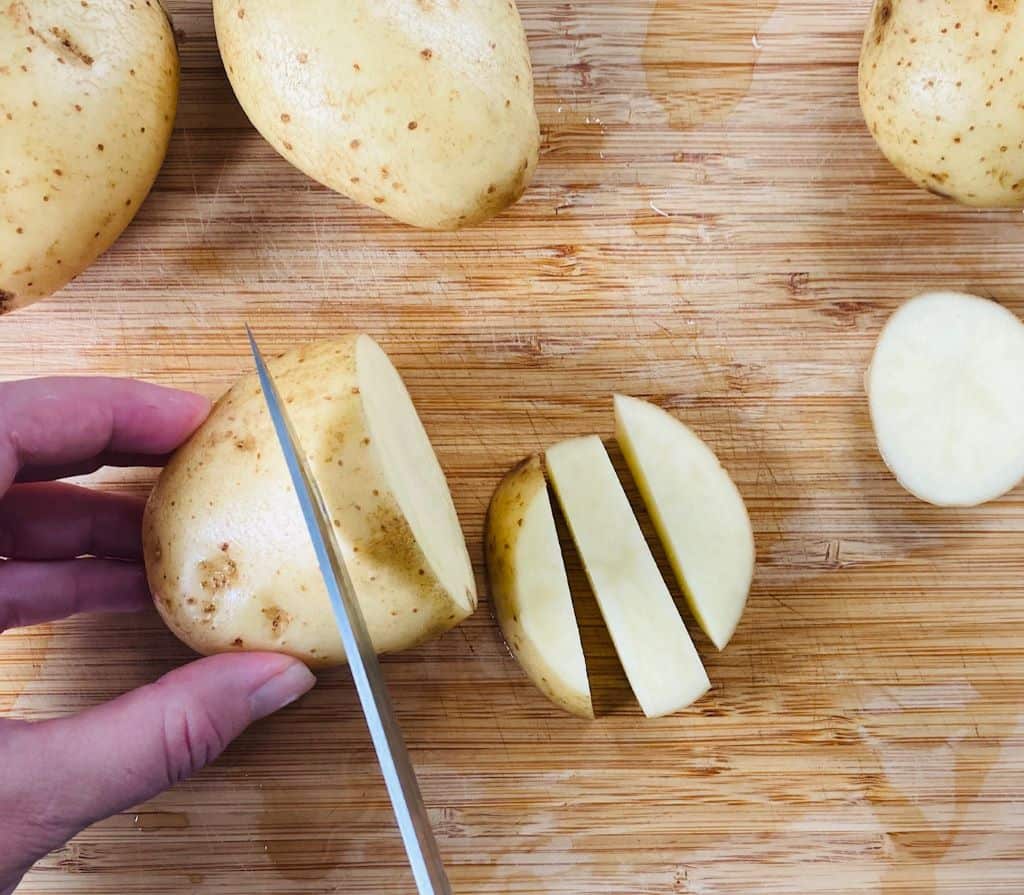 Or, you can use a sharp knife.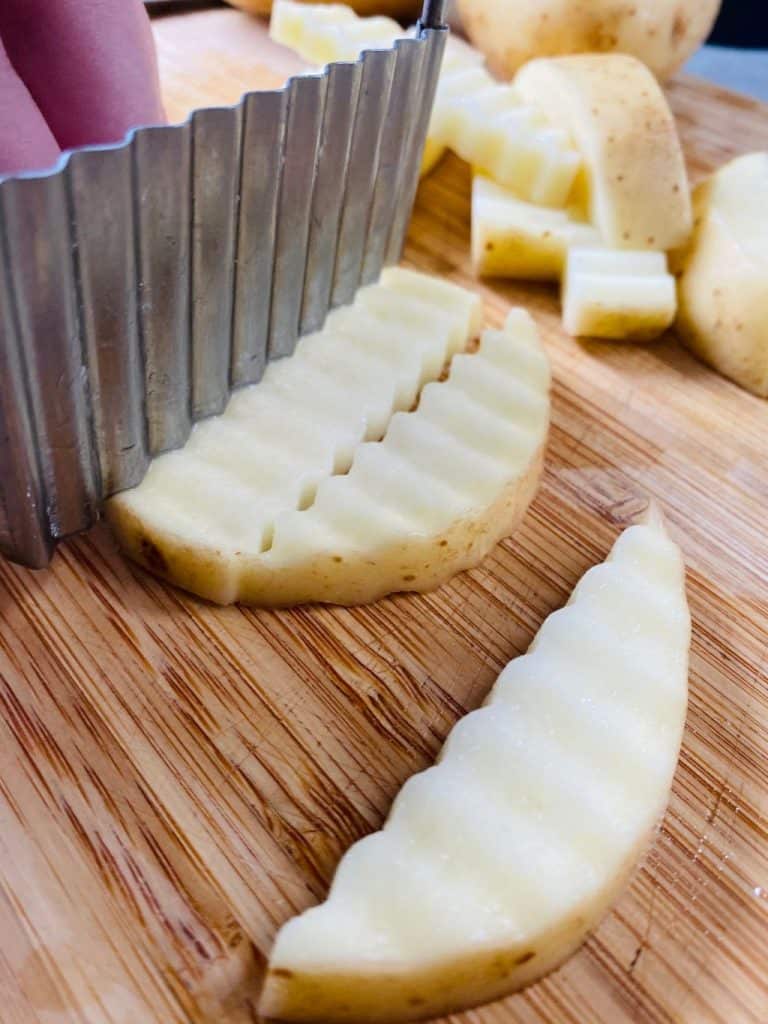 Or, you can turn them into crinkle cut chips!
If you are making thinner chips (French fries), you'll need to check on them sooner than the thicker cut chips to make sure they don't burn.
Either use a sharp knife, or a potato chipper to slice them.
Pop them in a bowl, saucepan or colander ready to wash.
2. Preheat the air fryer
I don't always remember to do this step, and it's no great shakes if you do forget, but it can help to preheat the air fryer for a quicker cook time. Preheat the air fryer to 200C/400F.
2. Wash them
You don't have to soak the potatoes, you can just give them a good wash under some cold water. This will get any excess starch off the potatoes.
Once you have finished washing them, use some kitchen paper or a clean tea towel to pat them dry.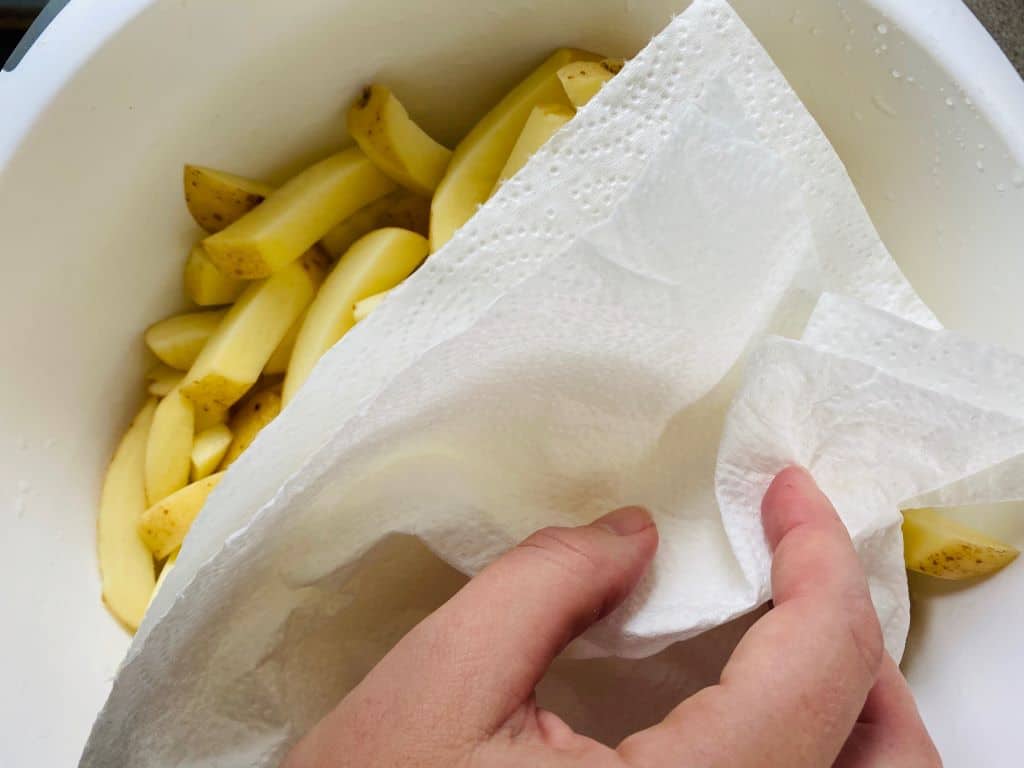 3. Spray with oil
You can go oil free, but I prefer to use a little oil. Either use the Frylight, or, make up your own oil spray. Spray over the potatoes and toss to make sure they are all covered.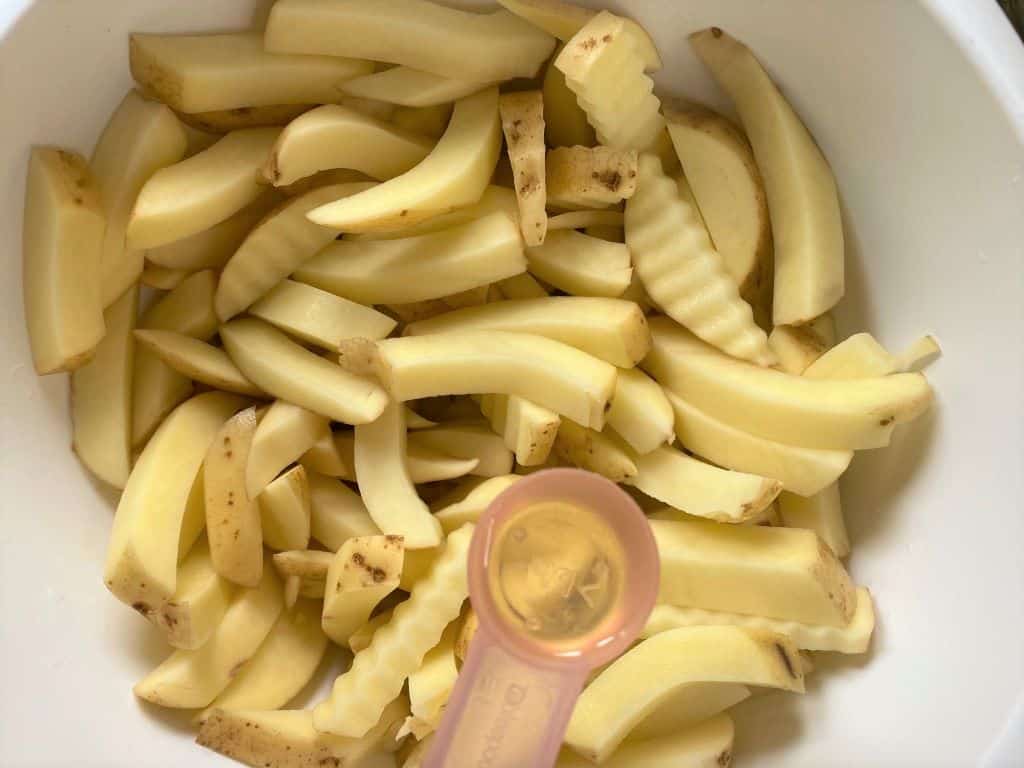 4. Season
Sprinkle your favourite seasoning over the potatoes. Experiment with different spices and herbs – you can try paprika, curry powder, season-all, or just salt and pepper.
5. Transfer to air fryer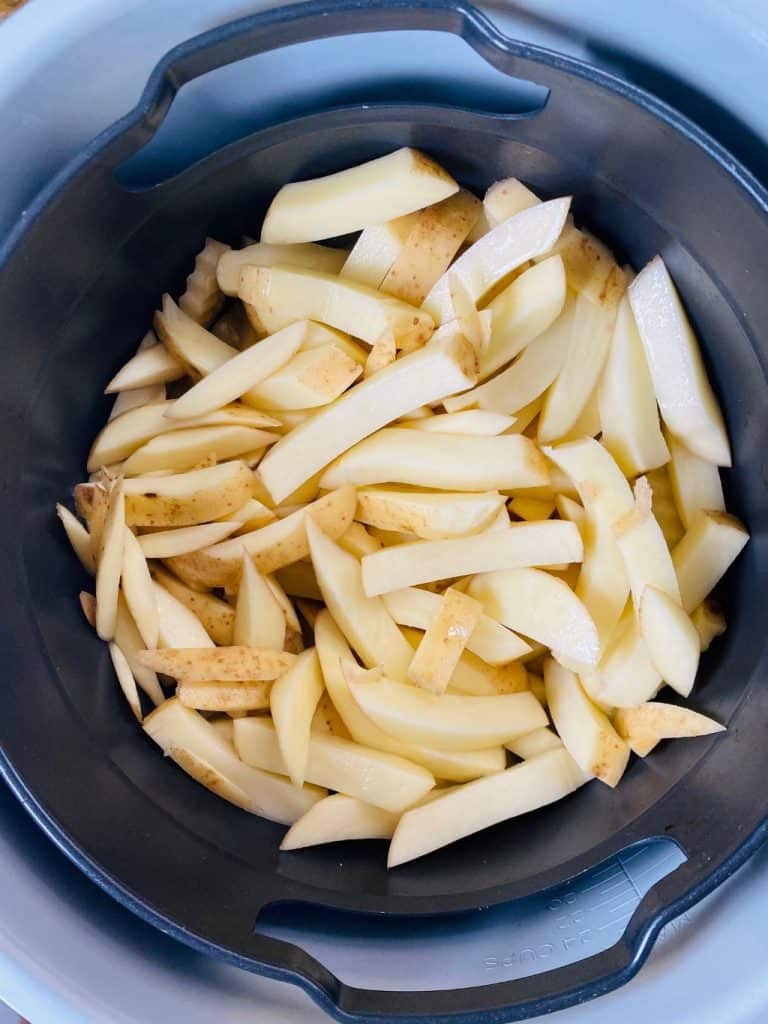 Place the prepared chips in the air fryer basket. Set off to cook for 20 to 25 minutes. Check on them at the 10 minute mark and give them a good shake about. You might want to spray a little more oil on them too if you want them to crisp up even more. If after 25 minutes they are not crisp enough for you, just pop them back in for a few more minutes until ready.
And that's it – you should now have the perfect air fryer chips! Let me know in the comments if you are a fan of chips in the air fryer!
Other Air Fryer Recipes You Might Like: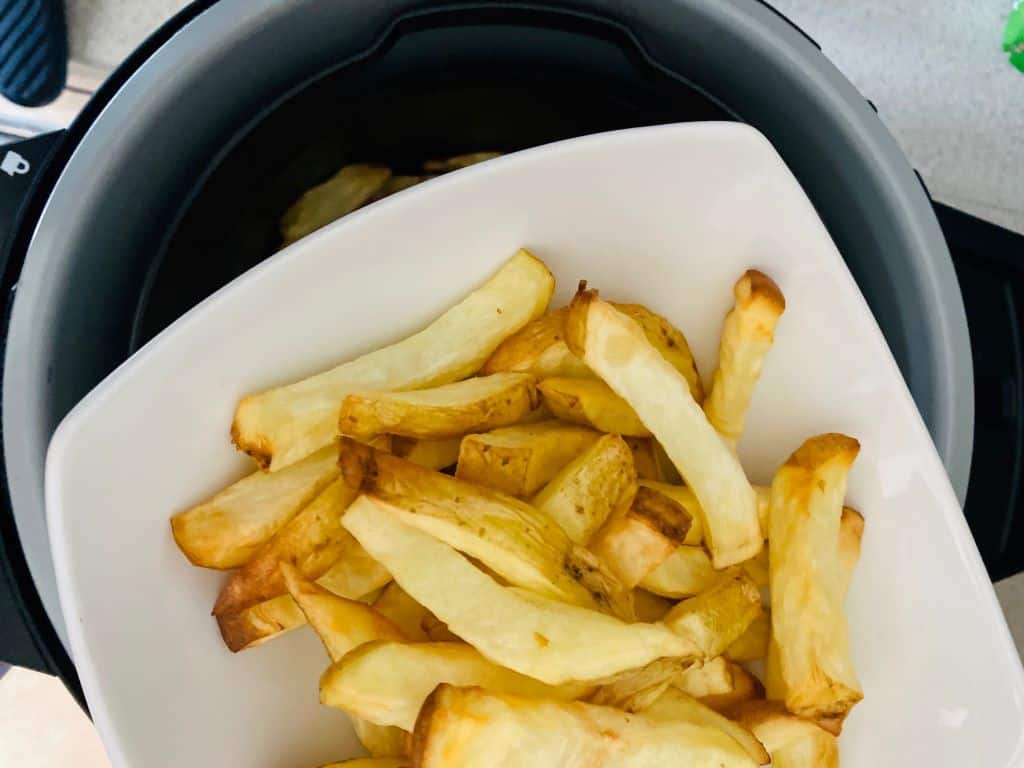 Pin it for later!