If you love sweet potatoes as much as I do, you'll be pleased to know you can easily cook sweet potato wedges in an air fryer.
There's no need to switch the oven on; follow along to see how easy it is to make air fryer sweet potato wedges.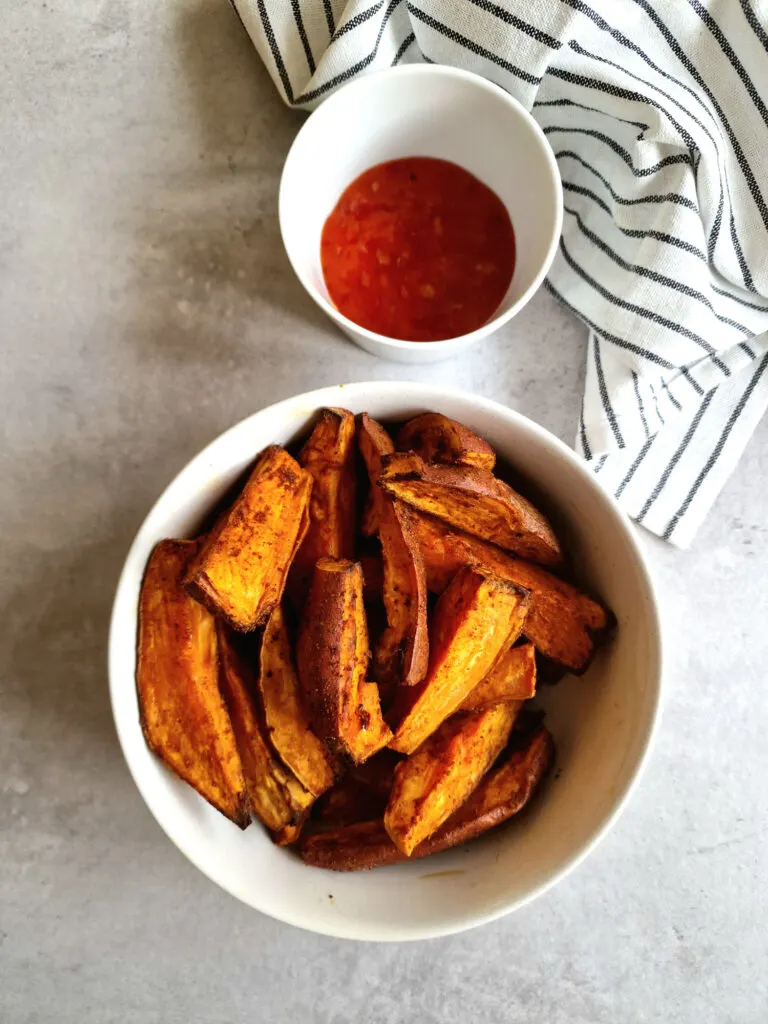 I love cooking with sweet potatoes, and I use them in plenty of recipes; they are economical to buy and work as a great alternative to other types of potatoes.
🛒 What You Need
Sweet Potatoes
Either use one large sweet potato per serving or 2 to 3 medium-sized ones. There is no need to peel sweet potatoes; just chop the tips off, scrub the skin clean, and slice them lengthwise into wedges.
Oil
Although it's not essential to use oil, a light drizzle will help crisp up the skin (which is very tasty!)
Seasoning
Use your favourite herbs and spices, or add a little salt and pepper. I used 1 tsp smoked paprika, 1 tsp garlic powder and a little salt and pepper.
Air Fryer
I've made these sweet potato wedges in many different air fryers, including a Ninja Foodi multi-cooker, the Proscenic T22 and Cosori air fryers.
You Might Like: A Guide To Buying An Air Fryer
👩‍🍳 Making It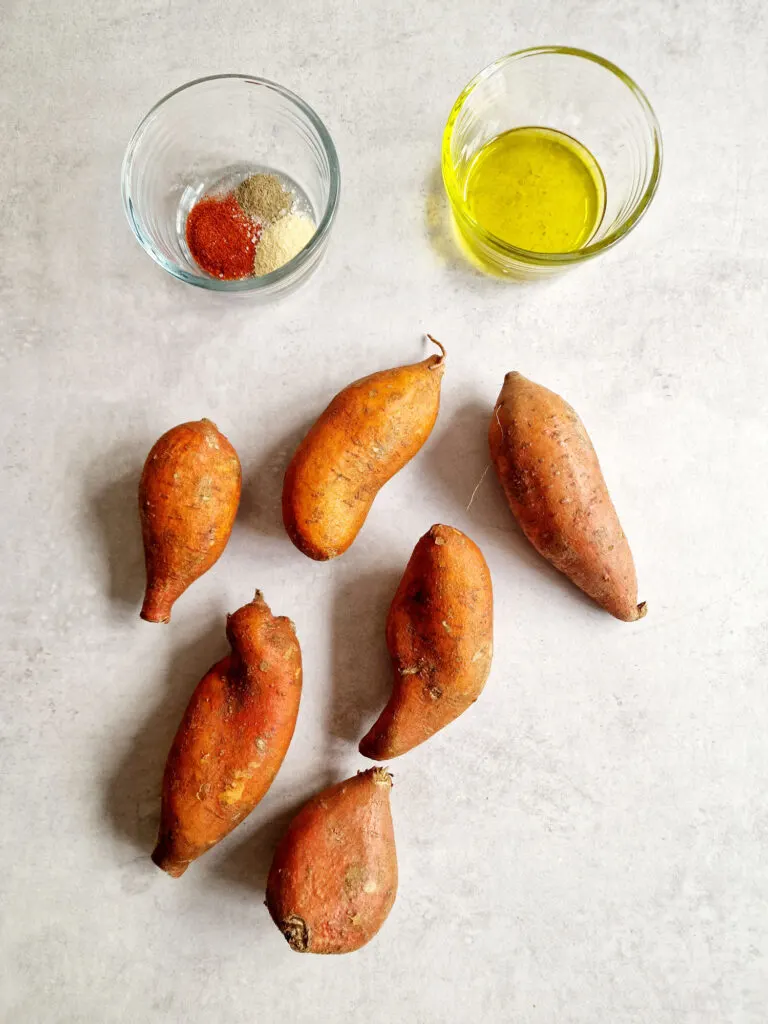 After washing them, top and tail the sweet potatoes before slicing them lengthwise into wedges with a sharp knife. Try to cut them into the same sizes so that they cook evenly and are all ready at the same time.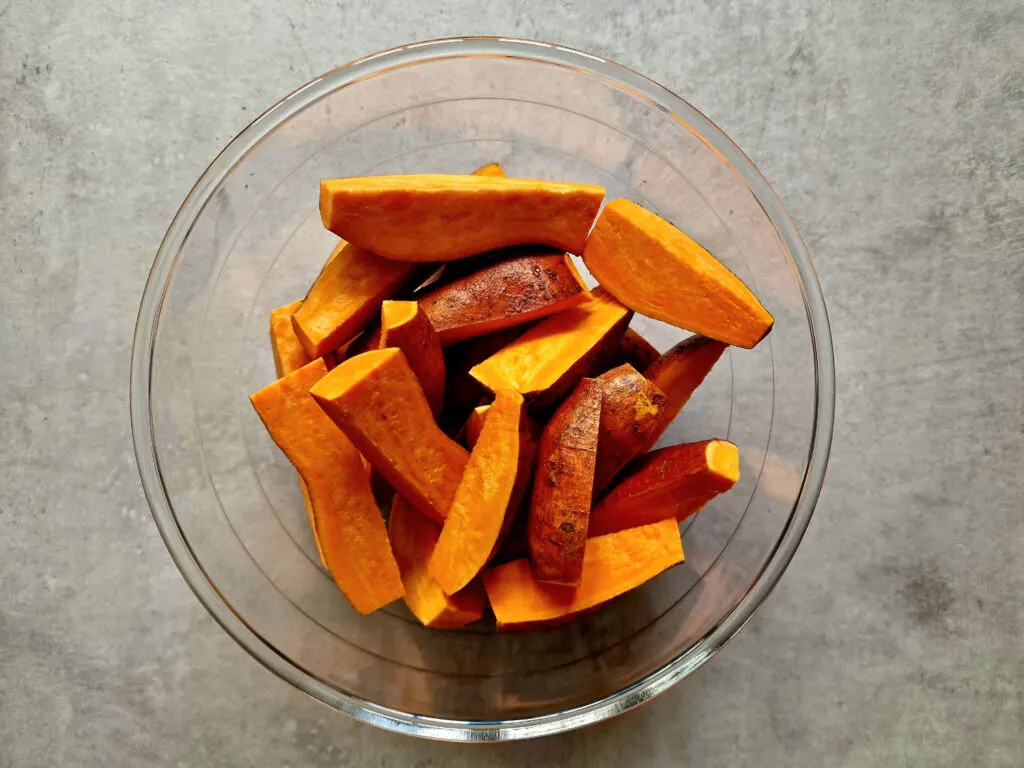 Drizzle some oil over the raw sweet potatoes before adding the seasoning. Either use a brush or your hands to toss the sweet potatoes, ensuring they are all coated in oil and seasoning.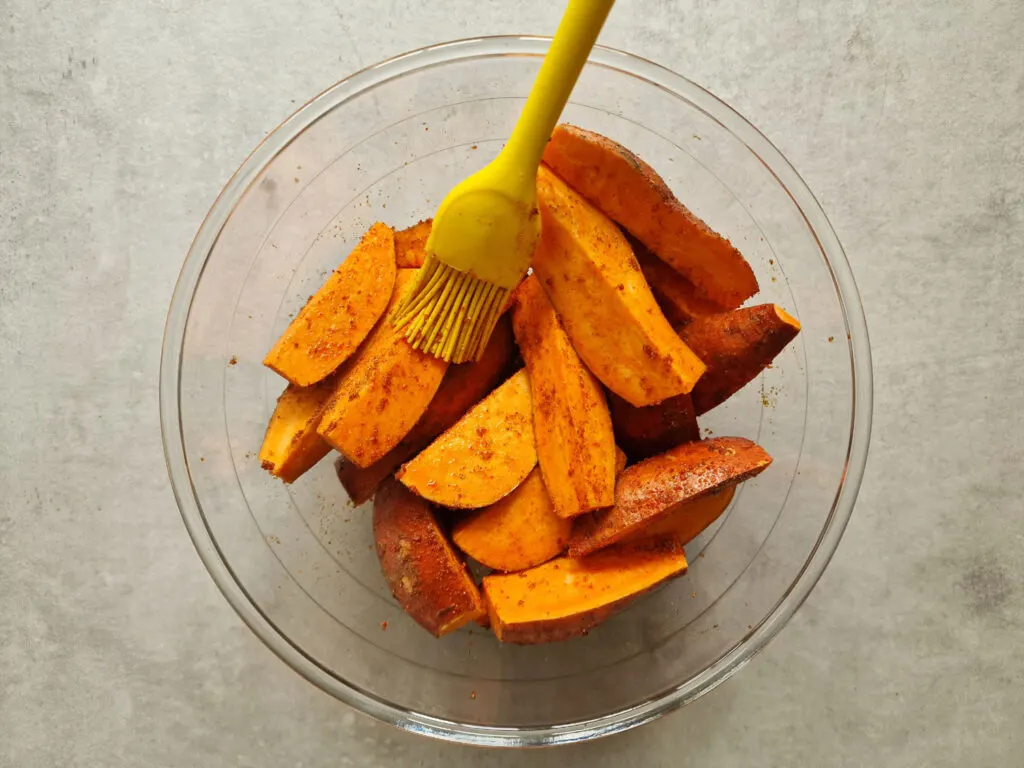 Transfer the seasoned sweet potatoes to the air fryer basket.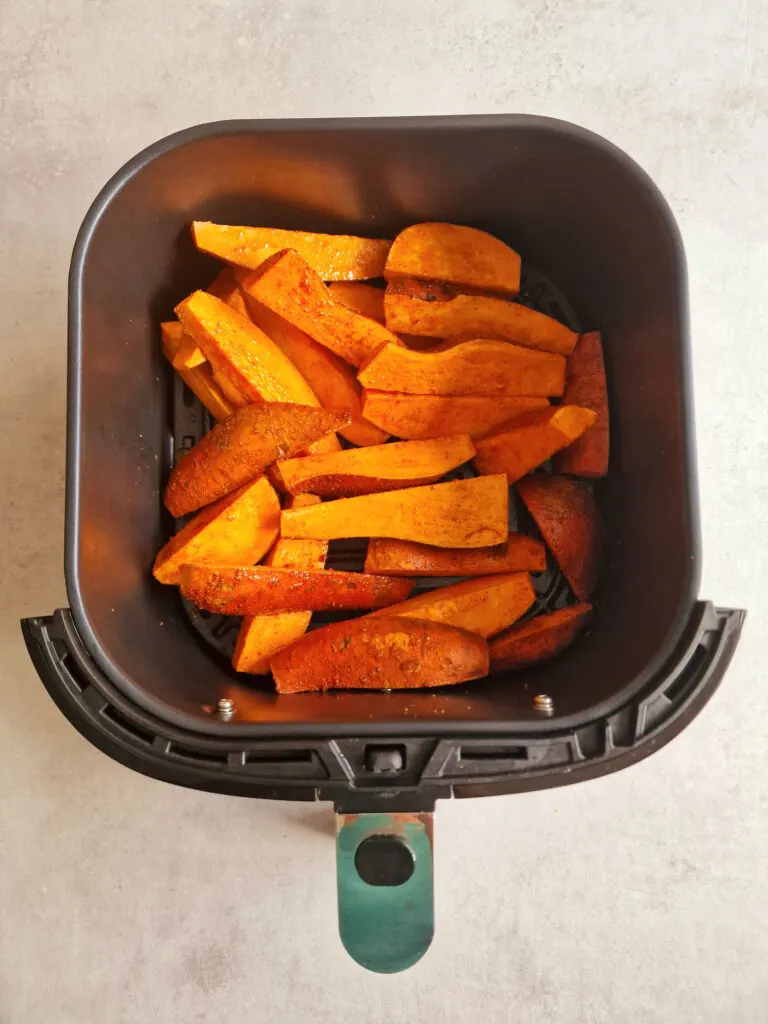 Set the timer for 20 minutes and the temperature to (200°C/390°F). Check on them at least once at the halfway mark, more if you remember to. Give them a good shake to ensure none are stuck and that all the wedges crisp up.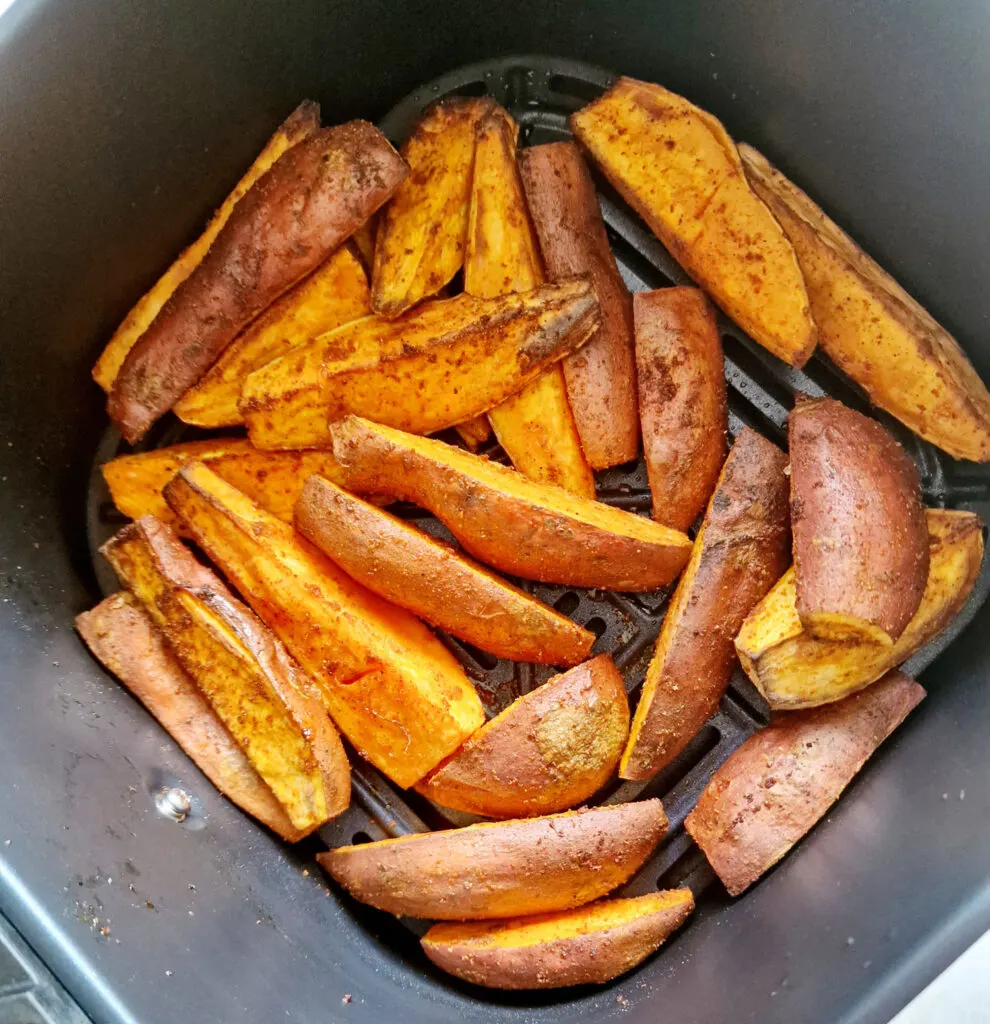 At the end of the 20 minutes, the sweet potatoes should be crispy on the outside and soft and fluffy on the inside. If they don't look ready, continue to air fry, checking on them after 2 minutes.
Serve the sweet potato wedges as a side dish or as a snack with your favourite dip.
🧾 More Air Fryer Recipes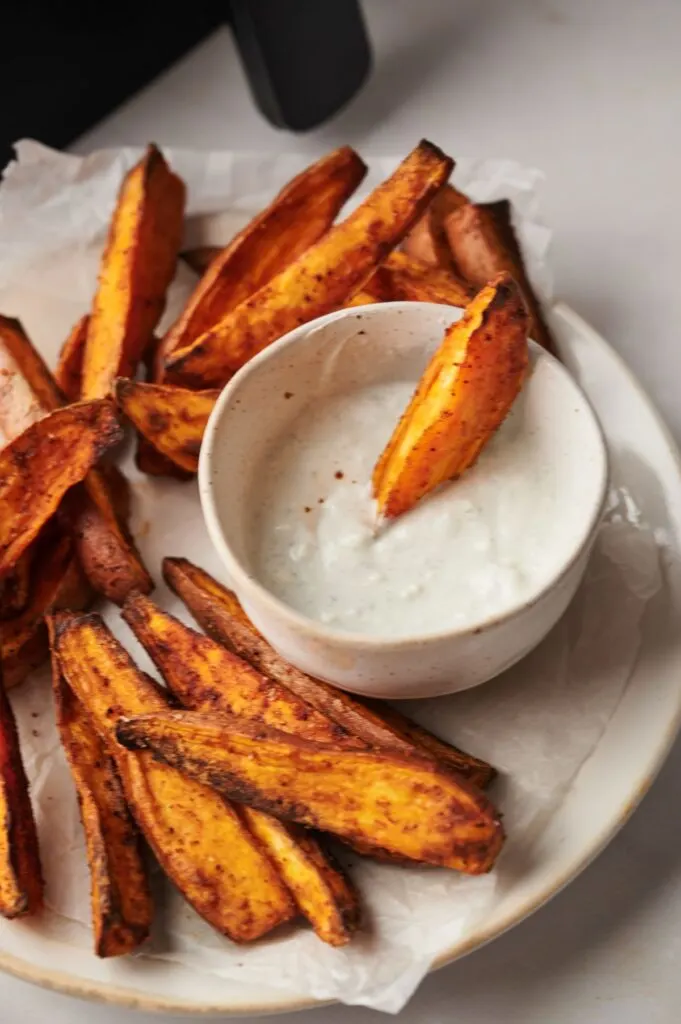 👉 Recipe Card (Instructions + Print)