If you love crispy air fryer chips, you'll love air fryer potato slices!
They're perfect as a side dish or as a snack, and best of all, they're really easy to make – just slice your potatoes, coat them with your favourite herbs or spices, and put them in the air fryer.
You'll have a delicious snack in no time.
Read on to find out how to make them.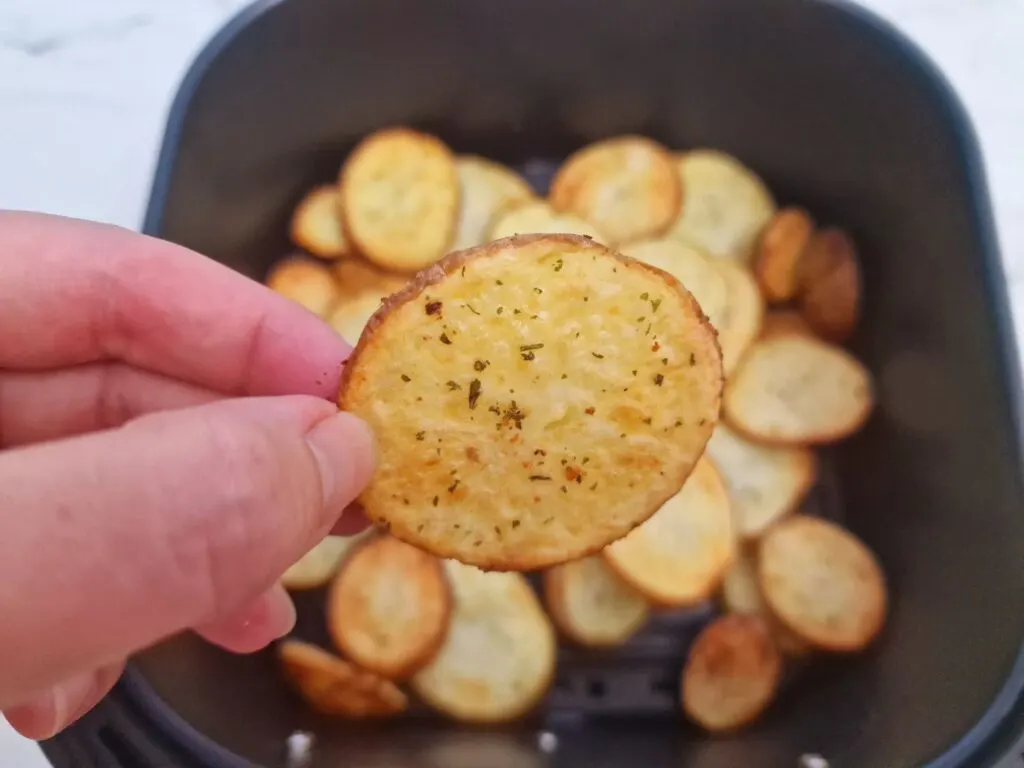 What You Need:
To print out the exact quantities and ingredients, scroll down to the recipe card at the bottom of this post.
Potatoes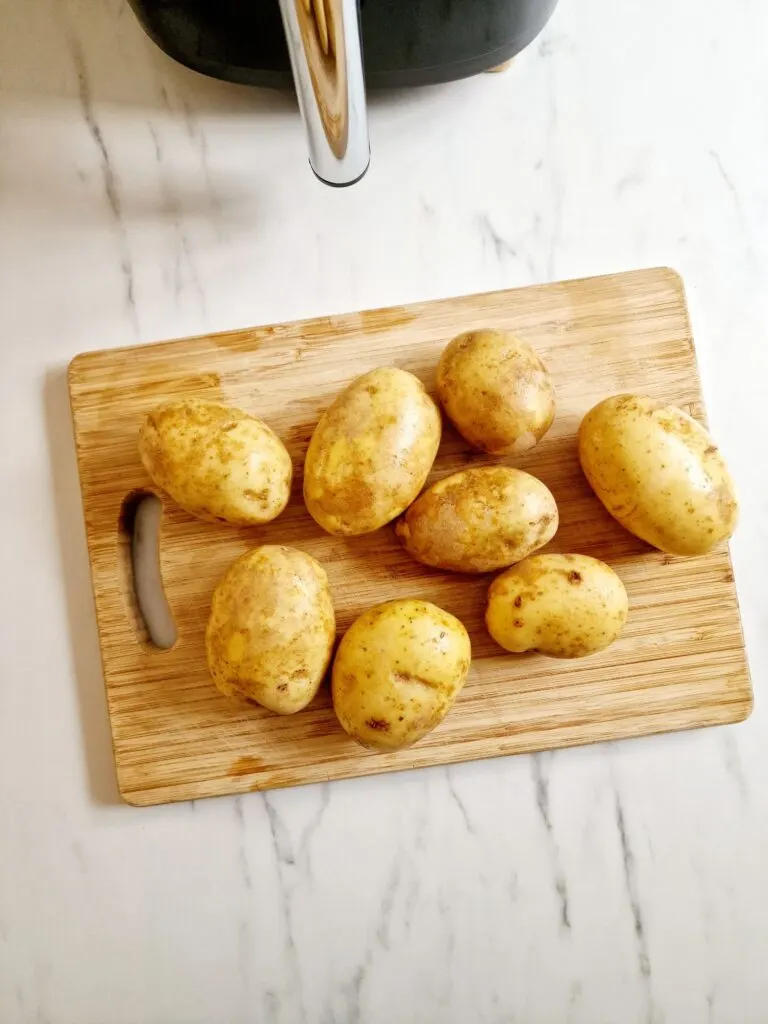 Allow one large potato per serving or two to three medium-sized ones. I used Maris Pipers, but you can use any type of floury potato.
There is no need to peel the skin; just give them a good wash before cutting them into thin slices.
Add them to a pot full of water to soak as you slice them.
Herbs and Garlic
You can air fry the potato slices as they are, with just a little bit of oil and salt, or add some of your favourite herbs and spices.
I used one teaspoon of garlic granules, one teaspoon of mixed dried herbs and 1/2 teaspoon of salt.
Oil
While it isn't essential to use oil, if you drizzle a little over the potato slices, they will be crispier on the outside while staying soft and fluffy on the inside.
Air Fryer
Potato slices can be cooked in any air fryer; you may need to cook in batches if you have a small air fryer basket.
You might be interested in my guide to buying an air fryer in the UK.
How To Make Potato Slices In An Air Fryer
Start by cutting the washed potatoes approximately 1/2 cm thick, it's ok to cut them thicker, but they will take longer to cook.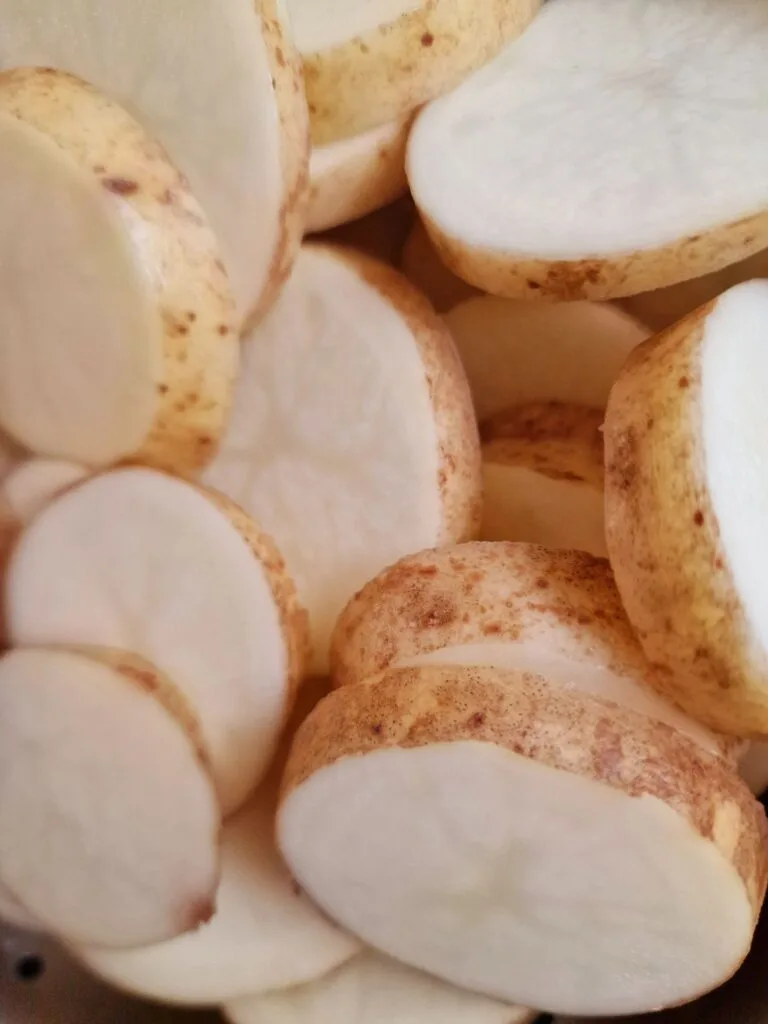 As you cut them, add them to a pot of cold water.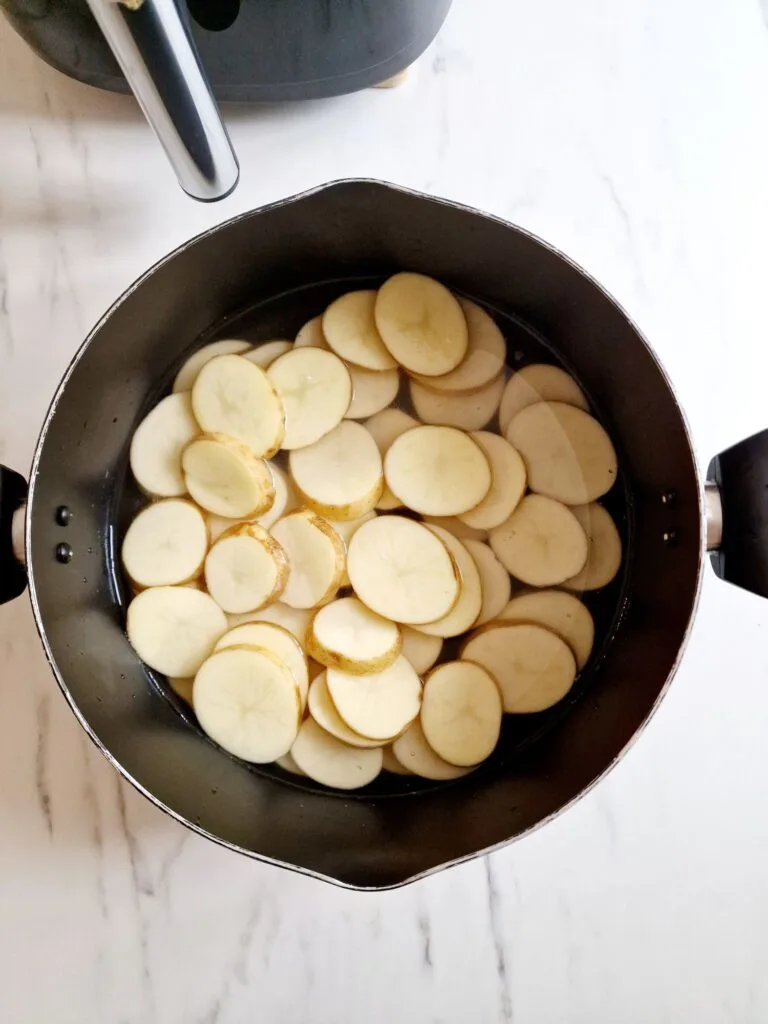 Drain the water from the potatoes and pat them dry with some kitchen roll or a clean tea towel.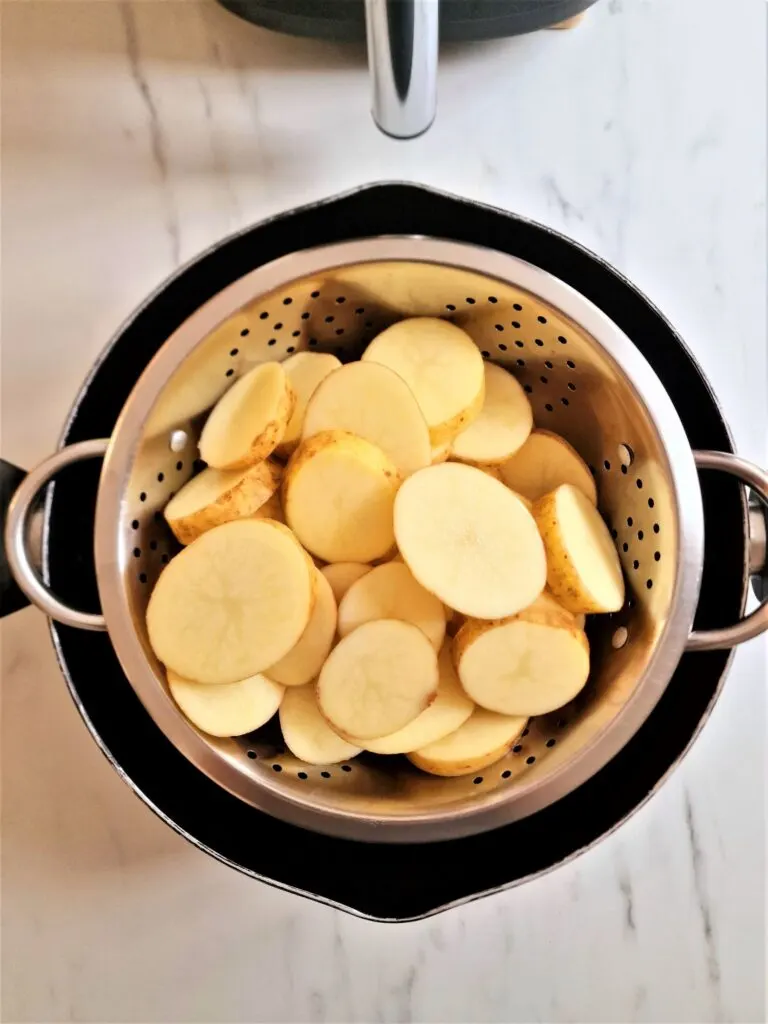 Add one to two tablespoons of oil to the dried sliced potatoes, sprinkle your choice of herbs and seasoning, and toss to ensure they are all coated.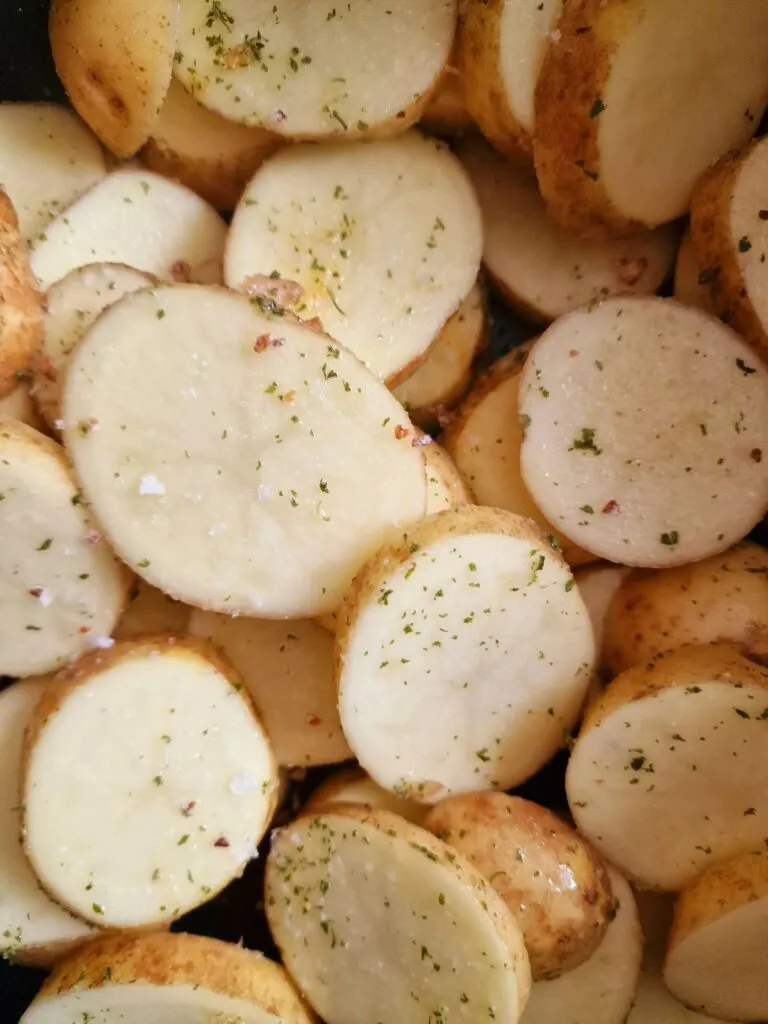 Transfer the seasoned potato slices to the air fryer basket and set off on 200°C/390°F for 18 minutes, shaking halfway.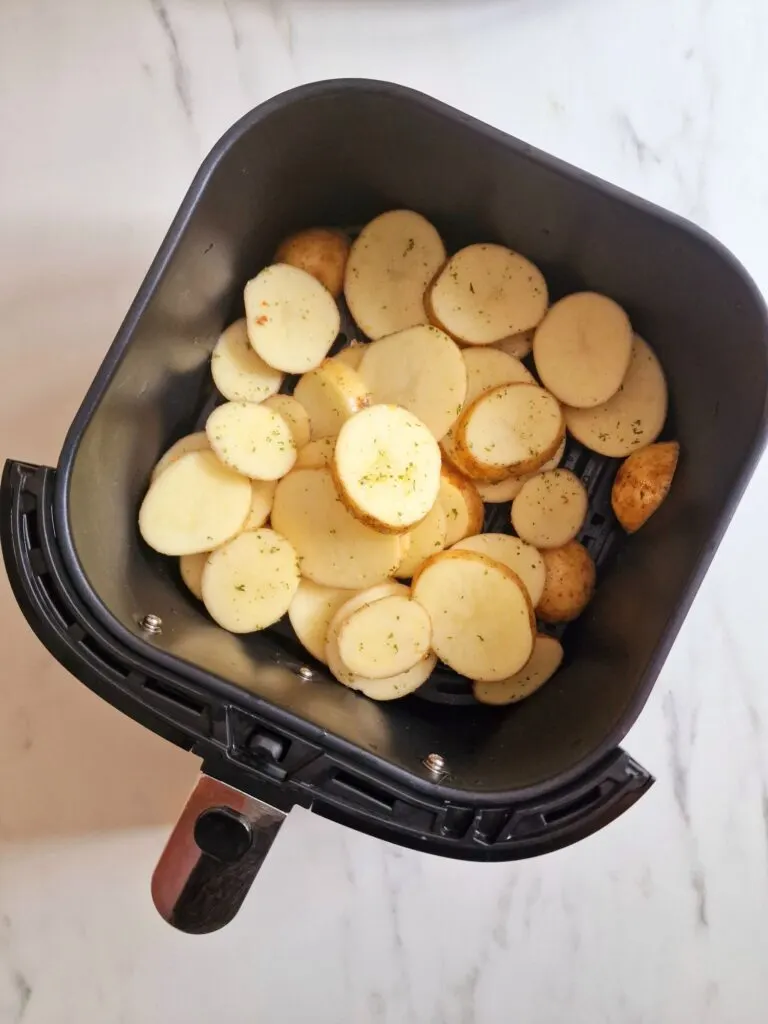 If, at the end of the 18 minutes cooking time, the slices are not crispy on the outside and soft on the inside (you can poke them with a sharp knife), return them to the air fryer basket for a further two to three minutes.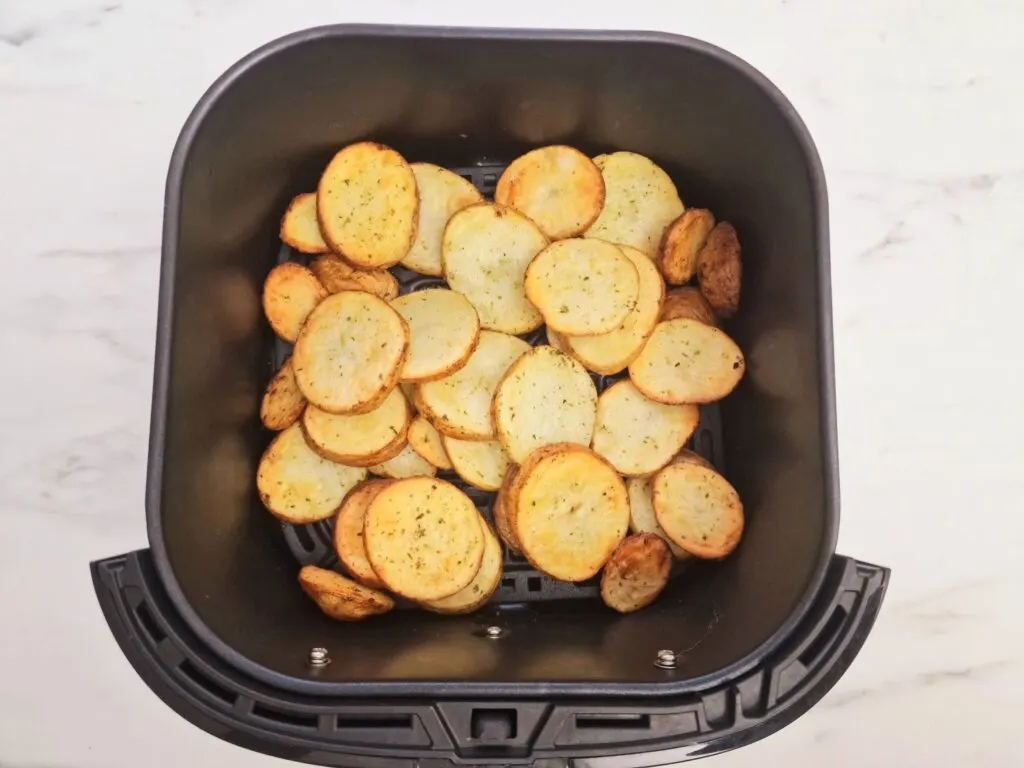 When the potato slices are ready, serve as a side dish or enjoy as a snack.
You Might Also Like: Easy Air Fryer Recipes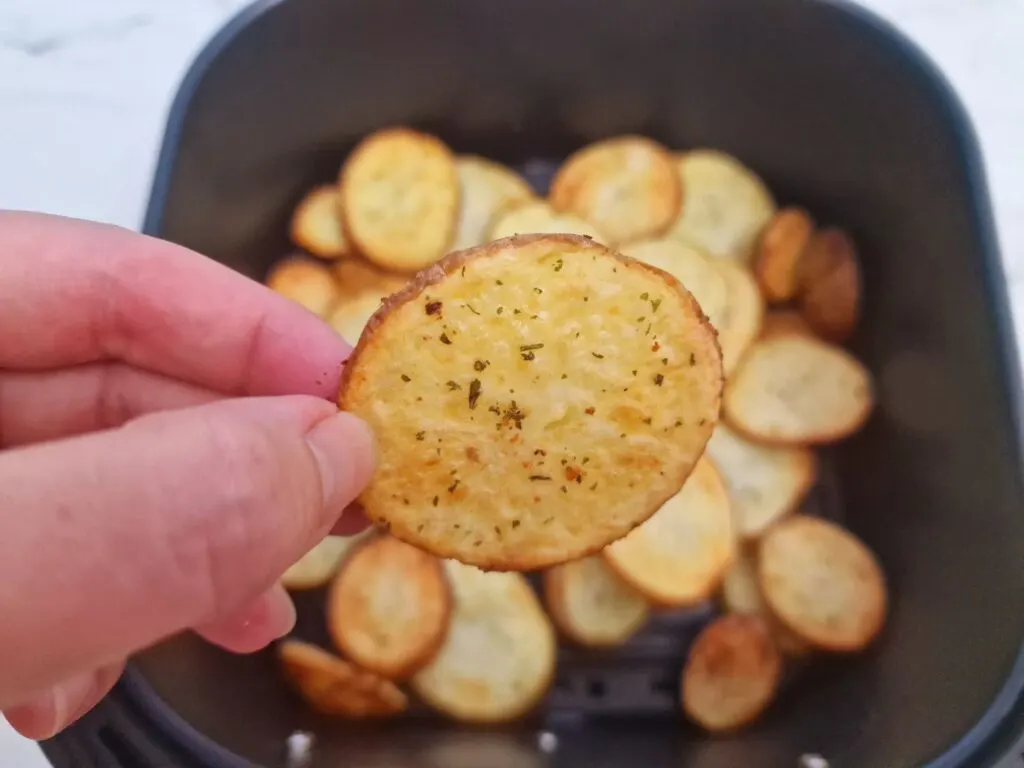 I hope you enjoy these air fryer potato slices; let me know in the comments if you make them and how it went!
More Air Fryer Potato Recipes