Looking for a delicious and easy-to-make dessert? Try these air fryer apple turnovers – they're simple to make and taste amazing.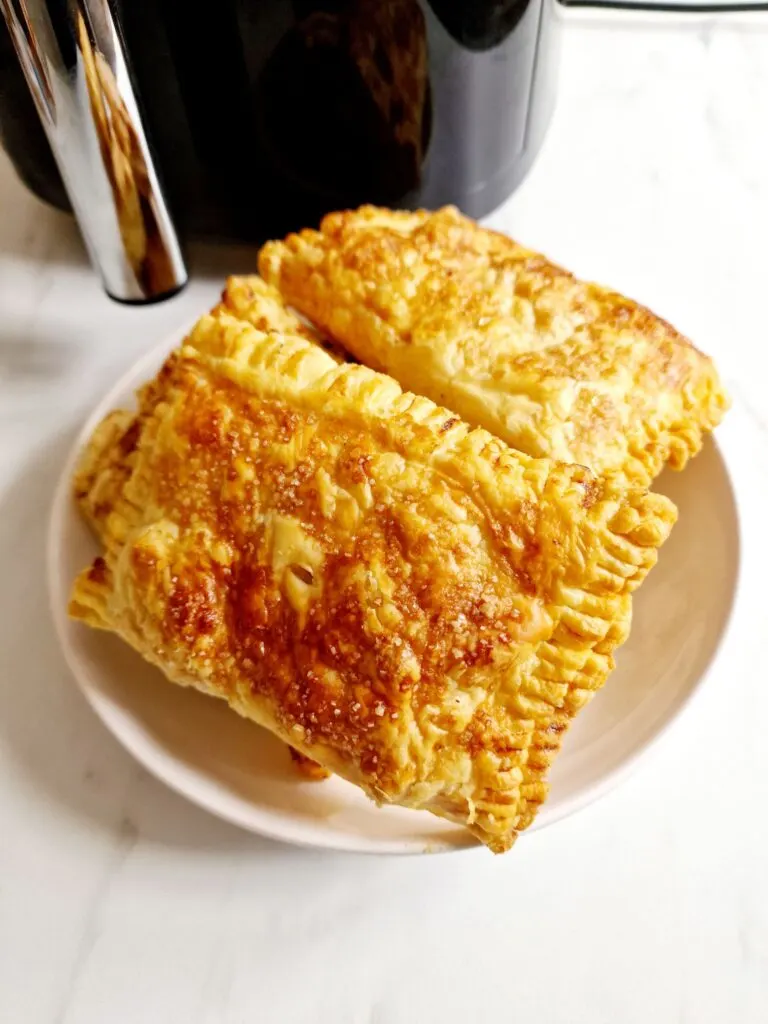 What You Need:
The following quantities will make four large apple turnovers; you can adjust the quantities according to how many you want to make.
To print out this recipe, head down to the bottom of the post to the recipe card.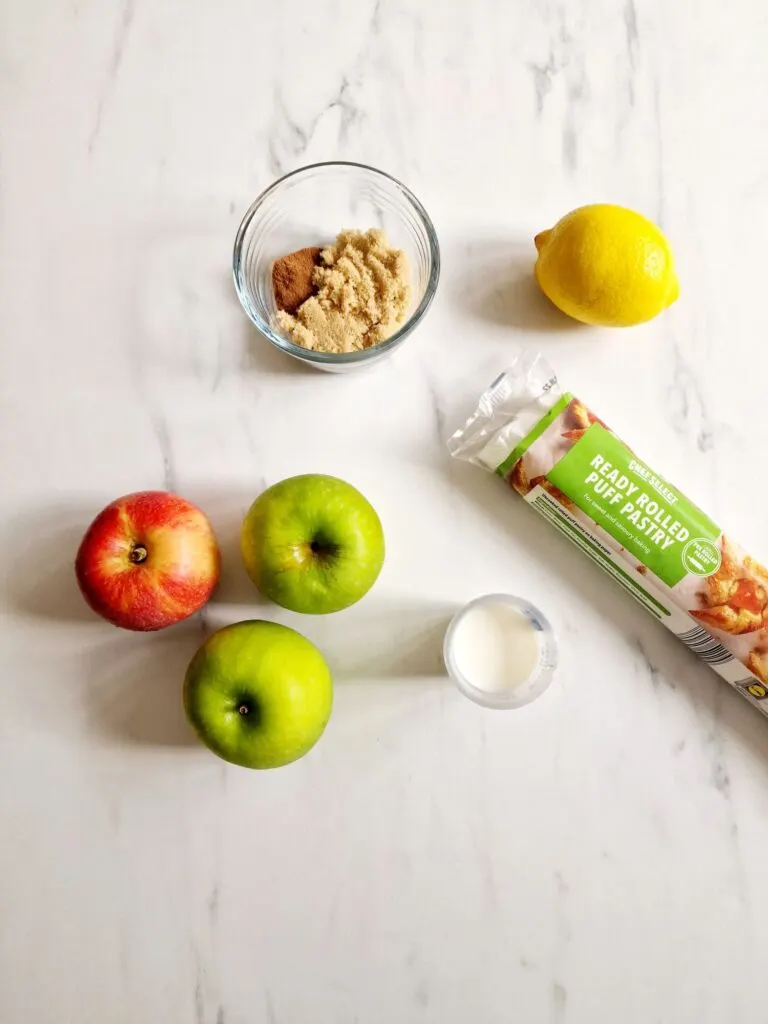 Apples
You can use any type of dessert or cooking apple. Any of the following varieties will work – Bramley, Gala, Granny Smith, Golden Delicious, Pink Lady.
I used two Granny Smiths and one Royal Gala for four large apple turnovers.
If you use Bramley apples, you can probably use two instead of three as they tend to be larger.
Sugar, Cinnamon, Lemon Juice
These ingredients are cooked with the apples. I used two tablespoons of brown sugar, one teaspoon of ground cinnamon and one tablespoon of lemon juice. I also used a sprinkle of sugar over the top of the apple turnovers before air frying them.
Puff Pastry
You can make your own puff pastry, or a much quicker and easier option is to buy some that is fresh and ready rolled.
I bought mine from Lidl, which weighed 320g. You can use less or more depending on where you buy yours from.
Milk
You only need a little bit of milk to brush the edges of the pastry and to baste the tops.
Air Fryer
You can use any air fryer to make apple turnovers. Some baskets are bigger than others, so you may need to cook them in batches if necessary.
Some air fryer baskets stick more than others; if yours is prone to food sticking on it, brush a little oil over it, or place the apple turnovers on some baking paper.
How To Make Apple Turnovers In An Air Fryer
The first step is to prepare the apples by peeling and dicing them into equal sizes. Cover the apples with lemon juice and sprinkle with brown sugar and cinnamon.
Air fry at 190°C/380°F for 10 minutes, shaking at the halfway point. The apples should be soft – if you want them to be softer, return to the air fryer for a few more minutes. Remember, they will also cook more when they are in the puff pastry and returned to the air fryer.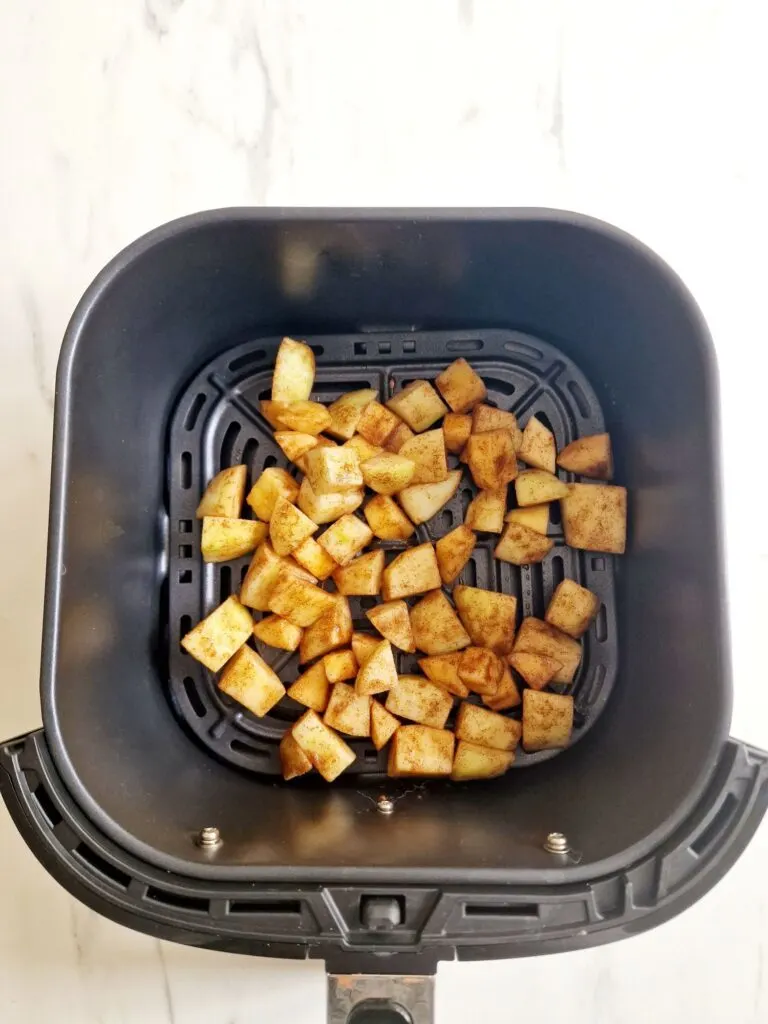 If you prefer the filling to be softer and smoother in texture, you can stew the apples in a pot on the stove or microwave.
Roll out puff pastry into four equal-sized rectangles – you can also make smaller apple turnovers by cutting the pastry up into smaller sizes. To make traditional-shaped apple turnovers, cut the pastry into squares instead.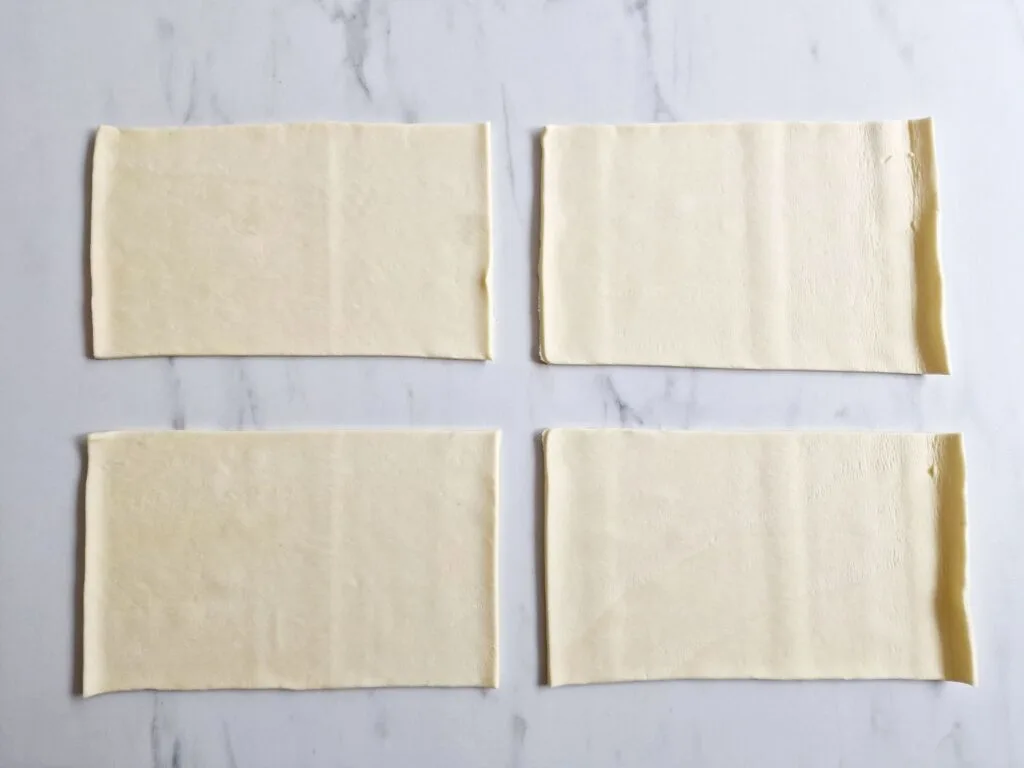 Lay the cooked apple out on one side of each rectangle, leaving a 1cm space. Don't be tempted to add too much filling; the pastry might split when you fold it over.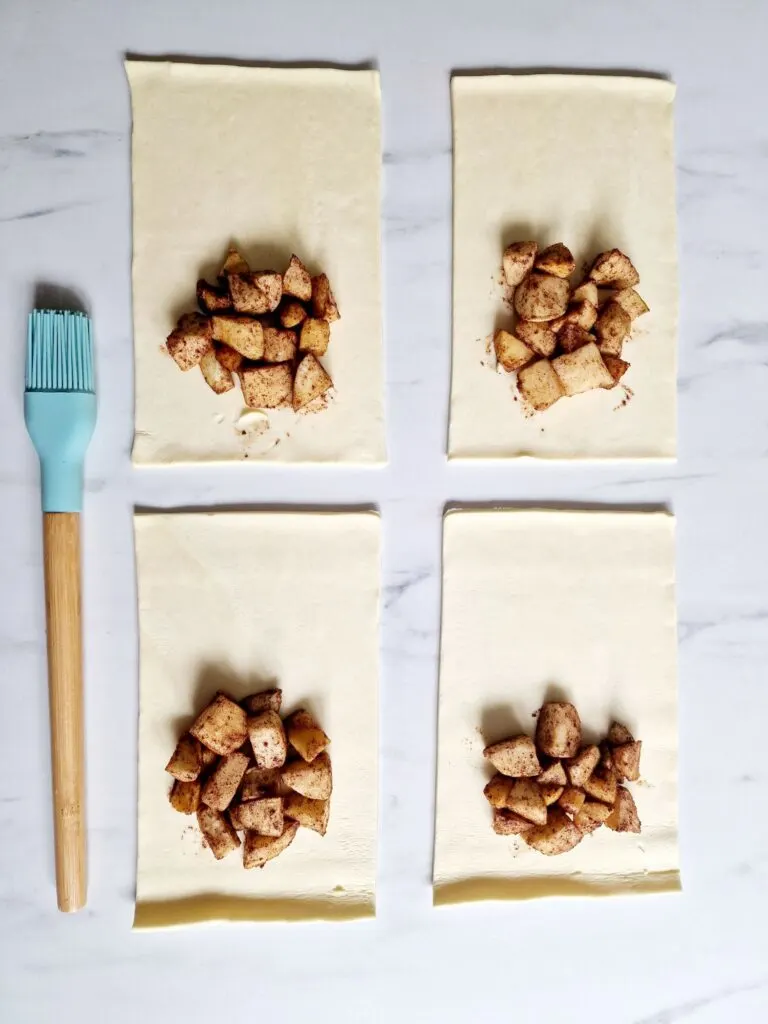 Next, brush some milk along the edges and fold over.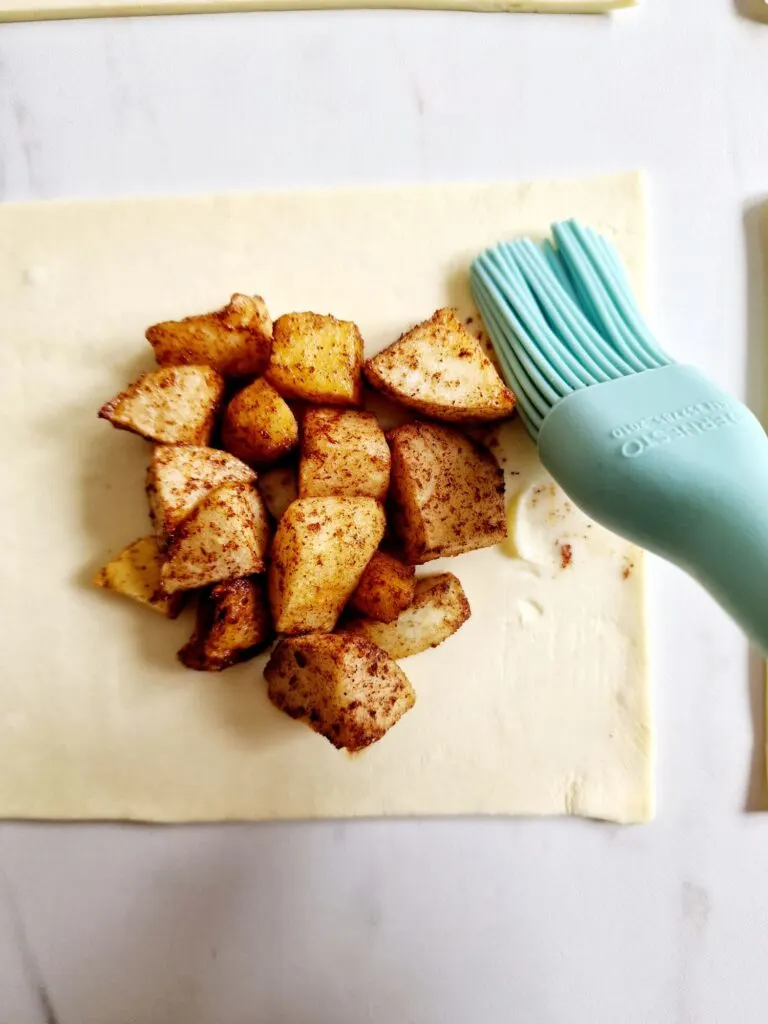 Use a fork to press the pastry dough together.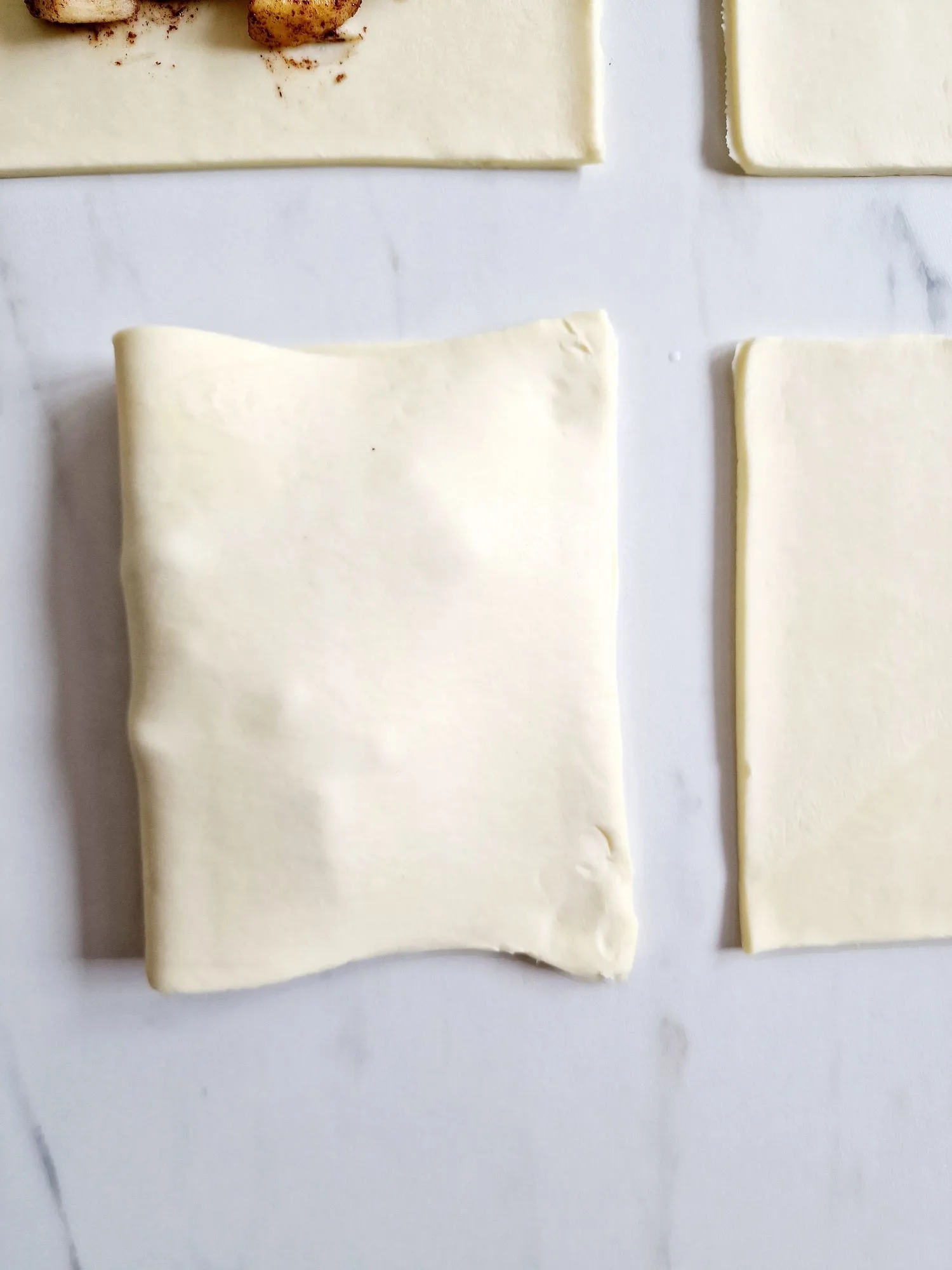 Then, brush some more milk on top and sprinkle with sugar. Pierce a hold in the top to allow the steam to escape during the air frying process.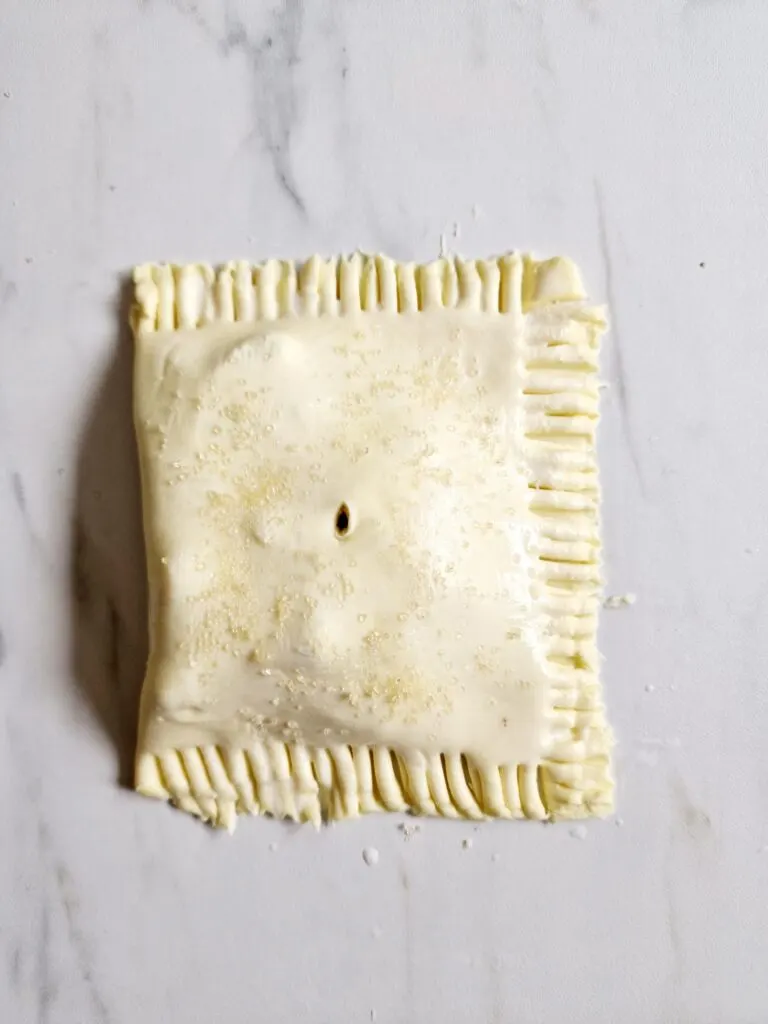 Place the apple turnovers in the air fryer basket and cook for 10 minutes, carefully flipping over with a spatula at the halfway mark.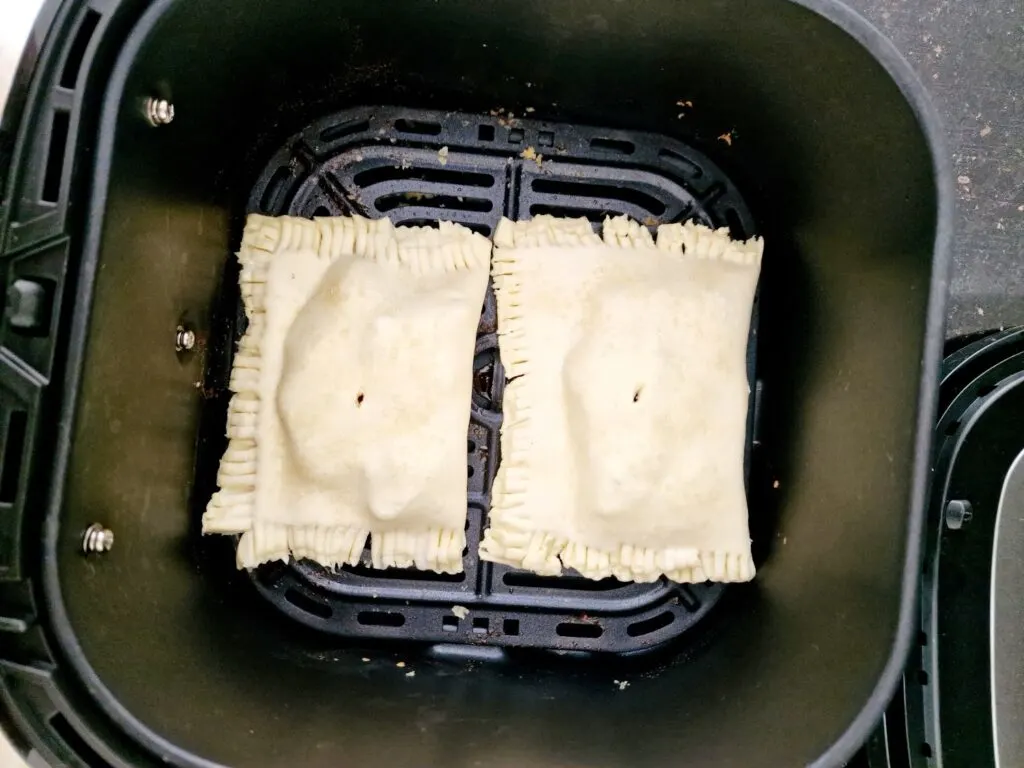 If food is prone to sticking on your air fryer basket (they are all different), you might want to brush a little oil on it first or lay the apple turnovers on some baking paper.
At the end of the cooking time, the apple turnovers should be golden brown on the outside and the pastry flaky.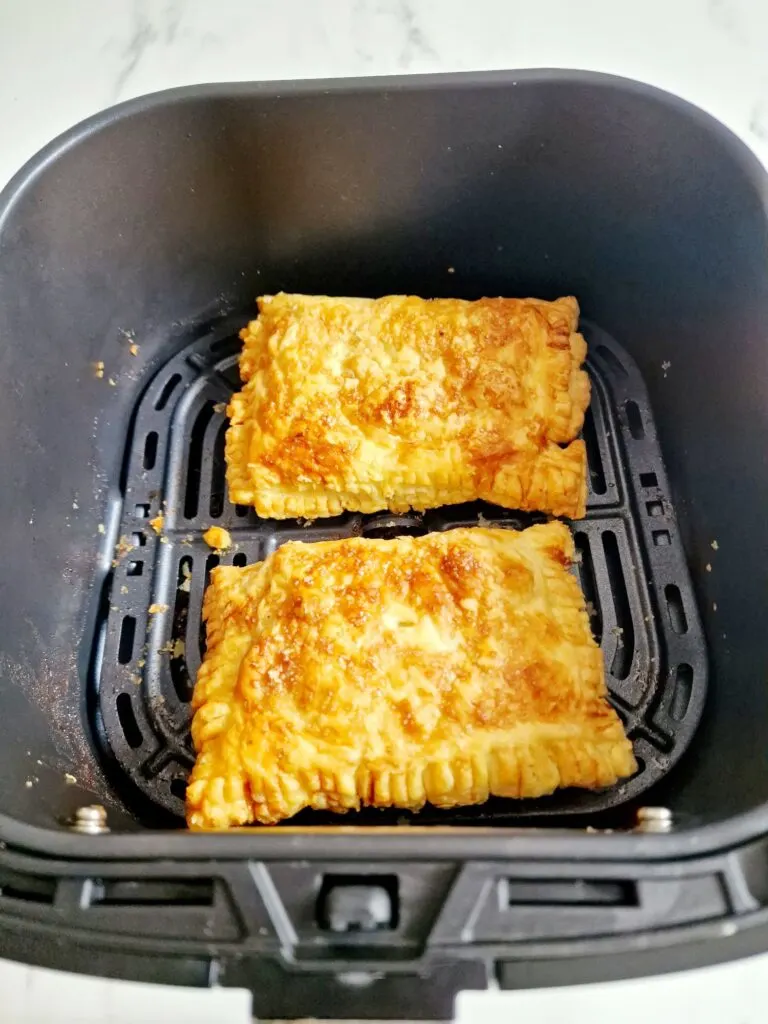 Leave to cool for ten minutes before serving – be careful when first taking a bite into them; the filling will be steaming hot!
Serve with vanilla ice cream or eat as they are.
I hope you enjoy this air fryer apple turnover recipe – let me know in the comments if you end up making it!
More Air Fryer Dessert Recipes