Did you know you can make an apple crumble in an air fryer?
Apple crumble is a staple British pudding; it's certainly a regular in our house.
It's one of those recipes that doesn't take too long to prepare and not that long to bake, which is why I was so excited to try it out in the air fryer.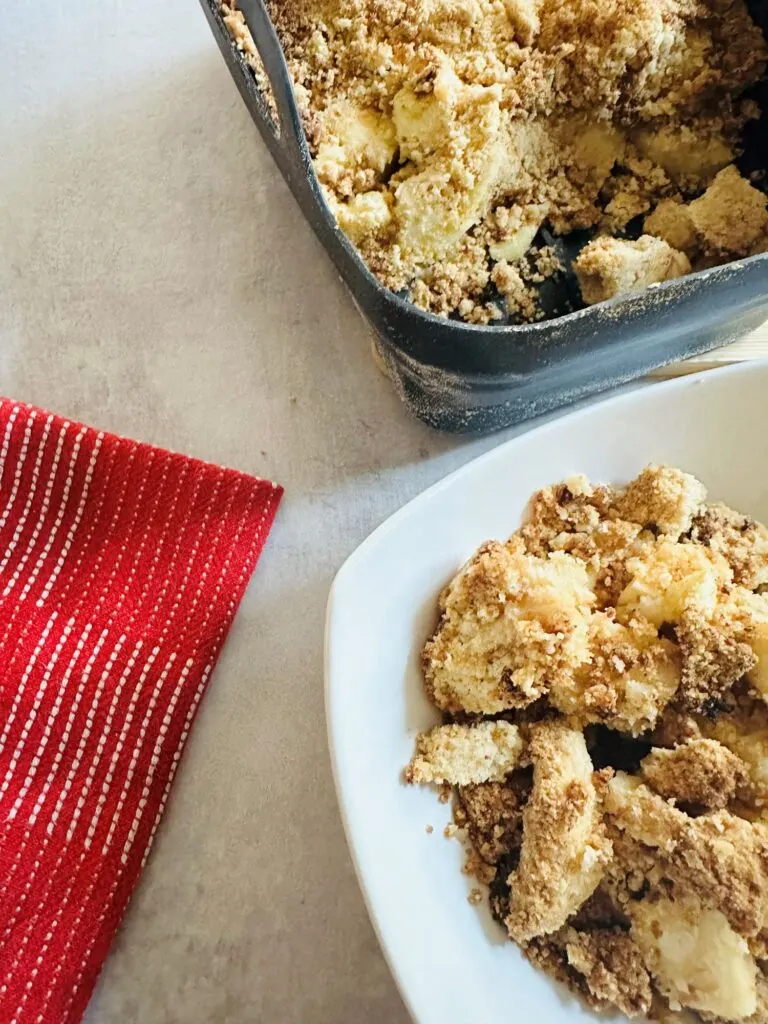 How To Make Apple Crumble In An Air Fryer
The quantity of apple crumble you can make will depend on the size of your air fryer.
I originally made this recipe in my first ever air fryer, which was a Philips, with a capacity of 4 litres. I've recently made it again in a Ninja Foodi Dual Air Fryer – in one of the drawers – with a capacity of 4.75 litres, so there is not too much difference.
What You Need: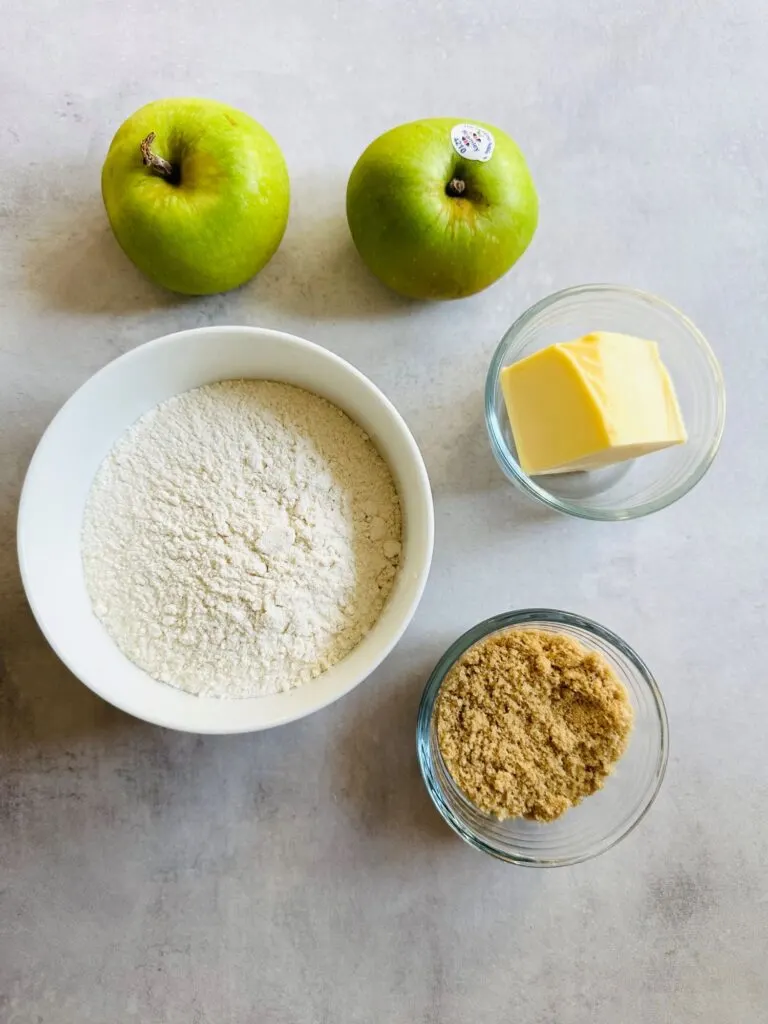 Bramley apples – I use between two and three apples, depending on their size.
Plain flour – I use 250g of plain flour.
Cinnamon – this is optional; I love adding a teaspoon of ground cinnamon to the crumble mixture.
Butter – I use 150g of butter.
Sugar – I use 75g of brown sugar. I only add it to the crumble mixture; you could add a little to the apples, too if you want to, but I personally prefer to leave them as they are.
What Apples Are Best For Cooking?
I prefer Bramley Apples for apple crumbles, but you could also use Granny Smiths.
This recipe took two large Bramley apples, peeled, cored, and chopped into small chunks. You could use three apples if it doesn't look like you have enough.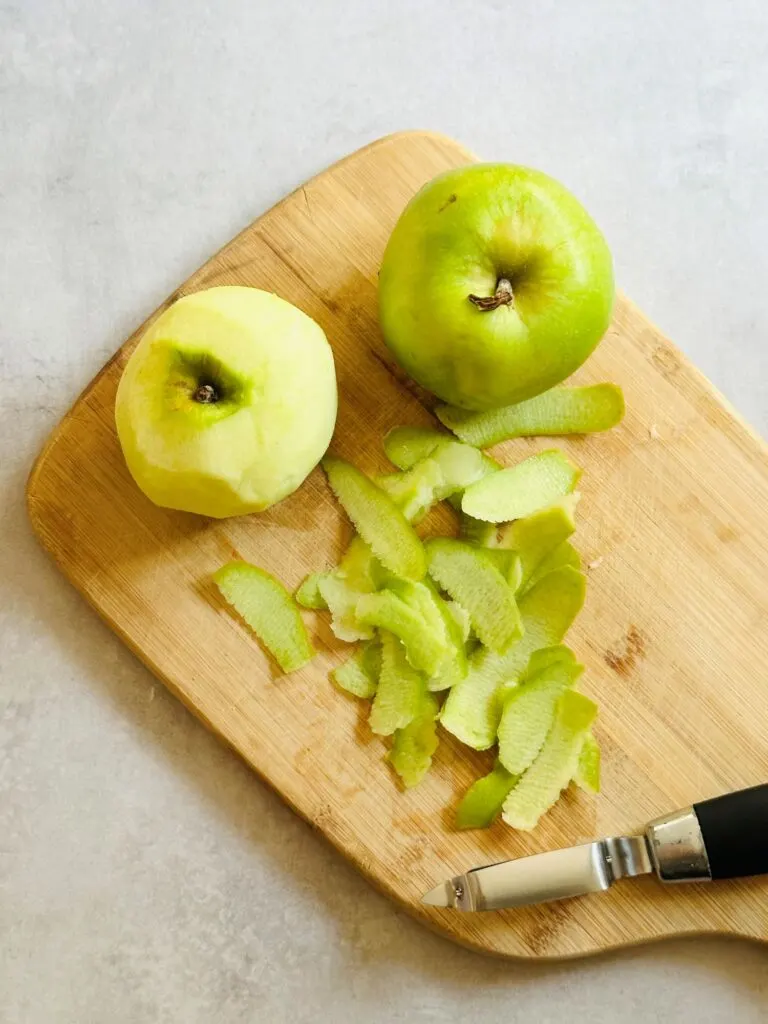 I didn't boil them first, but you can if you prefer the softer texture that comes from boiling them.
I added the chopped apples straight to the air fryer liner/baking tin that fits in the air fryer and sprinkled two tablespoons of water over the top.
I used this silicone air fryer liner from Amazon.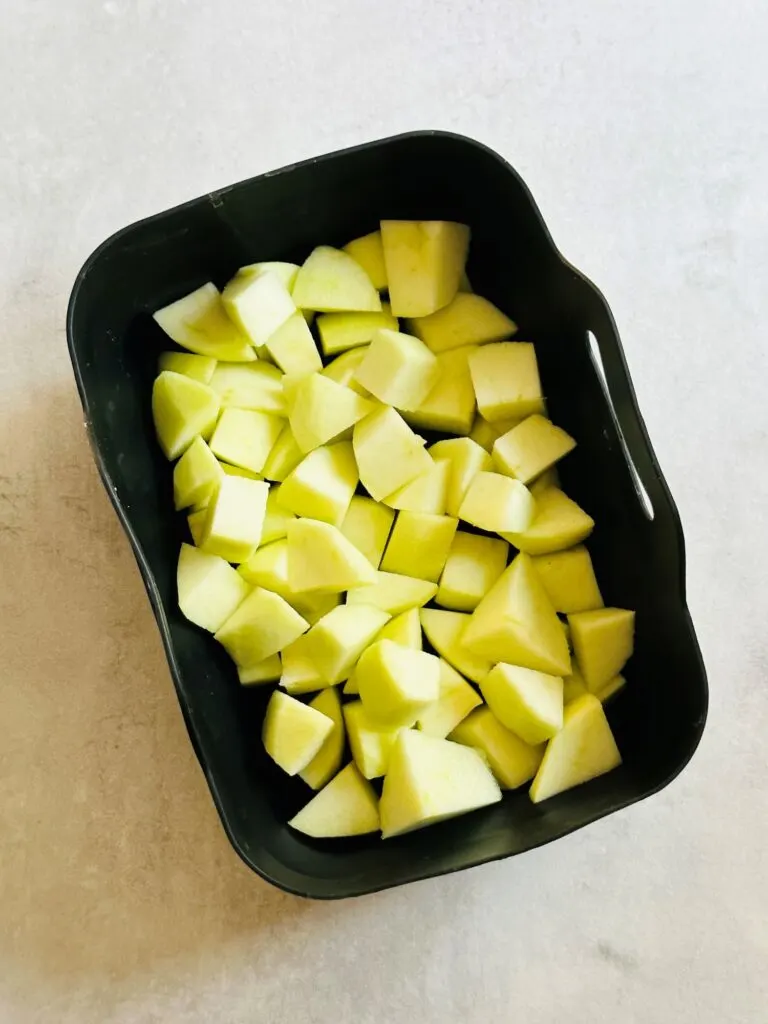 I air-fried them at 180°C for 15 minutes, shaking them twice – once at the 5-minute mark and once at the 10-minute mark.
While the apples were in the air fryer, I prepared the crumble mixture. In this updated recipe, I make the crumble in a food processor to save time (and effort!), but you can use your hands too.
Using A Food Processor For Making Crumble
Add the flour, cinnamon and butter chunks to a food processor and mix on low speed until the mixture resembles breadcrumbs.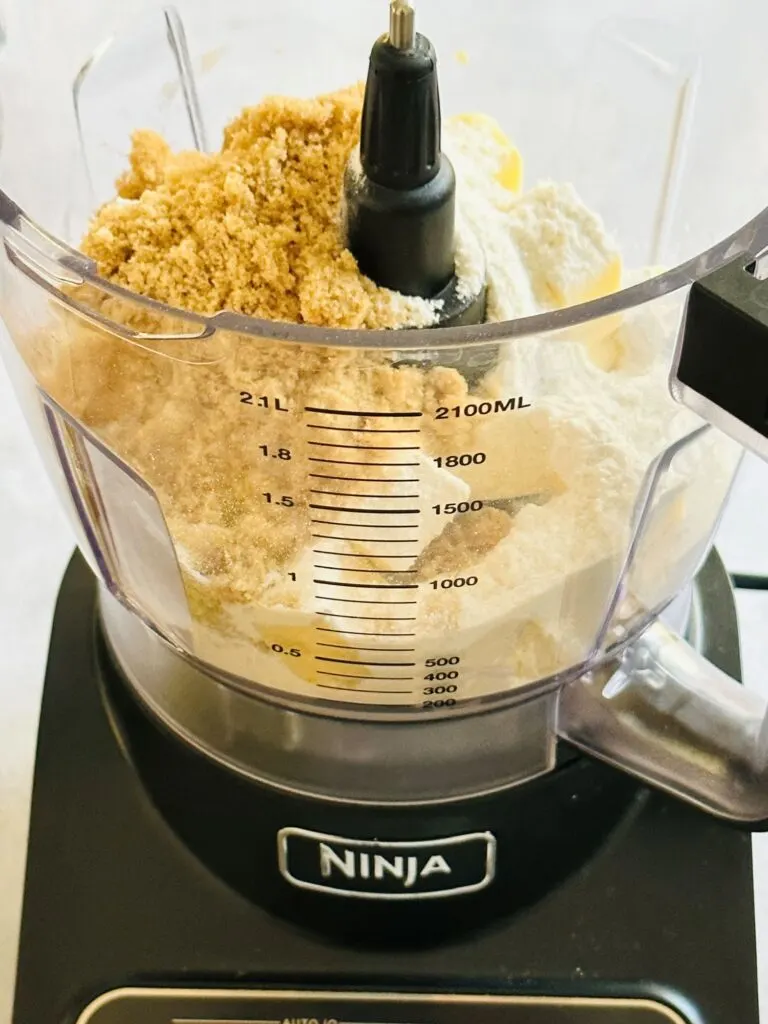 Be careful not to over-process them, or you will end up with a mixture that is too fine. Not only will this change the end result of the crumble texture, but some of the mixture will also fly about the air fryer as it will be too light!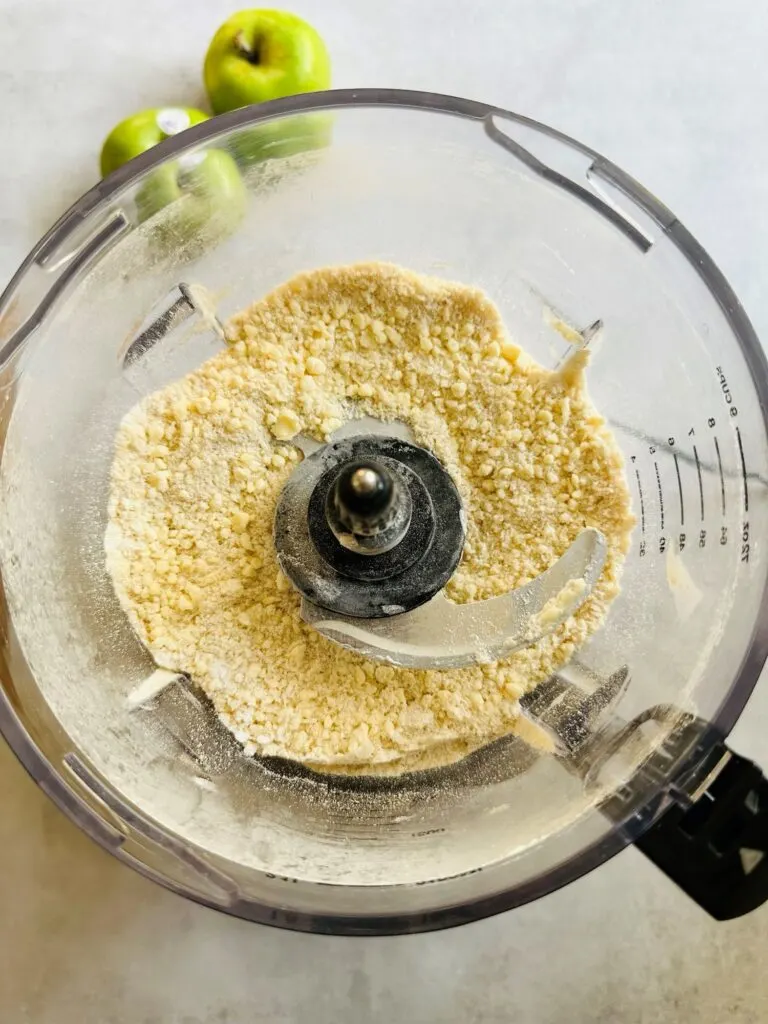 Making The Crumble Mixture By Hand
I think this method produces a better end result, even if it is a little bit more work 😉
Add the butter cubes, flour and cinnamon to a bowl and, using your hands, mix everything together until it resembles breadcrumbs.
Add The Crumble To The Cooked Apples
By now, the apples should have softened up in the air fryer. Open the air fryer and pour the crumble over the top of the apples, levelling it out with a fork if necessary.
These are the pictures of me making an apple crumble in a dual-basket air fryer.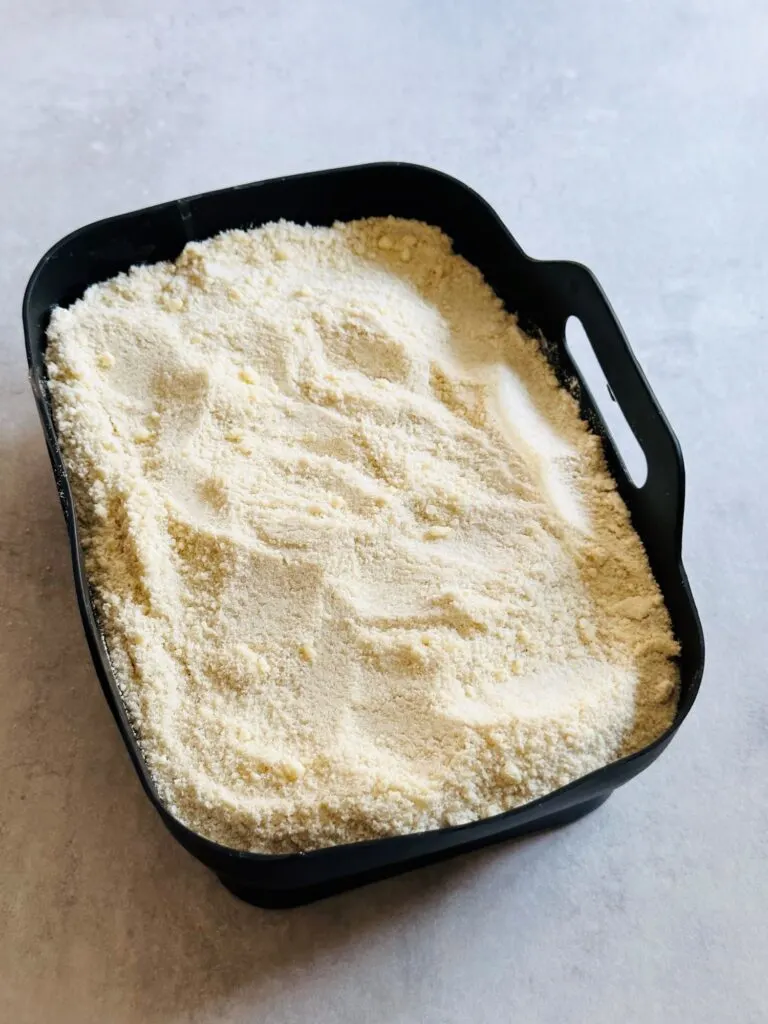 And previously, I made the same apple crumble recipe in a Philips air fryer. Basically, this recipe can be adapted for any air fryer.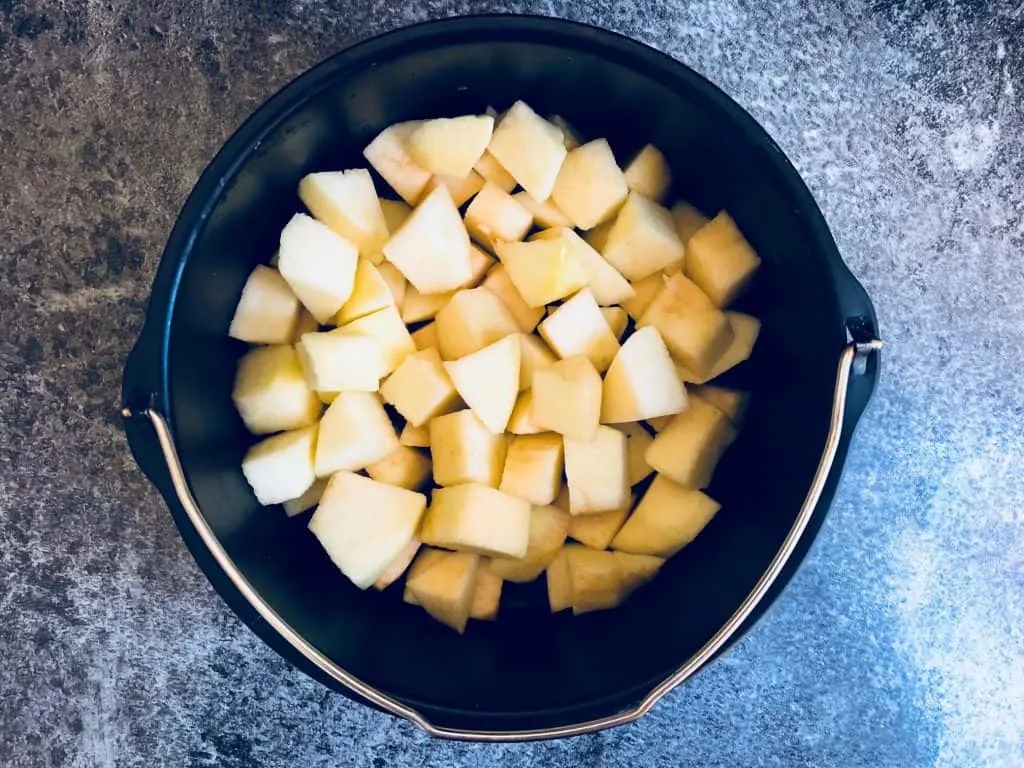 Close the air fryer and cook for a further ten to twelve minutes or until the crumble has crisped up.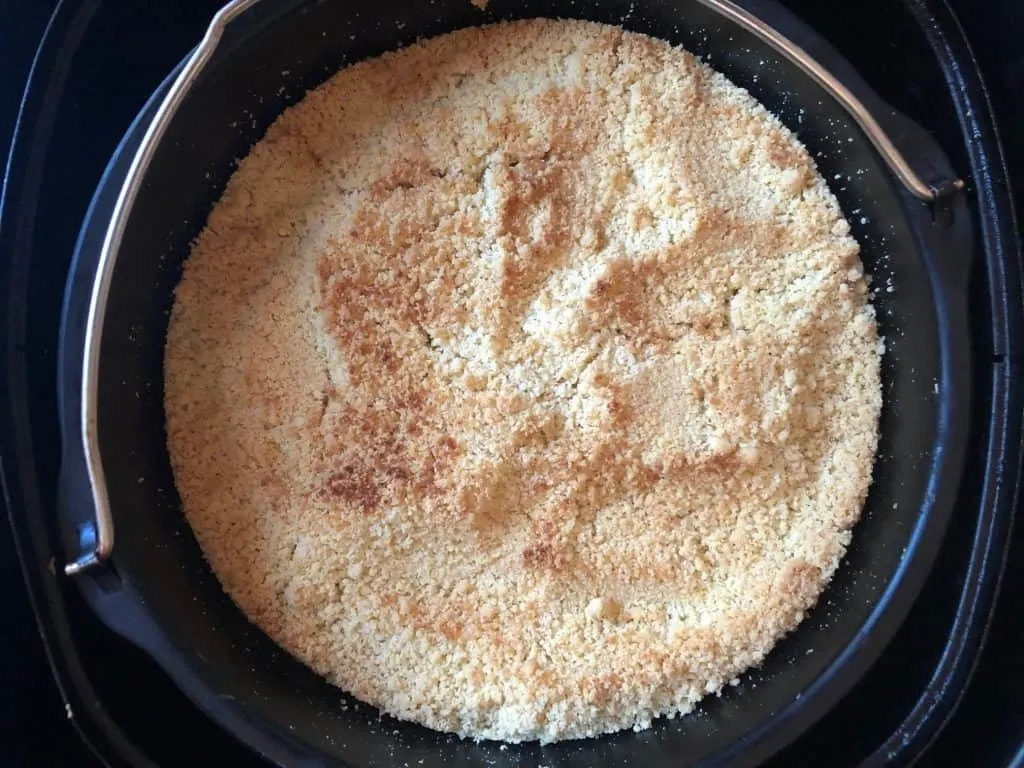 Keep an eye on it to make sure it doesn't burn. Remember, some air fryers cook at different speeds than others.
What To Serve With Apple Crumble
Serve the apple crumble with ice cream, custard, cream or by itself.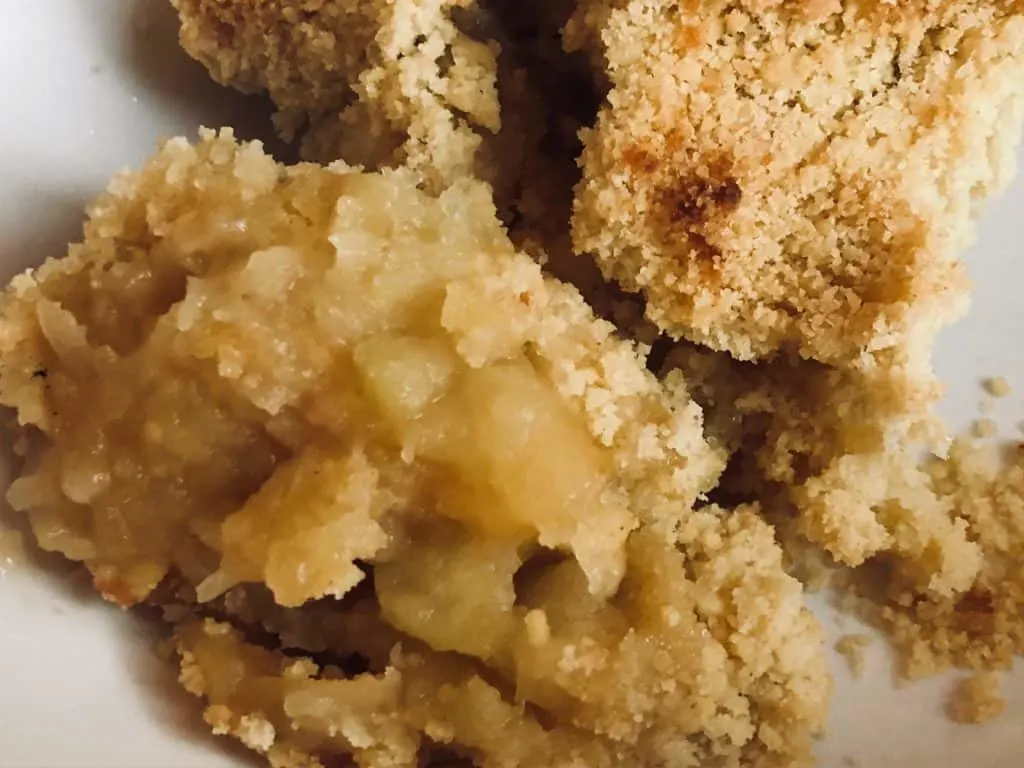 More Air Fryer Dessert Recipes
Did you like this recipe? Do you want some more? If so, please head over to my Air Fryer page on Facebook, where I share some more recipes.