This warming soup blends delicious spicy piri piri flavours with chicken and chopped tomatoes.
You can make this recipe as fiery or mild as you wish and adapt the flavour depending on what you have available.
Read on to discover how to make this piri piri chicken soup in a soup maker.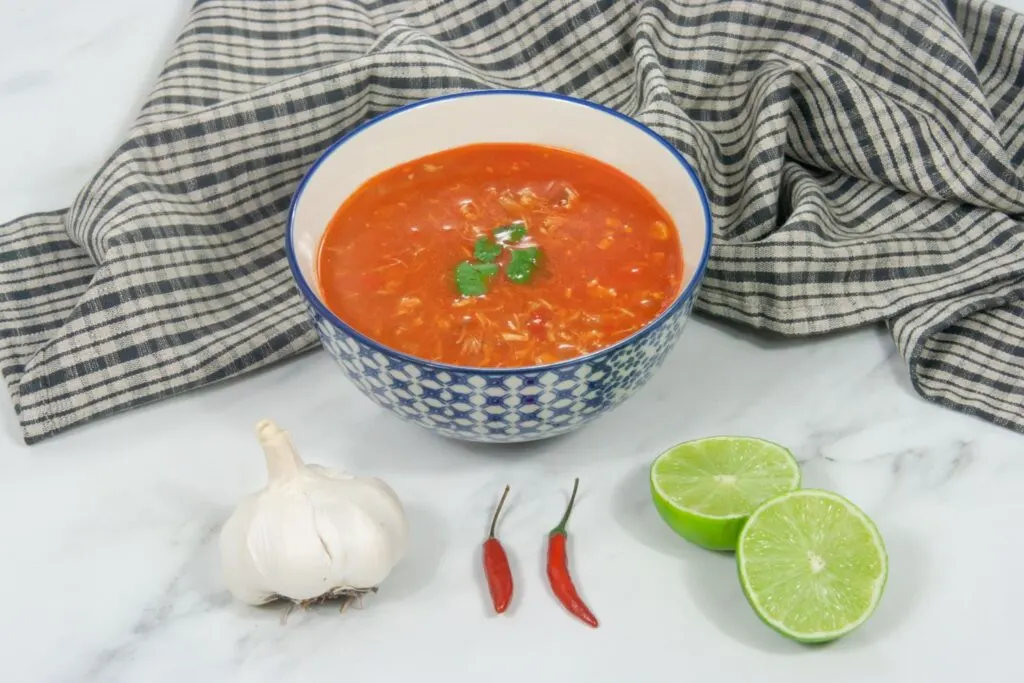 What You Need To Make Piri Piri Chicken Soup (In A Soup Maker)
The ingredients below can be adapted and altered depending on what you have available. If you have a Ninja Soup Maker, you can make this using raw or cooked chicken.
For other soup makers, it's best to use cooked chicken or check with the soup maker manual to see if you can use raw meat.
For more concise instructions and to print out this recipe, head to the bottom of the post to the recipe card.
Onion – I used one red onion
Garlic – I used two cloves; you can use more for a more garlicky taste
Chicken – I used three boneless chicken thighs; you can use breasts. If your soup maker manufacturer recommends only using cooked meat, use some leftovers or cook up some as you normally would before adding.
Peppers – I used one red pepper, chopped. You can use any colour you have.
Chilli – I used two small red chillies (bird's eyes), but you can use just one of any chilli you prefer or have available.
Tomatoes – I used 400g of chopped tomatoes (from a tin) as well as one tablespoon of tomato puree.
Piri Piri Seasoning – I used one tablespoon of a premade blend. You can also make your own (suggestions below)
Seasonings – I added half a teaspoon of celery salt and half a teaspoon of ground black pepper.
Stock – I used a chicken stock pot
Lime – optionally squeeze the juice of half a lime into the soup.
I used a Ninja Soup Maker, but this recipe can be adapted to any soup maker model.
Making The Piri Piri Chicken Soup
Prepare the ingredients by cutting the chicken up into small chunks. Slice the onion, peppers and chilli and crush the garlic.
Optionally saute the onion and garlic (I didn't bother with this step) before adding the remaining ingredients to the soup maker.
I always add the stock pot directly to the soup maker, followed by hot water to the line. You may prefer to use cold water or make up the stock separately before adding.
This soup can be made using the chunky or smooth setting. I like to use the chunky program for this soup, and then at the end of the cycle, I give the soup maker a few quick blends so that it is midway between chunky and smooth.
Making Your Own Piri Piri Spice
If you want to make your own piri piri seasoning, you can easily do so. There are many versions of this popular spice blend, so feel free to change spices as you wish.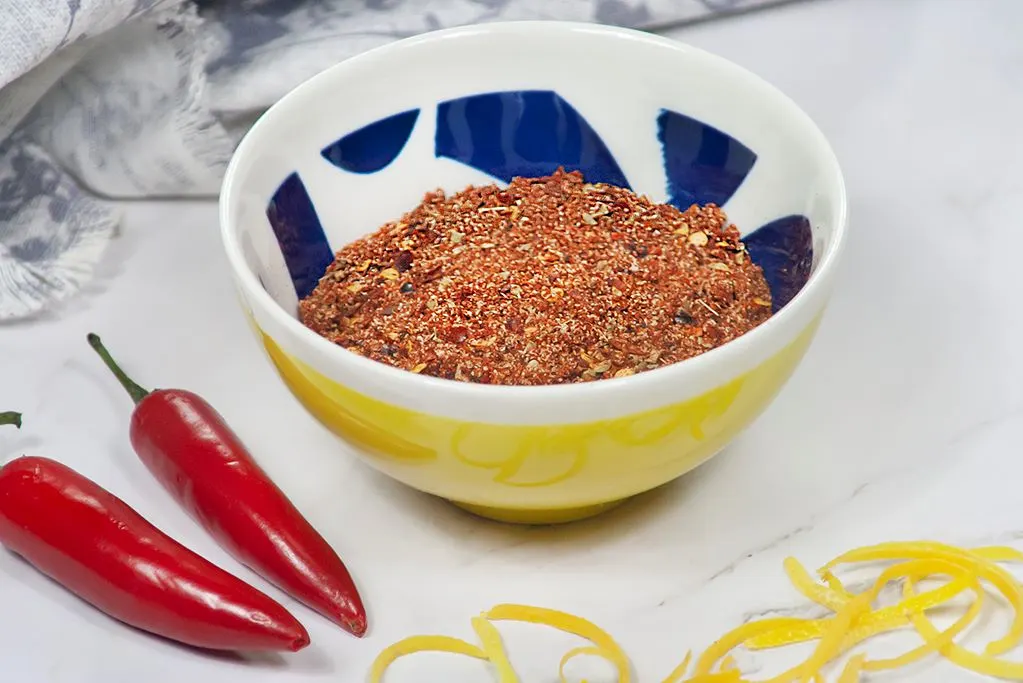 These quantities are enough to make some to store for another time. Put any extra in an airtight container and keep in a dry and dark place.
2 tbsp chilli flakes
2 tbsp chilli powder
1 ½ tbsp garlic granules/powder
1 ½ tbsp onion granules/powder
2 tsp black pepper
2 tsp salt
2 tsp dried oregano
1 tsp ground coriander
Add all the spices to a bowl, and mix.
I hope you enjoyed this soup maker recipe – let me know in the comments if you end up making it.