Since buying the Ninja Blender and Soup Maker I've been busy putting it through its paces.
When I first saw that Ninja Kitchen had a soup maker out, I was eager to test it out. I've owned the original Nutri Ninja Blender since it first came out – and have used that extensively over the years as a blender, I was hopeful that this latest addition would live up to my expectations.
Read on to find if the Ninja Soup Maker can take the title of the best soup maker!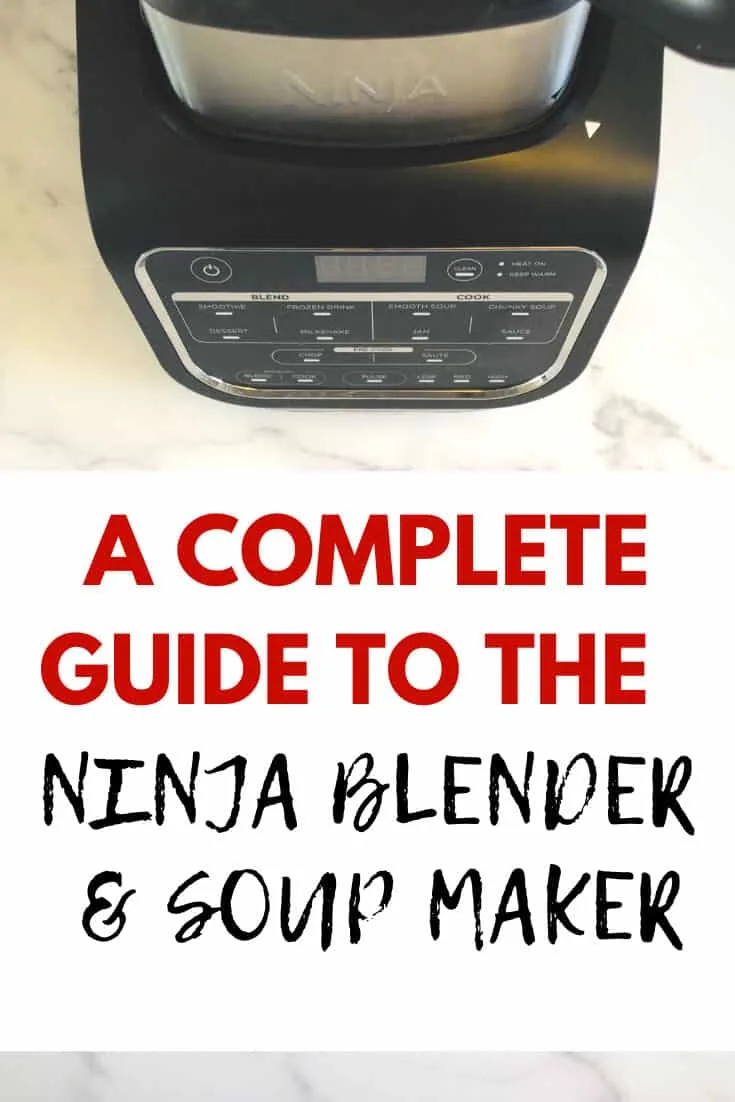 This post contains affiliate links, meaning at no additional cost to you, if you click a link and subsequently make a purchase I will earn a commission.
Introduction
If you are sitting on the fence and wondering whether you should buy yet another kitchen appliance, hopefully this lengthy review will help you make a decision.
If you want to skip ahead past all my testing, jump here to 'Is The Ninja Blender and Soup Maker Worth Buying?' and it'll take you straight there.
What's In The Box
My Ninja Blender and Soup Maker came with;
The machine itself (Motor Base, 1.7L Glass Jug with Built-in Heating Element, Jug Lid with Removable Centre Cap)
Tamper
Cleaning Brush
Instructions
Inspiration guide with 25 recipes to get you started
Features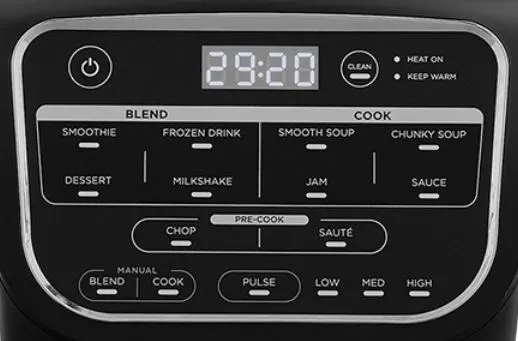 The Ninja Blender and Soup Maker offers a variety of programs that turn it into a kitchen appliance that is so much more than just a soup maker or blender. Each of the programs are self explanatory, and easy to use. I love how uncomplicated it all is.
For the purpose of this review, I've tested out each program in detail (it's been a busy week in the kitchen for me!)
Let me walk you through each feature;
Auto-iQ Programs:
Once you've added the ingredients, these programs only require you to power the appliance on and then press the appropriate button. The Ninja does the rest of the work for you.
Side Note: Some recipes might require you to use the tamper that comes with the Ninja to push some ingredients about. More on this later.
The Drinks
The recipe book has a handy page advising how best to load the blender up, in what order, for the best results. The maximum quantity you can make for cold recipes is 1.75L.
Smoothie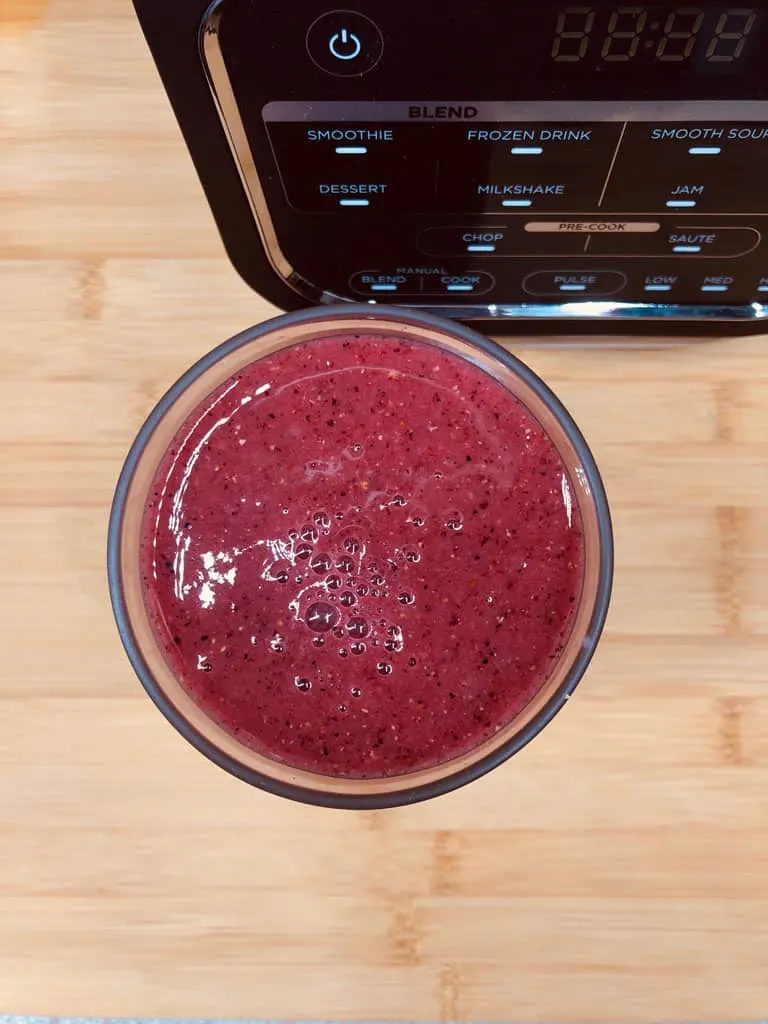 The recipe book comes with 2 smoothie recipes; Morning Berry Smoothie & Strawberry Pineapple Morning Blast. The program duration lasts for 45 seconds.
You can make any kind of smoothie from fresh or frozen ingredients. The powerful motor and blades will blend everything up nice and smooth.
My Smoothie Test Recipe
I made a smoothie from a frozen 'Breakfast Smoothie Mix' I had in the freezer. I added it all in to the blender jug and added 600ml of apple juice (I could have also just used water).
My Verdict
Quick and easy to make. Very well blended smoothie.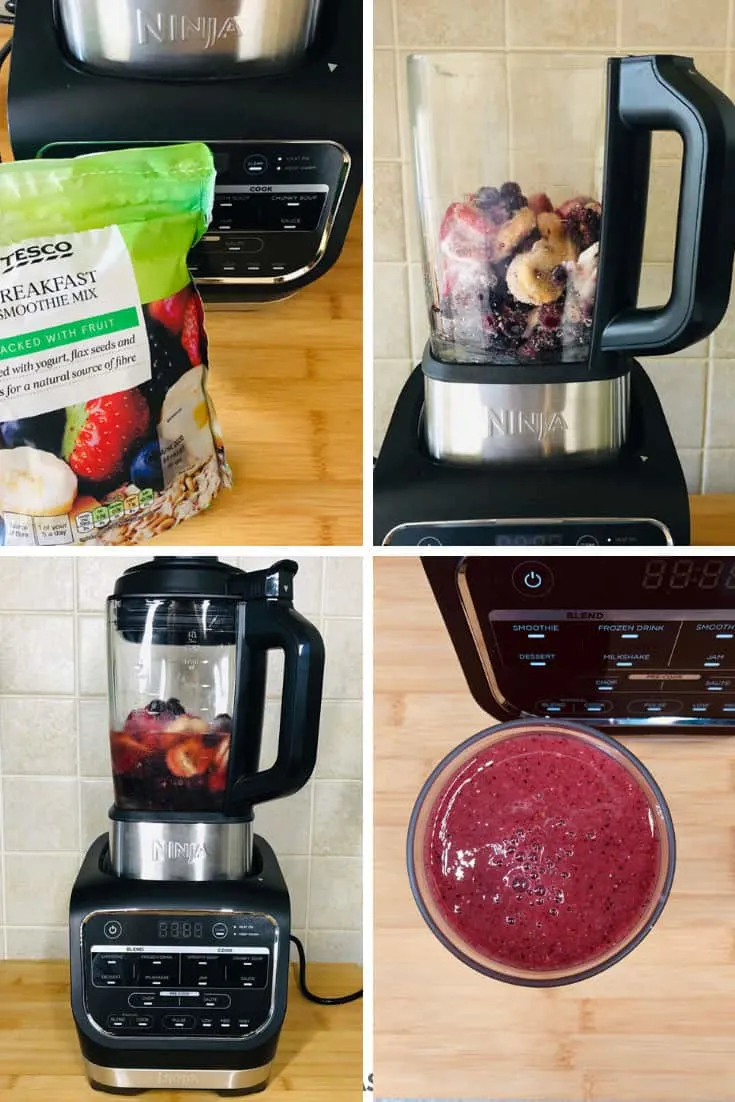 Frozen Drink
The recipe book comes with 2 frozen drink recipes; Frozen Mango Margarita and Strawberry Frozé. The program duration lasts for 1 minute.
My Frozen Drink Test
I made the Strawberry Frozé from the recipe book which consists of rosé wine, fresh mint leaves and frozen strawberries. All the ingredients are added to the jug in the order listed and press the 'FROZEN DRINK' button.
Milkshake
The recipe book comes with 2 milkshake recipes; Vanilla Milkshake and Chocolate Milkshake Morning Blast.
My Milkshake Test
I made the Vanilla Milkshake from the recipe book – ice cubes, vanilla ice cream, whole milk and vanilla extract. All the ingredients go in the jug and press the 'MILKSHAKE' button.
Smooth Soup
The recipe book comes with 2 smooth soup recipes; Curry Cauliflower Soup and Butternut Squash Soup. The program duration lasts for 30 minutes (not including the time for the chop and saute function).
The recipe book also comes with a quick guide to creating custom smooth soups, meaning you can pretty much adapt and soup recipe to make in your Ninja Soup Maker.
The smooth soup function works by heating up until it gets to boiling point. It then pulses and stirs the ingredients to make sure they all get cooked evenly, ending with an intense blending session where the Ninja works it's magic to turn the ingredients into a very smooth soup.
My Smooth Soup Test 1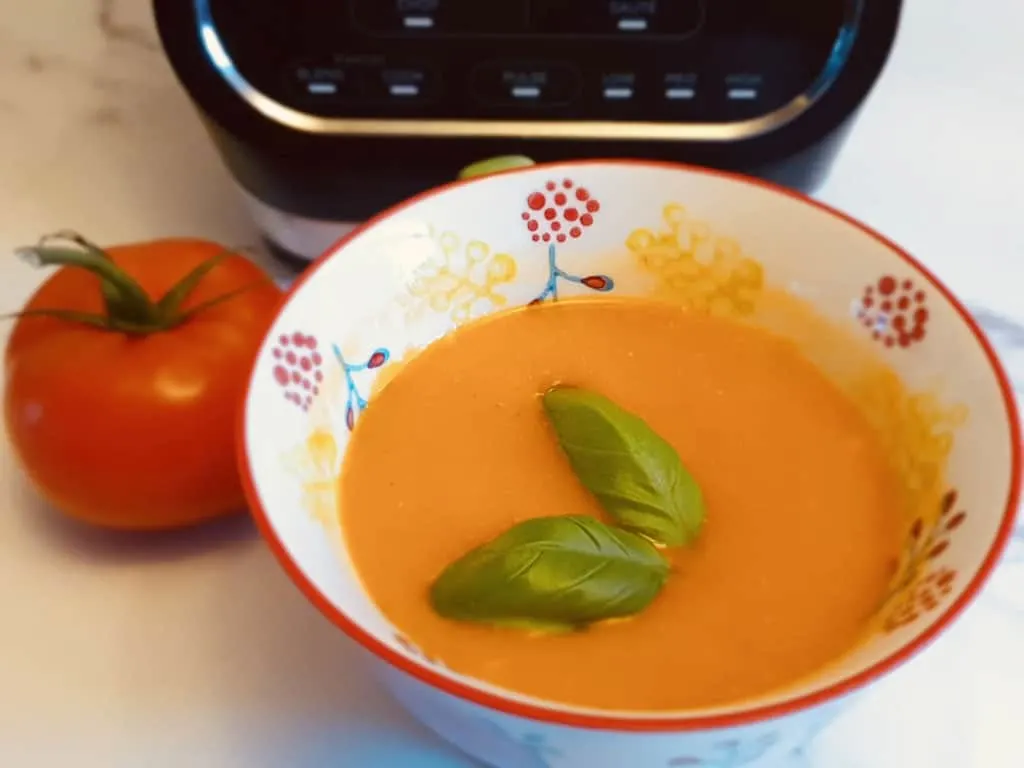 I made a tomato and lentil soup, the same one as I made in the Morphy Richards Soup Maker. I reduced the ingredients only very slightly and the end result was a perfectly smooth and tasty soup.
My Smooth Soup Test 2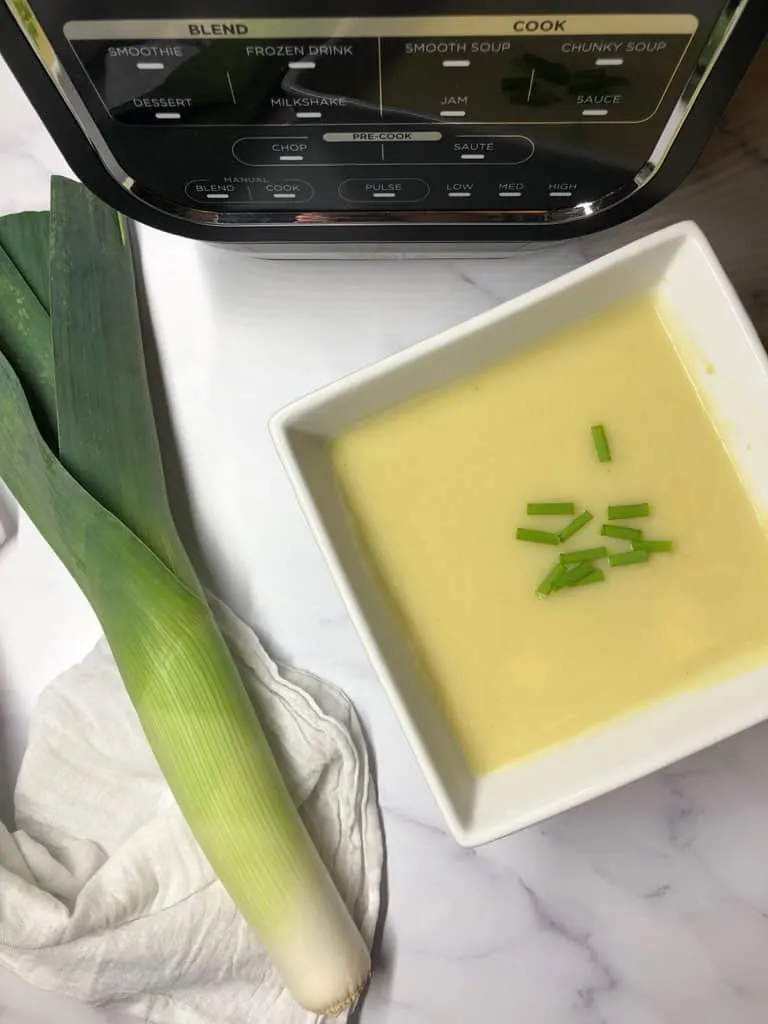 I made a Leek and Potato Soup. There is a recipe for this in the book that came with the Ninja, but I decided to use the one I have here on my blog that I originally made in my Morphy Richards Soup Maker.
I did need to adjust the recipe slightly to allow for a reduce capacity in the Ninja, but not by very much.
Celery Soup In The Ninja Soup Maker
My Verdict
Amazingly smooth. The Ninja blends the soups up so smoothly, much more so than other soup makers that I've used. This might be because the blades are in the base rather than at the top in the lid.
I love really smooth soups, but if you prefer soups with a bit more texture you might prefer to cook your soups using the manual cook feature and then choose your blend intensity at the end (more on this in the 'manual' section below).
Chunky Soup
The recipe book comes with 3 recipes for chunky soup; Chicken Noodle Soup, Chunky Vegetable Soup and White Bean Minestrone. The program is 30 minutes long. It heats up to a boil and then gently pulses to move the ingredients around.
The recipe book also comes with a quick guide to creating custom chunky soups, meaning you can pretty much adapt any soup recipe to make in your Ninja Soup Maker. The guide suggests you can optionally add in pasta and/or beans when their is 6 minutes remaining in the program.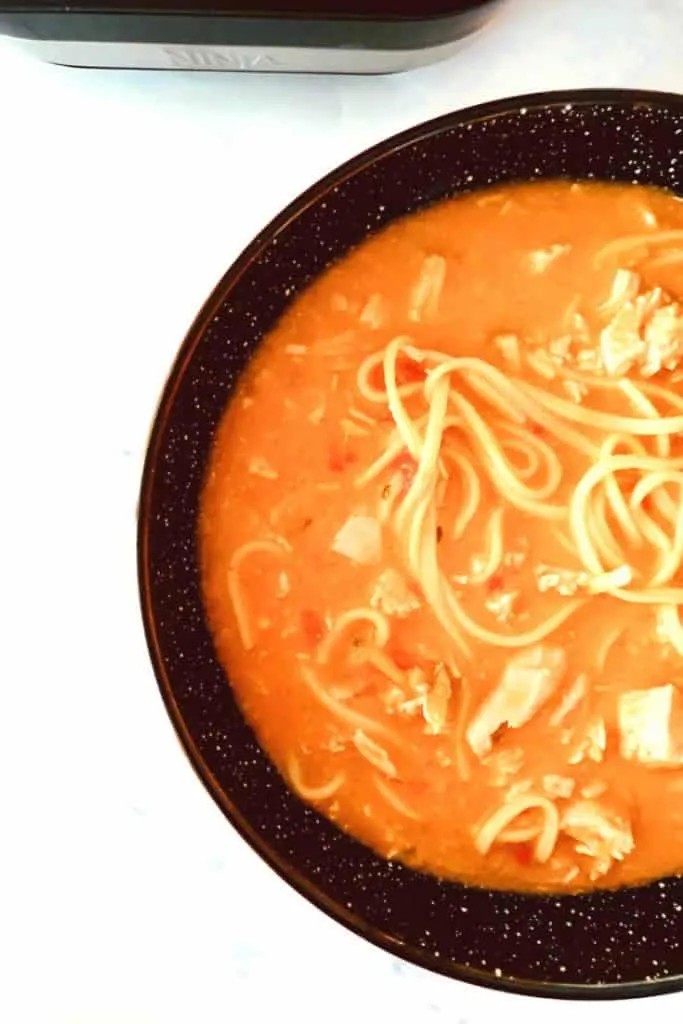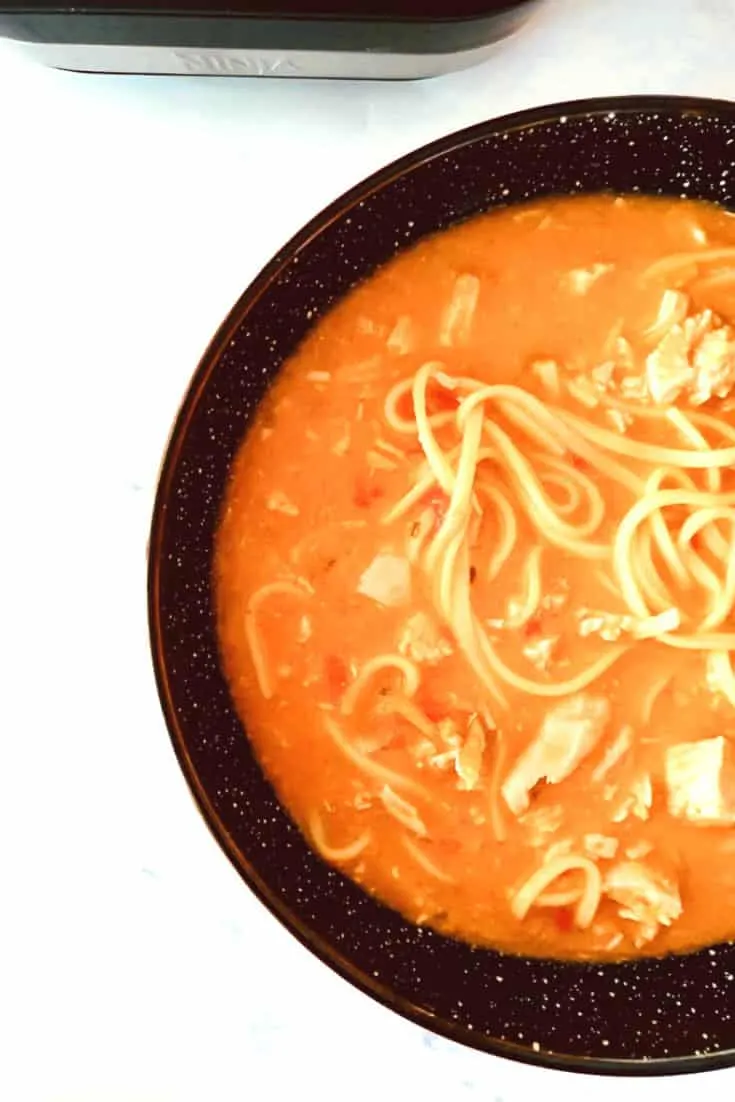 My Chunky Soup Test
I made my Thai Red Curry Soup. I really wanted to test a recipe that included meat – there is a recipe in the book that comes with the Ninja for Chicken Noodle Soup where you don't need to precook the chicken – like you do for some other soup makers. Although I do use leftover cooked chicken for a lot of my chicken based soups, I was really interested to know if I could cook meat in the Ninja!
The Verdict
Yes, you can cook meat in the Ninja, and it tastes great! Yay. This is really good news if you fancy a meat based soup but don't have any cooked meat leftovers. The chunky soup program does churn the ingredients up a little bit, I guess to make sure that they move around enough to cook through evenly. The result of this gentle pulse meant that the chicken broke up a little bit, but that was just fine as it makes more sense to have slightly smaller and more shredded pieces of chicken in the soup.
Good To Know – Do You Want To Make Soup for only 1 or 2 people?
Many of the other soup makers currently on the market require that you cook a minimum quantity in them. This isn't always ideal if you're only cooking for 1 or 2 people.
I couldn't see any minimum quantity requirements on the Ninja jug, or in their instructions, so I tested it out. Guess what? There are no minimum amounts – meaning you can absolutely make soup for 1 if you want to! I love having this option.
Jam
The recipe book comes with 2 jam recipes; Simple Berry Jam and Mixed Berry Jam. All ingredients get added to the Ninja jug, the 'chop' function slices everything up and the 'jam' function does everything else. It is a 30 minute and 30 second program. Once the program has finished the jam needs to chill in the fridge for around 4 hours.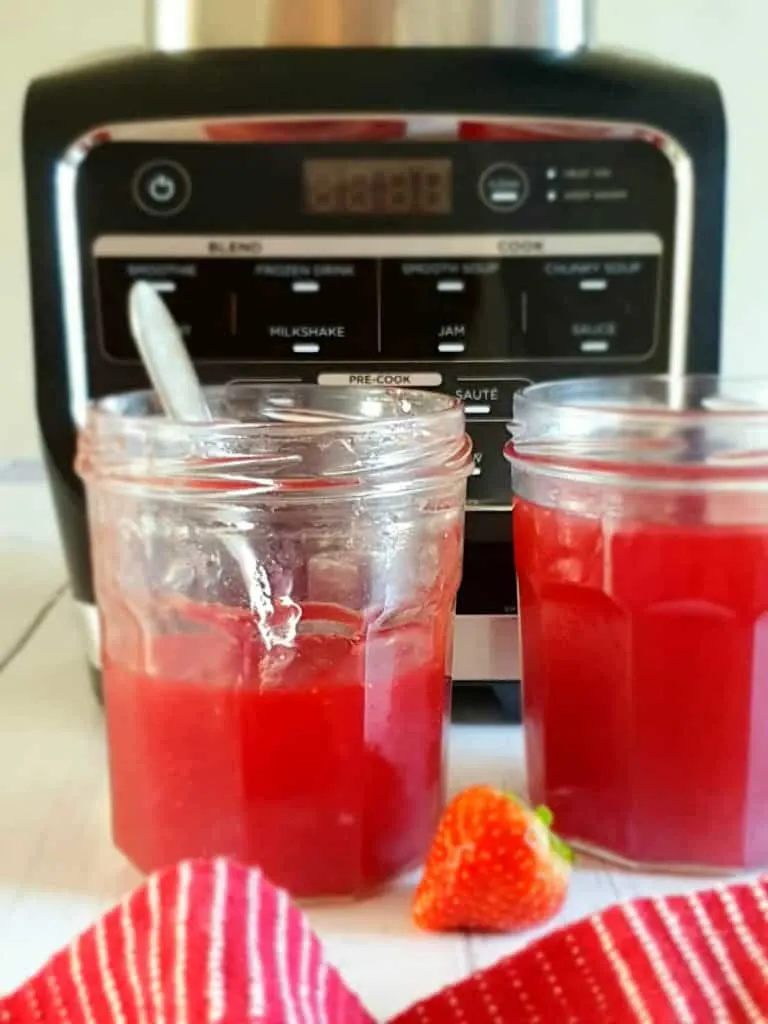 My Jam Test
I made the strawberry jam recipe supplied in the book. I did alter it slightly because I couldn't get hold of any fruit pectin – I could only find jam sugar in my local supermarket.
My Verdict
Oh the smell as it was bubbling away, so tasty! I found it fascinating to watch the Ninja work it's magic. The taste of the jam was perfect but unfortunately it didn't set. Having since read reviews from other people who have used the above jam sugar (not in the Ninja, with regular jam making in a pot), they also mentioned that their jam didn't set.
So, I believe this was a fail with my choice of sugar/pectin rather than the fault of the Ninja. I should add, the jam tasted amazing and was only slightly runny – we still spread it on toast! I will make this recipe again with the exact ingredients listed in the Ninja recipe book and report back.
Sauce
The recipe book comes with 3 sauce recipes; Traditional Tomato Sauce, Alfredo Sauce and Spinach & Artichoke Dip. The program duration is 30 minutes.
Chop
The chop program is a useful function – it pulses for 12 seconds and finely chops up ingredients like onion, garlic etc. Really handy when making soups and sauces.
Saute
I really like the saute function on my Morphy Richards soup maker, so I was happy to see it included on the Ninja. It runs for 5 minutes.
Manual Settings:
There are 2 manual settings on the Ninja, a blend and a cook function. You can choose either Low, Medium or High within each function;
Blend – this will run for 60 seconds, or until manually stopped.
Cook – this will run for 60 minutes, or until manually stopped.
When would you want to use the manual settings?
If you want to have more control over the length of time and texture of your recipe. For example, if you have a soup or sauce that doesn't need to cook for the 30 minutes that the Auto-IQ program is set to, you can choose the length of time that you want. You can press the PULSE button during the manual cook mode to give the ingredients a stir around if required.
Other Features:
Clean
Who'd have thought I would get so much enjoyment from watching a blender clean itself?! Ok, so it doesn't do a complete cycle like a dishwasher would (for obvious reasons!) you do need to give it a rinse out too, but it takes a lot of the hard work out of cleaning particularly messy recipes. I don't use it after each use, more so when I have made a strong smelling recipe, or one that is likely to get bits stuck under the blades.
To set the clean was off you need to fill it up with 700ml of water, add in a squirt of washing up liquid and then press the clean button. It actually heats up the water and takes it for a soapy sud filled swirl around the jug. It runs for x minutes. It is quite noisy – not one to do early morning or late at night.
Heat On
This is a red light that automatically switches on when a program or function is using heat.
Keep Warm
At the end of a program (that uses heat), the Ninja will keep the contents warm for up to 60 minutes.
Is It Easy To Use?
Yes, it is very easy to use. The programs listed on the interface are self explanatory and very simple to use.
The small recipe booklet that comes with the Ninja is great for getting to grips with the machine and understanding the capabilities. My recommendation would be to start with a few of these recipes to give yourself an idea on what else you can make in the Ninja.
Is It Easy To Clean?
Mostly, yes.
In the main, I have found it easy to clean and not too much of a hassle.
The lid and removable centre cap can be washed independently from the jug and base. They can either be washed in warm, soapy water, or put in the dishwasher. The same is true for the tamper.
However, the blender jug itself cannot be put in a dishwasher, or submerged in water. This does make it a little more tricky as the jug itself is heavier than other soup makers.
The best way to clean the jug is to give it a quick rinse out with water and then either use the 'Clean' program as discussed above, or use your usual washing up sponge with soap to clean the jug – also use the brush that came with the Ninja to clean around the blades.
Also, definately wash it as soon as it has been emptied – if you leave it until later it's going to be tougher to get clean.
Is It Better Than Other Soup Makers?
I think so, yes. There are so many different recipes you can make with the Ninja. The versatility of the machine makes it so much more than a soup maker. However, if we are purely comparing the soup making abilities, then again, I much prefer the Ninja.
Why is the Ninja better than other soup makers? I'll outline why next 🙂
Is The Ninja Blender And Soup Maker Worth Buying?
Yes. It's a fantastic kitchen appliance that not only performs to a really high standard, the design also looks great.
PROS
Versatility to make soup, smoothies, milkshakes, sauces, jams, dips, cocktails and desserts – all in one machine!
Ability to cook meat
No minimum quantities – no need to make too much soup if you don't want to
Chop and saute function
Manual options – no more over or under cooking recipes
Very powerful blender
Looks great
Cleaning function
CONS
Larger than other soup makers (but it isn't too big to keep out on a kitchen worktop)
The jug is quite heavy
Higher cost than some other soup makers (but in my opinion

totally

worth the money for what it can do)
Where Can I Buy It For The Best Deal?
As with all kitchen appliances, it's worth having a shop around for the best price. I bought mine directly from the Ninja UK online store. They sometimes have instalment options where you can spread the cost (please double check their website for full details).
Amazon is another good option to check for any special offers.
Ninja Blender and Soup Maker Recipes
Are you looking for more recipes? Check out my Ninja Soup Maker recipes here, and remember to join my soup maker FB group to get notified when they are available on the blog.
Also, the recipes I made in the Morphy Richards soup maker should all work in the Ninja, just always double check you don't go above the maximum fill level on the Ninja jug.
Have you got any questions or thoughts on the Ninja Blender and Soup Maker? Let me know in the comments!