Thai Red Curry Soup tastes amazing in the soup maker! Similar to my Chicken Tikka Masala Soup from last week this soup is based on a favourite curry dish that can be had as a soup, or made more substantial by adding in some cooked noodles or rice.
I've updated this recipe to also show how to make it in the AMAZING new Ninja Blender and Soup Maker!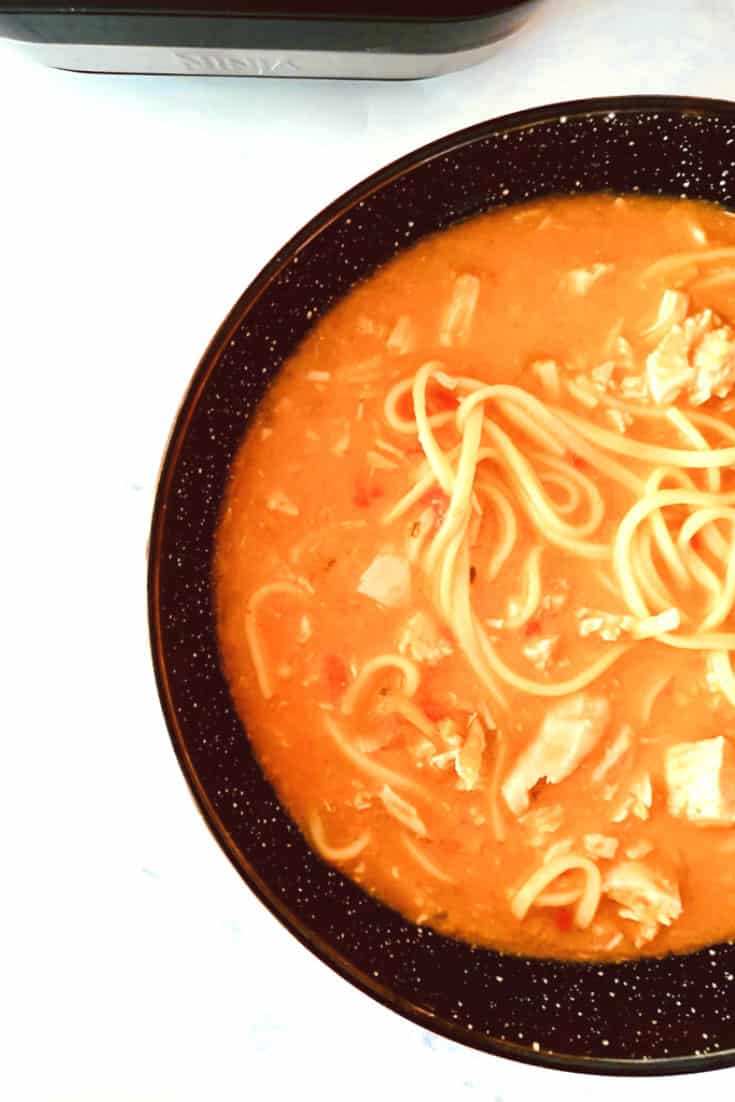 I've tried to keep the recipe list as simple as possible without compromising on the taste. If you don't have, or can't get hold of kaffir lime leaves and lemongrass stalk, these can be substituted with the zest of half a lime and half a lemon.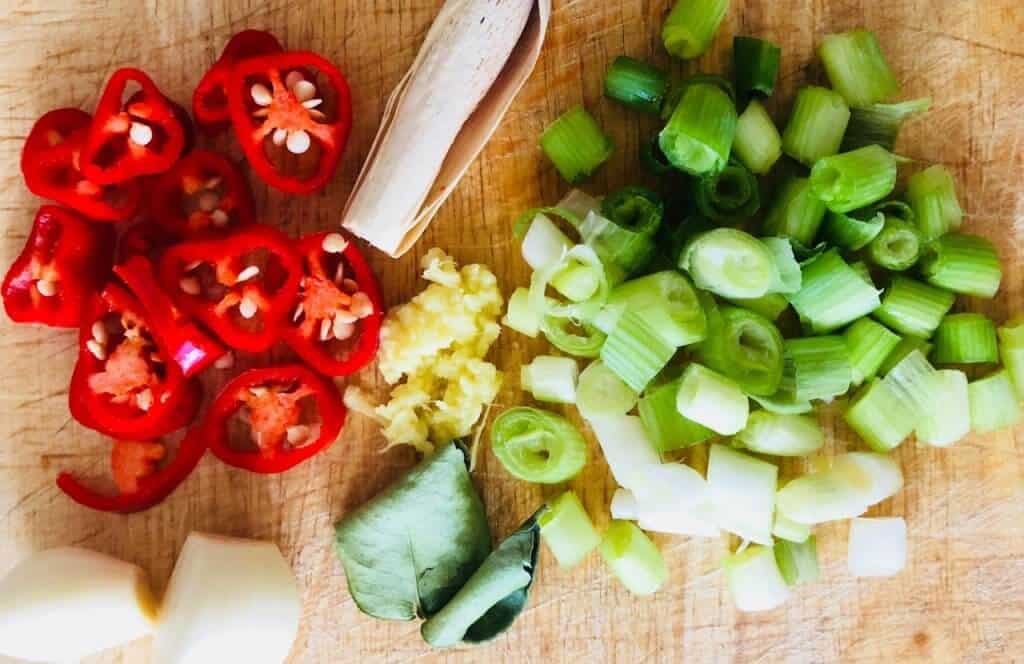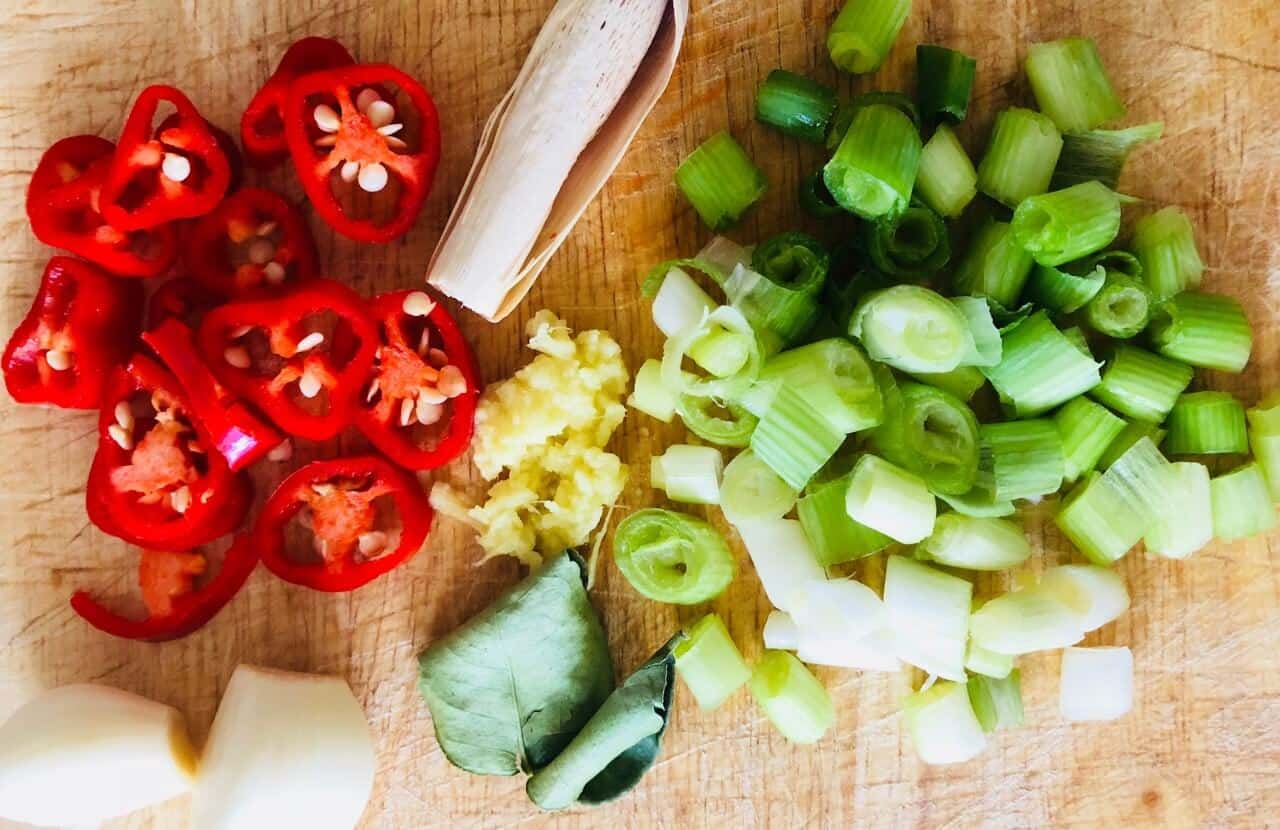 This is another handy recipe to make with any leftover meat from a roast chicken – but you can also just brown up some diced chicken breasts like I did.
Update: I have also tried this recipe in the Ninja Blender and Soup Maker and you can put the chicken direct in the soup maker raw and the program will cook the meat for you (yay!)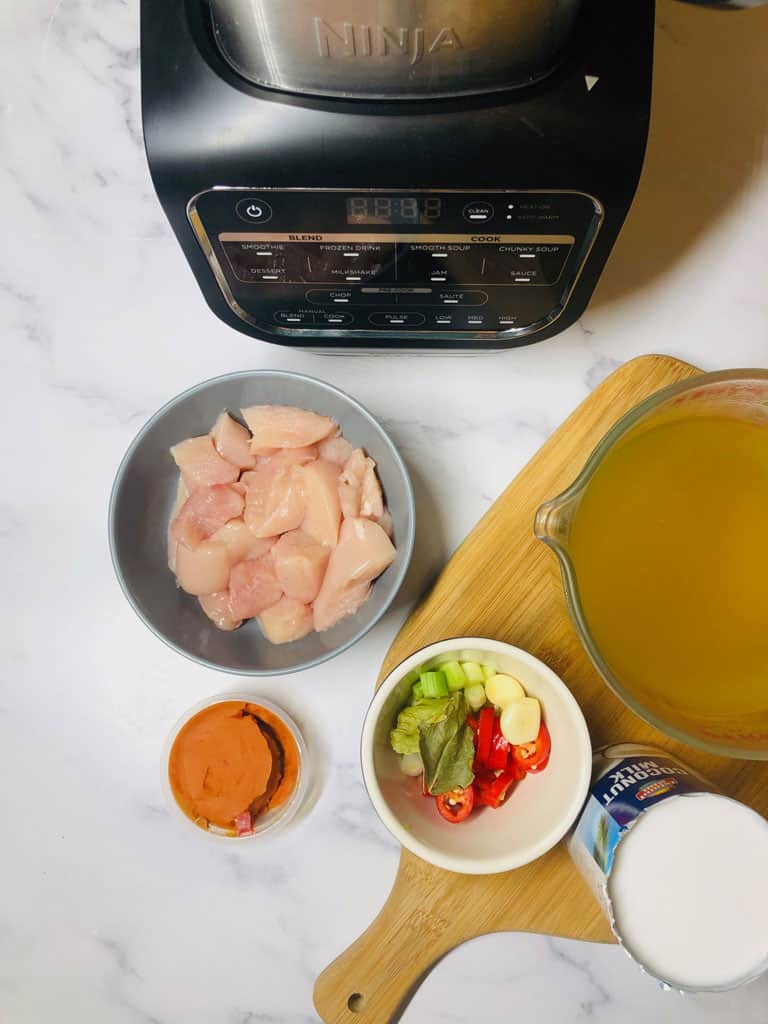 There are plenty of Thai Red Curry Pastes available to buy at the supermarket. I used one from Blue Dragon, but you can use which type you like, some might be spicier than others. You can even make your own Thai Curry Paste and get the heat level just how you like it.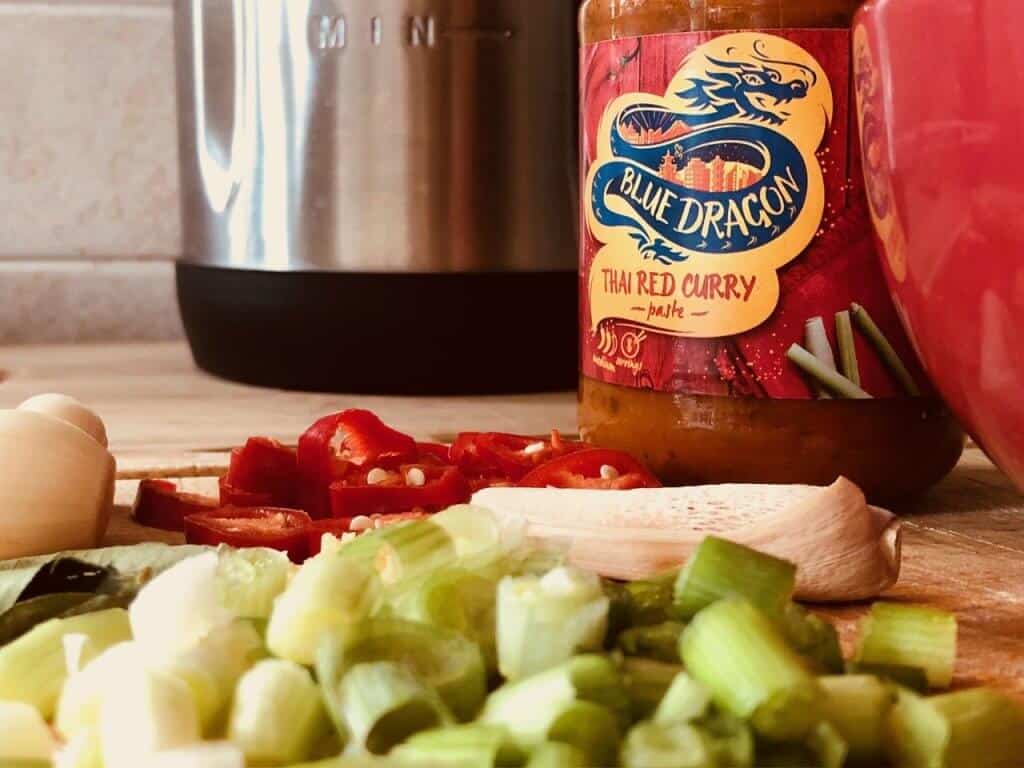 I sautéed the ginger and garlic in a little oil straight in my soup maker. If you don't have this function you can either do this stage separately in a pan, or just skip this step. Just cook them for a minute and stir them frequently so they don't stick to the base.
I then switched off the sauté button and immediately added the Thai Red Curry Paste and mixed it in with the ginger and garlic, again, make sure it doesn't stick to the base of the soup maker. I then added the remaining ingredients and gave everything a good stir.
This is it in Morphy Richards Saute and Soup Maker: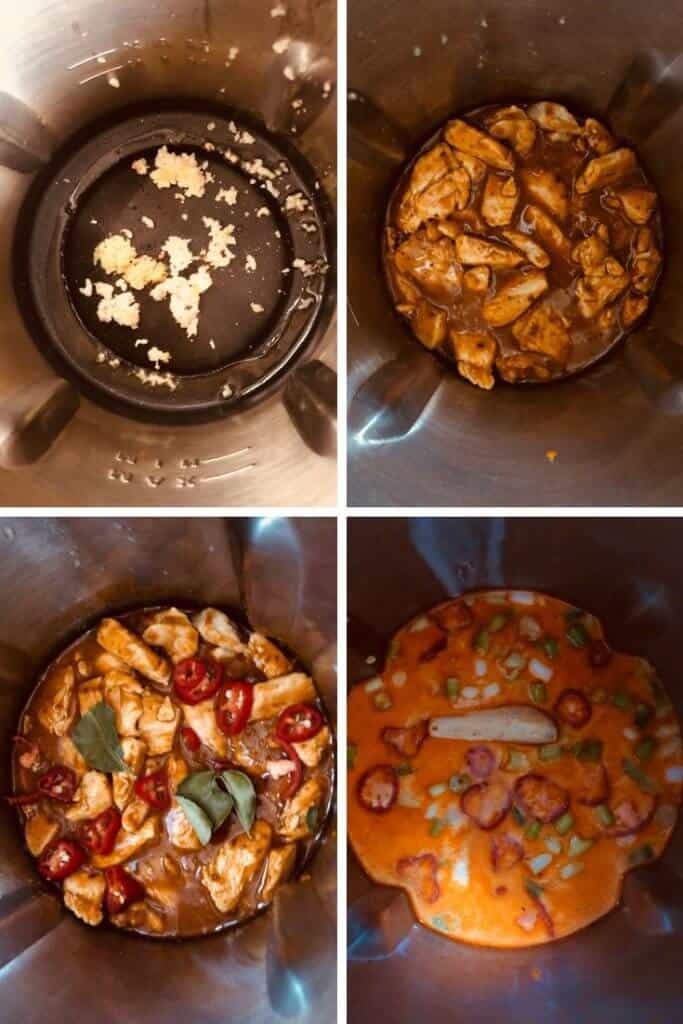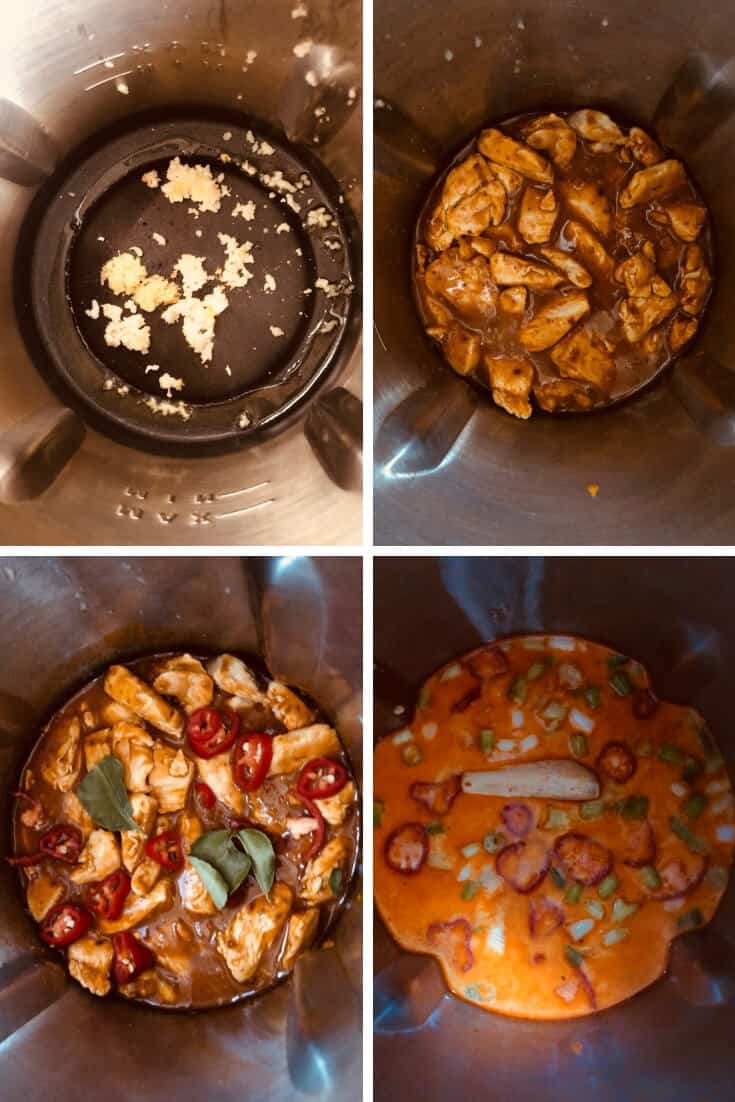 Side Note: If you don't want to use coconut milk you can substitute it with natural yoghurt but it may lose some of it's sweet taste it gets from the coconut. You can also add in extra or alternative vegetables such as mangetout, green beans, aubergine etc
If you decide to add noodles to this soup they can be made directly in the soup maker.
Update: In the Ninja Soup Maker I added the uncooked noodles when the smooth soup program had 6 minutes left.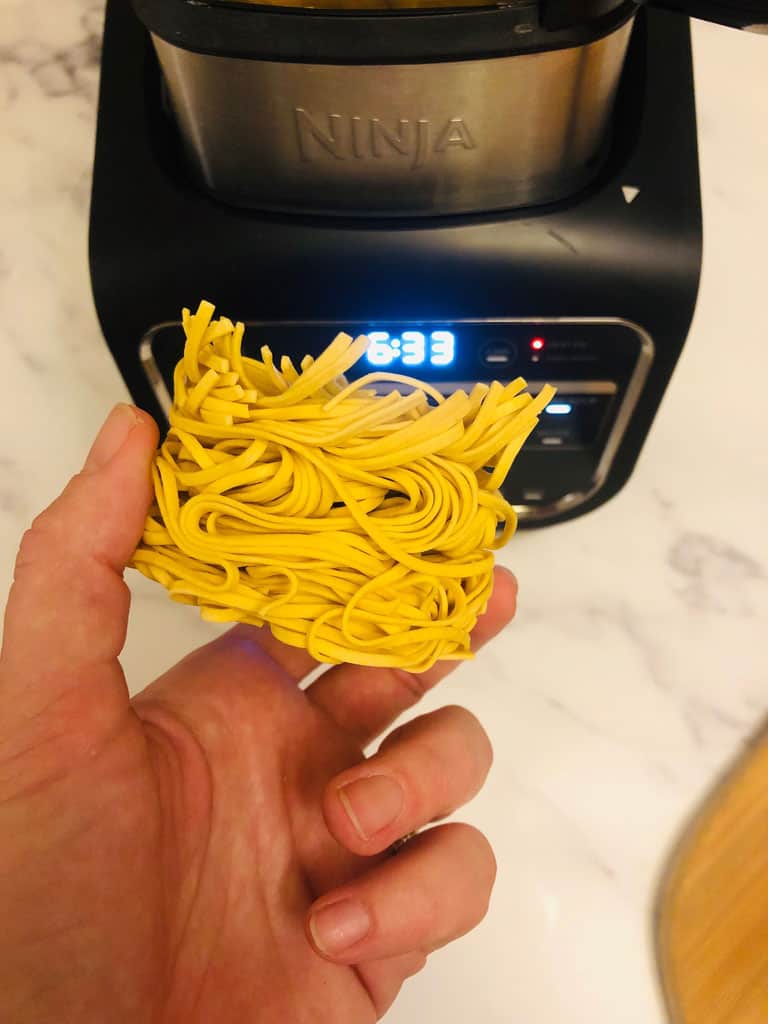 If you enjoyed this soup head over to my soup maker recipes group on FB. There are lots of really helpful soup lovers over there who share recipes tips and tricks!
You can also join my newsletter to get recipes straight to your inbox.
As always if you have any questions or comments please let me know below (or you can email me).
You Might Also Like > Soup Maker Recipes (For The Morphy Richards)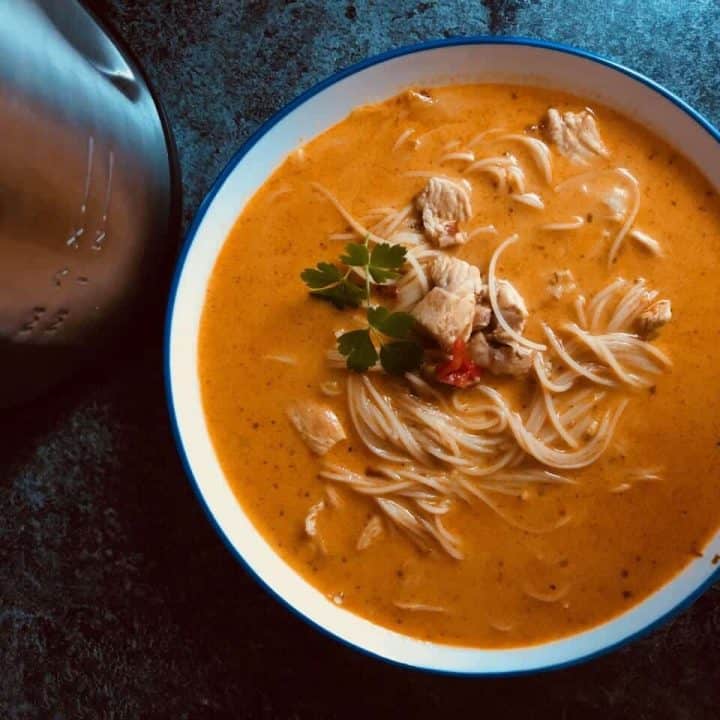 Thai Red Curry Soup
A favourite Thai curry made in a soup maker! Yum. This soup is a spicy winter warmer for sure!
Ingredients
1 tbsp oil
300g chicken, approx 2 breasts (cooked if using Morphy Richards, or raw if using Ninja, see notes below)
2 cloves garlic, crushed
1 tbsp fresh ginger, grated/1tsp ground ginger
4-5 tbsp Thai Red Curry Paste
1 lemongrass stalk*
2 kaffir lime leaves*
1 red chilli, chopped
4 spring onions, chopped
200ml coconut milk**
700ml chicken stock
50g dry egg noodles
Instructions
In Morphy Richards Soup Maker:
Optional: saute garlic & ginger for 1 min
Switch off sauté and add red curry paste, stir well to mix in with garlic & ginger.
Add remaining ingredients and stir well to make sure nothing is stuck to the base of the soup maker.
Set off on chunky.
Stir in cooked noodles/rice if you wish.
Optionally garnish with fresh coriander.
In Ninja Soup Maker:
Add oil, spring onions, garlic and ginger to the blender jug.
Press the saute button.
Add remaining ingredients, apart from noodles.
Press the 'chunky soup' button.
When the timer has just 6 minutes left remove the lid and add in the dry egg noodles. Replace the lid and select the chunky soup button again.
Optionally garnish with fresh coriander.
Notes
*if you don't have kaffir lime leaves or lemongrass stalks you can sub with lemon & lime zest (approx half of each)
**use low fat if watching calories, or sub by stirring in natural yoghurt at end (it may make it more sour)
If You Are Using The Ninja Soup Maker
You can use raw meat in the Ninja - just chop the chicken breasts up into 2.5cm pieces and add with the other ingredients.